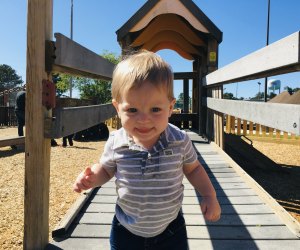 Best Houston Playgrounds For Toddlers
Visiting the park with a toddler can be both a blessing and a curse. Toddlers are on the verge of discovering their independence and while a trip to the park may be great for helping them burn off some of their endless amounts of energy, playground sets with tons of tall features that toddlers can easily fall off of can pose a danger to fearless toddlers. That's why parents of toddlers absolutely love finding a park with the holy grail of little kid park features — a toddler-sized play set.
Swings with leg holes and backs that help keep toddlers firmly situated in the seat are totally necessary for most toddlers, but not every park has them. There are many great parks in Houston, but this list of the best Houston area parks for toddlers features plenty of options for parents who want to take their kids to the park and know that their toddlers can enjoy park equipment meant just for them.
Donovan Park - The Heights
700 Heights Boulevard, Houston
This gorgeous park in the heights features all wooden playground equipment, including one set that is perfectly-sized for toddlers to enjoy. The toddler set includes the same features of the big kids set, just in a miniature version, as well as a wooden train for toddlers to enjoy climbing on.
Related: Houston Accessible Playgrounds Where All Kids Can Play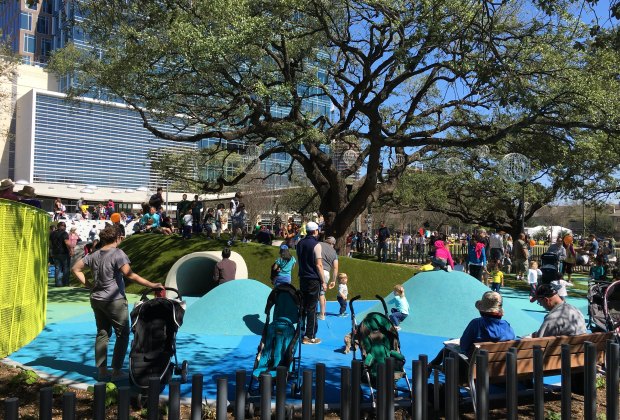 Levy Park's toddler-friendly area on its opening weekend in 2017. Photo by Carrie Taylor/Mommy Poppins
Levy Park - Upper Kirby
3801 Eastside, Houston
The recently renovated Levy Park has multiple toddler-friendly activities for families to enjoy. In a large open area on one side of the park are huge foam blocks that kids can enjoy stacking and moving around. While the slide area and rock wall are a bit much for toddlers, an art supply cart, reading nook, puzzles, and games are available to use at the park.
Jerry Matheson Park - Tomball
1240 Ulrich Road
This 10-acre park located in Tomball features two playground areas, including one specifically designed for toddlers. In the toddler area, there is also a sand pit and plenty of shaded seating area for adults to sit and supervise little ones. The play area intended for older kids is nearby, so parents of toddlers can keep an eye on big brothers and sisters playing as well.
Bay Area Park - Pasadena
7500 Bay Area Boulevard
Bay Area Park features three sets of playground equipment, including one specifically for toddlers. The toddler area has multiple low-level slides for kids to enjoy, as well as fun elements like bongo drums and mini hanging rings. The toddler area also features tandem swings where parents can swing with their toddlers.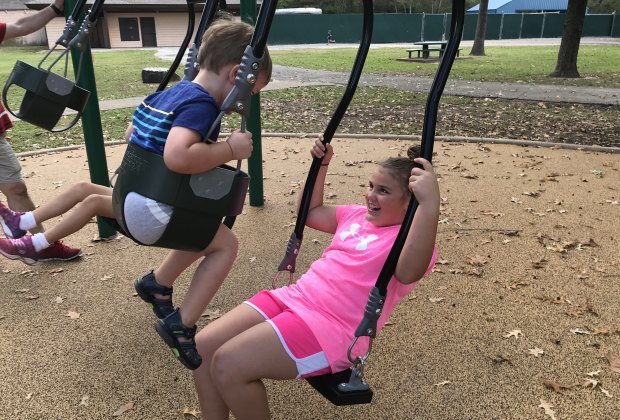 Older siblings or parents can swing with their toddlers at Bay Area Park./ Photo by Ashley Jones
Clear Lake Park - Seabrook
5001 NASA Pkwy.
We have been visiting Clear Lake Park for their toddler equipment since my oldest son was just 18 months old. Both sides of the park have an area with playground equipment that is toddler-sized, and there is plenty of green space for toddlers to run or chase balls. The splash pad located at Clear Lake Park is also a great option for toddler play during the warmer months.
Related: Houston Parks Perfect for Kids' Birthday Parties
Challenger Seven Memorial Park - Webster
2301 W. NASA Boulevard
Of the three sets of playground equipment at Challenger Seven Memorial Park, one is sized just for toddlers. The miles and miles of trails at this park are jogging stroller-friendly and perfect for taking toddlers on long nature walks.
Spring Creek Park - Tomball
15012 Brown Road
At Spring Creek Park, toddlers can enjoy a playground set with low slides and a train theme. Because the park also features campsites, there is a restroom and shower pavilion on site, which is great for parents of toddlers who may be potty training and prone to accidents.
Carol Fox Park - Jersey Village
15913 Jersey Drive
This beautiful park in Jersey Village features a set of tandem swings where parents (or big kids) can swing with toddlers in a bucket seat. A giant sand pit and overturned monster truck tires are great for toddlers to explore and a huge Noah's ark play structure is great for climbing.


Toddlers can enjoy playing with the foam block structures at Exploration Park./Photo courtesy Exploration Park
River Oaks Park - River Oaks
3600 Locke Lane
Also known as "Pumpkin Park" this exciting park in River Oaks features a Cinderella-themed pumpkin carriage for toddlers to climb on. The park also hosts tons of toddler-friendly activities like mommy and me classes.
Exploration Park - Katy
15020 Cinco Park Road
One of Houston's great destination parks, Exploration Park features an area with moveable blue foam blocks that toddlers can play and build with. This park also features a variety of different types of swings, including some that even allow parents to swing with their toddlers.
Fire Truck Park - Southside Place
3743 Garnet
This adorable playset in Southside Place features a fire truck motif and is perfectly-sized for toddlers to play on. A mini slide and small climbing obstacles make it ideal for toddlers to explore. Plus, the entire park is fenced in, in case your toddler likes to run.
Related: 16 Houston Parks with Lots of Shade
Russ Pitman Park - Bellaire
7112 Newcastle Street
A sand pit filled with trucks and shovels will keep toddlers entertained at Russ Pitman Park for quite a while. Part of the larger play structure is also lowered to accommodate toddlers as well and includes fun features like a set of drums.
Wier Park - West University
3012 Nottingham Street
Toddlers can enjoy an area just for them at Wier Park in West University. This shady park features Astroturf, which is great for toddlers who may still be a bit unsteady on their feet. The park is fenced in and features a play area for older kids as well.
Top Photo: Playing at Jerry Matheson Park in Tomball. Photo by Carrie Taylor/Mommy Poppins