Artificial Intelligence with Scratch Online Camp
Young Gates - Kids Online Personalized Classes

Online Robotics Camp
Young Gates - Kids Online Personalized Classes

Spark Math: Free Trial Class
Virtual
Sign up for our free newsletters.
10 Reasons to Head to Memorial Park for Your Next Stroller Run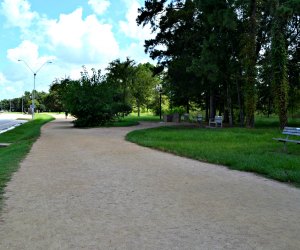 9/18/16
- By
Rachael Cherry
When it comes to staying fit, stroller walking and running are popular choices among moms who need to work out with the kids in tow. Finding a good trail that's stroller-friendly, however, can often prove to be just as difficult as actually getting out and running with one. Houston's Memorial Park spans 1,400 acres and features the Seymour Lieberman Exercise Trail, which is a 2.93-mile loop that is perfect for this activity.
As an avid distance runner, I've researched and tried out many around the greater Houston area, and in the process, I have identified several factors that can make or break a jogging route. I've logged countless stroller miles with my son, who is now 2 1/2 years old. The Seymour Lieberman Exercise Trail at Memorial Park fits all of my "running mom" requirements, and here are 10 reasons why:
Wide Trails
The loop boasts a trail that is wide enough for several people to comfortably walk or run side by side. This is crucial for moms with jogging strollers because the extra width means you never have to attempt to maneuver a stroller out of the way for other runners, which is a task that is no easy feat when space is limited and there's nowhere to go.

Dirt Versus Concrete
Another great perk to the trail is that it's made of crushed granite and dirt. These materials give it a softer, more forgiving surface than pavement. Most runners can agree that dirt paths are much easier on joints than concrete, and I know I appreciate anything that makes stroller running a little easier.

Water Fountains and Restrooms
The park has both indoor restrooms and port-o-potties, which is a huge plus. I've run at many places that have neither, and I can tell you firsthand what a positive difference it makes to have those readily available - especially when you have a child with you that needs water or the bathroom right now.

Lighted Paths
If the only time you can get out with the kids is before or after work, having a lighted path to run on can make or break your experience. Safety is key especially when you're walking or running in the dark. I've done a handful of stroller runs in the early mornings and later evenings, and I can wholeheartedly say that having lights along the route make it a much more comfortable experience.

Mile Markers
The Seymour Lieberman Exercise Trail has clearly visible mile markers, so it's easy to track exactly how far you've gone. Whether you want to run the entire loop or just a portion, these mile markers make it convenient to check your distance without needing any extra equipment. Helpful tip: the 0-mile marker is located at the tennis courts.

Exercise Stations
Looking to sneak a little bodyweight strength training into your workout? Stop at one of the many exercise stations along the trail. An added bonus is these stations are great for kids who want to get out of the stroller and "work out" with mom. They encourage kids to view exercise as something fun. My son loves to hop out and attempt to do squats with me or just jump around for a few minutes, and I love that I'm setting a healthy example for him.

Picnic Tables
With picnic tables and benches available along the trail, it's easy to stop and let the kids get out of the stroller for a snack or even a picnic breakfast or lunch after you finish your run. Sometimes the prospect of a picnic lunch is the best way to get my son in the stroller with a smile on his face.

Smoothie King
If you forgot to pack a snack, Memorial Park has you covered with a Smoothie King located along the loop by the tennis courts. My son and I both love smoothies, and I feel good about the fact that we can both indulge in a healthy post-run treat without leaving the trail.

Public Pool
It is a good idea to pack swimsuits if you are heading to the trail during the summer so you can visit the free public pool when you finish. Summer hours for the pool are 1 p.m.-8 p.m., Tuesday through Sunday. Fall hours are 1 p.m.-8 p.m. on Saturdays and Sundays only. Be sure to check the aquatics page for opening and closing dates and any hour changes.

Vale-Asche Foundation Playground Without Limits
Directly across the street from the running trail is the Vale-Asche Foundation Playground Without Limits. The playground is designed so children with disabilities can enjoy all the park has to offer and engage in sensory activities that play to their strengths.