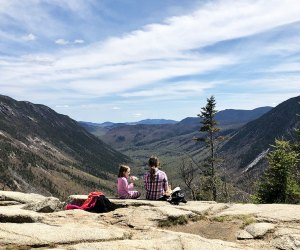 25 Things to Do in the White Mountains of New Hampshire with Kids
Anchored by majestic mountains and charming small towns, the White Mountains region of New Hampshire offers family adventures year-round. Whether you want to chase waterfalls or cool off in crystalline lakes at the peak of summer, enjoy the spectacular fall foliage, or play in sparkling snow when the state morphs into a winter wonderland, this area of the Granite State features everything from countless hiking trails, to giggle-inducing amusement parks, relaxing campgrounds, and shopping outlets.
Below are 25 of our favorite things to do in the White Mountains of New Hampshire, as well as places to stay. Find more family travel in our Guide to New England.
Top Things to Do in the White Mountains, NH
Conway Scenic Railroad
All aboard! This White Mountains railroad offers an old-fashioned experience as you journey across rivers and enjoy mountain vistas during summer and autumn. Choose from 60-minute, 90-minute, or a 5-hour trip. The shorter adventures take you to Conway or Bartlett, while the 50-mile roundtrip through Crawford Notch gives you more time to gaze at cliffs, steep ravines, and cascading waters.

Take a memorable trip to the summit of Mount Washington by cog railroad.
Mount Washington
Whether you drive the Mt. Washington Auto Road or ride the historic Cog Railroad on a summer or autumn day, reaching the wind-swept summit of the highest peak (6,288 feet) in the Northeast is a must. The Weather Discovery Center (temporarily closed), offers an interactive science museum. Spending time above clouds and enjoying breathtaking panoramic views will more than make the trek up worthwhile.
Loon Mountain
In the summer and fall, explore glacial caves, climb 50 feet to Herbert's Observation Tower for 360-degree views, hold your breath on the gondola Skyride, try your hand at disc golf, and hike or bike at Loon Mountain Resort. In the winter, enjoy the crisp air and powdery slopes while skiing, snow tubing, and snowshoeing. The outdoor skating rink at the Adventure Center is just the right size for kids. Don't miss the Summit Cafe (gondola ride required); at 2,733 feet, it serves great food and views year-round.
Flume Gorge
Enjoy a 2-mile stroll through moss-covered granite walls that rise 90 feet, covered bridges, glacial pools, and waterfalls. The natural granite gorge extends 800 feet at the base of Mount Liberty and is a must see of the White Mountains. At this time, the Flume Gorge Trail is one-way only and tickets are available only online and in advance.
Wildcat Mountain
Though a gondola ride up Wildcat Mountain will elevate you to breathtaking views, the lifts are closed in summer 2020 for infrastructure projects. Until ski season begins, exploring the landscape on foot is a great option. Hikers can start at the base of the ski area and reach summit Wildcat D (4.7 miles) via the Polecat Trails.
Bretton Woods
Synonymous with the Mount Washington Hotel, Bretton Woods is where visitors venture past passive sightseeing and get active in their quest for adventure. Summer activities include horseback riding, carriage rides, mountain biking, golf, disc golf, and guided hikes. Zip lining, scenic lift rides, the Slopeside Climbing Wall, and river tube rentals are temporarily closed in 2020. In the winter, activities include ice skating, snow tubing, skiing, sleigh rides, and snowshoeing.
RELATED: 25 Things to Do in Portsmouth, New Hampshire

Make winter even more magical with a visit to Ice Castles.
Ice Castles
We enjoyed these magical Ice Castles just last year and can't wait to go back. It usually opens in January and February (weather-dependent). This fantastic frozen experience puts you in the middle of hundreds of thousands of icicles handcrafted and placed by professional ice artists. Sculptures, frozen thrones, slides, fountains, and LED-lit sculptures make this a truly memorable adventure.
Cranmore Mountain
In the warm months, soar the eagle zip line, ride the scenic chairlift, and scream your way through the mountain coaster; in the winter, go skiing at Cranmore Mountain (extended night hours on Saturdays) and tubing.
Muddy Paw Dog Sled Kennel
Looking for a unique sightseeing experience? How about being pulled through meadows by sled dogs? Meet and greet the dogs, and help prepare them for the adventure.
RELATED: A Guide to Acadia National Park in Maine

Enjoy beautiful views and refreshing water at Echo Lake.
Echo Lake
On a hot day, a great stop is Echo Lake, where you can enjoy a refreshing swim and a sandy beach with views of Cannon Mountain. Boat rentals are available, including canoes, kayaks, and pedal boats. At this time, the beach is accessible by reservation only. Snacks (and any forgotten beach necessities) are available at the Lakeside General Store.
Dessert Spots
For some of us, no vacation is complete without gummy bears and jellybeans. Indulge your sweet tooth at these White Mountains' dessert and candy shops. Chutters, which carries 112-feet of candy selections, including every flavor imaginable in jelly beans, a broad selection of chocolate, fudge, gumballs, gummy everything, and so much more. For those die-hard cocoa lovers, plenty of bonbons and truffles await at the Bavarian Chocolate Haus, a convenient stop while chasing waterfalls along Kancamagus Highway.
Favorite Hikes in the White Mountains
Cannon Mountain
Looking for some bragging rights about conquering one of the state's 48 peaks that rise over 4,000 feet? Head up Cannon Mountain during summer or fall, but make sure to do so only on marked trails. In the snowy months, hit the slopes in the only ski area in the United States that features a ski museum.
Mount Willard
For relatively little effort, this short hike up Mount Willard (the round trip is about 3 miles and the altitude only 900 feet) leads to a gorgeous view. The trailhead is behind Crawford Depot and crosses a couple of streams. A small waterfall along the way makes for a great photo op, and at the top, you will see Mount Willey on the right and Mount Webster on the left; Crawford Notch stretches between the two.

Diana's Baths is but one of the area's many gorgeous waterfalls.
Chasing the Waterfalls of the White Mountains
You'll find plenty of waterfalls across the White Mountains, and often, the hikes leading to them are flat and short, making them just right for kids. Do not miss Arethusa Falls (1.5 mile hike at roughly 900 feet elevation), The Basin (a short, mostly flat walk from the parking area), Kinsman Falls, and Rocky Glen Falls (both within a half mile or 1 mile away from The Basin).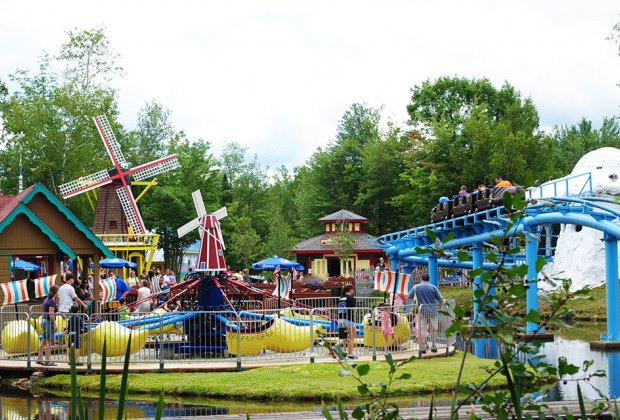 Get lost in fairytales at Storyland, a charming New Hampshire amusement park.
Amusement Parks and More Family Attractions
Storyland
Welcome to the place where fairytales come to life. More than 30 rides and attractions have entertained children at Storyland NH since 1954. The Polar Coaster, Bamboo Chutes, Antique Cars, tea cups, and balloon rides are just some of the giggle-inducing adventures in Storyland. No shows will occur in 2020 due to social distancing requirements and tickets must be purchased in advance. The park is open until daily through Labor Day, and weekends only until October 12.
Santa's Village
Head to Elf University, ride a Ferris wheel with mountain views, and drive the fire truck in the Hot Shots Fire Brigade at this Christmas-themed amusement park. More than 20 rides (a few are closed in 2020 due to social distancing requirements) operate every day that the park is open, including during the summer, Halloween, Christmas, and New Year's Eve. Tickets are not being sold at the gate, so all reservations must be made online in advance this year.
Clark's Bears
Formerly known as Clark's Trading Post, this destination is a hit for all ages alike. Delight in dancing bears, cool off on Blaster Boats, be amazed by the feats of circus acrobats, and settle in for a 25-minute train ride into Wolfman's territory. Add in visits to various museums and sweet treats from The Peppermint Saloon, and the kids will be talking about this outing for days. (The park is operating at reduced capacity in the COVID-19 era and advance reservations are strongly recommended.) The park is open daily through Labor Day and weekends only until mid-October.
Whale's Tale
This New Hampshire water park has been attracting and entertaining visitors for more than four decades. Thrill-inducers like Beluga Boggin, Harpoon Express, and Poseidon's Village are as refreshing as Jonah's Escape, a 1/4 mile lazy river, is relaxing. After a day of hiking, rent a private cabana at Castaway Cove and recharge while the kids splash in the wave pool. Reservations are required and the park is at reduced capacity these days.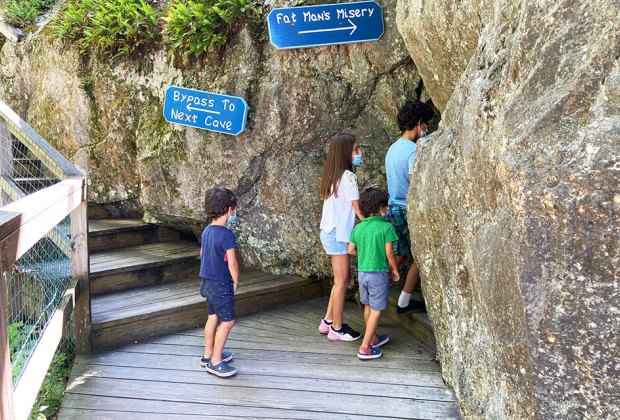 Make memories while exploring the Polar Caves. Photo by Sara Marentette
Polar Caves
When you explore each of the nine granite boulder caves, you will "dive into the earth and rise into the sky." Touch ice in the middle of summer in The Ice Cave, shimmy and shake through the tight spot known as Fat Man's Misery, walk the narrow path (and don't look down) of Devil's Turnpke, and squeeze yourself through a narrow crevasse, and don't skip a visit to the Animal Park.
Alpine Adventures
Whether you choose to trek off-road in a 6-wheel drive Pinzgauers, zip on six separate lines ranging from 250 to 1,000 feet, cross suspended bridges, or challenge yourself to the Super Skyrider Tour, Alpine Adventures will prove to be exhilarating and memorable.
Attitash Mountain Resort
Ready to ride one of the longest slides in North America? You will find it at Attitash Mountain Resort. Ride up the Flying Yankee chairlift to begin your journey through slopes and turns. If you're looking to enjoy a picnic with amazing views, pack a lunch and let the chairlift take you to the summit where you'll enjoy views of the Presidential Range and Mount Washington Valley.
Hobo Railroad
Trains depart from June through the winter holiday season along the Hobo Railroad, offering an opportunity to relax and take in bucolic scenery for the hour-plus ride through Lincoln, New Hampshire.

Grandeur, history, and amazing vistas await at the Mount Washington Hotel.
Where To Stay in the White Mountains
Picking a White Mountain hotel or campground really depends on your family. There are a range of budget-friendly motels and affordable White Mountains campgrounds, but also higher-end resorts from which to choose. We've already mentioned a few of the top ski resorts in the White Mountains, but here are few more places to stay.
Mount Washington Hotel
Even if you are spending the night elsewhere, the hotel's luxurious decor, fine cuisine, and charming stores are worth a visit year-round. Wander through the majestic common spaces, or grab a sweet treat and step onto the grand veranda that offers inspiring panoramic views of the Presidential Mountain Range.
Red Jacket Mountain View Resort
Not only will you enjoy comfortable accommodations and great views, but the Kahuna Laguna indoor water park is sure to delight kids with its fast tubes, pools, slides, treehouses, bridges, and much more. During 2020, admission to the park is for resort guests only and packages include free admission with room reservation between Sunday and Thursday.
White Mountains Camping
There are plenty of spots to raise a tent or rent a cabin in the White Mountain National Forest or secure your spot along the Saco River in the Crawford Notch Campground.
As you can see, whatever season your family decides to travel in, there are plenty of fun things to do in the White Mountains!
Unless noted, photos by the author