Story Land, NH: Amusement Park Fun for Young Kids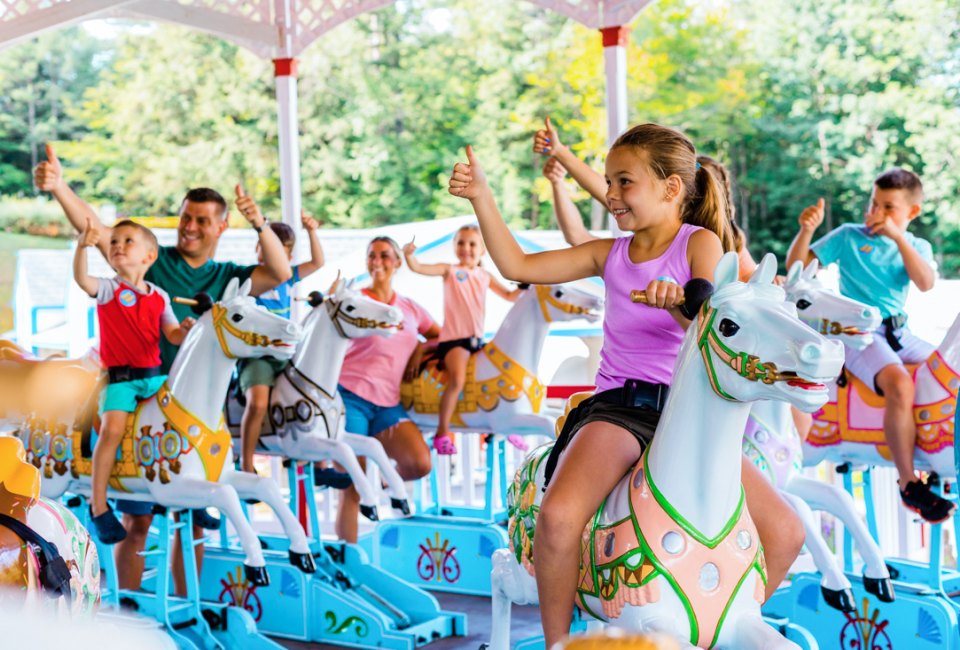 8/25/23
- By
Kelley Heyworth
New Hampshire's Story Land is ideal for families with small children. Amuseument parks are a big thrill for kids; but for younger ones, they can gat a little intense too. Nestled in the White Mountains of New Hampshire, Story Land was created more than 60 years ago to simulate a storybook village where the characters have come to life. It's grown to include more than 30 rides (including the "Roar-O-Saurus" roller coaster) and splashy stage shows with fairy-taler characters.
Story Land maintains a relaxed, family-friendly atmosphere geared to kids 2 to 12 years old, appealing to preschoolers but offering plenty for the grade-school kiddos. The park is only 2.5 hours from Boston (take that, Disney!), and Story Land tickets are a fraction of the admission price of most amusement parks. Read on for tips on a Story Land trip...with a little planning, it's possible you'll be just as enchanted as the kids.
Getting To Story Land in New Hampshire
Clocking in at just under 150 miles from Boston, Story Land can definitely be done as a day trip, especially for families in the north suburbs. Most Boston families turn a trip to Story Land into an overnight getaway. One mile from the attraction, Nordic Village Resort is the closest hotel to Story Land, and makes life easy with large condos with kitchens as well as a game room and pool for evening fun.
Want to make a weekend of it? We have additional ideas in our guide to the White Mountains of New Hampshire.
There's plenty of free parking around the park, all a short walk from the main entrance. You'll appreciate it when you have tired kids and armfuls of park swag at the end of a long day!
Must-See Attractions and Rides at Story Land
The Polar Coaster At Story Land is a fun ride for preschoolers—and for the parents too!
Story Land is more manageable than most theme parks. It's still smart to enter the colorful cottage-like entrance with a game plan. There are enough rides, games, and shows to suit most any child around 10 or younger, but there are some attractions that belong on your checklist.
Antique German Carousel
Get closer to this charming carousel, and you'll see that the horses are on springs...allowing kids to rock back and forth as they go 'round. This antique German carousel is special and very worth a ride (or 3).
Roar-O-Saurus
This wooden, dino-themed coaster has a 40-foot height, making it thrilling but not too over-the-top for riders (42 inches tall with a grown-up or 48 inches tall alone).
Dig-M-Deeper Play Area
One of the most hands-on features of Story Land, this construction-themed playground is packed with "diggers" and "'dozers" galore.
Story Land is home to beloved characters from nursery rhymes and fairy tales.
Cinderella's Pumpkin Coach
Princess-crazed kiddos love their royal ride around the park in Cinderella's horse-drawn, squash-shaped carriage.
Little Dreamers' Nursery Rhyme Play Area
Step inside Mother Goose stories in this interactive play area, and look for characters to take a picture with, including Cinderella, the Woman in the Shoe, and more. This is one of the toddler-friendly spots in the park.
Splash Battle: Pharaoh's Reign
Cruise along a 300-foot waterway and aim your water cannons at fellow boaters!
Polar Kids Coaster
This ride combines the feel of a true roller coaster with drops and speeds that are safe (and fun!) for young children.
Story Land puts on shows and celebrations all around the theme park throughout the day.
Shows and Performances
There are a handful of 20-30-minute shows happening every day Story Land is open. There are multiple stages and performance areas. Shows are included in ticket prices.
New for 2024 - Moo Lagoon at Story Land
Story Land opens its own waterpark attractions, with slides, sprayers, fountains, and more. The kids can stay cool on a hot summer day at Moo Lagoon!
If you plan to go on the water rides or splash parks, bring a change of clothes to prevent a soggy ride home. You can rent lockers in two different spots in the park.
Related: Best Outdoor Water Parks in New England for Family Fun
Story Land Hours
The park is usually open from Memorial Day weekend through Columbus Day weekend. It's open just on the weekends through early June and in September and October, and daily in the heart of the summer. Check the calendar for exact times. Saturday is almost always the park's busiest day.
Story Land Tickets
Admission is typically $45 for any visitor 3 or older when you buy Story Land tickets online. The park offers deals (including military discounts) so be sure to check the website. You can save $5 per person by purchasing a bundle of four or more Story Land tickets at once. If you are planning multiple visits, a season pass pays for itself on the second visit! Admission is free for kids under 3.
Eating at Story Land
A small Dunkin' Donuts is situated just inside the entrance, and after a long drive (or night in a hotel room), a coffee and quick-and-easy breakfast for the kids might be just what's needed. The many food kiosks serve up typical kid fare (burgers, hot dogs, pizza, etc.) The Farm Stand includes a few slighty healthier options, like turkey sandwiches and apple with peanut butter. For a treat, consider Dutch Village Ice Cream Shop, where kids can make their own sundaes. There's also a "slush factory" where you create slushy mixes from a variety of self-serve taps.
Guests are welcome to bring food and non-alcoholic beverages into the park. Coolers must be soft-sided and no larger than 12" by 12" by 12". All bags, coolers, and carts are subject to a safety inspection when entering.
Visiting Story Land - What You Need To Know
The park's family-friendly status includes lots of accessible, roomy restrooms. Plus, Story Land has an additional feature that parents of potty trainers can truly appreciate: Child-size toilet seats. Strollers (including double strollers) are also available to rent, which is nice if you have a toddler who is raring to go in the morning and dragging by the afternoon. One more unique, family-friendly perk: There's a free on-site kennel for dogs, which saves you both the guilt of leaving Fido and the costs of boarding him somewhere.
Photos courtesy of Story Land
Places featured in this article:
Click Here to Sign Up!
i