Story Land, NH: Closer Than Disney, Tamer Than Six Flags for Kids Under 12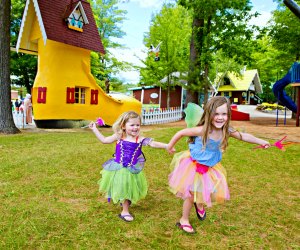 5/4/18
- By
Kelley Heyworth
Amuseument parks are a big thrill for kids; but for younger ones, they can be little scary, too. New Hampshire's Story Land gets it. Nestled in the Mount Washington Valley, Story Land was created more than 60 years ago to simulate a storybook village where characters and animals can come to life to charm children. It's grown to include more than 30 rides (most recently the "Roar-O-Saurus") and splashy stage shows (Daniel Tiger visits this summer), but has maintained a low-key, family-friendly feel that's geared to kids 2 to 12 years old (though we find it especially appealing for preschoolers and young elementary schoolers). It's also a morning drive away from Boston (see that, Disney), and about half the price of a day at Six Flags Great Adventure. Read on for tips on a Story Land trip...with a little planning, it's possible you'll be just as enchanted as the kids.

Getting There
Clocking in at just under 3 hours from the city, Story Land could possibly be done as a day trip for families in the north 'burbs—but for most Bostonians, better suited as an overnight getaway. One mile from the attraction, Nordic Village Resort is the closest hotel to Story Land, and makes life easy with large condos with kitchens as well as a game room and pool for evening fun.
Want to make a weekend of it? Your kids will be thrilled to pair a Story Land visit with a stay at the Red Jacket Mountain View Resort, home to Kahuna Laguna, a 40,000-square-foot indoor water park. Hit the rides one day and water slides the next (and remember that one day, your kids will be grown and you can hike, wine, and dine your heart out, and you will remember log flumes and family changing rooms with nostalgia). We have additional ideas in our guide to the Mount Washington Valley.
There's plenty of free parking around the park, but life is made way easier when you pay $10 to park in the preferred lot closest to the park. You'll thank yourself when you have tired kids and armfuls of park swag at the end of a long day.
Must-See Attractions
Story Land is more manageable than most theme parks, though it's still smart to enter the colorful cottage-like entrance with a game plan. There are enough rides, games, and shows to suit most any child around 10 or younger, but here are some attractions that belong on your checklist:
Carousel: Get closer to this charming carousel, and you'll see that the horses are on springs...allowing kids to rock back and forth as they go 'round. This antique German carousel is special and very worth a ride (or 3).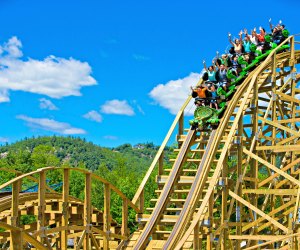 Roar-O-Saurus
Roar-O-Saurus: This wooden, dino-themed coaster has a 40-foot height, making it thrilling but not too over-the-top for riders (42 inches tall with a grown-up or 48 inches tall alone).
Dig-M-Deeper Play Areas: Also one of the newer features of Story Land, this construction-themed playground is packed with "diggers" and "'dozers" galore.
Cinderella's Pumpkin Coach: Princess-crazed kiddos love their royal ride around the park in Cinderella's horse-drawn, squash-shaped carriage.
Little Dreamers' Nursery Rhyme Play Area: Step inside Mother Goose stories in this interactive play area, and look for characters to take a picture with, including Cinderella, the Woman in the Shoe, and more.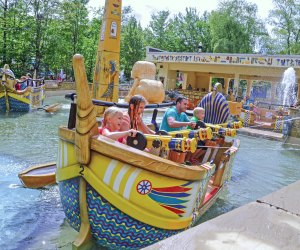 I splash, you splash, we all splash on Pharoah's Reign! In other words, prepare to get wet, here and elsewhere.
Splash Battle: Pharaoh's Reign: Cruise along a 300-foot waterway and aim your water cannons at fellow boaters.
Oceans of Fun Sprayground: A yellow submarine is the centerpiece of this unique spray-park area.
Stages: There are a handful of 20-30-minute shows happening every day Story Land is open, but the newest, Daniel's Grr-ific Day, is sure to be a hit. Shows are included in ticket prices.
Good to Know...
The park is usually open from Memorial Day weekend through Columbus Day weekend. It's open just on the weekends through early June and in September and October, and daily in the heart of the summer. Check the calendar for exact times. Saturday is the park's busiest day.
Day tickets are typically $31 for any visitor 3 or older. You can save $5 by going on select "smart days" throughout the year.
If you plan to go on the water rides or splash parks, bring a change of clothes to prevent a soggy ride home. You can rent lockers in two different spots in the park.
Strollers (including double strollers) are also available to rent, which is nice if you have a toddler who is raring to go in the morning and dragging by the afternoon.
A small Dunkin' Donuts is situated just inside the entrance, and after a long drive (or night in a hotel room), a coffee and quick-and-easy breakfast for the kids might be just what's needed.
The many food kiosks serve up typical kid fare (burgers, hot dogs, pizza, etc.) The Farm Stand includes a few slighty healthier options, like turkey sandwiches and apple with peanut butter.
For a treat, consider Dutch Village Ice Cream Shop..kids can make their own sundaes. There's also a "slush factory" where you create slushy mixes from a variety of self-serve taps.
Part of its family-friendly status includes lots of accessible, roomy restrooms. Plus, Story Land has an additional feature that parents of potty trainers can truly appreciate: Child-size toilet seats.
One more unique, family-friendly perk: There's a free on-site kennel for dogs, which saves you both the guilt of leaving Fido and the costs of boarding him somewhere.
Photos courtesy of Story Land