25 Things To Do in the Merrimack Valley with Kids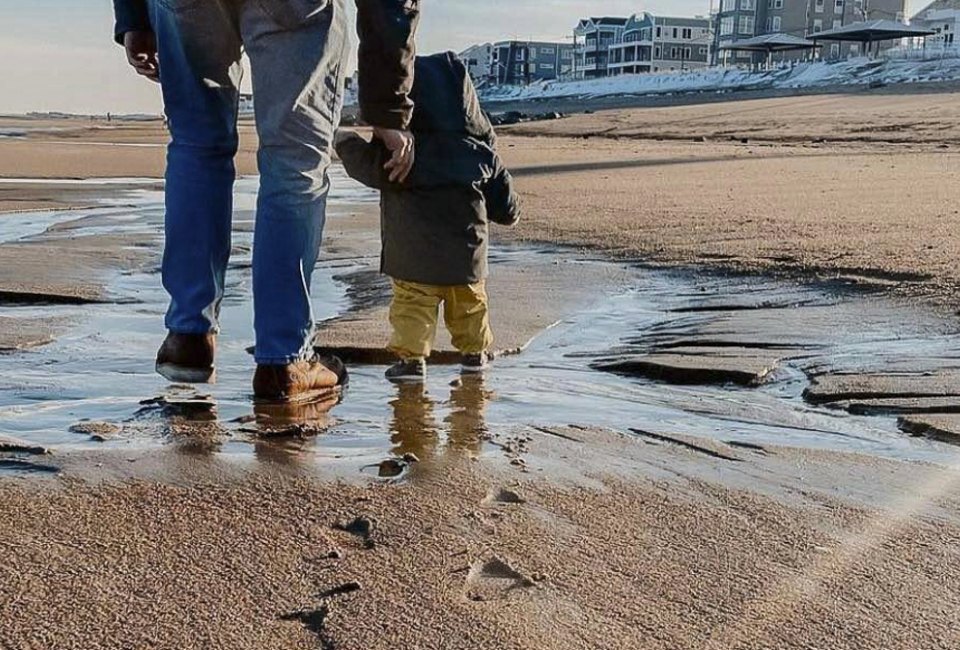 4/3/22
- By
Michael Del Llano
From the foothills of New Hampshire's White Mountains to the Atlantic Coast in Massachusetts, the Merrimack Valley offers families a range of fun activities. The region affords year-round and seasonal attractions, with a vibrant mix of natural splendor amid plenty of modern amusements. Everything from hands-on history to thrill rides comes with a visit to the Merrimack Valley. These things to do in the Merrimack Valley with kids can be found within a 90-minute drive from Boston. Many of these communities even have stops along the MBTA's commuter rail.
1. Ride the Rail Trails
Multiple railroad lines have found new life as bicycle trails. If your family doesn't feel like cycling, the trails are also open to walking, running, and even cross-country skiing. The Bruce Freeman Rail Trail runs from Lowell to Concord, with a bridge over Route 2 expected to open in July 2022. The Nashua River Rail Trail follows a tributary of the Merrimack. It starts in Dunstable, MA and winds 11 miles to Ayer.
Located in Westford, Massachusetts, The Butterfly Place offers families a magical hands-on experience. The spacious indoor garden is kept at a balmy 80 degrees, even in the middle of winter. Some kids will be entranced by the hundreds of fluttering butterflies. Others will love looking for caterpillars crawling among the leaves. Staff members happily answer questions your little ones have.
3. Hit the Beach
The Merrimack Valley meets the Atlantic with a pair of gorgeous beaches: Salisbury and Plum Island. Salisbury Beach has a massive state park facility with multiple parking lots, restrooms, and outdoor showers. There's also a playground and an outdoor picnic area for those who like to keep the sand far from their sandwich. Plum Island offers a cozier, out-of-the-way beach experience for families.

The Merrimack Valley offers beach fun for families. Photo courtesy of the Salisbury Beach Partnership.
4. Stroll the Boardwalk
The center of Salisbury Beach offers a host of family fun in the warmer months. Salisbury Beach's Broadway Loop boasts traditional seaside boardwalk attractions. Eateries feature favorites like seafood, fried dough, and soft-serve ice cream. Multiple arcades and a traditional carousel offer shade on a hot afternoon.
Open year-round, the SEE Science Center in downtown Manchester, NH offers interactive exhibits and hands-on fun. Families can explore physics, biology, astronomy, and more inside of a historic mill. The science center also has an epic Lego display made up of over 3 million bricks!
6. Explore History in Lowell
The industrial history of Lowell, Massachusetts, provides the backdrop for this National Historic Park. Take a walking tour of the mills and see the roots of American industry. Boat tours take families out on the river and through the city's canals. The Boott Cotton Mills Museum and visitor center are open year-round, and tickets are not expensive.

Whale watching expeditions depart from Newburyport. Photo courtesy of Newbury Port Whale Watch
7. Take in a Whale Watch
Near the mouth of the Merrimack River, Newburyport, Massachusetts, was once a major fishing port. Today, sport fishing trips depart from the same docks as whale-watching expeditions. Families looking for fun on the high seas come up close and personal with humpback whales, porpoises, dolphins, and more. And kids get to learn about life in the world's oceans along the way.
8. Take a Sleigh Ride
Candia, New Hampshire, home to Charmingfare Farm, is only an hour outside Boston. This working farm houses a small zoo (closed from October through March). During the winter months, families can book a sleigh ride through the farm's extensive trails. Spring and summer visitors can see all kinds of animals, like wolves, bears, and one really enormous camel.
9. Put Fun Front and Center
Families can find plenty of fun in many conveniently named family fun centers in the Merrimack Valley. Places like Cedarland in Haverhill, Jay Gee's in Methuen and Kimball Farms in Westford offer enough excitement and family fun to spend the entire day. Attractions include miniature golf, batting cages, go-karts and bumper boats. And ice cream. Lots of ice cream.
10. Get Some Farm on Your Table
Visitors to the Merrimack Valley can take advantage of dozens of small farms offering family fun like petting zoos, hay rides, and corn mazes. These family standbys let kids pick their own seasonal produce. Check out these guides to find Massachusetts' and New Hampshire's Merrimack Valley farms. Consult individual farm websites for hours and for what's on the menu–like, say, apple cider donuts.

The Merrimack Valley hosts one of the country's biggest folk festivals. Photo courtesy of the Lowell Folk Festival
11. Visit the Folk Festival
The longest-running (and second largest) free folk festival in the United States happens in the heart of the Merrimack Valley. Every summer, the Lowell Folk Festival showcases music, dance, food, and crafts from around the globe. This celebration of traditional artistry lasts three days, but your family will cherish the memories forever.

See some natural wonders at the Rocky Hill Wildlife Sanctuary. Photo courtesy of Mass Audubon
12. Get (a little) Wild
Looking to delve into nature? There's plenty along the Merrimack Valley. The Mass Audubon Society has wildlife sanctuaries at Nashoba Brook in Westford and Rocky Hill in Groton. Keep your eyes peeled for foxes, beavers, and maybe even a moose! The society's education center at Joppa Flats on Plum Island overlooks the Parker River National Wildlife Refuge.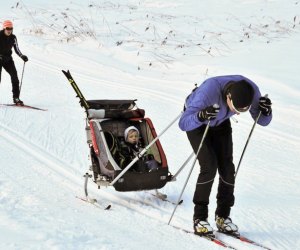 Bring the kids in tow for Merrimack Valley skiing. Photo courtesy of Pixabay.
13. Hit the Slopes
Winter fun means hitting the region's family-friendly slopes. If you're out for the first time or teaching the little ones the basics, these slopes keep things simple while still offering enough size for excitement. Area resorts like Pat's Peak in New Hampshire and Nashoba Valley and Ski Bradford in Massachusetts get families out on the hill without a long drive.
14. Bowl Like the Wind
Bowling alleys have come a long way, and the Merrimack Valley offers some serious family entertainment around the lanes and pins. Tewksbury's Wamesit Lanes hosts a mammoth arcade and golf simulators along with tenpin and candlepin. Gametime Lanes in Amesbury lets the parents try their hand at axe throwing while the kiddies play video games!
15. See Living History
Amesbury, Massachusetts, is home to the oldest continuously operating boat shop in the country. Lowell's Boat Shop has crafted handmade ships on the banks of the Merrimack River for more than two centuries. This living museum is open to the public on Thursdays and Fridays and by appointment.
16. Soar and Surf
Skydive with your kindergartener? Sure! The facilities at Nashua's Skyventure lets the little ones soar indoors without having to worry about parachutes. The facility's Surf's Up pool generates a constant wave for an unbelievable surfing experience; it's the largest surf simulator in North America! The wave is suitable for 5-year-olds, while kids as young as three can fly in the skydive tunnel.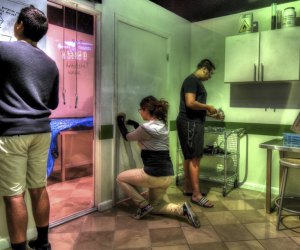 Escape into fun in the Merrimack Valley. Photo courtesy of Escapology Tewksbury, Facebook.
17. Make a Great Escape
Escape rooms offer year-round entertainment, and many offer family-friendly options. Key To Escape in Nashua, New Hampshire, has attractions suitable for kids 10 and up. Escapology in Tewksbury features a Scooby Doo-themed escape that kids as young as eight can enjoy. 102 Escape in Londonderry, New Hampshire, has a room styled like a wizarding school that 7-year-olds will undoubtedly love.
18. Take in Some College Hockey
Two major college hockey programs call the Merrimack Valley home. The University of Massachusett-Lowell River Hawks and rival Merrimack College Warriors both frequent the national rankings. Their games are fast paced and fun, with individual tickets and family packs that work for most budgets.
19. Go for a Spin (and a Plunge, and a Loop) at Canobie
New England's second largest amusement park brings families to the Merrimack Valley from May through October. Canobie Lake Park has rides and attractions for all ages and plenty of thrill rides for the adventuresome kids and parents! The little ones love the live shows and midway games, while the parents appreciate the free parking.
20. Visit America's Stonehenge
Once known as Mystery Hill, America's Stonehenge features curious rock formations that could be the oldest structures in America. The trails are great for a low-impact family excursion. America's Stonehenge combines history, mystery, and outdoor fun. Other highlights of a visit here include snowshoeing in the winter, and visits with the resident alpacas—whose wool is available to purchase in the gift shop.
The Merrimack Valley features several state parks . Photo courtesy of Ken Gallager.
21. Explore State Parks
Massachusetts and New Hampshire both run several state parks in the Merrimack Valley. Families can visit more than a half dozen parks with miles of trails for hiking, biking, and exploration. Maudslay State Park in Newburyport offers some stunning views of the river and manicured gardens. Silver Lake State Park in Hollis, New Hampshire, lets your family hike miles of wooded trails before or after a dip in the pristine lake.
22. Take in a Show
Set in the regions's two largest cities, Manchester's SNHU Arena and Lowell's Tsongas Center play host to all kinds of kid-friendly shows in the Merrimack Valley, including touring crowd-pleasers like Disney on Ice, the Harlem Globetrotters, and monster truck rallies. Check the websites for upcoming family-friendly concerts, shows, and sporting events. These arenas are also perfectly located for some urban strolling before or after the event.

Find some throwback fun with a pair of roller skates. Photo courtesy of Roller Kingdom, Facebook.
23. Bring Them Roller Skating
Roller Kingdom in Tyngsboro, MA, has seen generations of Merrimack Valley families learn to spin, dip, and duck walk. This family-friendly establishment offers laser tag and arcade games alongside both traditional and in-line skate rentals. Private and group lessons are also available here and at a second location in Hudson, MA. Check the rink website for special pricing on admission and rentals.
24. Take to the Ice
Several venues in the Merrimack Valley allow public ice skating, such as Janas Rink in Lowell, Breakaway Ice Center in Tewksbury, and Henry Graf Rink in Newburyport, to name a few. Many will rent out the entire rink for large groups and private events. Dorrs Pond in Manchester, New Hampshire, is a lovely spot for outdoor ice skating as a family.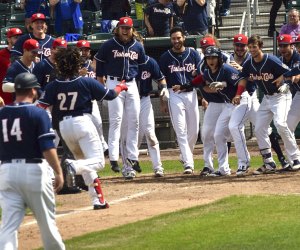 Root for the home team at Manchester's Gill Stadium. Photo courtesy of the New Hampshire Fisher Cats, Facebook.
25. Take Them Out to the Ballgame
Minor League Baseball appeals to families with young kids, and the New Hampshire Fisher Cats are no exception. Games at Manchester's Gill Stadium offer all the action of a Big League game with the price point and family friendliness of a farm team. Check their website for the games that feature fireworks!
Click Here to Sign Up!
i