Apple Picking near Philly: Best Apple Orchards for Apple Picking with Kids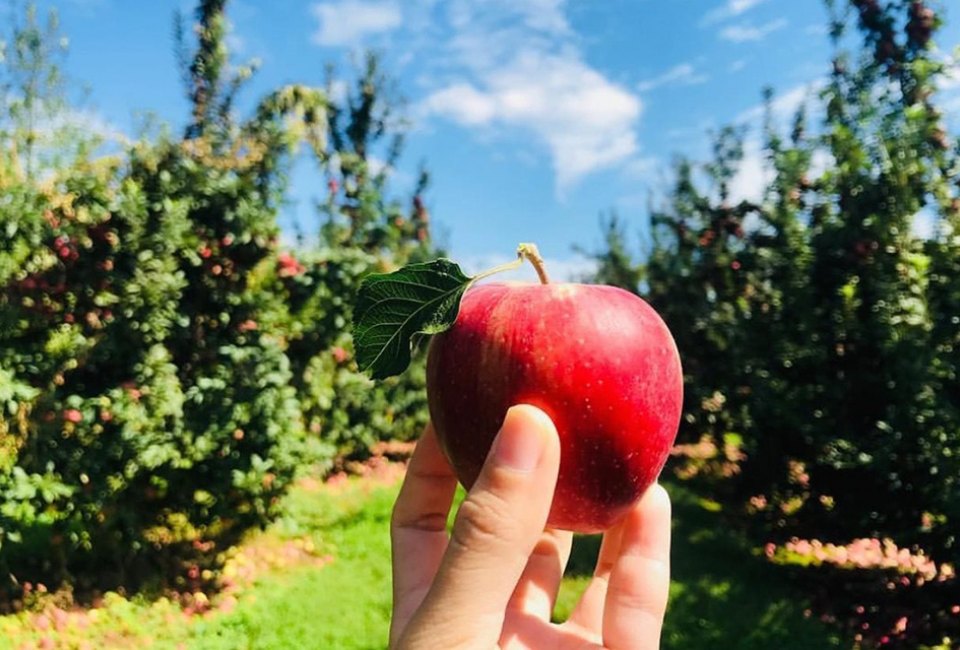 8/27/23
- By
Lori McManus
As we anticipate fall's arrival, Philly families look forward to the changing colors of the leaves, harvest festivals, and apple-picking season. Pennsylvania is one of the country's top apple-producing states, and we are fortunate to have a number of orchards in the Philadelphia area where families can enjoy this tradition. Many orchards host activities to extend the fun beyond apple picking: everything from tractor rides and corn mazes to moon bounces and festivals.
The pick-your-own apple orchards and farms listed below are within an hour or so of Philadelphia. Because farm conditions and apple selections vary, it is recommended to call or check websites before visiting. When you arrive home with your bounty of freshly picked fruit, be sure to try some of our favorite apple recipes. For more ways to spend a fall day, follow our Fall Activities Guide for Philadelphia Kids for the latest on where to hike, pick pumpkins, or enjoy corn mazes and hayrides.
Apple Picking Orchards for Families Near Philly
This family-owned orchard features a variety of pick-your-own apples throughout the fall season. Generally speaking, PYO starts mid-September here. Barnard's is also great for picking up other local produce, too.
With more than 35 different types of apples from which to choose and annual fall festivals taking place nearly every weekend, it is worth the drive to check out this Lancaster County farm. Summer and fall farm tours are offered, too. The PYO apple schedule starts in early August and goes through November.
The fields at Highland Orchards are open Tuesday through Friday from 9am to 6pm and Saturday and Sunday from 9am to 5pm for picking apples, and there's an open-air shuttle to the fields. No reservations are necessary. Highland has many varieties of apples, which are sold by the container, not per pound. Apple picking season runs from mid-July to October, and Harvest Festival weekends in the fall include hayrides, face painting, and scarecrow building. Bonus: their apple cider donuts are frequently named best in Philly!
Three orchards boast 14,000 apple trees at this farm which also has an educational mission. Before picking, guests watch a brief fun film teaching the proper way to pick, after which you'll be unleashed to gather all kinds of apples from dwarf trees with branches low enough for the smallest arms. If your family are truly PYO enthusiasts you can even lease your own trees for a season!
This 100-year-old, family-run orchard offers plenty of pick-your-own options, including apples. Crops are grown using organic techniques that are both natural and sustainable. Visitors must register at the desk to pay the per-person picking fee of $3.50 and to get their baskets. Indian Orchards is open daily from 10am to 6pm, and apple picking typically begins in September. Check the website for a full schedule of when different fruit and vegetables are ready for picking.
RELATED: Kid-Friendly Fall Hikes in the Philly Area

Johnson's Corner Farm is a quick drive across the Ben Franklin Bridge.
In nearby Medford, just a quick drive over the Ben Franklin Bridge, enjoy apple picking at Johnson's Corner Farm, where the season begins in early September. Picking reservations can be made online. There are also a ton of family-friendly activities events to engage in, including pedal go-karts, a corn maze, a tractor tire sand castle, climbing rocks, play areas, and pretend farm. Johnson's Corner Farm also offers Little Farmers classes for 2-5 year olds.
Much more than just an orchard, Linvilla is a huge outdoor destination for families. The Pumpkin Land display alone is worth the visit, along with a large playground, farm animals, a market, and festivals on the weekends, plus a garden center and a beer garden for parents. Families can take a hayride out to Linvilla's 20 acres of orchards with 25 different varieties of apples. Timed tickets are available online. Picking starts every day at 8am and concludes at 4pm.
This 98-acre PYO farm has been purchased by the Strathmeyer family, who are keeping the picking traditions alive. This spot offers not only apple picking but other fruits as well. Guests should call in advance or check the website for picking conditions and to see what's ready for picking. Orchard Valley Farm also hosts an annual peach festival in August and a harvest festival in September.
Shady Brook Farm is a great Bucks County spot for seasonal outdoor activities and festivals. Along with PumpkinFest, a corn maze, inflatables, giant jumping pillows, and playground, the farm offers visitors a wagon ride to pick-your-own apple fields. Crops are sold by the container. A farm market features local goodies and a pub features local wines. Fields are closed Mondays and Tuesdays.
RELATED: The Best Corn Mazes and Hayrides near Philly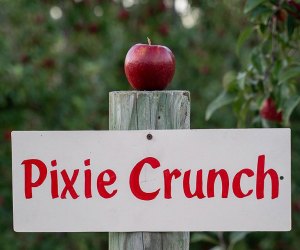 Solebury Orchards in New Hope has 20-plus varieties for your picking pleasure.
Take a wagon ride to the orchards on weekends, where the driver can bring you directly to the best picking spots. With more than 20 different varieties of apples ripening at different times during the season, pick-your-own is available late August through early November. The 15 acres of orchards are open Thursday through Sunday from 9am to 6pm, and reservations are required for weekends in September and October. The farm also offers pears, plums, apricots, cherries, and blackberries.
The weekend is the time to visit Solly Farm. Apple picking starts mid-September, but there are many crops such as peppers, pumpkins, peaches, and strawberries to pick seasonally. Solly Farm also hosts Breakfast on the Farm featuring its delicious peaches, blueberries, and strawberries when they are in ripe in the summer, plus fall hayrides and spring Easter egg hunts.
This orchard, with a large variety of pick-your-own fruits and vegetables, is located close to Oxford Valley Mall, with easy access from Route 1, I-95, and the Pennsylvania Turnpike. Free wagon rides to the apple orchards are available. Styer Orchard advises calling or checking their website or Facebook page first to determine picking conditions for that day. The market on site has slightly different hours, and features homemade pies, specialty cakes, as well as lunch.
This is one of the smaller farms on our list, with parking directly in front of the apple picking area. It's easy to get in and out, especially if you have little ones with short attention spans. The market has a great selection of bakery items and the feel of an old country general store. The website is updated with a picking schedule so you can know what's in season before you go. The farm also hosts seasonal and holiday events throughout the year.
RELATED: Alpaca Farms Near Philly for Family Fun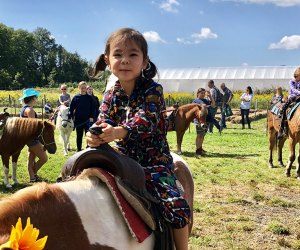 Pick apples then enjoy the farm activities at Terhune Orchards. Photo by Janet Bloom
Families can enjoy picking a variety of wholesome goodies at Terhune Orchards. In addition to apples, this orchard offers asparagus, cherries, blueberries, and blackberries. Fields open at 9am, and tickets for picking aren't required here as they are at some orchards. There are plenty of farm activities, like farm animals, gardens and tractors, for kids and even a winery for grown-ups.
Pick-your-own fruit at Weaver's is relaxing and kid-friendly. All of the apple trees are dwarf trees, so most of the fruit is within easy reach. The orchard also features a frequent summer story time for little ones, Friday art classes for first through eighth graders, and Johnny Appleseed Day in September.
Photos courtesy of the orchards
This article was originally published in September 2014. Writer Hillary Moses Mohaupt contributed to the 2023 update.
Sign up for the Mommy Poppins Newsletter today!
i