A Visit to Amish Country: 13 Fun Things To Do with Kids in Lancaster, Pennsylvania
4/26/17
- By
Cait Sumner
A trip to Lancaster County, Pennsylvania, offers a surprising number of family activities, from farm visits and more country fun to train rides and cool museums. My family, including two little ones, recently tried to squeeze as much of the area's top attractions into a day trip as we could, and we're already planning a return trip to see more.
Whether you love that rural vibe or are just looking for an alternative to the standard beach-type of family weekend getaway, I can assure you that Pennsylvania Dutch Country and Amish Country make for a sweet destination with kids in tow. It's not just fields, pastures, and cows!
Read on for the top family sights, including The Science Factory, Strasburg Railroad, Dutch Wonderland, and even a train-themed hotel.
Looking for more family getaways? Check out our travel guide with real parent reviews of resorts and destinations. Find more Pennsylvania family fun with our Poconos Guide.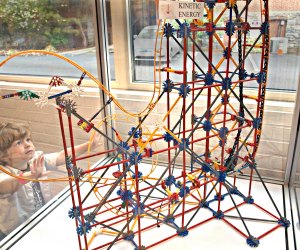 Dozens of hands-on exhibits for all ages make The Science Factory a win.
The Science Factory — Lancaster
454 New Holland Avenue
717-509-6363
This little museum far exceeded my expectations. It's loaded with more than 60 exhibits—and nearly every single one is hands-on. Kids will learn about physics, sound, light, and other key science principles all through play. Kids can build rollercoasters, robots, and race cars. There was a giant Newton's cradle and stacked ball drop, an infinity mirror, large foam building blocks, and a whole lot more.
The best part was that the museum truly appealed to all ages. My 2-year-old ran around ecstatically trying everything, while even my husband and I enjoyed testing out some of the more advanced exhibits. We visited on a rainy Saturday morning right around when it opened, and it was not crowded at all.
North Museum of Nature and Science — Lancaster
400 College Avenue
717-358-3941
North Museum offers a little bit of everything: dinosaurs, nature, live animals, and art. See a show at the planetarium, or check out the Explore Nature Gallery, which features live animals, a glass-walled honeybee hive, and hands-on activities. Head to the Paleontology Zone to handle real fossils and dinosaur bones.
Turkey Hill Experience — Columbia
301 Linden Street
844-847-4884
Learn all about dairy and how ice cream is made at this interactive experience. Kids can create their own ice cream flavor, milk mechanical cows, and sit in a vintage ice cream truck. The best part might just be the free samples!
RELATED: Visiting Philly with Kids: Best Destinations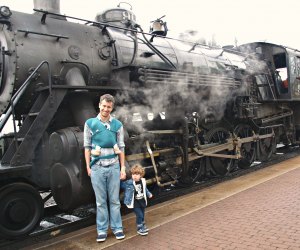 My son loved riding the legit steam train at Strasburg Railroad.
Strasburg Railroad — Strasburg
301 Gap Road
1-866-725-9666
Catch this 45-minute train ride on an authentic coal-burning steam train as it goes right through the heart of Amish Country. You'll see real working farms, maybe even a horse and buggy, and also cows, so many cows. Kids, of course, will thrill just to climb aboard, never mind the gorgeous scenery. This was by far my son's favorite activity of the day.
Splurge on a day pass to ride coach unlimited all day. The pass also lets visitors enjoy some seasonal fun: the Pint-Sized Pufferbelly, a 110-year-old mini steam train, operate a pump car, and try out the tiny cranky cars. The railroad is also conveniently located near quite a few other items on our list —The Railroad Museum, The National Toy Train Museum, and The Red Caboose Motel — so, you can really do a lot without traveling very far at all, especially if you've got a train fan on your hands. The railroad also operates a number of seasonal trains and special events including a Day Out with Thomas the Tank Engine and an Easter Bunny train ride.
The Railroad Museum of Pennsylvania — Strasburg
300 Gap Road
717-687-8628
Just across the street from the Strasburg Railroad is the Railroad Museum of Pennsylvania, an enormous ode to locomotive history. Located in a huge shed, the museum houses historic locomotives, dining cars, and cabooses. There's also an area for kids with toy trains, a reading nook, demonstrations, and interactive games.
National Toy Train Museum — Ronks
300 Paradise Lane
717-687-8976
This museum may look small, but it houses what it says is the world's largest toy train collection. The museum itself even looks like a Victorian train station. There are five different displays; kids can operate different tracks with the press of a button. There are also hundreds of model trains, some of which date back to the 1840s. The Red Caboose Motel offers a BOGO deal with the National Toy Train Museum where you can book a room and get admission to the museum, too.
Cherry Crest Adventure Farm — Ronks
150 Cherry Hill Road
1-866-546-1799
If you take a trip on the Strasburg Railroad, you'll pass right through the amenity-loaded and super cute Cherry Crest Adventure Farm, which we've visited in the past. The farm offers seasonal family entertainment, including potato cannons, playgrounds, and a massive hay chute slide. In the fall you'll find a chick hatchery, wagon rides, and a top-notch corn maze. Check the website before you go to see what seasonal activities are being offered. It is generally closed to the public from November through May and the last week of June.
Choo Choo Barn — Ronks
226 Gap Road
717-687-7911
This 1,700-square-foot model train display shows off the best of Lancaster and all its attractions in miniature, including the Red Caboose Motel, Dutch Wonderland, and the Strasburg Railroad. Kids can watch the various mini trains whiz by, and every 15 minutes there's a simulated nightfall that ups the drama. Note: Kids under 3 are FREE.
Tiny Town — Lancaster
533 Janet Avenue
717-947-7350
This brand-new indoor play space offers nine themed play areas where kids can let their imaginations go, including a diner, firehouse, doctor's office, and library. It's all designed for kids under the age of 7. A coffee bar and cafe seating give parents a place to sit and relax while the kids play on rainy, hot, or cold days.
Dutch Wonderland — Lancaster
2249 Lincoln Highway East
1-866-386-2839
Hit the rides at this popular amusement park. Bearing the slogan "Kingdom for Kids," this 48-acre medieval themed park features more than 35 rides, shows, and attractions, as well as mini golf and a water park. I rarely feel overwhelmed by crowds at this theme park. There's also a campground just steps away with cabins, tent sites, and partial or full hook-up sites if you want to stay the night.
Where to Eat and Stay
There are loads of hotels and restaurants from which to choose in the area, but we want to highlight a couple of favorites.
Miller's Smorgasbord — Ronks
2811 Lincoln Highway East
800-669-3568
This all-you-can-eat buffet has several options sure to please families with picky eaters. You can order just the soup and salad bar, the full buffet, or go a la carte and order off the menu. There is an overwhelming amount of delicious homemade-style food to choose from: fried chicken and waffles, roast beef, turkey, french fries, mashed potatoes, stuffing, shrimp, and mac-and-cheese. Don't forget to stop by the dessert bar before you leave. I've never seen so many kinds of pies and cheesecakes!
Bonus: Kids age 3 and under eat for FREE. People come here by the busload, but the place is huge. We didn't have a wait when we arrived at 1pm on a Saturday. The restaurant does offer reservations, too.
RELATED: Historic Gettysburg: What to See and Do as a Family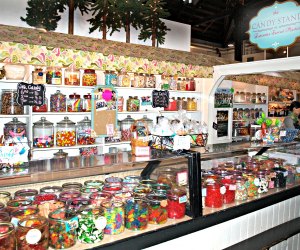 One of the many candy stands at Lancaster Central Market.
Lancaster Central Market — Lancaster
23 North Market Street
In the heart of downtown Lancaster is what's known as the country's oldest farmers' market, Lancaster Central Market. The indoor market offers tons of delicious local and regional food on sale every Tuesday, Friday, and Saturday. We stopped in here for a snack, homemade soft pretzels and apple cider, but it was hard not to come home with a lot more. There's no shortage of sweet treats, deli meats, coffee, and jams. You'll also find a fair amount of communal seating, so you can even stop here for a meal. We sat and chatted with a lovely couple from Harrisburg who had some great advice about things to do with kids both in Lancaster and in their hometown.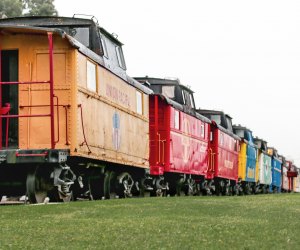 Stay the night in one of many colorful train cars at The Red Caboose Motel. Photo courtesy the motel.
The Red Caboose Motel — Ronks
312 Paradise Lane
717-687-5000
Trains are the theme at this adorable hotel. Don't expect room service, but do expect to wow your kid by making their dreams come true with an overnight in a real train car! The colorful motel is comprised of 38 cabooses, a baggage car, and a mail car. It's conveniently located about a two minute drive down the road from the Strasburg Railroad and The Railroad Museum, and your stay comes with a visit to the nearby National Toy Train Museum. If you're looking for a unique overnight, the Red Caboose Motel is definitely the place to stay.
Of course, there are plenty more motels and hotels in the area, as well as a number of farm stays for that rural experience.
All photos by the author except where otherwise noted.
Click Here to Sign Up!
i