Visiting Philly: A Tourist Guide of Must-Do Things for First Time Visitors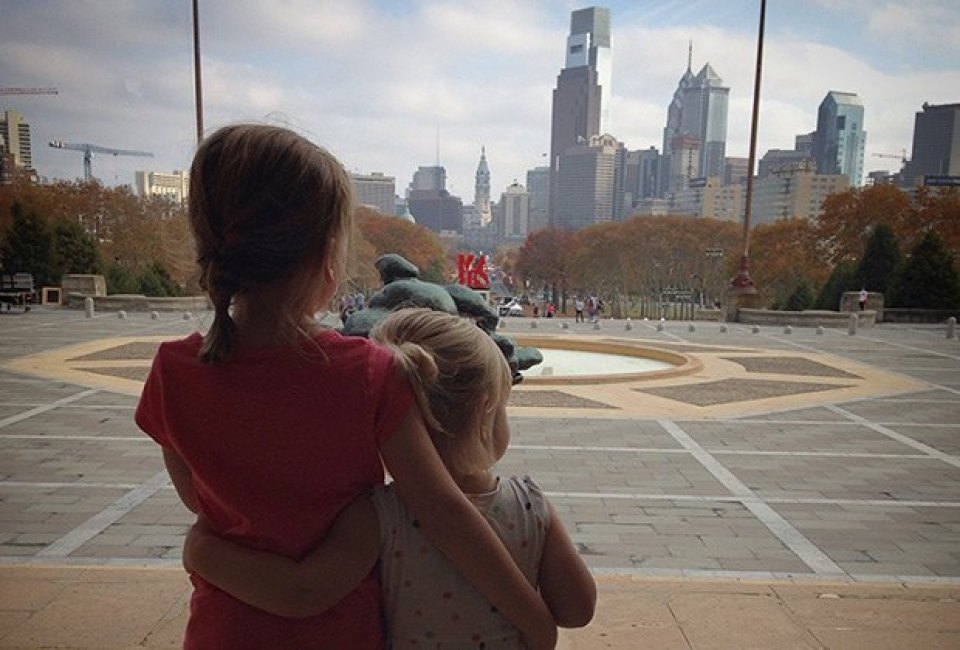 7/12/16
- By
Ruth Malwitz
Philadelphia is walk-able, easy to navigate, filled with kid-friendly attractions and museums, gardens and parks, restaurants and activities. It's full of rich history, and is the perfect destination for families. Whether you're planning a day trip or a long weekend (even a whole week) there's plenty to entertain and inspire the whole family. With so many awesome places to see, adventures to take, and things to eat, planning a trip to Philly can be overwhelming, so here's a few tips and ideas to get you started.
While you're in town, be sure to check out our event calendar to see a listing of all the special events happening.
What to Do
The Franklin Institute is a science museum that kids will never forget! The amazing exhibits, IMAX theater, and Planetarium will keep young scientists happy for hours.
The nation's first zoo, The Philadelphia Zoo is a must for animal-lovers of all ages. With the park's newest addition Zoo360--a network of elevated walkways throughout the zoo that give visitors closer-than-ever views of tigers, meerkats, apes, and more--it's definitely worth the trip.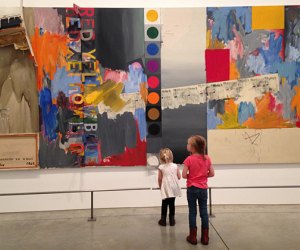 Enjoying the paintings at the Philadelphia Museum of Art. Image provided by the author.
The Philadelphia Museum of Art is not only an incredible museum housing some of the world's best and most inspiring works of art, its steps (back and front) offer some of the most beautiful views of the city. After exploring the collection inside, kids will love running up and down the museum's front steps, just like Rocky did in the movies. The museum also offers special events and programs for kids.
A newer exhibit, One Liberty Observation Deck offers breathtaking 360-degree views of the city and beyond, 57 stories up.
Show your kids the Liberty Bell and the birthplace of the Declaration of Independence and the Constitution at Independence National Historical Park, and see history come alive.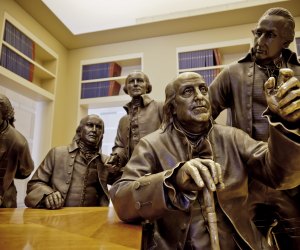 Signers Hall features 42 life-size bronze statues of the Founding Fathers. Photo of courtesy of the National Constitution Center.
The National Constitution Center is another fun opportunity for kids to experience history.
See how money is made at the Philadelphia Mint. This free, self-guided tour takes about 45 minutes to complete.
Hit the streets of Old City and visit the Liberty Bell, the Betsy Ross House, and Elfreth's Alley, America's oldest residential neighborhood.
See the ships at Independence Seaport Museum. Offering great views of the waterfront and even paddle boat rentals, The Seaport Museum is a must-visit for fans of all things nautical.
Go for a skate on the waterfront at Blue Cross RiverRink at Penn's Landing. During summerfest, guests can rollerskate or rollerblade around the rink. If you're visiting in winter months, it's a really beautiful and fun place to ice skate!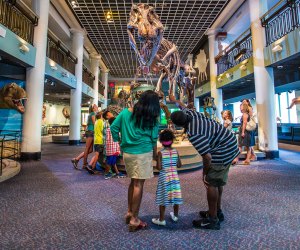 Towering dinosaur skeletons are an exciting attraction at The Academy of Natural Sciences. Photo courtesy of of Jeff Fusco for Visit Philly.
The Academy of Natural Sciences houses dinosaur skeletons, a butterfly garden, and historic dioramas.
Relax in Franklin Square, a park located just north of Independence National Historical Park. After a morning (or a few days) packed with museums and attractions, Franklin Square is a relaxing way to unwind, complete with a Carousel, playground, fountains, lawns, a mini-golf course, and Square Burger, a burger and milkshake stand the whole family will enjoy.
Where to Eat
Philly loves their cheesesteaks (try South Street's Ishkabibbles or Fishtown's Joe's Steaks), but it's also a city of incredible eats for every palate. Chinatown is a fun stop for dim sum and bubble tea, and the Italian Market in South Philly is an outdoor street market lined with some of the city's best butchers, produce stands, fish markets, and more. But Reading Terminal Market, at 12th and Arch Streets near City Hall, is a must-stop, must-see, must-eat. Founded in 1892, the Terminal is the country's oldest continuously operating farmers' market. Today it remains one of the country's best public markets, packed with stalls for produce, fish, meat, cheeses, coffee, and cuisine from all over the world.
Getting Around
Driving around the city is mellow compared to larger cities, and metered street parking can be found quickly in most areas. Garages abound in tourist areas, both valet and self-park, which are convenient if not exactly cheap. Visitors can also hop on Philly Phlash, the downtown bus loop that runs every 15-minutes during the day and makes 22 stops hitting countless destinations, all for $2 per ride or $5 for an all-day pass. And the subway runs north-south along Broad Street, and east-west along Market Street (both main arterials of town).
Discount Passes
CityPass includes admission to four of the city's best attractions at a serious discount. The pass includes admission to the Franklin Institute, One Liberty Observation Deck, The Big Bus Company, Philadelphia Trolley Works, and the Philadelphia Zoo OR Adventure Aquarium across the bridge in NJ for 45% off regular prices. The Philadelphia Pass gives you discounted entry to over 40 top attractions. Passes can be purchased in 1, 2, 3, or 5 day increments, and the more you see and do, the more you save.
There's so much to see and do in Philadelphia, which means there's always a reason to come back again (and again)!
Header image provided the author.