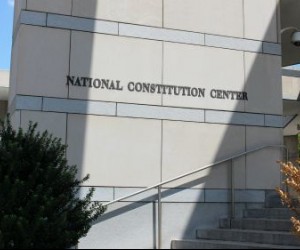 10 Fun Things To Do with Kids at The National Constitution Center
With media coverage, televised debates and robo calls bringing the presidential election center stage, kids may be asking questions about how the United States government runs. Adults may be wondering the same thing as well! A visit to the National Constitution Center in Philadelphia's historic district provides the perfect opportunity to learn about our government and how it works. Here are 10 must-see items that make learning fun for kids while visiting.
1. Find the Pennsylvania Flag: On the second floor of the museum, visitors can see all 50 flags representing our country's states. After identifying the flag, learn what date Pennsylvania entered the Union.
2. Freedom Rising: Experience the multi-media production entitled Freedom Rising. This show features a live actor coupled with film and shares the incredible story of our country's birth. Learning about the amazing heroics of the people who fought for our country is sure to give you chills.
3. American National Tree: As visitors enter the main section of the Museum, the American National Tree stands with digital pictures of 99 individuals who helped to influence our constitutional history. Surrounding the tree are touch screen that guests can use to learn about people such as Candy Lightner, founder of M.A.D.D., Red Bird who fought for Indian rights and Muhammed Ali.
4.Play Hail to the Chief: Led by a National Constitution Center facilitator, guests can see how much they know about the Presidency through this trivia game. The game is a combination of Jeopardy-style questions with a Family Feud-style answering method and varying degrees of difficulty from easy to expert.
5. Cast Your Vote: Go inside a voting booth to place your vote in a make-believe election on a touch screen. Younger children may need help reading through the questions to help make a decision in these pretend elections. Votes are tallied so visitors can see the current results.
6. Pretend to be President: Kids and grown ups alike can stand behind the podium complete with the official Presidential Seal as they recite the Presidential Oath of Office. A camera takes a picture which can be purchased in the gift shop.
7. Balance of Power Exhibit: The concept of the three branches of government is clearly depicted at this exhibit. There is a model of The Capitol, The Supreme Court and The White House as well as a digital display of how the three work together without giving too much power to one branch.
8. Wear a Supreme Court Justice's robe: Do you have a lawyer in the making at your home? Give him or her the chance to wear the cloak and learn why judges wear black robes.
9. Jury Selection: Older kids can appreciate sitting in a jury box while learning about how important our Founding Fathers felt about Trial By Jury. This section of the Museum highlights the critical role that juries have in our legal system- the power to decide who is guilty and who is innocent based on the law.
10. Sign the Constitution: Surrounded by life-size bronze statues of the 42 Founding Fathers, visitors can electronically sign the Constitution in Signers' Hall. Be sure to check out all the statues including Benjamin Franklin.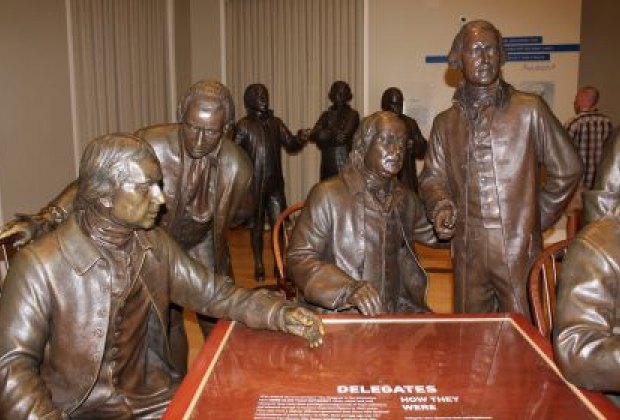 Older elementary school students, middle schoolers and high school kids can really get the most out of this museum. However, there is enough to keep younger children engaged. The National Constitution Center is located between 5th and 6th Streets on Arch Street and has an attached parking garage for convenience. In addition, there is a cafeteria-style restaurant and museum gift shop. Centrally located, the National Constitution Center is a great 'home-base' while visiting Historic Philadelphia. For more information, visit www.constitutioncenter.org.