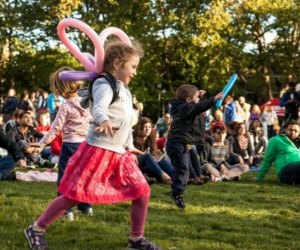 100 Free Things To Do with Kids in Philly this Summer
School's out and summer is here. Time to find some great new ways to keep the kids busy and entertained over break without breaking the bank. We've compiled a HUGE list full of free events and anytime activity ideas for you to keep those kiddos busy all summer long. For more great events, check out our full event calendar.
Repeating events:
1. Schuylkill Saturdays - Philadelphia
Formerly Saturdays @ SCEE, this event engages families in nature exploration. Visitors gather in the Discovery Center and have the chance to listen to stories. Then, get ready to explore the walking trails led by a naturalist guide.
2. Lighthouse Storytime - Cape May
A trip to Cape May doesn't seem complete without a visit to Cape May Point State Park and the 1859 lighthouse at the rocky edge of the park. Each Saturday through September 1, stop by the park's Education Center to hear nautical tales and lighthouse adventure stories.
3. Fractured Fables Puppet Show - Easton
Yippee Skippy Puppet Theater presents Fractured Fables, an improvisational puppet extravaganza with live music. Audience members draw familiar stories and songs from the hat for the puppets to perform. Somehow, the puppets don't get the story quite right, and the results are hilarious! These sessions are geared for the enjoyment of children from infants to primary graders; however, all ages are welcome.
4. Norristown Free Outdoor Concert Series - Norristown
Head to the Elmwood Park Bandshell to enjoy a free summer concert on select dates now through September. All of the concerts begin at 7 PM unless otherwise noted and are held Thursday through Sunday.
5. Valley Forge Secrets & Spies- King of Prussia
Learn about 18th century spy techniques during these free session at Valley Forge National Historical Park.
6. Sundays with Pop-Up Play - Philadelphia
Head to Spruce Street Harbor Park to participate in a variety of free kids' activities with Pop-Up Play. Themes vary by week and include engaging interactive experiences through art, music, science, and movement.
7. Once Upon a Nation Storytelling Benches - Philadelphia
Guests visiting Historic Philadelphia can pause to hear the fascinating tales from our nation's past at ten charming benches scattered throughout the area. This free program is perfect for elementary school children learning about the history of our country. Benches are located at various locations throughout the city.
8. Summer Festival Concerts at Rose Tree Park - Upper Providence
Bring a blankets and some chairs to enjoy a spectacular line up of performances this summer. Live music from a variety of genres is played for free Wednesday through Sunday evenings in Rose Tree Park. There are some children's only shows in the mornings on select dates as well.
9. Music Monkey Jungle: Reading Terminal Market - Philadelphia
Sponsored by Reading Terminal Market, this music time with Music Monkey Jungle is free and open to the public. All ages, shapes, sizes, and abilities are welcome to participate and no registration is needed.
10. Kids' MusicRound of Yardley - Langhorne
Celebrate with Kids' MusicRound of Yardley in Sears Court on the Lower Level. Each week, kids under 5 learn some new tunes, show off their dance moves, and have plenty of fun in this special sing- and play-along event.
11. White's Road Park Concert Series - Lansdale
Through August, concert-goers can bring a blanket or lawn chair and listen to a live concert at White's Road Park. These free concerts are held on Tuesday evenings and begin at 7 PM unless otherwise noted.
12. Free Crafts for Kids at Lakeshore - King of Prussia
Come make some crafts at Lakeshore in King of Prussia. From 11 AM to 3 PM, children can drop by and create something spectacular each week. Themes vary by week, such as under the sea animals, boats, and sandcastles, and no registration is needed.
13. Creative Play Time at Smith - Philadelphia
On select days of the week, kids have the opportunity to enjoy messy play, arts and crafts, and more at Smith Playground and Playplace.
14. Trail Tuesdays - Valley Forge
Participants can meet at the Visitor Center Parking Lot for a healthy walk around Valley Forge. This walk is for all fitness levels. Bring the whole family - both dogs and strollers are welcome!
15. Declaration of Independence Reading - Philadelphia
Visitors can hear this moving reading from the Declaration of Independence performed by the History Makers, favorite characters from the Once Upon A Nation stories. Declaration Readings take place in Independence Square, directly behind Independence Hall at Barry Statue. The readings are held once daily at 3:45 PM.
16.​ Summer Movie Series—Blue Bell
Outdoor movies at Wentz Run Park are sure to delight crowds this summer. All of the featured films begin at dusk, or when it is dark enough to see the screen. Bring a blanket or camping chair and come early to get a good spot.
17. Pastorius Park Free Summer Concert Series - Philadelphia
The longest running outdoor concert series in the city, Pastorius Park presents free concerts on Wednesday evenings. So, find a spot to enjoy the music which varies by week. If the weather does not cooperate, the show will take place at Springside Chestnut Hill Academy's Cherokee Campus.
18. Summer Breeze Concert Series - North Wales
Upper Gwynedd Township presents its "Summer Breeze" Concert Series held on Wednesdays at 7 PM throughout the summer.
19. Newtown Movies in the Park - Newtown
Head to Linton Memorial Park to enjoy watching a great movie with friends and family sponsored by Newtown Borough's Recreation Board. Just bring a blanket or lawn chair, sit back, relax, and enjoy the show!
20. Plymouth Township Movie Series - Plymouth Meeting
On select Wednesdays, families can enjoy DJ entertainment and a family movie. DJ fun begins at 7:30 PM and the movie starts at dusk.
21. Grow Up Green- Philadelphia
Learn how to make a difference in the environment during these outdoor events at Sister Cities Park.
22. Summer Outdoor Movies at Paoli Presbyterian - Paoli
The whole family can enjoy snacks, activities, and a free outdoor movie once a month at Paoli Presbyterian Church. Be sure to bring a blanket or low-profile chair and get ready for the show!
23. Summer Concert Series - Montgomeryville
From June through August, visitors to the Community & Recreation Center in Montgomeryville can enjoy free concerts on Thursday evenings. It is important to note that all concerts are set to be held outside at the new Community & Recreation Center located at 1030 Horsham Road.
24. Free Movie Night at King of Prussia Town Center - King of Prussia
Bring the family to King of Prussia Town Center to watch a free movie. Films vary by date and are shown at the pavillion in front of Davio's Northern Italian Steakhouse.
25. Story Time in the Playhouse - Philadelphia
On Wednesdays at 10:30 AM, kids can listen to stories at Smith's Playhouse. These sessions are open to all ages.
26. Spruce Street Harbor Park Waterfront Sessions - Philadelphia
On Thursdays from 6:30pm-9:30pm throughout the summer, Spruce Street Harbor Park provides some sweet sounds performed by a variety of local talent.
27. Craft Time at Monkey Fish Toys - Chester Springs
Stop by Monkey Fish Toys at 10:30 AM on Wednesdays for make and take craft time. Little ones can create a special project to take home. Projects vary week to week and are first-come, first-serve.
28. Read, Baby, Read - Philadelphia
Enjoy play and great conversation for babies, toddlers, and grown-ups alike at the Richmond Library. Read, Baby, Read is a series of fun programs for babies, toddlers, and their families, to help develop language and literacy.
29. Pottery Barn Kids Storytime - King of Prussia
Visit Pottery Barn Kids for storytime. The Book Club Promotion is open to children 10 years of age and younger. Book Club Members enjoy $10 off one item (excluding furniture) after attending 5 story times.
30. Walnut Street Bridge Movies - Philadelphia
Get ready to watch movies on the big screen under the stars along the banks of the Schuylkill River by the Walnut Street Bridge. Start times vary between 7:45 PM and 8:30 PM depending on the film. Not all movies are suitable for young children so be sure to check the ratings of movies in advance.
31. Jenkinson's Movies on the Beach - Point Pleasant Beach, NJ
Roll out your beach blanket or pull up a chair for Jenkinson's summer movie series on the sand. All films begin at dusk and are rated PG unless otherwise noted.
32. 40th Street Summer Series - Philadelphia
Once a month, through September, University City District, Penn. and The Rotunda present the 40th Street Summer Series. These free concerts are held in the green area behind the Walnut Street Library. Activities, giveaways, and concerts start at 6 PM.
33. Green Lane Park Concerts - Green Lane
Head over to Green Lane Park's Amphitheater for its Summer Concert Series. Guests should bring blankets and chairs along and get ready to enjoy the musical evening. T
34. Arts in the Park - Media
All are welcome to this family-friendly event at Glen Providence Park. Each month, guests can expect a delightful performance featuring different entertainment. Guests are encouraged to bring a blanket or chair.
35. Concerts Under the Stars - King of Prussia
Upper Merion Township presents its 34th Annual Concerts Under The Stars series. This free concert series is held on Sunday evenings beginning at 6 PM on the Township Building Park lawn. Guests are asked to bring lawn chairs and blankets as well as picnic baskets.
36. History at Work - Glen Mills
Learn about a variety of historical trades at Newlin Grist Mill. Visitors can experience how people did ordinary tasks from colonial times.
37. Story Time and Craft at Linvilla Orchards - Media
Children are entertained as Linvilla Orchards staff reads stories about animals and the outdoors. Crafts can also be made each week. This story time is geared towards preschoolers but all ages are welcome to attend.
38. Swingin' Summer Thursdays - West Chester
One Thursday a month, families can enjoy a series of four great downtown festival events on Gay Street in West Chester. Hear live music, eat great food, watch silly clowns, and see extraordinary dancers.
39. Screening Under the Stars - Philadelphia
Every Thursday, from July 11th through August 29th, Great Plaza at Penn's Landing hosts a free movie screening. July movies start at 8 PM and August movies begin at 8:30 PM.
40. Free Movie Night at Bartram's Gardens- Philadelphia
Find a spot at Bartram's Gardens to enjoy free popcorn and watch a family-friendly film.
41. Craft and Story Time at Monkey Fish Toys- West Chester
On Fridays, kids can use their creativity and imagination to make projects at Monkey Fish Toys' West Chester location.
42. Military Muster- Philadelphia
See how the Continental Army soldiers marched and used their muskets during this historical demonstration at Signers' Garden.
43. Sunday Bird Walk- Avondale
Grab binoculars and head to Bucktoe Creek Preserve to view feathered friends in flight.
44. Story Art- Philadelphia
Head to Sister Cities Park for sessions that are sure to inspire young minds through books and creative arts.
45. Built It- Philadelphia
Whitman Library hosts a number of opportunities for elementary school kids to construct creations with Legos, Magna Tiles, and Keva planks.
46. Concerts at Eagleview Town Center- Exton
Bring a canned food item to Eagleview Town Center, then sit back and listen to sweet sounds of summertime.
47. Kid's Day- Chadds Ford
Experience history at Brandywine Battlefield. Kids receive free admission on select days in May and June. (Standard admission apply for parents.)
48. Family 2nd Sundays- Wilmington
Expose children to the fine arts with a visit to the Delaware Art Museum. Activities include storytime, studio sessions, and yoga.
49. Penn Park Summer Concert Series- West Grove
Pack up the car with dinner, blanket or chair, and ride out to Penn Park for a chance to listen to some great music.
50. Community Night at Franklin Institute - Philadelphia
Each month, everyone is welcome to join in the fun at the Franklin Institute's Community Night. Kids and parents alike can explore the museum's fun and educational science exhibits for free. The doors open at 5 PM and pre-registration is not necessary.
June 2, 2019
51. Philadelphia Irish Festival - Philadelphia
The luck of the Irish has made its way to Philadelphia's Penns Landing. This family-friendly Irish Festival celebrates all of Ireland's cultural gems: music, dance and food. Families can expect Irish musicians, famous dance schools, bagpipers, and shepherd's pie.
June 9, 2019
52. Swedish National Day- Philadelphia
Guests are welcome to visit the American Swedish Historical Museum for free to celebration Swedish National Day.
June 21, 2019
53. Lightning in a Jar - Fireflies - Green Lane
Gather at the Tennis Courts and prepare to explore the magical lives of fireflies. Be sure to bring a non-breakable container
June 22, 2019
54. Juneteenth Musicfest & Parade - Philadelphia
The Philadelphia Community of Leaders presents the fourth annual Philadelphia Juneteenth Musicfest and Parade! Guests are invited to honor and celebrate the legacy of enslaved African ancestors who endured and fought for freedom. The parade features over 3,000 marchers, floats, and bands.
June 23, 2019
55. Vintage Baseball - Schwenksville
The Athletic Base Ball Club of Philadelphia plays 1864 era base ball for all to enjoy. Enthusiastic ladies and gentlemen are invited to cheer the teams. Kids enjoy playing "Town Ball," a fun activity that was the precursor to baseball. The Pennypacker mansion is ready for guided tours which are free. A food vendor is available to serve lunch and refreshments.Handicapped parking & restroom facilities available.
June 29, 2019
56. Glenolden's Summer Kickoff Fireworks - Glenolden
Summer kicks off with fireworks and fun. To start, guests can enjoy music and games which begin at 7 PM. As dusk approaches, everyone can enjoy a firework display set to music. Food, beverages, and water ice are available for purchase, benefiting Scout Troop 44.
57. Free Museum Day at Free Library of Philadelphia Rare Books- Philadelphia
Explore the latest exhibit called 5 Senses at the Free Library of Philadelphia.
58. Wilmington Pirate Festival - Wilmington, DE
Families can enjoy this free festival presented by Kalmar Nyckel Foundation. Guests can expect a day filled with pirate and maritime-themed activities such as scavenger hunts, face-painting, crafts, costume contests, live music, and gun firing. Tours of the Kalmar Nyckel and historic Fort Christina are also offered. It is important to note that some activities may require a fee.
June 30, 2019
59. Red White and Blueberry Festival - Hammonton, NJ
Hammonton, the town that proudly calls itself The Blueberry Capitol of the World, hosts this annual event that's a sure sign of summer. Head over for fair food, kiddie rides, crafters, children's craft activities, entertainment throughout the day, blueberry pie eating contests, and a classic car show.
60. Freedom Blast- Philadelphia
Step back in time by visiting Fort Mifflin during this free event featuring tours, cannon demos, and special activities.
61. Historic District Block Party- Philadelphia
Part of the Wawa Welcome America festivities, this event held in Historic Philadelphia offers pop-up performances and a kids' zone.
July 2, 2019
62. Wawa Hoagie Day - Philadelphia
Guests are invited to Independence Mall for the annual Wawa Hoagie Day which is part of the Wawa Welcome America festival. This event focuses on honoring our troops. Local police and firefighters compete in a hoagie building competition. Then, Wawa hoagies are distributed free to the crowd.
63. Philly @ the Movies: FDR Park- Philadelphia
Find a good spot and watch Shrek at FDR Park compliments of Wawa Welcome America.
July 4, 2019
64. Wildwood 4th of July Fireworks, Concert, and More - Wildwood, NJ
At 9am, a parade sets off from 9th and Atlantic Avenues. Children are encouraged to participate and prizes are awarded for the best bikes decorated in red, white and blue. A Patriotic Pooch Parade steps off at the same time at 8th and Atlantic Avenues in North Wildwood with prizes awarded to the best dressed pooches.Evening festivities include live music and karaoke. Fireworks begin around 10 PM.
65. Family Day at the National Museum of American Jewish History - Philadelphia
National Museum of American Jewish History's Family Days offer guests the chance to enjoy educational and public programs, hands on projects, story times, and family-friendly activities for free.
66. July 4th Community Picnic in the Park - Valley Forge
Families can celebrate our nation's independence with a variety of historic fun at Valley Forge National Historical Park. Guests can expect artillery demonstrations, musket demonstrations, the reading of the Declaration of Independence, and storytelling benches. In addition, visitors can partake in an All-American cook-out while listening to music.
67. Party on the Parkway - Philadelphia
Kids and grown ups alike enjoy this day-long Party on the Parkway. Guests can participate in activities such as ziplines, make and take crafts, animal demos, and games. The evening concludes with a firework display and a free concert with music from Pitbull.
68. Good Neighbor Day - Downingtown​
Families can enjoy entertainment all day long at Kerr Park. Guests can expect bike-decorating, canoe races, food, music, carnival rides, games, and races including a Kids' Run. The grand finale includes a firework display at dusk.
69. Narberth Fourth of July Celebration and Fireworks - Narberth
Visitors can enjoy the biggest Fourth of July celebration and fireworks display on the Main Line. Eagerly anticipated by local adults and children alike, families can participate in games, parade, and pie-eating contest. The celebration continues at night with an amazing fireworks display.
July 6-7, 2019
70. Hispanic Fiesta - Philadelphia
Summertime fun y the waterfront is found at the Hispanic Fiesta at Penn's Landing. This event features music, dance, entertainment, foods and artisan crafts which celebrate the Latino culture and community.
July 10, 2019
71. Movies in the Park at Leeland Park - Lafayette Hill
Enjoy a movie in Leeland Park. Families can bring a blanket or chair, find a good spot, and get ready to watch the movie, Despicable Me 3, under the stars. Refreshments and dinner are available for purchase. Activities begin at 7 PM and the movie starts at dusk.
July 12, 2019
72. Wildwood Crest Sand Sculpting Festival - Wildwood, NJ
Serious sand lovers can grab a pail, shovel and other tools and head to the beach at Wildwood Crest for the town's annual sand sculpture festival. This ultimate summer event is worth checking out even if you don't want to compete. The contest will take place on the beach next to the Wildwood Crest Beach Pier at Heather Road. Other kid-friendly activities today include a corn hole bean bag toss and other games, a children's magic show and live music.
July 13, 2019
73. Tie Dye Music Festival - Wallingford
This annual Tie Dye Music Festival tradition features food and family fun. Guests can expect a variety of tie dye activities. In addition to tie-dye fun, guests can enjoy musical performances. It is important to bring a blanket, chair, and sunscreen too!
74. Wineberry Harvest - Philadelphia
This event brings the family together for the harvesting of sweet and delicious wineberries at Schuylkill Center for Environmental Education. These bright summer gems are a delight to gather and eat – and they're invasive plants, so visitors can help get them out of the forest. Take home your harvest and make wonderful wineberry pies, muffins, and pancakes or simply eat them fresh from the bramble. Be sure to bring a pail or bag for gathering.
July 20, 2019
75. Annual Beekeeping and Honey Festival - Bryn Mawr
Both adults and children alike can try on beesuits, visit the hives and help extract honey at this annual festival held at Harriton House. Learn about the importance of the honeybee to the landscape and food supply.
76. Public Archaeology Day - Glen Mills
Meet at Newlin Grist Mill to participate in this free, public archaeology program. Volunteers are invited to help professional archeologists as they excavate the site and screen artifacts.
July 20-21, 2019
77. Bluegrass and Blueberries Festival - Lahaska
Peddler's Village celebrates bluegrass and blueberries during this weekend celebration. Guests can expect a variety of blueberry treats and can listen to toe-tapping bluegrass and country music. In addition, there are children's activities that little ones can enjoy.
July 26, 2019
78. Elmwood Park Zoo on Wheels- Media
The animals from Elmwood Park Zoo visit the Free Library Media/Upper Providence location for a learning opportunity for children ages 3 and up.
August 3, 2019
79. In the Good Old Summertime - Schwenksville
Bring the family for an afternoon of lawn games, Victorian dress up for photos, garden exploration in the Children's Heritage Garden and hands-on fun in the 1900's History Center at Pennypacker Mills.
August 4, 2019
80. ACANA African Festival- Philadelphia
As part of the PECO Multicultural Series, families can visit Penns' Landing for a free outdoor festival celebrating African traditions and culture.
August 7, 2019
81. National Lighthouse Day - Cape May Point, NJ
Celebrate National Lighthouse Day at the Cape May Lighthouse. Kids can make a craft to take home, listen to songs of the sea, meet the lighthouse keepers, shop for nautical merchandise and more, all on the grounds of the Cape May Lighthouse.
August 17, 2019
82. Festival of India- Philadelphia
Music, dance, food, and fun await adults and children alike at Great Plaza at Penn's Landing
August 18, 2019
83. Caribbean Festival- Philadelphia
If you can't vacation in the Caribbean, why not experience the music and food of the islands on the Delaware Riverfront? During this free festival, families can discover the wonder of the 14 islands in the Caribbean Sea.
August 22, 2019
84. Movie in the Park - Lansdale
Grab a blanket or lounge chair and head over to Fischer's Park for an outdoor movie. Guests can also enjoy free popcorn and drinks. Candy is available for purchase.
September 1, 2019
85. Blue Corn Green and Organic Festival- Philadelphia
Clean living is celebrated at this festival held at the Great Plaza at Penn's Landing. Learn about sustainable choices that can help the planet.
September 8, 2019
86. Brazilian Day Festival- Philadelphia
This free event presented by PECO Multicultural Series shares the culture and tradition of Brazil with festival goers.
September 15, 2019
87. Mexican Independence Day- Philadelphia
Celebrate Mexican Independence Day with kids' activities, food, music, and fun at Penn's Landing.
September 17, 2019
88. Constitution Day - Philadelphia
The National Constitution Center observes Constitution Day by providing free admission to visitors. Guests can expect an array of engaging educational programs such as a spirited reading of the Constitution's Preamble, the chance to watch as new American's take their citizenship oath, engaging discussions with federal judges and other Constitutional heroes, craft, activities, and the opportunity to sign a giant Constitution. In addition guests can meet historic presidents and enjoy a piece of birthday cake.
Anytime Activities
89. Swing on hammocks at Spruce Street Harbor Park.
90. Take a hike or a bike ride.
91. Walk along a boardwalk at the Jersey Shore.
92. Visit a sprayground.
93. Have a picnic.
94. Play all day at some of the best Philly area playgrounds.
95. Set up sprinklers in the backyard.
96. Go to a pop-up garden or beer garden.
97. Volunteer or do some community service.
98. Go fishing.
99. Climb a tree.
100. Browse at a local bookstore.
This post is originally published on June 6, 2017.