Kids' Birthday Party Entertainers in CT That Come To You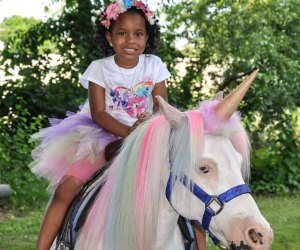 2/6/22
- By
Ally Noel
If you're in search of fun, unique kids' birthday party ideas but you're not exactly a Pinterest maven, you might want to call a professional to do the job. So many different kinds of entertainers are available for your at-home kids' birthday party in Connecticut, whether your children like animals, arts and crafts, or exercise games. Read on for a list of kids party entertainers in CT that take the stress out of planning and ensure a good time is had by all.
For more kids' birthday party inspo, check out our Connecticut Kids' Birthday Party Guide. For more stories like this sent straight to your inbox, sign up for our newsletters.
Preschool Birthday Party Entertainers in Connecticut
Can you create a party around exercise? The answer is yes. Bring the Hoopla will run an hour-long hula-hooping class for up to 12 kids starting at age four. No experience is necessary and Bring the Hoopla provides everything needed for the party.
A fun, art-centered party that comes to you. Clever Crayon loves to get little ones' creative juices flowing and, yes, she will do the clean up too. The Clever Crayon will travel state-wide and has an affordable party option for everyone.
Little princesses and cowboys who love horses will be so happy to see a real pony at their birthday party. Little Pony Parties will bring a beautiful animal for kids to ride and get to know. There are several themes available.
With over two decades of experience, Jeff can entertain kids to grown-ups from age four. He provides a family-friendly show which is 40-minutes long.
Kids' Birthday Party Entertainers in Connecticut
If you have a Lego fan in your house, this is the party host you want! Play-Well will come to your home and run an awesome STEM-style class for kids around ages 5-7. You can choose to build a race car, off-roader, parade float, merry-go-round, and more. The Play-Well representative will come a little early to set up and run a party that lasts approximately 2 hours.
Art is awesome but can be messy. What if someone else sets up, teaches, and cleans up? Art 2 U brings all the materials for a creative party. Kids will leave with up to 5 completed projects!
Bring a magician to your party. Dean Davids can entertain a crowd for 1-3 hours. Davids will perform fun tricks, involve the audience, and make the birthday boy or girl the star.
This organization can do everything from face painting, superheroes, fairies, and magic shows. Kids will be very entertained by whichever theme you opt for. The face painters and balloon twisters have tons of experience and they have many of your child's favorite heroes available to visit.
RELATED: Birthday Freebies for Connecticut Kids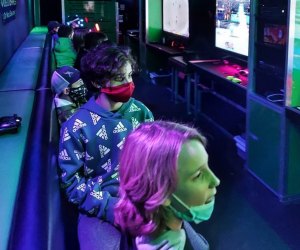 Gaming enthusiasts will love parties by Rolling Games. Photo courtesy of Rolling Games of New England
Your middle to high school kids will not think this party entertainer is boring. Two words: video games. Something that looks like a party bus will roll up to your address. Inside you'll find big-screen televisions and video games in a climate-controlled environment. Great for larger groups!
Birthday Party Entertainers in Connecticut for All Ages
Circus Moves will get everyone involved in the fun and hi-jinks at a birthday party with lots of moving around. Interaction is the goal, and it may come in the form of balancing plates, juggling, or walking a tight rope. Great for all ages.
RELATED: Great Birthday Cake and Cupcake Bakeries Near Hartford

Invite some furry friends to your next child's birthday party. Photo courtesy of Critter Caravan
Little critters, warm and fuzzy. The kids at your party, no matter the age, will love seeing them up close. Tori and Kathryn from Critter Caravan will travel all over Connecticut with their little furries. Choose from chinchillas, hedgehogs, rabbits, lizards, tortoises, and more.
Super-talented face-painter Jenna Rodriguez will use her talent to bring happiness and joy to your party. Kids to adults will love her artistic work, there is nothing she can't draw!
Do your kiddos love balloon creations? Maybe you'd like a balloon twister to add to the fun at your party. CT Balloon Twister can come for as little as one hour!

This article has been updated for 2022.
Sign up for the Mommy Poppins Newsletter today!