Apple Picking near Los Angeles: Best Orchards for Apple Picking with Kids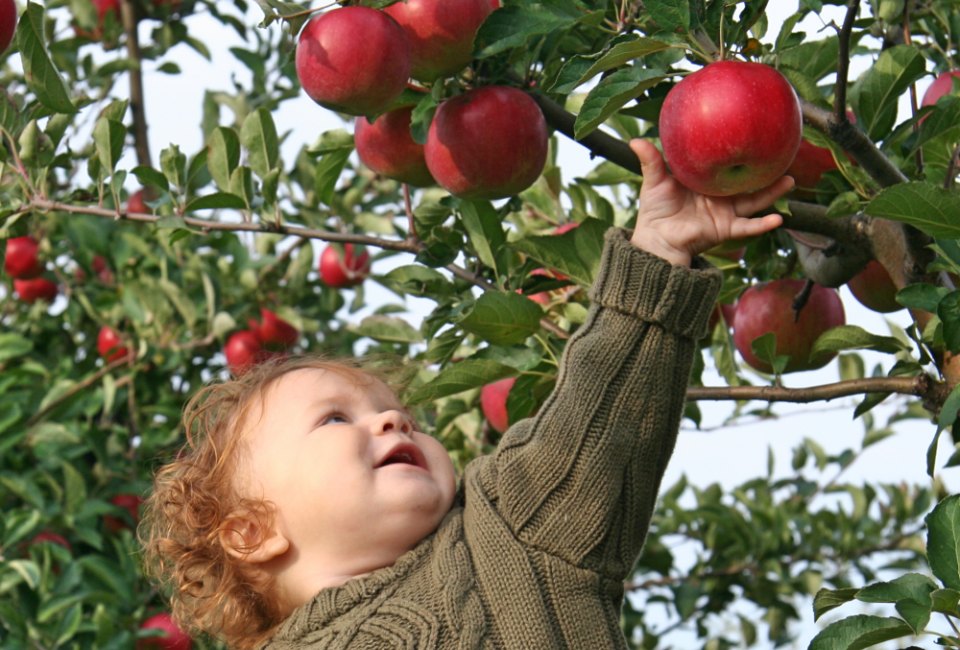 9/2/23
- By
Deborah
Not only can you go apple picking near Los Angeles, but California is the second largest apple exporter in the United States. Oak Glen is on the way to Palm Springs, about 8.5 miles northeast of the 10 freeway, and it feels like an oasis filled with everything I love and miss from the Midwest. Home to several apple farms, it also boasts farm stands with some of the most beautiful apple pies this side of my Aunt Maxine's farm kitchen in Wisconsin.
A few of the farms even offer history displays and activities like axe throwing or candle making. Other add-ons include hayrides and cider presses for making your own apple cider. Below are our favorite farms and other can't-miss stops in Oak Glen.
Most orchards have apple picking Labor Day through Thanksgiving, but apple picking availability always depends on the weather! We recommend calling ahead to be sure that there are apples available and picking allowed on the day you want to go.
RELATED: Find Fall Foliage near Los Angeles: Pretty Drives To See Fall Leaves
Be sure to use one of the apple pickers to get the apples on the top branches!
Best Apple Picking at Apple Orchards in Oak Glen
This family-run farm is my favorite in Oak Glen. While it's smaller, it's over 100 years old, and only allows in as many apple pickers as the trees can sustain. So while it never gets crowded in the orchard, there can be a long line to enter. Get here early! In addition to apple picking, the orchard offers u-press cider, berry picking, farm animal visits, educational tours, and wine tasting/s'more making evenings.
Starting Labor Day Weekend, or sometimes slightly after depending on the weather, the farm is open for picking on Saturday and Sunday from 10am-4pm. Admission is free, and you pay per bag of apples you pick (large or small). Check Facebook or call before visiting to make sure there are apples available to pick. Note for 2023: apple picking will begin in October.
RELATED: 30 Fall Day Trips from Los Angeles— Plus Weekend Getaways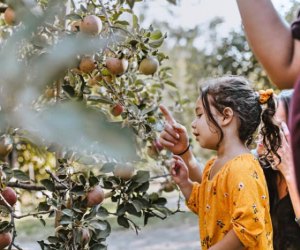 Learn about the many apple varieties, and take some great pictures at Stone Soup Farm. Photo courtesy of the farm.
Stone Soup specializes in heritage varieties of apples and offers family games and photo vignettes on the property as well. Admission is $5 per person ages 4 and up, and apples are pay for what you pick by weight. The farm is open on weekends starting in October. Check the website for special events.
RELATED: Where To Find the Best Corn Maze near Los Angeles for Harvest Fun
Don't forget to press your own cider to bring home. Put those muscles to work!
Amenities include press-your-own cider, farm tours, and other fruit crops like pears, berries, and pumpkins. This rustic little farm is beautiful and natural (you might see deer in the woods) and the farmers love to chat and tell stories. The farm is open for u-pick on weekends from Labor Day Weekend through Thanksgiving, as long as the apples last! Call if you'd like to schedule a visit during the week.
RELATED: The Best Pumpkin Patches near Los Angeles For Picking the Perfect Pumpkin
Pick your fill of apples at Los Rios Rancho. Photo by Elizabeth Bean/www.burbs2abroad.com
This is one of the busiest farms, with acres of apples for picking, and loads more to do. Extra activities include a botanical garden, petting zoo, u-press cider, and a corn maze. Early in the season, strawberries and raspberries are available for picking, and this is the first farm to open for apple picking, with Gravenstein apples ready to pick by late August (usually!).
Check the website or Facebook to see what's ready to pick. (The farm was formerly called Riley's at Los Rios, but there are a lot of Riley's in Oak Glen and the farm was rebranded to make it easier to differentiate between the orchards.) The newly renovated Wilshire's Apple Shed has wood-fired pizzas that pair perfectly with local hard cider!
RELATED: Temecula's Kid-friendly Wineries are Stunning in the Fall
For caramel as sweet as a kiss (and yummy mini donuts), take a snack break at Snow-Line.
No Apple Picking, But Plenty of Fun
This orchard is famous for its wine tastings and its mini cider donuts. While you can't pick apples here, you can do some raspberry picking early in the season. We love to pick at the orchards and then always stop here for donuts and to stock up on cider, wine, vinegar, and more.
You can watch the mini donuts made and order them up hot, and at the apple bar kids can taste over 20 varieties of apples to get an idea of the range of flavors possible from the simple apple! Don't leave without sampling one of the famous caramel apples, too.
In the heart of town are a petting zoo, pony rides, a fishing pond, and more. The whole village has been recently renovated, and there are activities (like axe throwing) and adorable little shops. There's also Apple Annie's.
RELATED: Destination-Worthy Donuts in Los Angeles
After ordering a slice of Apple Annie's Mile High Pie, order a whole pie to bring home.
Sit down, take a load off, and eat your fill of apples—and everything else. Apple Annie's is the main sit-down restaurant in town and it's home to the Mile High 5-lb Apple Pie. Which you should definitely order. Unless you're too full of Oreo pancakes at breakfast, pulled pork sandwich at lunch, and down-home meatloaf (beef or vegan) for dinner. In which case, just order a pie to go and bring it home for later.
Sunset at Volcan Valley Apple Farm in Julian is a stunning sight. Photo courtesy of the farm
More Apple Picking Towns in Southern California
Oak Glen isn't the only place to go apple picking near Los Angeles. In addition to heading inland, you can also go south to Julian or north to San Luis Obispo.
Just about 3 hours south, in San Diego County in the Cuyamaca Mountains, is the little town of Julian. This historic town is the site of San Diego's first (also only and short-lived) gold rush and has great hiking, B&Bs, and historic sites. But what it's famous for is apple picking and apple pies. So, book a weekend getaway and plan for a weekend of apple picking.
Some family favorite PYO farms include Volcan Valley Apple Farm, Apple Star Orchards, Calico Ranch, and Julian Farm & Orchard (which is part of the Julian Mining Company and has loads of activities for kids). Don't forget to stop at Julian Pie Company for the (justly) famous apple pies.
While not quite as well known for its apples as Oak Glen or Julian, for families wanting to head up the coast, SLO has several farms with apple picking including SLO Creek Farms (which also makes hard cider and apple brandy) and Gopher Glen. 3 hours up the coast from Los Angeles, SLO is a little piece of undiscovered heaven, and families will have a lovely getaway weekend here, especially if they stay at the Madonna Inn and visit Bubblegum Alley.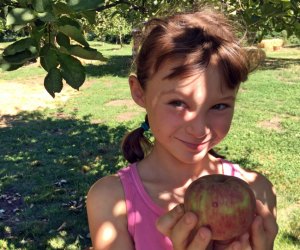 Main photo by Tim & Selena Middleton/CC BY 2.0
Originally published September 29, 2011
Sign up for the Mommy Poppins Newsletter today!
i