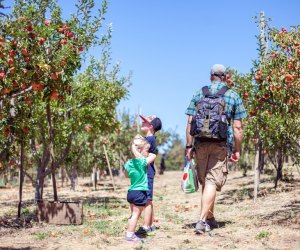 Apple Picking near LA: Best U-Pick Orchards To Pick Apples with Kids
"Apple picking in LA?" your Northwest/Midwest/East coast friends scoff? Well you can tell them that California is the second largest apple exporter in the United States. While it may not feel like fall in the Valley—where it's probably 103 degrees today—there are some apple-picking day trips nearby that feel like a seasonal retreat. (And when your bag runneth over, check out these tempting apple recipes...)
Oak Glen is on the way to Palm Springs, about 8.5 miles northeast of the 10 freeway, and it feels like an oasis filled with everything I love and miss from the Midwest. Home to several apple farms, it also boasts farm stands with some of the most beautiful apple pies this side of my Aunt Maxine's farm kitchen in Wisconsin. A few of the farms even offer history displays with tour guides dressed in period clothing. Other add-ons include hay rides and cider presses for making our own apple cider. Leave time for a stop at Oaktree Village for the petting zoo, pony rides, fishing pond, and 5-lb apple pie, too. When all is said and done, I'm going back for the pie.

Most orchards have apple picking Labor Day through Thanksgiving, but we recommend calling ahead to be sure that there are apples available and picking allowed on the day you want to go. Hours change frequently during the pandemic. The orchards below are all operating in the 2020 season.



Photo courtesy of Riley's Apple Farm
12131 S. Oak Glen Road
Oak Glen, CA 92399
951.769.2083
Stone Soup specializes in heritage varieties of apples and offers family games and photo vignettes on the property as well. The orchard is making several adjustments for safety during the pandemic, including requiring masks, limiting numbers, encouraging social distancing, and implementing a strict "you touch, you buy" policy. Hand sanitizer stations are located throughout.
11993 S. Oak Glen Road
Yucaipa, CA 92399
951.397.0138
Amenities include press-your-own cider, farm tours, and other fruit crops like pears, berries, and pumpkins.
12099 S. Oak Glen Road
Oak Glen, CA 92399
909.797.9484
In addition to apple picking, the orchard offers u-press cider, berry picking, farm animal visits, educational tours, and wine tastings.
39400 Oak Glen Rd.
Yucaipa, CA 92399
909.256.0405
This orchard is famous for its wine tastings and its mini cider donuts. The picking season also includes raspberries in summer.
RELATED:Check out more SoCal pick-your-own options.

Riley's at Los Rios Ranchos grows 23 varieties of apple, 8 available to pick yourself. Photo courtesy of Los Rios Ranchos
12201 S. Oak Glen Road
Oak Glen, CA 92399
909.797.4061
866.585.6407
Several varieties of apple are grown here, and kids can press their own cider. Other amenities are offered at Stone Soup Farm, which is another family orchard.
39611 Oak Glen Road #13
Oak Glen, CA 92399
909.797.1005
Extra activities include a botanical garden, petting zoo, u-press cider, and a corn maze. Read the farm's COVID-19 notice for current considerations.
Note that in addition to the Riley's Apple Farms above, there is also another farm in Oak Glen called simply "Riley's Farm," owned by members of the same family. This farm has announced on social media that it will not be cooperating with state or county guidelines regarding use of masks or social distancing during the pandemic, which is why we are not recommending it this season.
Originally published September 29, 2011