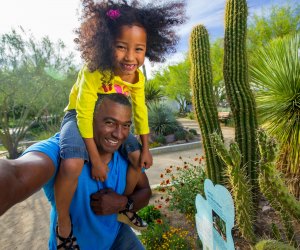 25 Road Trips From Los Angeles for a Weekend Family Getaway
Eager to hit the road and put Los Angeles in your rear view mirror for a while? From glamping getaways to deserts to not-so-far islands, here are some fabulous destinations to remind you of one of the other major benefits of Los Angeles: it's never more than a few hours' drive to find a spot that seems as if it's a world away.
1. Palm Springs
When it's chilly in LA, it's perfect in Palm Springs. Your kids will love the endless sun, along with the outdoor fun that's around every corner, from hiking to skating, plus exploring WWII aircraft at the Palm Springs Air Museum, riding the aerial tramway, and just hanging by the pool. It's also a great base for exploring Joshua Tree National Park.
2. Big Sur
Think your kids might appreciate gorgeous beaches, pristine state parks, and redwood forests? This is a great getaway for the whole family if they have an outdoorsy jones.
3. Ojai
This quiet getaway has ample opportunities for kids to explore the great outdoors on horseback, bikes, or just on foot on a beautiful hike.
4. Santa Barbara
The laid-back city to our north is hugely expensive to live in permanently, but you can visit for much less and enjoy amazing scenery, a fish market, barking seals, and more.
5. El Capitan Canyon
Want to try camping with the kids but aren't sure about giving up all amenities (like a heated swimming pool and, yes, a decent coffee maker)? This resort north of Santa Barbara gives you the best of camping with some welcome perks.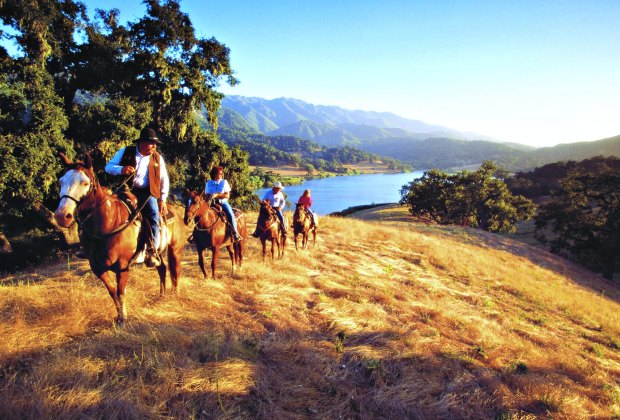 Giddy'up with a horseback tour. Photo courtesy of The Alisal Guest Ranch & Resort
6. Alisal Guest Ranch, Solvang
Drive two and a half hours into the heart of wine country, and it's possible for your whole family to ride horses, kayak on the lake, play tennis, or get lost in arts and crafts. More importantly, there's no TV in the room—and your kids won't care a bit.
7. Santa Ynez
Don't believe wineries can be kid-friendly? This little town proves the contrary.
8. The Channel Islands
Head here for kayaking, and you may see frolicking dolphins, sea lions, and even bald eagles. An hour and a half in the car, then an hour and a half in a boat, and you're there!
9. Great Wolf Lodge, Anaheim
Have you already done Disneyland and Legoland? Try Orange County's huge indoor water park while you're in the neighborhood.
10. Mission San Juan Capistrano
California's own little corner of 1776 history, this is a restored mission that is often called the Jewel of the Missions. Plus, it even offers an audio tour specifically for 4th graders.
11. Legoland, Carlsbad
Legos and water slides? It's the best of both worlds—and it's the perfect fantasy getaway for kids. There's even an aquarium!
12. Calico Ghost Town
Ghost towns can be spooky, rich with history, or a lot of fun. This getaway is all three.
13. Huntington Beach
Don't forget that you can escape LA without going far at all. The beach is an ideal weekend escape, especially when you tie it to a hotel stay by the water.
14. Skypark at Santa's Village, Lake Arrowhead
This holiday-themed amusement park isn't just fun during the holidays; kids can climb a pint-sized rock climbing wall, hit the biking trail, or explore the ice skating rink any time of year.
15. Anza-Borrego Desert
It's California's largest state park, and the fascinating desert landscape will make kids forget all about the urban jungle for a while.
RELATED: 10 Cool Car Games for Road Trips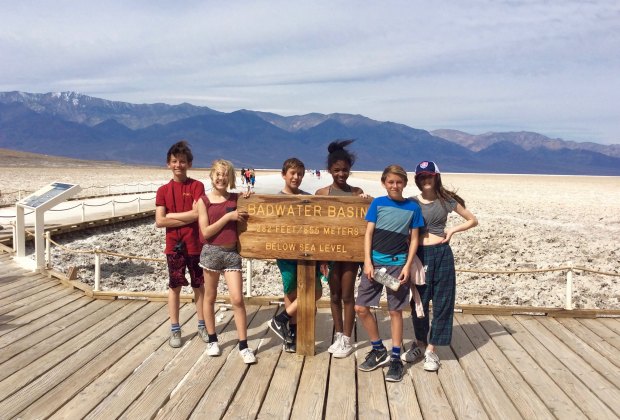 Hanging out below sea level in Death Valley, photo by Roberta Brown
16. Death Valley
This patch of desert has recorded the highest temperatures in the western hemisphere, but that doesn't mean it isn't a great adventure with plenty to see, including salt flats, sand dunes, majestic mountains, and even a golf course and ice cream shop.
17. Temecula
A little red, a little white — Temecula is another kid-friendly wine region you haven't heard of. While the kids play, enjoy tour some regional vinyards and, of course, sip away.
18. Yosemite
This world-famous national park is a few hours away but feels more remote than it is—and gives you a chance to hike to a waterfall, see 2,000-year-old trees, and be amazed by El Capitan.
19. Las Vegas
Don't think of Sin City as a place for family fun? You'll reconsider after visiting the Shark Reef Aquarium, Adventuredome (the largest indoor theme park in America), the Discovery Children's Museum, and more. We even know where to find a babysitter there, in case you wanted just a touch of sinning.
20. Newport Beach and Costa Mesa
It's so close by you may not remember that these neighboring towns are chock full of family fun, including a butterfly house at the Environmental Nature Center, hands-on exhibits at Discovery Cube's Ocean Quest, and even whale watching trips. Sure, it's a day trip, but staying the night can be so much more relaxing!
21. Carlsbad
The Village by the Sea is just 87 miles from Los Angeles, but worth the trip for its small-town feel, world-class golfing, inventive cuisine and, of course, the Carlsbad Flower Fields.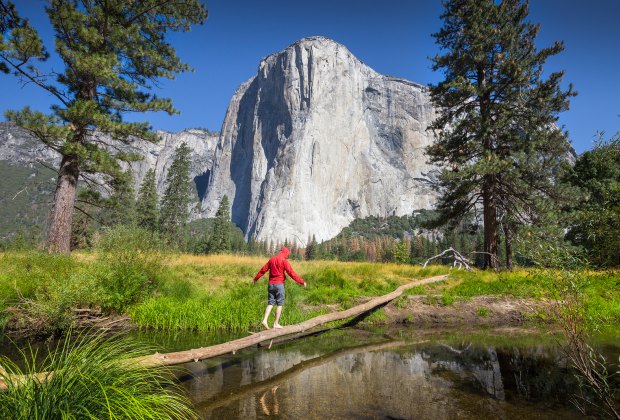 Yosemite
22. San Diego
As if the world-class zoo wasn't enough (and it is), San Diego has the Old Globe Theater, a children's museum, Seaworld, the possibly haunted Whaley House, and so much more.
23. Big Bear Lake and Snow Summit
It may seem amazing to be able to get to a legit snow-covered village in less than three hours, but Big Bear is a doable drive and worth it at any time of year for the breathtaking views.
24. Joshua Tree
When a patch of desert is so famous it gets its own U2 album, you really have to go. This beloved national park is just about two hours from LA and offers a variety of landscape, including plenty of those eery-looking trees that gave the park its name.
25. Carmel-by-the-Sea
This cozy town is so relaxed comfortable footwear is required by law (no joke). Enjoy the beach, surprisingly kid-friendly fine dining, and even family-friendly wine tasting. Just remember to leave your high heels at home.
26. Campgrounds in Azusa, Laguna Beach, Malibu, and more
Never rule out a quick camping getaway—there are ample campgrounds just a short drive from downtown LA, including last minute sites in Ventura, Santa Paula, Frazier Park, and Ojai. We even know some campgrounds that have amazing entertainment for kids on site, like water parks, zip lines, and an observatory.