SPONSORED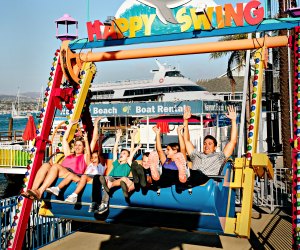 Revitalized Balboa Fun Zone Blends Education with Boardwalk Fun in Newport Beach
Looking for a kid-approved way to spend an afternoon in the OC? The iconic Balboa Fun Zone has been serving up family fun SoCal-style for more than 80 years—and now with an educational twist. In addition to the delicious food, eclectic shopping, and famous Balboa Ferris Wheel that have made this destination a Newport Beach favorite for ages, Discovery Cube's Ocean Quest Museum is now bringing exciting learning opportunities to the revitalized boardwalk.
As longtime fans and members of Discovery Cube, our family was eager to get down to the Balboa Peninsula when I heard about the all-new Ocean Quest Museum. Of course, what parent isn't intrigued by the possibility of injecting a little education into a long, school-less summer? I wasn't quite sure what to expect from the beachside museum when we entered the first exhibit, The Science of Sailing, on a hot Tuesday afternoon. Would my kids be enticed by nautical knots and miniature versions of great ships with the allure of skeeball and funnel cake right outside?
Sure enough, the museum grabbed my six- and seven-year-olds' attention right away with a challenge that comes in three levels of difficulty. Armed with clipboards and a list of questions, my kids eagerly took off, exploring the museum. While the promise of prizes tucked away in treasure chests was a strong motivator to complete the challenge, my girls quickly became absorbed in their tasks. And, much to my delight, they were drawing on their creativity, math skills, and complex reasoning to reach the finish line.
Photo by author
As they made their way through the exhibit, my kids brainstormed uses for levers and pulleys, counted portholes on model ships, and thought of creative uses for knots. They also got to race wooden boats to explore their sailmaking skills, and fill up a tinfoil hull with marbles to see how many it could carry before it sunk in a water-filled play table (in fact, my daughter managed to float what I thought was an impressive 44, but the record turned out to be a mind-boggling 168!).
Following the much-loved Science of Sailing exhibit, Sea Monsters turned out to be another interactive showstopper. In addition to impressive recreations of sea monsters moving and snapping their jaws, the exhibit encourages children to learn through play with a water feature filled with fish toys, along with the trash that ruins our real-life oceans. My kids used handheld nets to pluck out the refuse while learning an important lesson about conservation at the same time. Another eye-popping exhibit shows how crystals form in water as it freezes, giving little learners a chance to steer their own submersibles through aquariums to understand how real scientists explore the depths of the sea. By the time we had explored all of Ocean Quest, not only had the kids learned a dizzying number of fun facts about the ocean, I was surprised to realize I had, too.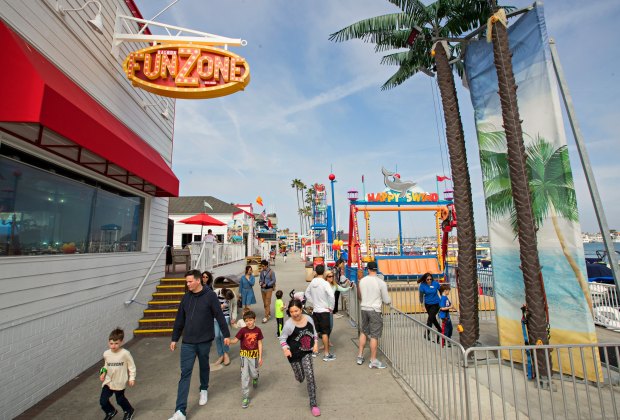 The Coconut Tree Climb can be seen on the right.
After wrapping up our educationally-charged morning, my girls certainly hadn't forgotten what awaited them outside the museum. We headed right to the boardwalk, which features some really cool rides—and while there are some height and weight restrictions, there's something for kids of almost every size. In addition to the Ferris wheel that's been spinning since 1936, there's the Coconut Tree Climb, which allows you to time yourself against other climbers as you shimmy up, making it a perfect fitness challenge for the whole family. The Tower Drop climbs over 18 feet before plummeting back to the ground, while the Happy Swing rocks up to 12 kids at a time. And while the bungee-esque Ocean Motion attracted the longest line during our visit, the ability to do acrobatic bounces and flips was well worth the wait for my youngest daughter, who couldn't stop smiling.
Once we'd worked up an appetite, we were pleased to see there were plenty of places to grab a bite to eat, from Balboa Bar-B-Que and Jane's Corndogs to Chez Vu Bakery Cafe and Mint Leaf Thai. Picking just one destination might be a challenge, but with everything pretty centrally located, it's possible to get something from a different spot for everyone in the family. If you aren't quite ready to wrap up the day after dining, but you aren't prepared to get back on the rides, there's an arcade full of classic games and no shortage of shops to browse (especially if you have an appreciation for surf gear or good ol' beachside novelties). Those feeling really ambitious can rent bikes, hop on a harbor cruise, go whale watching, or even catch a ride to Catalina Island on the Catalina Flyer.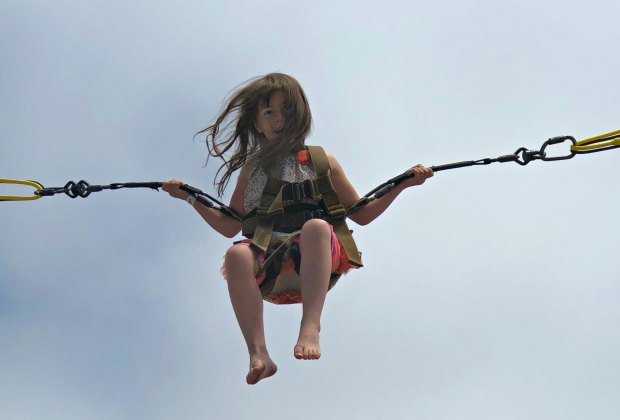 Photo by author
After a late lunch, my crew was totally satisfied with our busy day at the Balboa Fun Zone. Ocean Quest was a huge hit, and unlike a traditional theme park, the boardwalk was just the right amount of excitement without the risk of my kids getting totally overwhelmed or experiencing much-dreaded FOMO. We left with happy kiddos who had no regrets (and no meltdowns, either), and I proudly patted myself on the back for fitting a museum and amusement park into a single summer afternoon. Not bad, right?
Ready to take the fam to the Fun Zone? Keep in mind that there is a public parking lot, but spots fill up fast and you'll need to download an app to pay. The Balboa Fun Zone can also be reached by the Auto Ferry located on Balboa Island, and if you don't mind walking, you may luck out with street parking. Discovery Quest's Ocean Quest is open year-round, rain-or-shine, but hours vary, so make sure to check the website when planning your visit. Discovery Cube members get free admission as well as discounted rates on other packages, while general admission is $5 for adults and children over three. See the events calendar, read up on current exhibits, and purchase tickets here.
Photos courtesy of Balboa Fun Zone unless otherwise noted