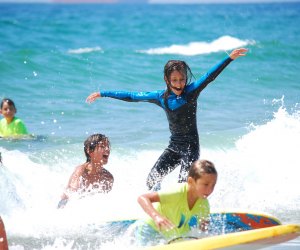 Top Things To Do in Los Angeles this Weekend: Surf Festival, Bob Baker, State Fair
Welcome to this weekend in LA, when everything old is new again. Does the water move you? We've got an old favorite—the International Surf Festival and a brand new movie—Jungle Cruise (based on an old ride at Disneyland!). Looking for a classic outing this weekend in LA? Nothing beats the nostalgia of a State Fair ... but wait it's a new one! There's Mr. Van Gogh, the old-school painter, with a new immersive show (in the old Amoeba Records space). And a favorite old-timer—the Bob Baker Marionette Theater—returns with a brand new show in its new(ish) location.
This is that crazy crossover time of year, when we're simultaneously looking for last-minute summer camps before school starts up again (we've got a variety of online camps with availability that you can book right here) while also labeling up our school supplies for the start of school (old schools or new!).
Nothing beats the activities and events on our calendar for a grand old time! Keep reading for our picks of things to do in LA this weekend, both vintage and freshly hatched, and find even more to do in our Summer Fun Guide.
Don't forget to sign up for our weekly newsletter to get the latest and greatest from Mommy Poppins delivered straight in your inbox.