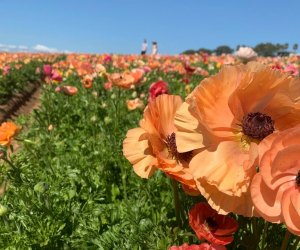 25 Things To Do on Mother's Day in LA
Mother's Day is Sunday, May 9, 2021, and mothers everywhere (especially coming out of a pandemic) deserve to have a great weekend. So here's what you won't find on this list: things that kids (and only kids) want to do. Here's what you will find on this list: outings and activities that moms will really enjoy doing—and kids will have fun too!
Start with brunch, of course, either in bed or at a spectacular LA spot. Then, full and happy, move on to one—or more—of these 25 options that will delight and surprise the mothers in your life.
Happy Mother's Day, from all of us at Mommy Poppins.
Editor's note: While we are trying to promote safer activities that occur outdoors or with social distancing guidelines in place, please keep your family and others safe by always wearing a mask and maintaining an appropriate distance. If you arrive at an event that appears too crowded, try using the "nearby" search feature on our Event Calendar to find something else to do.
1. See the Sport of Kings
Pack the makings for mimosas and settle on the edge of the field to watch a polo match at Will Rogers State Park.
2. Solo Spa Day
Treat mom to a spa day by herself at Glen Ivy Hot Springs.
3. Or a Together Spa Day
Treat mom to a spa day with some company at Wi Spa, which is a great first spa experience for kids, and welcomes the whole family.
4. Get Out in Nature
Go hiking with the mom(s) in your life! We have so many favorite hikes to pick from: overall favorites, ones where toddlers can walk along with you, perfect hikes for strollers, hikes where you can catch the last of the wildflowers, waterfall hikes, and even walks where mom can see some wildlife (that she didn't give birth to…).
RELATED: 40+ Fabulous LA Restaurants with Outdoor Seating for Kids

Hikes, nature, cave paintings, and wine! Photo courtesy of Malibu Wine Hikes
5. Just Add Wine
Book a wine hike, where you hike on the private grounds of the vineyard, explore Chumash Native American cave paintings, and get wine to bring home with you at the end.
6. Get Mom on a Bicycle Built for Two
Hit the beach and rent a bike for two, or bikes for all.
7. Take Mom Out To Eat
Visit one of these fabulous restaurants for brunch before or after some of these other activities. Our brunch picks are some of the prettiest tables in town, and serve up special meals on patios, in dining rooms, or to go.
8. See the Swallows
Here's another brunch opportunity, and one that's not a restaurant. The Mission at San Juan Capistrano is allowing families to reserve tables in the central courtyard surrounded by the blooming gardens, where you can bring your own picnic, or order a catered one.
9. Visit the Pier
Take a visit to the Santa Monica Pier, where moms and kids can visit the outdoor exhibits at the Heal the Bay Aquarium, have a lobster roll lunch at the Albright (or pick up a lobster, crab, and shrimp roll kit to bring home), and take a spin on the Ferris wheel out over the ocean. (Sometimes the Ferris wheel gives a free ride to moms on Mother's Day. This year that freebie is still TBD, but it can't hurt to ask!)
RELATED: The Very Best Mother's Day Brunches in Los Angeles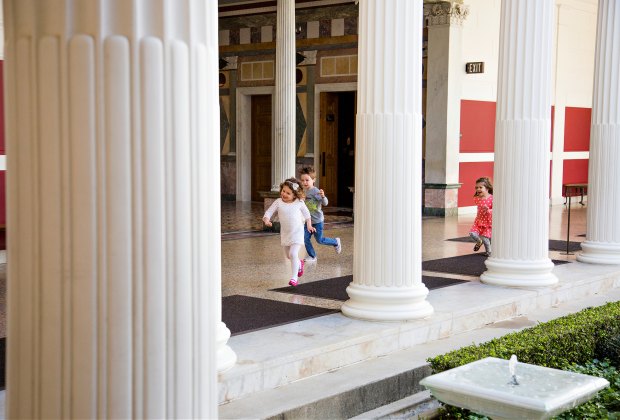 Treat Mom like a goddess at the Getty Villa. Photo courtesy of J. Paul Getty Trust
10. Take a Trip To Ancient Rome
Via the 101, no airport required. Simply take a little spin up PCH to the Getty Villa, which is now open. In this recreation of a Roman villa you can see ancient art (now on display are exhibits of art from Assyria and Mesopotamia), stroll the gardens, and dine at the outdoor cafe. Just don't forget to make reservations for the free museum.
11. Strut with the Peacocks
The peacocks at the Arboretum put on a dazzling display of nature. The grounds might look particularly purple on Mother's Day, as irises and jacaranda are in full bloom.
12. See Mamas and Babies
Drive up to Santa Barbara and visit the Santa Barbara Zoo. Plenty of babies were born last year, and those still little youngsters can be seen with their own moms. (This is a great zoo for Mother's Day because it's beautiful and more manageable than the big LA Zoo, and more of a relaxing outing for moms.)
13. Take a Scenic Horseback Ride
Check this off your bucket list: a ride through the hills under the Hollywood Sign.
14. Take Mom To the Drive-In
They're playing The Goonies and Point Break at the Rooftop Drive-In in Santa Monica, perfect 80s or 90s fare for the mom who loves a good movie throwback.
RELATED: Mother's Day Brunch Recipes Kids Can Make to Spoil Mom

Find the butterflies together. Photo by Gina Cholick/ Natural History Museum of Los Angeles County
15. Soar with the Butterflies
Visit the Butterfly Pavilion and Nature Gardens at the Natural History Museum or the tropical butterflies at South Coast Botanic Gardens for a lovely and delicate outing.
16. See Signs of Spring
See Signs of Spring@Descanso as the gardens are marked with educational and artistic displays to help guests identify birds, nests, blooms, and all the signs of spring.
17. Take Mom Out To the Ballgame
The Dodgers are playing the Angels in Anaheim this weekend, so whichever home team you root for, they're playing!
18. Whisk Mom Away for a Weekend
A world away, yet just down the coast, is Terranea Resort. Whether you have the time (and money) for a staycation getaway, or just a brunch (at the resort, or to go), take advantage of all the luxuries and activities Terranea offers, like spa visits, pony rides, fishing adventures, archery, nature hikes, tide pooling, paddleboarding, kayaking, and more.
19. Explore Some Art, Indoors and Out
LACMA has art for everyone in the family both indoors and out. Kids can run around outside at the streetlamps and inside they'll be mesmerized by Metropolis II. Parents can catch the Do Ho Suh exhibit before it leaves the following weekend and also see the cool Yoshitomo Nara exhibit.
20. Get Mom Roses
Take a free trip to the Rose Garden at Exposition Park. You can even hop on the metro to get there! Bring a blanket and a picnic and loll in the splendor of the blooming roses.
21. Or a Whole Field of Flowers
Visit The Flower Fields in Carlsbad for some Mother's Day Funday, where the flowers are blooming and moms can enjoy an afternoon of swing, boogie, and rhythm & blues.
22. Recreate Venice
Can't hop a flight to Italy? No problem. Take a gondola ride through the canals of Long Beach or Oxnard.
23. How About a Private Beach Cabana?
Reserve private chaise lounge chairs or a whole private area at Paradise Cove Beach. If that's a bit too pricey, make a reservation for brunch, lunch, or dinner, and then stroll this private beach before or after dining.
The Ventura Botanical Gardens provide a stunning view. Photo by Meghan Rose
24. See Spectacular Views
Get away from it all up the coast at the Ventura Botanical Gardens. These off-the-beaten-path pathways have gorgeous views of native flowers, the California coastline, the Channel Islands, and Ojai's Topa Topa.
25. Make Mom's Heart Pound
Daredevil moms might like a trip to Magic Mountain because motherhood is one heck of a thrill ride!
Need more ideas? Check out our Spring Fun Guide, or the just-updated May GoList.