Noah's Ark at the Skirball: Is LA's Best Indoor Playground at a Museum?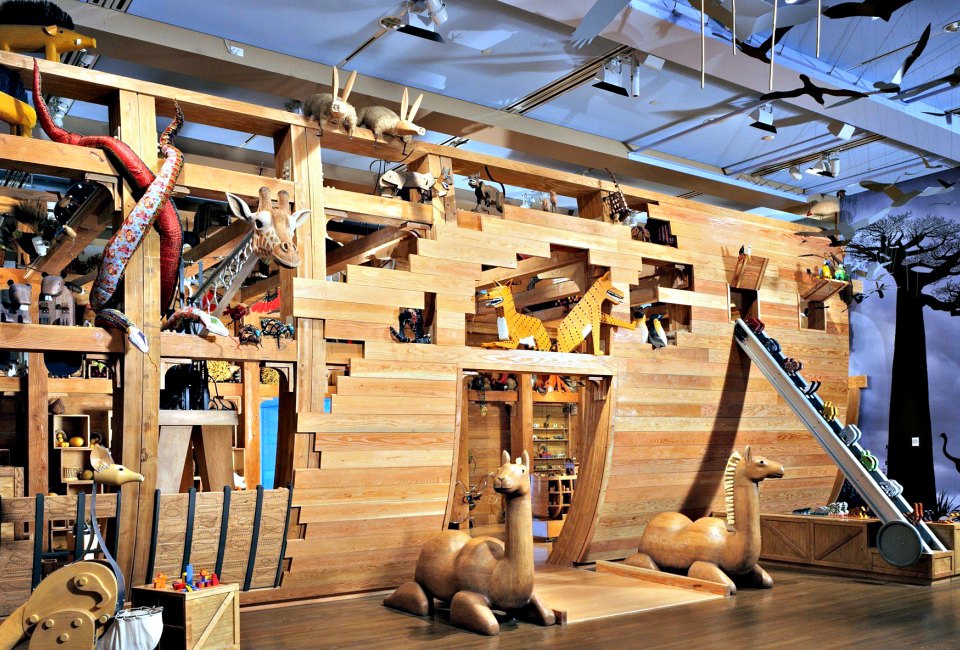 7/3/18
- By
Arianna Menon
Imagine a 65-foot-long ark and more than 400 animals that you must rescue before an epic flood engulfs the world. Yes, you're Noah and your mission is to save everyone, but also have fun doing it. And there's no need to go all the way to Mount Ararat to relive the tale; just head up the Santa Monica Mountains to the Skirball Cultural Center, a few miles away from the Getty Center, at the highest point on the 405.
The Skirball Cultural Center, a museum offering a variety of exhibits and activities, is home to Noah's Ark—the one-of-a-kind art installation and educational playground where families are invited to experience Noah's journey and learn to weather life's storms by supporting one another. Opened in 2007 and occupying a sprawling 8,000-square-foot gallery, this interactive play space is comprised of three different areas exploring the ancient story's themes of storms, arks, and rainbows. Each section, whether it's conducting a storm, helping construct the ark, or basking in the glow of a beautiful rainbow, presents activities that require hands-on participation and nurture values of cooperation and community.
At the "conduct-a-storm" area, visitors learn how to meet challenges together. A multi-sensory wall features instruments such as tubes, cranks, and other low-tech, mechanical sound devices that children can use to re-create the biblical storm and simulate thunder, wind, and lightning. Teamwork is essential in order to get the final results: children take turns and help each other in pumping air into a cylinder to make leaves swirl higher and higher, filling a water tank to make a tiny wooden ark float on a rising tide, and creating crackling bolts of lightning.
Whimsical creatures populate the ark. Photo by author
The next area, "build the ark," is about building the community and valuing the dignity of life. Here, kids are encouraged to slide wooden blocks into a metal frame and lift sandbags on a pulley to pass on to another builder. They can start the "rescue operation" by placing wooden animals on a conveyor belt that leads them aboard the ark. The floor-to-ceiling ark made of natural wood, which took about five years to build along with the rest of the exhibit, is indeed a work of art, but the animals surrounding and populating it are the real eye candies. Crafted with recycled materials and everyday objects (such as bicycle parts, musical instruments, bottle caps, baseball mitts, and croquet balls, to name a few), these whimsical creatures invite everyone to look up close and observe to discern their ingenious construction. They're sophisticated kinetic sculptures, puppets, and plush toys not shielded behind any glass because they're meant to be touched, played, and held. The most spectacular ones are located at the entrance of the exhibit: a pair of zebras have manes made of keyboards and bodies made of wind turbines that kids can spin; a polar bear's body is a white cast iron bathtub where visitors can peak through; an elephant whose trunk is crafted from bamboo steamers from Laos has a Thai gong for a body, and a crocodile's gaping mouth is made from a violin case.
Further on in the storm area, children can tug on a pulley to make coyotes howl and swivel the giraffe's spectacular neck. Throughout the exhibit, there are tons of smaller scale animals that are just as creatively built: there are owls with fans for wings, a porcupine made of pasta, turtles with catcher's mitts for shells, a lamb made of rearview mirrors and tufted wool, and a lion boasting straw as fur and chopsticks as whiskers. My personal favorite is the elephant presiding the ropes course: it's entirely made of rattan except for its sparkling disco balls eyes, and my son's favorites are the gorillas whose bodies are covered with black woolen gloves.
The ropes course, made of 30,000 hand-tied knots, is located right past a small gallery displaying a collection of miniature art arks from around the world — a reminder that there are flood narratives present in hundreds of cultures. The ropes course represents another room inside the ark and is the space where kids can go wild by making their way up to the rafters, crossing the catwalk, and nesting high above the ark floor. Here, they can also interact with an array of animals of all sizes and shapes and pretend to feed them and care for them.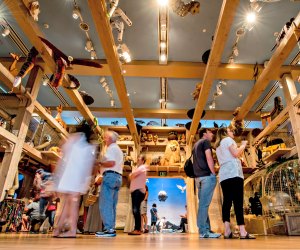 Photo by Ben Gibbs courtesy of Skirball Cultural Center
The journey concludes in the rainbow room, where the storm comes to an end, a rainbow appears on the walls, and a dove carries an olive branch symbolizing hope for a better world. At the center of the room, a tree with wooden birds functions as a bookcase: children can grab a book from the tree's trunk and sit nearby to read about Noah and the environment, and in the arts and crafts area, they can create take-home art projects inspired by their visit. Roaming volunteers with tablets ask kids to think about how they can help build a better world and take their photo — shortly after their image and vow get projected onto the wall of the gallery reinforcing the message that we're all in this together and we're part of the solution. Every day there are drop-in activities — such as storytelling and music jams — and impromptu encounters with the popular flamingo puppet (sporting pink spools of thread, a pink handbag, and fly swatters) and other marionettes operated by Skirball educators. Some other activities like toddler sing-along, story time, movement and dance, and sensory classes are scheduled regularly at a set day and time and if you plan your visit accordingly, you can join them at no extra cost.
Finally, right outside Noah's Ark galleries in the arroyo garden, children can literally bask in the glow of a rainbow: a curved metal sculpture resembling both an arc and the prow of a ship features mist sprayers that form little rainbows when turned on in the sunshine.
Noah's Ark's is still a hot ticket in town, even more so with the Skirball's current exhibit on Jim Henson and his imaginative work (running through September 2). For this reason, it's recommended to get museum tickets in advance online (toddlers under two get in for free). Admission is free on Thursdays on a first-come, first-served basis, with tickets released only that day at the check-in desk starting at 11:45am. Regardless of the day of your visit, keep in mind that admission to Noah's Ark is timed and restricted to two hours. There is ample free parking and a café on site. Before heading over, consider downloading the Skirball's free mobile app, An Ark for All, developed especially for families with developmental disabilities and young children.
Places featured in this article:
Sign up for the Mommy Poppins Newsletter today!
i