Muppets Take over the Skirball this Summer in the Jim Henson Exhibition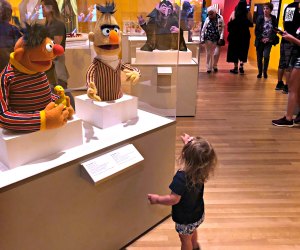 The Skirball Cultural Center is already a fantastic kids' destination, mostly because of the incomparable Noah's Ark exhibit (add it to your list of great indoor places to take kids during the summer). Combine that awesomeness with this summer's Jim Henson Exhibition: Imagination Unlimited (you know, Muppets?) and you have a must-go for Angeleno families.
I wasn't sure how my toddler would react to seeing her favorite characters sitting behind glass, perfectly still and untouchable—but the second we saw the poster outside she started dancing around, excited and screaming "Key! Key!" (That's what she calls Cookie Monster.)
Just like Henson's work, the exhibit has all-ages appeal. I did have to keep a close eye on my daughter, as it is still a museum gallery, but luckily there are several interactive portions spread throughout to grab the attention of kids and adults. Right at the entrance there is a little puppet theater with Fozzie, Piggie, Animal, and Kermit puppets (plus a drum set for Animal). The exhibit can play Rainbow Connection, Mah Na Mah Na, and the Muppet Show theme, and there's a screen behind the puppet partition to watch your performance.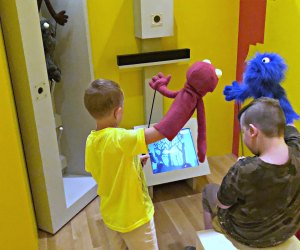 Mah Na Mah Na...
Another area invites visitors to create their own Muppets, which I think I enjoyed even more than my daughter did. Muppet fans also get to test their puppeteering skills and re-enact scenes, which are then recorded so you can watch your performance afterwards. We watched a couple of boys, ages 8 and 10, put on quite the puppet show for us.
I was happy to discover plenty of interesting things for grown-up kids; it was particularly cool to see Henson's experimental short film Time Piece. The rest of the exhibit is curated in a straightforward museum style. There are lots of video projections showcasing Henson's work over the years.
About three quarters of the way through, the exhibition has an area dedicated to the movies Labyrinth and The Dark Crystal, which are Henson projects that definitely skew older in their appeal. Again, I was nervous how these darker puppets from movies my daughter doesn't know might scare her, but she was totally fine. That said, she wasn't crazy about them, so we moved through this section pretty quickly—though she thoroughly enjoyed seeing the display with Jennifer Connolly's ball gown. Most kids should be fine, but just a heads-up that this one section is just a little darker than the Miss Piggy areas.
RELATED: 52 Free Things To Do with LA Kids this Summer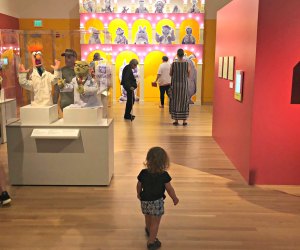 It's time to meet The Muppets...
After seeing the Jim Henson exhibit, definitely stick around to visit Noah's Ark. It's easily the most beautifully designed and fun children's area I've experienced yet. The whole thing was such a great afternoon trip that we stayed later than I intended—and drove home in some ferocious 405 traffic—but it was well worth it.
The Jim Henson Exhibition runs through September 2, 2018. Admission is included with admission to the Skirball Cultural Center. We went on a Tuesday afternoon, and it wasn't crowded at all. Note that Thursdays are free, but that means it usually gets pretty packed.