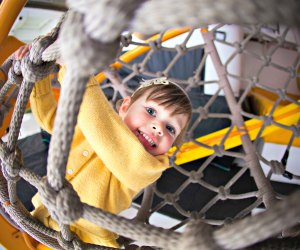 32 Indoor Play Spaces: for Rainy Days or Other Odd Weather in LA & OC
It never rains in LA—except when it does. It's common knowledge that the roads around here become insane when water falls from the sky, but it's special mom knowledge that the living rooms become insane, too. And speaking of insane, ever try planning a birthday party outdoors in January? Sure, you might have one of those gorgeous days Manhattan moms covet, or you might end up calling 25 kids and rescheduling. Either way—rainy day or birthday—you need to know where the indoor playgrounds are in LA and Orange County.
Note that many indoor playgrounds are open only for birthday parties on the weekends, not for drop-ins, so call before heading out. Several of the locations below also offer classes.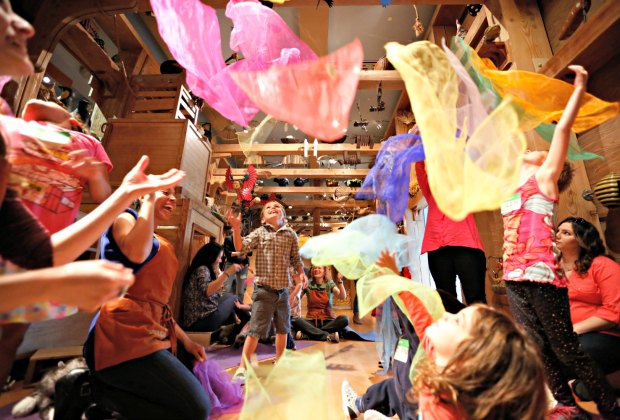 Noah's Ark at the Skirball Cultural Center. Photo by Steve Cohn courtesy of Skirball Cultural Center
Westside
1. Kidville
Manhattan's popular playspace has arrived in Brentwood, with contained entertainment for little ones up to age 5 or 6 and a full range of programs. Open playtime is limited - check the website for hours.
2. A Magic Forest
Culver City's Magic Forest is a Waldorf-inspired play area with natural wood toys and space for imaginative play, great for littlest visitors and parents wanting a cup of joe.

3. Noah's Ark at the Skirball
Actually an exhibit at the Skirball Cultural Center, Noah's Ark functions as a playspace. Climbing structures are designed from re-purposed materials, and recycled crafts and storytelling go on all day. Admission is timed and restricted to two hours; advance ticket purchase is recommended on weekends and Thursdays (which are free days!). Note Noah's Ark does not do birthday parties.
4. Pamper & Play
Westside moms can choose between playing with their toddling little ones in the play area or taking advantage of supervised play as they sit upstairs and get some work done with the free Wifi. Either way, it's win-win.
5. Under the Sea
Under the Sea in West LA seems to be the last remaining location of this chain; the space offers plenty of room for kids to run and romp on a rainy day, with tables where Mom can make use of the free WiFi.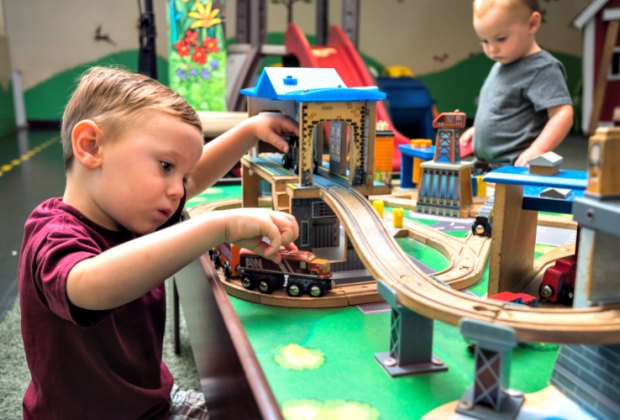 The Awesome Playground. Photo courtesy of venue
Hollywood, Silver Lake, Eagle Rock, DTLA
6. The Awesome Playground
Hugging the edges of Eagle Rock, this playspace has giant inflatables, playing areas outside and in, a track for ride-on toys, and a separate baby area.
7. Peekaboo Playland
An Art Deco building in the heart of Eagle Rock houses Peekaboo Playland's inflatables, ball pit, climbing structures, slides, train table, and play houses.
8. Kiddie City
Leimert Park's family owned playspace is like a home away from home, with room to play with creative toys for little ones, and coffee plus free parking and wifi for parents.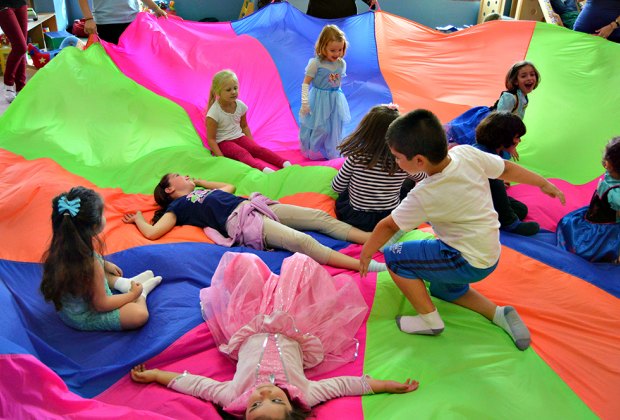 Caterpillar Kids Place. Photo courtesy of venue
The Valleys
10. Amy's Playground
Amy's in Pasadena features a giant maze, playhouse, bouncer, and a separate "funspace" for small children.
11. Caterpillar Kids Place
The fun includes a bounce house, puppets, a car track, over sized building blocks, and a slide in an eco-friendly environment.

12. The Coop
The Coop offers a very modern play area, complete with ball pit, slides, a dance pad, and race tracks for kids, plus free wifi and a cappuccino bar for the rest of us.
13. Giggles 'n' Hugs
Giggles 'n' Hugs offers everything in one place: indoor fun for kids up to age 8 or so with easy parental sight lines; healthy, organic food; a Wii to keep older siblings happy; childcare for parents who want to shop the mall, and periodic entertainment including musicians, magicians, and games. How did we survive before Giggles 'n' Hugs?
14. The Jump Around
The Valley's largest inflatable playground features bounce houses, obstacle courses, a boxing ring, a castle and slides.
15. Jumping Genius
Jumping Genius fills its 5,000 square feet with climbing structures, a giant bouncer, ping pong, arcade basketball, and a ball pit.
16. Kidspace
Much more than a playspace, Pasadena's kiddie Mecca has more stuff going on than the average kid can do in a day. Not a place for parents to chill, but oodles of indoor (and outdoor) fun abound.
17. Pint Size Kids
Little ones are encouraged to engage in pretend play at Pint Size Kids' interactive play area, featuring a grocery store, house, medical center, workshop, streets, cars, and post office. Babies get their own area.
18. The Playroom
Kids at the Playroom get to enjoy a bounce house, mini roller coaster, air hockey table, rock wall, ride on toys, and a ball pit.
19. Maddie's Playhouse
Let the kids go wild in 4,000 square feet of inflatable fun in Northridge.
20. We Rock the Spectrum Kids Gym
With several locations in Southern California, this unique gym caters to kids across the spectrum -- including kids with special needs. This fun playground also helps kids with strength, movement, sensory processing, communication, and more.
21. Pump It Up
This Van Nuys funhouse is chock full of inflatables -- and though open play hours are limited, kids won't need all day to get worn out.
22. Kidz Korner
A cozy indoor playground with special seating for parents -- and a small-scale area for toddlers -- Kidz Korner brings some family-friendly space to Encino.
23. The Treehouse
​With a ball pit and lots of hidden features, this Tarzana playground has plenty to keep little ones amused. Mommy and Me classes are also available.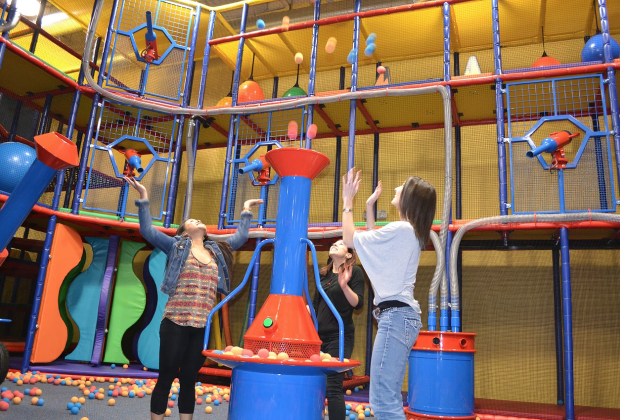 Jump 'n Jammin. Photo courtesy of venue
South Bay and Orange County
24. Adventure Plex
The scale is super-size at this Manhattan Beach play emporium, with enormous climbing structures, a fitness area, reading nook, and a cafe inside - plus plenty of outdoor activities, too.
25. Jump 'n Jammin
Entertainment includes multi-level play structures, giant slides, obstacle courses, an exploding foam ball volcano, and rock climbing.
26. Seascape Kids Fun
This three story play arena in Anaheim offers huge slides, an obstacle course, and foam shooting ranges all with a bubbly ocean theme.
27. Pretend City
Pretend City is just what the name implies: an entire miniature city set up for imaginative play. Be prepared, though, that everyone over the age of 12 months pays admission - including adults.
28. Scooter's Jungle
Scooter's Jungle has locations in El Segundo, Aliso Viejo, Valencia, Placentia, and Simi Valley, where kids can romp on huge inflatable jumpers and slides.
29. Twinkle Twinkle
This kid-friendly restaurant and indoor playground in Lomita is a great getaway for kids up to age 7 or so.
30. Silly Goose
Little ones can climb and color (and stay dry) at this Lomita playground.
31. Circus Trix
This extreme sports gym skews a bit older than some of the places on our list, with its many ways to jump, swing, and plunge, but there is also an early morning jump session just for little ones.
32. Billy Beez​
Wild slides, tunnels, and swings -- kids will definitely burn off any extra energy at this Anaheim playground (there's another location in Valencia, too).