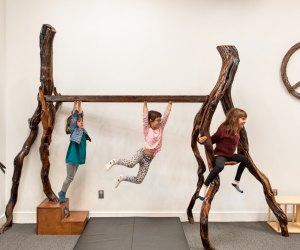 Best Indoor Playgrounds in LA: Play Spaces for Hot (or Rainy?) Days
Kids don't care that it's blazing hot or even raining (that could happen again someday, right?). They need to play! That's why indoor playgrounds are lifesavers. When it's too hot for even the shadiest playground, an indoor play space is the perfect solution. Somewhere kids can run and climb and socialize. A place where the Wi-Fi works, coffee is available, and kids remain contained. And for birthday parties? Indoor playgrounds are the best.
Rainy days, birthdays, hot days, cold days—no matter why you need an indoor playground in LA and Orange County, these are the best.
Note that many indoor playgrounds are open only for birthday parties on the weekends, not for drop-ins, and hours may currently be reduced or reservations required. Be sure to call a location before heading out. Several of the locations below also offer kids' classes
Indoor Playgrounds on the Westside
Westside parents can choose between playing with their toddling little ones in the play area or taking advantage of supervised play as they sit upstairs and get some work done with the free Wi-Fi. Either way, it's a win-win. The space also offers Parents' Time Out and summer camps.
OUR LATEST VIDEOS
Under the Sea in West LA is to be the last remaining location of this play space chain; the space offers plenty of room for kids to run and romp on a rainy day, with tables where grown-ups can make use of the free Wi-Fi.
If you really need a space to get those emails done or work on a spreadsheet for work, and you have your little ones who need to run off some steam, check out this "play-working" space. There's an area for kids to play AND an area for adults to work.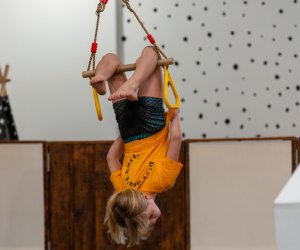 Sometimes kids just want to hang out.
Wild Child Gym describes its space as "California cool with a distinct Hawaiian vibe." At the gym, kids can enjoy classes or free play. The classes range in age from "Droolers" for three to seven-month-olds all the way up to Advanced Skill + Development classes for ages five to seven years—and everything in-between. Summer camps and birthday party bookings are also available.
Actually an exhibit at the Skirball Cultural Center, Noah's Ark functions as a play space. Climbing structures are designed from repurposed materials, and recycled crafts and storytelling go on all day. Admission is timed and restricted to two hours; advance ticket purchase is recommended on weekends and Thursdays (which are free days!). Note: Noah's Ark does not do birthday parties.
Update for 2021: Noah's Ark remains an outdoor experience until September 8, 2021, when the ark and all the animals move back indoors.
The new Cayton is bigger and more educational than before (it used to be the Zimmer Children's Museum in Mid-City) and located in the Santa Monica Place Mall. There's a lot to keep kids busy indoors, from the youngest tots up to ages 9 or 10.
RELATED: 10 Libraries with Great Play Spaces
Play among the birds at Peekaboo Playland.
Indoor Playgrounds on the Eastside
An Art Deco building in the heart of Eagle Rock houses Peekaboo Playland's inflatables, ball pit, climbing structures, slides, train table, and playhouses.
Update for 2021: Peekaboo Playland in Bel Air is currently closed due to COVID restrictions, but the Eagle Rock location is open for private events and open play.
​This indoor play space caters to infants and younger children. The clean, streamlined design boasts 2200 square feet of space, with cozy lounge areas, reading nooks, and a cafe, and is a respite for tired parents with active tots.
Update for 2021: Play Lab in Pasadena is currently closed due to COVID restrictions, but the Eagle Rock location is open. Beginning August 5, all adults must show proof of vaccination to enter.
RELATED: 10 Best Children's Museums near LA and OC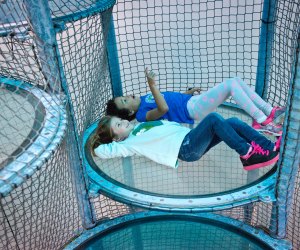 Everything feels possible at Kidspace.
Indoor Playgrounds in the Valleys
9. My Lil' Town — Granada Hills (More locations coming soon)
Granada Hills' newest play hub offers an imaginative play area in the form of a small town—one with plenty of climbing structures and frequent impromptu dance parties.
Much more than a play space, Pasadena's kiddie Mecca has more stuff going on than the average kid can do in a day. Not a place for parents to chill, but oodles of indoor (and outdoor) fun abound.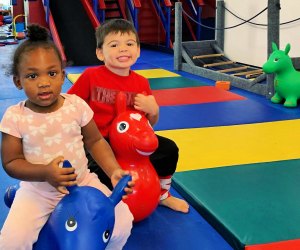 This indoor playground welcomes kids of all abilities.
11. We Rock the Spectrum Kids Gym — Locations include Tarzana, Studio City, Agoura Hills, Santa Monica, and more
With several locations in Southern California, this unique gym caters to kids across the spectrum—including kids with special needs. This fun playground also helps kids with strength, movement, sensory processing, communication, and more.
This funhouse is chock full of inflatables—and though open play hours are limited, kids won't need all day to get worn out. There are also locations in Chino Hills, Anaheim Hills, and Lake Forest.
13. Kids Empire — Woodland Hills, South Gate, Monrovia, Anaheim, and Northridge
​Kids Empire is like an indoor playground on steroids, in the best possible way. It's super-sized fun, with a giant, multi-level play structure, a babies-only area, a disco room, and tons of seating for parents. It's the kind of place that can entertain toddlers and tweens alike, making it a great option for families with mixed-aged siblings. Luckily, there are several locations, so this level of fun is never very far away.
​This Simi Valley play space is tons of fun with a gated toddler area, ball city, arcade, basketball, and even laser tag for the older kids.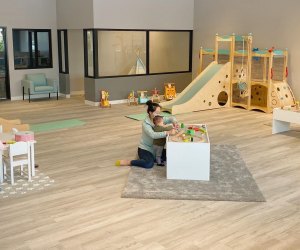 There's a lot to love here, but the cleanliness level is a standout.
One of the newest entries into the indoor play space scene is My Little Paris, a cute cafe and indoor playground in San Gabriel. Because it's brand-new, the space is impeccably clean and has an array of brand new toys, most from high-quality European manufacturers—it's going for a vibe, after all. On one side of the space is the playground, and the other is a cafe with authentic French-inspired cuisine, an espresso bar, and in the future, beer and wine! You can dine or sip a cappuccino while your kids frolic in air-conditioned paradise.
Despite being located in a relatively small space, Dream Big Children's Center offers a wide range of activities for children. The company started in Monrovia with the goal of providing kids of all abilities a place to grow and thrive. Dream Big in Monrovia has several different themed rooms, each offering different stimulus and play.
SCCM is a favorite of ours and we're so relieved it survived the pandemic. This central Pasadena staple is located in an airy, expansive storefront on Colorado Boulevard and has a wide range of activities and programming throughout the day, plus plenty of room to explore and play. Plus, it has its own parking lot in the back, rare for a downtown Pasadena space!
Update for 2021: Southern California Children's Museum currently has limited hours but is open for free play every day of the week except Wednesday.
RELATED: 20 Free Activities for a Rainy Day in LA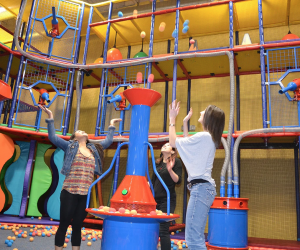 Jump 'n Jammin has a foam ball volcano!
South Bay and Orange County Indoor Playgrounds
18. Jump 'n Jammin — Mission Viejo, West Covina, Arcadia, Oxnard
Entertainment includes multi-level play structures, giant slides, obstacle courses, an exploding foam ball volcano, and rock climbing. There's enough here to keep everyone from toddlers to tweens busy, and admission prices are extremely reasonable.
The scale is super-size at this Manhattan Beach play emporium, with enormous climbing structures, a fitness area, a reading nook, and a cafe inside—plus plenty of outdoor activities, too. Call before visiting, because when camps are in session the facility may be closed for drop-in play.
This three-story play arena in Anaheim offers huge slides, an obstacle course, and foam shooting ranges all with a bubbly ocean theme.
Pretend City is just what the name implies: an entire miniature city set up for imaginative play. Be prepared, though, that everyone over the age of 12 months pays admission, including adults. However, it's totally worth it to see kids play this hard and remain this engaged for an entire play session.
22. Scooter's Jungle — El Segundo, Valencia, Placentia, and Simi Valley
Scooter's Jungle has multiple locations where kids can romp on huge inflatable (custom-made and one-of-a-kids) jumpers and slides. Scooter's is loads of fun for an afternoon of play, but where they really shine is setting up birthday parties where parents can just relax and enjoy themselves without doing any planning, set-up, clean-up, or work!
Wild slides, tunnels, and swings—kids will definitely burn off any extra energy at this Anaheim playground (there's another location in Valencia, too). Get ready for a good night's sleep...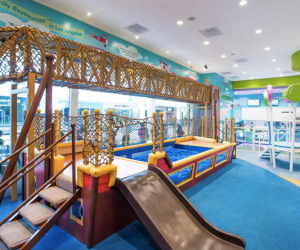 Giggles 'n' Hugs has plans to reopen in 2021.
Fabulous Indoor Play Spaces in LA that Plan to Reopen Soon
While these spots aren't open at the moment (August 2021), all of them have assured us that they plan to open soon. They're so good, we couldn't leave them off the list, so if you're looking to visit one of these indoor playgrounds, try calling to see if they are open. We will update this list as soon as new information is available.
Giggles 'n' Hugs offers everything in one place: indoor fun for kids up to age 8 or so with easy parental sightlines; healthy, organic food; a Wii to keep older siblings happy; childcare for parents who want to shop the mall, and periodic entertainment including musicians, magicians, and games. How did we survive before Giggles 'n' Hugs? Luckily, we won't have to live without it for much longer as the Glendale location has plans to reopen soon. Sadly, the Topanga location has closed permanently.
Leimert Park's family-owned play space is like a home away from home, with room to play with creative toys for little ones (up to age 6 or 7), and coffee plus free parking and Wi-Fi for parents.
Kids at the Playroom get to enjoy a bounce house, mini roller coaster, air hockey table, rock wall, ride-on toys, and a ball pit. Due to the pandemic, the Playroom is moving to a new space in Sherman Oaks, and we will update this information as soon as the new location is announced.
All photos courtesy of venues