This Cool Indoor Playground in the Valley Is Super-sized and Our Kids' New Favorite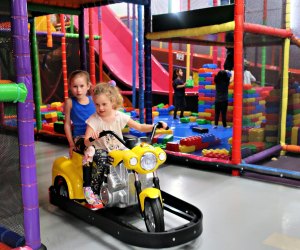 Kids Empire in Woodland Hills is like an indoor playground on steroids—and I mean that in the best possible way. It's super-sized fun, with a giant, multi-level play structure, a babies-only area, a disco room, and tons of seating for parents. It's the kind of place that can entertain toddlers and tweens alike, making it a great option for families with mixed aged siblings. The Woodland Hills location is one of several in greater LA including spots in South Gate, Monrovia, Anaheim, and Northridge (which just opened this winter). Perhaps because of its widespread age appeal, Kids Empire Woodland Hills can get very busy, especially on weekends. Here's what to know before you go, and reasons why this play space is quickly becoming my daughters' favorite go-to indoor playground on a cold or rainy day.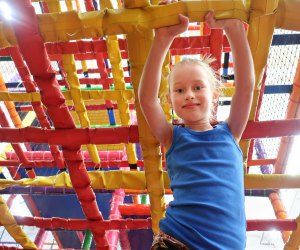 The Maze at Kids Empire
To call the main play structure at Kids Empire big would be a vast understatement. It's a candy-colored, floor-to-ceiling maze that includes three levels of equipment to get your kid's heart pumping. My 8 year-old could spend a whole hour climbing and hanging upside down in something that looks like a giant web made of soft ropes. There are also spinners, balance beams, a soccer arena, and an area full of large building blocks.
And then there are the slides. I kid you not, there is a slide at the Woodland Hills Kids Empire that is so big and so steep, my palms were actually sweating when my daughters begged me to try it. Of course, they love it and are completely unfazed by its size. I finally gathered up the courage to give it a whirl and can tell you that it may be the fastest slide I have ever been on (and I'm a mom who tried DTLA's Skyslide). My husband and I got such a kick out of watching other brave parents try it, too. Elsewhere in the play space is another slide that four kids can ride at the same time, side by side, and something called the 'sledge slide,' which is basically a bumpy slide that kids can take a plastic sled to ride down.
A sign on the front of the epic maze says the structure is recommended for children ages 4- 12, though I saw plenty of both older and younger kids playing in it. Parents are encouraged to use their discretion.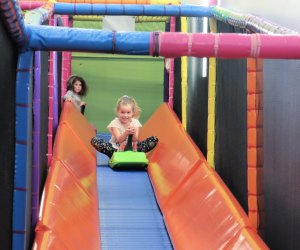 Toddler Play Area and Other Fun Stuff
If the maze sounds like too much for your little one, there is a playground at Kids Empire exclusively for babies and toddlers who are still in diapers. It features a ball pit, soft blocks, and two mini slides, and is located next to the maze (so parents can keep an eye on older kids at the same time).
Meanwhile, children of all ages can get their groove on in the dance room, a cute black-lit area with a disco ball, a neon outer space mural on the wall, and Kidz Bop music blasting from the speakers. There are also a few arcade games and an air hockey table, but these are pay-to-play; tokens cost $1 each. My kids loved riding the token-operated electric cars around the mini track, an experience similar to bumper cars.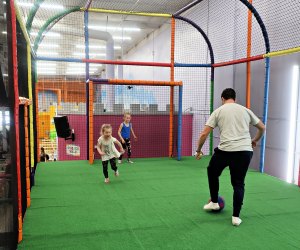 What to Know Before You Go
All-day play at Kids Empire costs $15 per child, with two adults included. There is no discount for siblings. Thinking about bringing the grandparents? Be aware that each additional adult must pay $5. Parking at the Woodland Hills location is free and plentiful, and there is a snack bar inside the play space which sells things like chips, juice boxes, and ice cream. Kids Empire asks that families don't bring in outside food, but the Woodland Hills playground is just across the street from the Westfield Topanga Mall and the Village, so families have lots of nearby restaurant options. Just be sure to keep your receipt for re-entrance.
Adults need to sign a waiver before anyone plays. This can be done online in advance to save time. One of the most convenient features Kids Empire offers is free lockers so you can stow your stuff and get out on the play structure with your children. Like at many indoor playgrounds, socks are required for everyone.
Kids Empire is technically open every day (yes holidays, too!), though it does sometimes close for large birthday parties. It's a good idea to check the Facebook page or get someone on the phone to confirm the hours before visiting on any given day —especially weekends. My daughters were super disappointed once when we showed up to play on a Saturday and were turned away due to a special event. (Is it okay to admit that I was disappointed, too?)
Kids Empire Woodland Hills is generally open Monday through Thursday from 10am to 8pm, and Friday through Sunday from 10am to 10pm.
All photos by author