30 Spring Day Trips from New Jersey for Families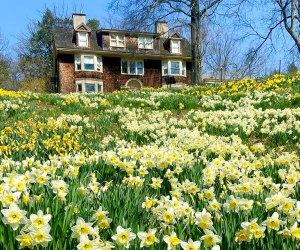 3/10/23
- By
Dore Duhaime
We've rounded up more than two dozen ideas for spring day trips in New Jersey to help you and your family enjoy the rising temps and increasing hours of sunshine.
If your family is searching for local adventures to make the most of the mild days, check out our top picks for outdoor activities, from picnic spots and easy hikes to amusement parks and more.
Our Spring Fun Guide is loaded with even more family-friendly ideas and our Family Activity Calendar is blooming with events.
Subscribe to our newsletters to get stories like this delivered directly to your inbox.
Fun Spring Day Trip Ideas for NJ Families
1. Pick-Your-Own Strawberries
Spring harvest in the Garden State is a cornucopia of fresh fruit, especially juicy red strawberries, the perfect size for little hands to pluck at one of these pick-your-own farms.
2. Visit a Nature Center
Explore all the signs of spring at one of New Jersey's family-friendly nature centers, where naturalists can point out local flora and fauna, and kids may even spot live animals.
RELATED: Worth The Drive: 12 Destination Playgrounds in NJ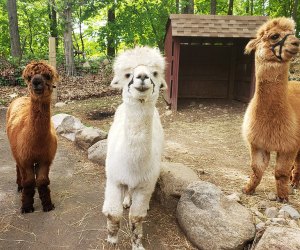 Meet the sweet, smiling alpacas at Abma's Farm. Photo courtesy of the farm
3. See Baby Animals
Springtime means baby animals. Get your fill of furry, feathery baby animal cuteness at these family-friendly NJ farms.
4. Take a Hike
If your kids are up for a family-friendly hike, let them mix their own trail snacks and tackle one of these easy hiking trails in New Jersey.
5. Play in the Playground
Revel in the spring sunshine at one of NJ's best playgrounds, where kids can run, climb, and scamper until it's warm enough to hit the sprinklers.
RELATED: Botanical Gardens and Arboretums With Kid-Friendly Programming in New Jersey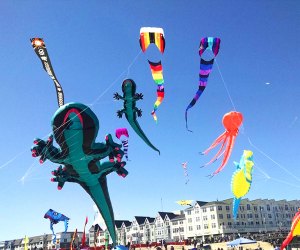 Celebrate the warmer weather at a kite festival. Photo courtesy of Kites on the Pier
6. Go to a Festival
Spring in New Jersey wouldn't be complete without strolling through a street fair to hear great music, checking out local artisans, sampling food truck specialties, and maybe hopping into a bouncy castle. Check our roundup of spring festivals for updates on your favorite local fetes.
7. Visit a Farm
Step back in time at one of New Jersey's living history farms, and let kids churn butter, milk cows, and learn some old-fashioned skills.
8. See the Stars
Lean back in the dark and spot constellations and shooting stars at one of New Jersey's best observatories and planetariums.
9. Play Mini Golf
Challenge your kids to a game of mini golf at your favorite local course or one of these extra-special courses.
RELATED: Best Family Campgrounds in New Jersey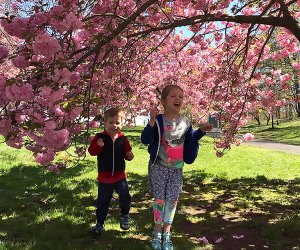 Welcome spring with a day trip to beautiful Branch Brook Park. Photo by Rose Gordon Sala
10. Check out the Cherry Blossoms
The lush, pink cherry blossoms at Newark's Branch Brook Park are in peak bloom in April during the Essex County Cherry Blossom Festival, set for Saturday, April 1-Sunday, April 16, including Family Day on Saturday, April 15 and Bloomfest on Sunday, April 16.
11. Enjoy a Picnic
Pack up a picnic basket and head to one of these scenic spots in northern NJ for a leisurely family picnic.
12. Travel to the Wild Wild West
Go back in time and experience the thrill of Wild West City, which treats visitors to live-action cowboy shows; stagecoach, pony, and train rides; mini golf; a barnyard zoo; and fun events for kids. Opening day is Saturday, May 6.
13. Take Flight
Pretend to soar above the clouds as a pilot during the Aviation Hall of Fame and Museum's Open Cockpit Day on Saturday, April 15.
RELATED: Guide to Family Day Trips in New Jersey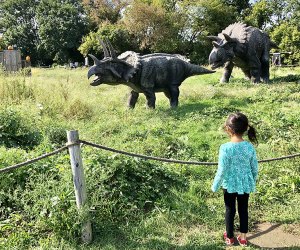 Step into the age of the dinosaurs at Field Station: Dinosaurs. Photo by Janet Bloom
14. Journey to Jurassic Park
Stomp among the stegosaurs at Field Station: Dinosaurs when the park reopens on Saturday, May 27, for the season.
15. Visit Van Saun Park
Travel to Van Saun Park to visit the Bergen County Zoo, the train ride attraction, a mega playground, and the picnic pavilions.
16. Go Back to College
Go red at Rutgers University's annual spring Family Day on Saturday, April 29. Tune in for exhibits, performances, virtual activities, and fun for the whole family.
17. Build With Lego Bricks
Lego lovers can express their creativity when Brick Fest Live travels to the New Jersey Convention & Exposition Center on Saturday, April 29, and Sunday, April 30.
RELATED: Jersey Shore Family Guide

Get some fresh air at South Mountain Reservation. Photo by Rose Gordon Sala
18. Explore South Mountain Reservation
Head to South Mountain Reservation and choose between the paddle boats, an awesome playground, the Turtle Back Zoo, or a hike along the fairy trail.
19. Enjoy a Block Party
Cruise on New Jersey's largest lake during Lake Hopatcong's annual block party on Saturday, May 20, with live music, food trucks, a kiddie play area, and water sports demos.
20. Take a Nature Walk
Go green for Earth Day at Monmouth County Parks, which hosts a lineup of nature walks Saturday, April 22.
RELATED: 100 Things To Do in New Jersey With Kids Before They Grow Up

21. Dance With the Daffodils
Head to the Reeves-Reed Arboretum for a lovely spring walk, or visit on Sunday, April 16 for Daffodil Day.
22. See a Show
State Theatre NJ is refreshed and ready with an entertaining slate of new family-friendly shows this spring, featuring Blippi: The Wonderful Tour and Madagascar The Musical.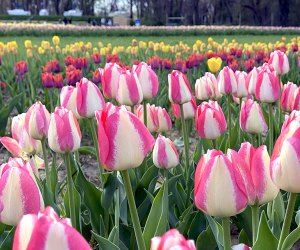 See the colorful tulip fields at Holland Ridge Farms. Photos courtesy of the farm
23. Get a Taste of Holland
Plan your visit in advance to see the stunning tulip fields at Holland Ridge Farms, where the 153 acres of colorful blooms offer a picture-perfect spring photo-op.
RELATED: Favorite NJ Parks and Reservations With Fun for Kids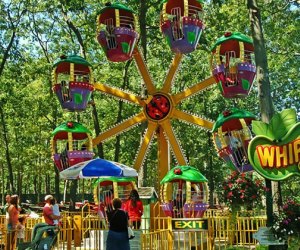 Get ready for the season-opening of Storybook Land. Photo courtesy of the Park
24. Experience Some Thrills
There's no better feeling than zipping through the air on a speedy roller coaster, chilling on a carousel, or watching the little ones enjoy low-key kiddie rides. Catch some thrills before the summer rush at Six Flags Great Adventure or Storybook Land.
25. Visit Historic Smithville
This quaint, historic town is just a few miles from the Jersey Shore. A great time to visit is during Mayfest on Saturday, May 20-Sunday, May 21, where you'll find 100 crafters, a food court, live music, and kids' activities.
26. Fly a Kite
Find an empty field or a windy beach, or simply watch the colors flutter at a local kite festival like the Annual Kites at the Pier Festival in Long Branch on Saturday, April 22, or the Wildwood International Kite Festival from Friday, May 26-Monday, May 29.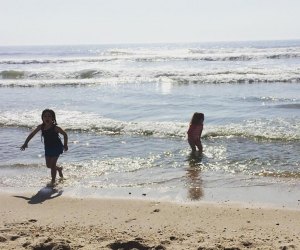 Soak up some fun at the Jersey Shore before the summer crowds come. Photo by Kate Lewis Andrews
27. Go Down the Shore
Beat the crowds by visiting the Jersey Shore in springtime, when skies are blue and boardwalks are empty. The rides at Jenkinson's and in Ocean City are open most spring weekends.
28. Drive to Exit Zero
Travel to the end of the Garden State Parkway to attend Cape May's Spring Festival from Thursday, May 18-Sunday, May 21, and hear live music, eat great food, and soak in the historic seaside town's Victorian charm.

Catch brick fever at Legoland New York. Photo by Diana Kim
29. Visit Legoland New York
The sprawling Orange County attraction is set to open for the season on Thursday, March 30, and there's plenty of theme park fun to be had.
30. Explore the Adventure Aquarium
This Camden destination is an absolute gem, housing the largest collection of sharks on the East Coast and plenty of other underwater creatures.
Originally published in April 2018, this piece is updated annually.