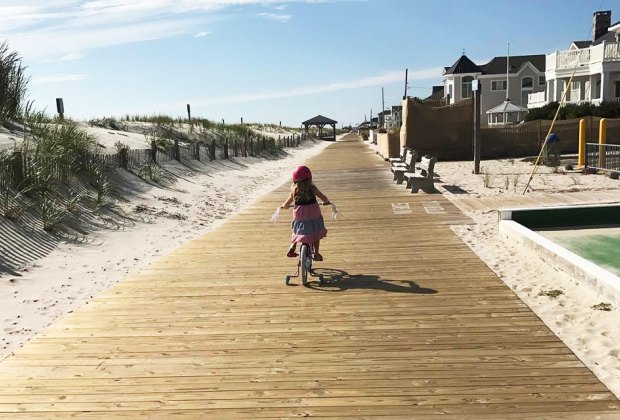 25 Spring Day Trip Ideas for New Jersey Families
1. Springtime signals baby animals! Get your fill of furry, feathery baby animal cuteness at these family-friendly NJ farms.

Pick springtime-sweet strawberries at a local farm. Photo courtesy of Alstede Farms
2. Spring harvest in the Garden State is full of juicy red strawberries, perfect for little hands to pluck off their vines at one of these pick-your-own farms.
3. Explore all the signs of spring at one of New Jersey's family-friendly nature centers, where naturalists can point out local flora and fauna, and kids may even spot live animals.
4. Spring in New Jersey wouldn't be complete without strolling through a street fair to hear great music, check out local artisans, sample food truck specialties, and maybe stop by the bouncy castle. Take your pick: Hoboken, Montclair, Westfield, and Summit are but some of the towns hosting spring festivals this year.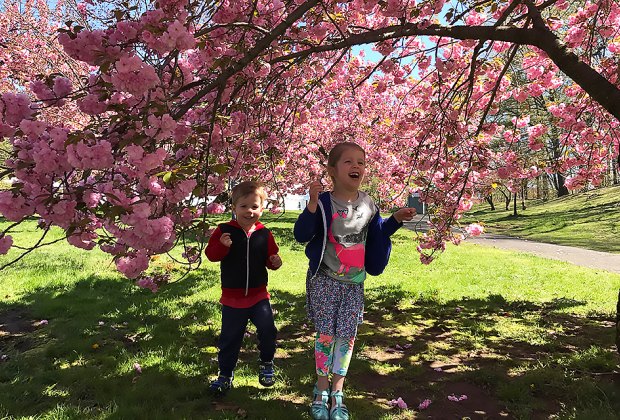 Welcome spring with a day in beautiful Branch Brook Park. Photo by Rose Gordon Sala
5. Peep at the lush pink cherry blossoms at Newark's Branch Brook Park, which are in peak bloom through April. The Cherry Blossom Festival is on now, with Essex County Family Day on Saturday, April 13 and Bloomfest on Sunday, April 14, but the park and renovated playground are open all year.
6. Pack up a picnic basket and head to one of these scenic spots in northern NJ for a leisurely family picnic.
7. If your kiddos are up for a family-friendly hike, let them mix their own trail snacks and tackle one of these easy loops.
RELATED: Best Spring 2019 Events for NJ Toddlers and Preschoolers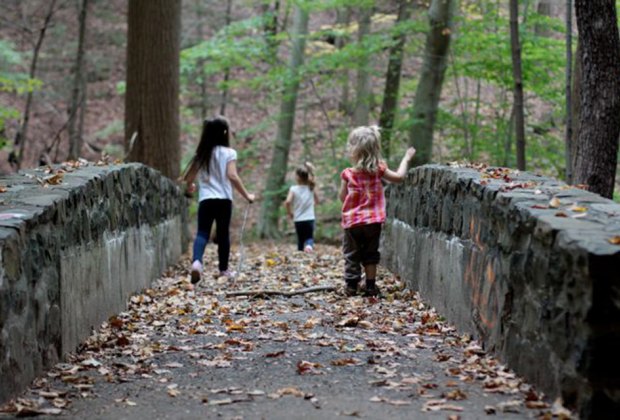 Get some fresh air and spot a fairy house or two at South Mountain Reservation. Photo courtesy of the reservation
8. Head to South Mountain Reservation and take your pick among paddle boats, an awesome playground, the Turtle Back Zoo, or a hike along the fairy trail.
9. Reel in a big one at the annual kids fishing derby at Echo Lake Park, beginning Saturday, April 13.
10. Revel in the spring sunshine at one of NJ's best playgrounds, where kids can run, climb, and scamper until it's warm enough to hit the sprinklers.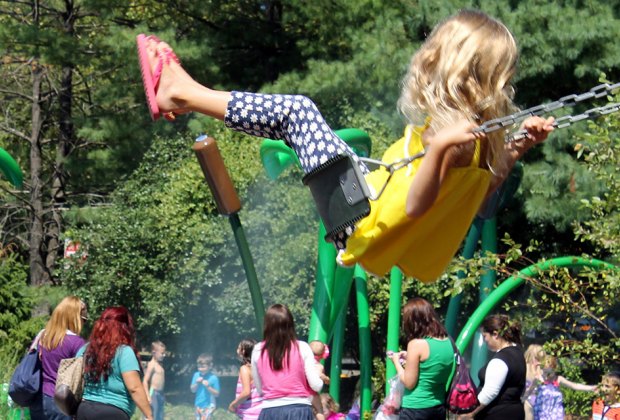 Van Saun Park is a one-stop fun spot, featuring a playground, zoo, and more. Photo courtesy of Van Saun Park
11. Travel to Van Saun Park to visit the county zoo, train ride, mega playground, and picnic pavilions.
12. Step back in time at one of New Jersey's living history farms, where kids can churn butter, milk cows, and do things the old-fashioned way.
13. Catch some thrills before the summer rush at Six Flags Great Adventure or Storybook Land.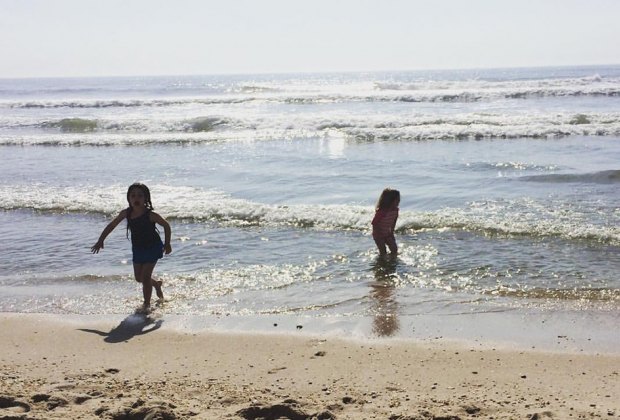 Soak up some fun at the Jersey Shore before the summer crowds come. Photo by Kate Lewis Andrews
14. Beat the crowds by visiting the Jersey Shore in springtime, when skies are blue and boardwalks are empty. The rides at Jenkinson's and in Wildwood are open most spring weekends.
15. Go green for Earth Day at Liberty State Park's eco-celebration on Saturday, April 27. Kids can enjoy games, rides, and tree-plantings. Or simply enjoy the riverfront park's bike paths and playgrounds.
16. Go red at Rutgers University's annual spring Family Day on Saturday, April 27, with exhibits, performances, food, and fun for the whole family.
17. Drive all the way to Exit Zero for Cape May's Spring Festival from Friday, April 26 to Sunday, May 19, and hear live music, eat great food, and soak in the historic seaside town's Victorian charm.
18. Cruise on New Jersey's largest lake during Lake Hopatcong's annual block party on Saturday, May 11, with live music, food trucks, a kiddie play area, and water sports demos.
19. Visit historic Smithville for the annual Children's Festival on Saturday, May 11, featuring face painting, popcorn, balloon animals, and train rides.
RELATED: 40+ Spring Festivals for NJ Kids and Families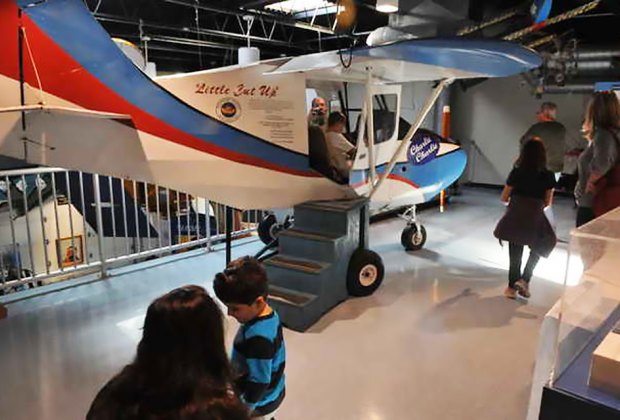 Check out amazing aircraft at Open Cockpit Weekend. Photo courtesy of Aviation Hall of Fame and Museum
20. Pretend to soar above the clouds as a pilot during the Aviation Hall of Fame and Museum's Open Cockpit Weekends, Saturday April 13 – Sunday, May 19.
21. If spring is synonymous with baseball in your house, score some tickets to see one of New Jersey's family-friendly minor league teams. The Somerset Patriots, Trenton Thunder, and New Jersey Jackals often have day games on their schedules.
22. Lean back in the dark and spot constellations and shooting stars at one of New Jersey's best observatories and planetariums.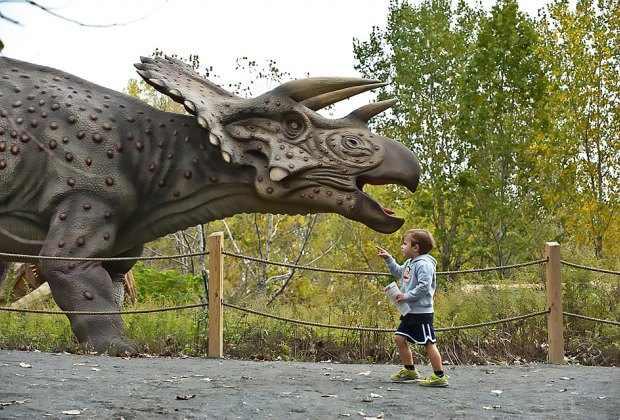 Step into the age of the dinosaurs at Field Station: Dinosaurs. Photo courtesy of the park
23. Stomp among the stegosaurs at Field Station: Dinosaurs when the park re-opens for the season on Saturday, May 25.
24. Celebrate the season at Camden Children's Garden, where spring blossoms abound, and don't miss the hippo tank next door at Adventure Aquarium.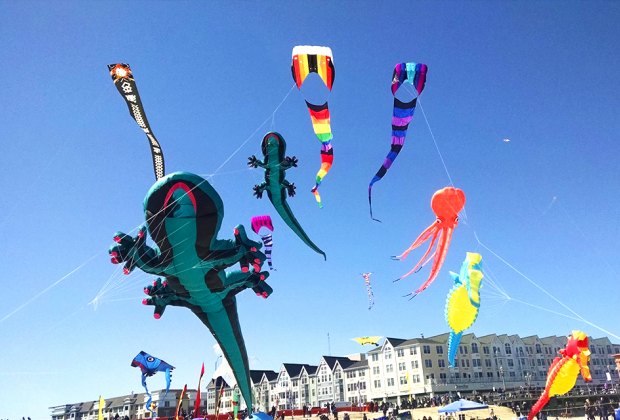 Celebrate the warmer weather at a kite festival. Photo courtesy of Kites on the Pier
25. Go fly a kite! Find an empty field or a windy beach, or simply watch the colors flutter at a local kite festival like the Wildwood International Kite Festival, Friday–Monday, May 24-27.