Minor League Baseball Family Fun in New Jersey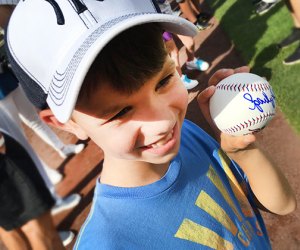 Opening Day for the majors is in April, and nothing says spring like a day at the ballpark. While Yankees, Mets, or Phillies tickets are a special treat, New Jersey families can enjoy hassle-free (and affordable!) baseball any spring or summer weekend at one of NJ's five minor league stadiums. With easy parking, reasonably priced tickets, and kid-friendly activities such as fireworks, giveaways, and Star Wars or Harry Potter theme nights, a minor league game will please the whole family.
Here's what you need to know before you gather up your little sluggers and head out to a game.
Tickets start at around $12. Parents of wiggly younger children will love that the games go faster without commercial breaks, and kids are often invited onto the field to run the bases after the ninth inning. Team players and managers are usually available before the games to sign autographs, and some teams have kids' clubs that offer discounted pricing for ticket bundles and other perks. Most stadiums offer group pricing and special options for kids' birthday parties. Check each team's website for game schedules and special event details.
Trenton Thunder – Trenton
A Double-A affiliate of the New York Yankees, the Thunder play at Arm & Hammer Park on the Delaware River in Trenton. Membership in Boomer's Kids Club includes $10 and $8 ticket options, a t-shirt, discount on Thunder gear, raffle tickets, access to a kids-only press conference, and an invitation to run the bases after every Sunday home game. Other seasonal promos include a Mother's Day ice cream social, post-game movie night, fireworks, bingo nights, superhero night, Bark in the Park (bring your pooch to the game!), and a Scout sleepover. First home game: April 13
Lakewood BlueClaws – Lakewood
Phillies fans should schedule a trip to FirstEnergy Park in Lakewood to watch this Class A affiliate take the field. This summer, the Phillie Phanatic will make a guest appearance. The BlueClaws Kids Club features free kids meals at Sunday and Monday home games, running the bases after Sunday home games, a discounted ticket to SkyZone Trampoline Park, and other discounts. Kids' events throughout the season include player autograph days, a sleepover at the stadium, fireworks, a high-five tunnel with the players, and a kids' parade. Themed nights such as Harry Potter, Jurassic Park, and Touch-a-Truck, along with summer concerts and other giveaways, make the BlueClaws winners for family fun. First home game: April 13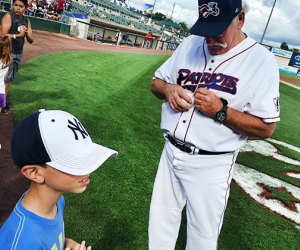 Somerset Patriots – Bridgewater
This Atlantic League team plays at the award-winning TD Bank Ballpark in Bridgewater, which includes 20 luxury boxes and an alcohol-free family section. The Somerset Sluggers Kids Club includes discounts plus special events throughout the season, including a kids' field day in June and an ice cream social in July. Be sure to arrive early on giveaway days, when kids under 12 can receive mini bats, superhero socks, cereal bowls, beach balls, and autograph books. Check website for giveaway dates. Other special events include Christmas in July, Bark in the Park, Boy Scouts and Girl Scouts sleepovers, and a Star Wars–themed night. First home game: April 21
New Jersey Jackals – Montclair
A Canadian American independent league team, the Jackals play at Yogi Berra Stadium in Little Falls, which is also home to the Montclair University Red Hawks. With summer weekday games at 11 a.m., you can catch a few innings and be home for nap time. Birthday party specials include food, drinks, and a t-shirt for the birthday child, along with a voucher for one free day at Jackals baseball or softball camp. Mini plans for partial season tickets are available, in addition to the Junior Jackals Kids Club. Yankees fans may want to stop by the Yogi Berra museum adjacent to the stadium for a glimpse of legendary #8 memorabilia. First home game: May 18
Sussex County Miners – Augusta
Another Can-Am league affiliate, the Miners play at Skylands Stadium, where the bearded mascot, Herbie the Miner, is a fan favorite. Family Fun Sundays, Cheap Cheap Tuesdays, and Family Pack Fridays are among the ticket specials. Fireworks, dog days, and Star Wars and Superhero nights add to the family fun throughout the summer. First home game: May 13
Photos by Dore DuHaime.