Free Museums and Free Museum Days in Philly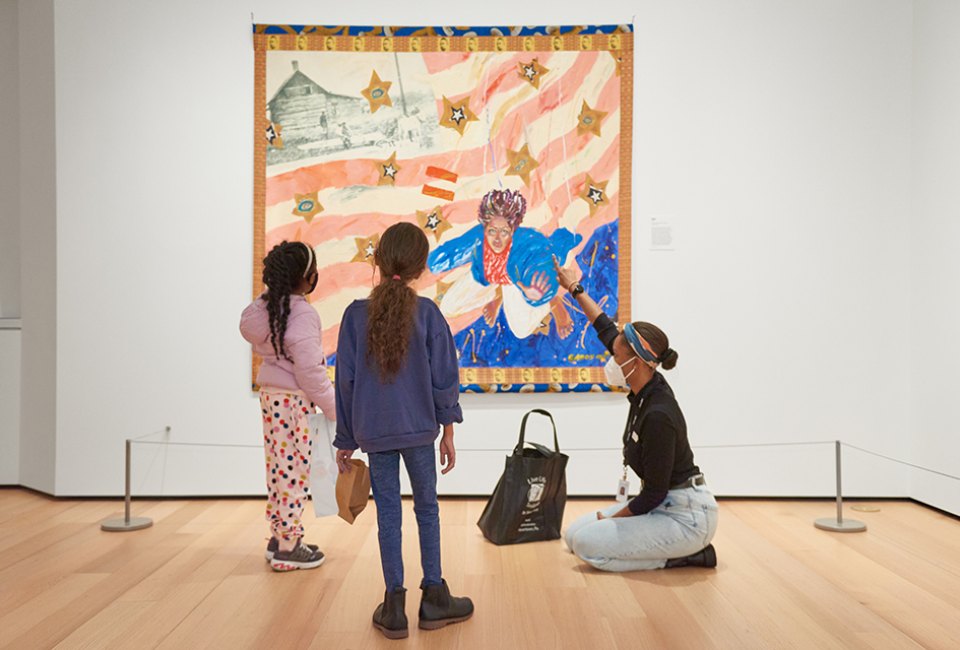 1/13/23
- By
Jennifer Colletta
Free museums and free museum days abound at Philly's finest institutions. Browse our list of all the times museums in Philadelphia are free.
Making a museum visit a part of your family's routine is easier than you think! Philadelphia and its suburbs are chock-full of amazing institutions with lots of opportunities for free admission. Whether your little ones are interested in art, science, or history, there's something here sure to ignite young imaginations without stretching the wallet too thin. Get ready for some incredible fun at no cost.
Take note that this list features museums that are always free, or offer regularly-scheduled free or what-what-you-wish days. Other museums in the area often offer free entry on national holidays or as part of special events like Wawa Free Museum Days each summer. Keep an eye on our events calendar to see when museums are offering free admission throughout the year.
For more free fun, browse our Free Things To Do with Philly Kids Guide, featuring our favorite free indoor playspaces and more. Don't miss our Guide to Philly Museums for Kids, filled with reviews and roundups of the city's amazing museum scene.
Philly Science Museums with Free Admission
The first Saturday of every month is pay what you wish at this unique museum full of exotic fish, fluttering butterflies, and cascading waterfalls. Learn about amazing critters like praying mantises, cockroaches, and tarantulas as you discover their true environmental value.
Budding scientists will love the always-free Science History Institute, where visitors can take in historical artifacts highlighting milestones in scientific breakthroughs. Kids love the hands-on Object Explorer, featuring an interactive table with things like soda bottles and light bulbs to place and discover the history and technology of everyday things. In addition to the exhibition spaces and interactives, the Institute regularly hosts family days for kids.
Here's another one of the few museums in Philly that's always free to visitors of any age. Ascend to the brightly lit second floor, where you'll find over 100,000 specimens in an enchanting Victorian-era building, including full-size skeletons of buffalos and draft horses. On Saturdays, Wagner runs special programming with activities like scavenger hunts and crafts, with a suggested donation of $10 for adults and $5 for college students and children.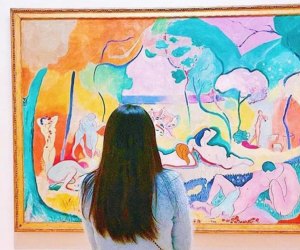 On the first Sunday of the month, the Barnes Foundation offers free admission to all visitors, plus tons of family activities. Photo courtesy of the museum
Philly Art Museums with Free Admission
The first Sunday of every month is free admission day at the Barnes Foundation, where you can get lost for hours in its impressive collection of Impressionist, Post-Impressionist, and Modern Art. To make the most of these days, the museum holds massive family festivals on its free first Sundays, complete with art activities, guest artists, performers, and more. Advance registration is required.
The Fabric Workshop is always free for visitors of any age, with a suggested $5 donation. Originally established as a place where artists could work with textiles and fabric, the museum now showcases innovative contemporary art exhibitions alongside a prestigious artist-in-residence program and often holds workshops and classes for kids.
Head up to Penn to visit this free contemporary art museum, where Andy Warhol got his first museum show. Immersive installations, innovative exhibitions, murals, and more adorn these cutting-edge galleries. The ICA closes on occasion to rotate out its exhibitions so check online to see what's new.
Kids 18 and under are always free at this Philly landmark, and adults can enjoy pay-what-you-wish admission on Fridays from 5pm to 8:45pm as well as the first Sunday of the month. Family festivals are held on pay-what-you-wish Sundays, where artists of all ages can enjoy art making in the Art Kids Studio, performances in the Great Stair Hall, family gallery tours, and artist activations around the museum.
Admission at the Rodin Museum is always pay what you wish for visitors of any age. The only museum dedicated to the acclaimed sculptor outside France, this collection of masterpieces takes your breath away without breaking the bank.
Admission to the Woodmere Art Museum is free every Sunday for all ages, and is always free for children. Explore the stunning sculpture garden and wander the exhibitions dedicated to showcasing Philadelphia artists, some of which are curated especially with families in mind. The museum also holds regular family programs.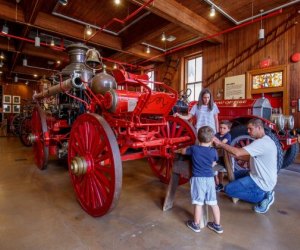 Admire vintage fire engines at Fireman's Hall. Photo courtesy of J. Fusco for Visit Philadelphia
Philly History Museums with Free Admission
This little-known and free gem in Philly's Historic District allows visitors to walk through the halls of an 18th-century mansion to see furniture, architecture, and art dating back hundreds of years. The building hosted the first Continental Congress in addition to housing Franklin's Library Company, the First and Second Banks of the United States, and The American Philosophical Society. Carpenter's Hall gives directions to an hour-long historical walking tour of Old City and Society Hill, available to anyone online.
Your kids may or may not read Poe in school, but they can definitely see where the literary great lived. Poe's former home has been converted into a free museum that shows how the city impacted his work.
This free museum is a must-see if your little one is fascinated by fire trucks. One of the city's most kid-friendly spots, Fireman's Hall has an array of historic equipment from the Philadelphia Fire Department and encourages visitors to play dress-up with firefighter gear.
Admission to this historic site is free, but with a $1 ticket handling fee. Show your kids where our nation declared its independence and tour a landmark full of original artifacts. From George Washington's "rising sun" chair to the inkstand used by Jefferson, you'll get an up-close look at some of our country's most important foundations. Timed tickets are required from March through December.

Inspire your little historian with a trip to see the Liberty Bell. Photo courtesy of National Park Service
The Liberty Bell stands proud on Independence Mall in its home under the U.S National Park Service banner as a symbol of American pride, strength, and independence for centuries. Check out impressive visuals and documents to learn more about its story, all against the landmark's incredible backdrop of Independence Hall.
Located in the heart of Old City, this museum explores the rich Polish heritage in the area. The Cultural Center and Museum Exhibit Hall highlight customs, traditions, folk art, and historical information from the last thousand years.
16. Ryerss Museum—Northeast Philadelphia
This Northeast Philly gem once served as the home of the wealthy Ryerss family. The museum preserves the family's huge collection of international artifacts and art, with an adjoining library that bookworms will love. Parking is free as well. Ryerss is conveniently situated within the 65-acre Burholme Park, which has ball fields, a playground, miniature golf courses, and picnic areas to enjoy after exploring the museum.
This one's not technically a museum, but kids love visiting the SEPTA Transit Gift Store to see its models and learn about the history of the city's transit agency. Displays teach children about the inner workings of trains, trolleys, and buses. After some train education, pick up a transit-themed souvenir.
If you thought your kids' closets were crowded, check out Temple's Shoe Museum. Families will find more than 1000 shoes here, displayed throughout exhibits like Mummer Shoes, Shoes that Serve, and Shoes in the Arts. Guests take self-guided tours with educational audio clips provided by QR codes. This off-the-beaten-path museum is a little-known treasure, where admission is free, but visits must be scheduled in advance.
Money, money, and more money! Learn how coins are made at the United States Mint located in Philadelphia. Visitors can expect to see the factory, view the first coin press, and meet Peter the Mint Eagle during free tours.
Snap a photo with the "YO/OY" sculpture, then head on into the Weitzman, a free museum on Independence Mall dedicated to the history of the Jewish-American experience. Evocative artifacts, portraits capturing moments in history, and cutting-edge interactive displays all come together for an immersive experience for those from any background eager to learn or share stories about their journey.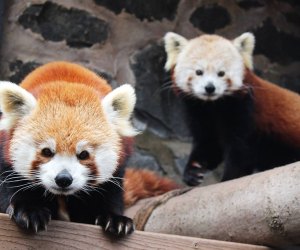 Visit the Red Pandas at the Bradywine Zoo. Photo courtesy of the zoo
Philly Zoos and Gardens with Free Admission
The Brandywine Zoo offers free admission from January through mid-March because fewer animals are visible. However, kids can still see over 20 different animals that don't mind coming out in the cold.
Always free and open to the public, the Awbury Arboretum offers nature lovers a chance to explore the outdoors with their families. Take an awe-inspiring walk through its grounds, open daily from sunrise to sunset.
There is no cost to visit Bartram's independently, and it's open 365 days a year from sunup to sundown.
This post has been updated for 2023. Additional reporting by Victoria Fox.
Sign up for the Mommy Poppins Newsletter today!