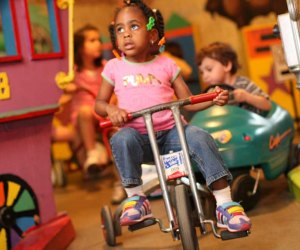 Free Indoor Play Places for Philly Area Kids
Any time of year, Philly parents might be wondering where to go for a fun escape from the cooler weather or hot sun. Thankfully, Philadelphia is home to tons of museums and playgrounds, but did you know that there are also plenty of family-friendly spots for free indoor fun? We've rounded up some great indoor venues below, and also some other spots that parents will enjoy as well. Did we mention they're all free?
Smith Memorial Playground & Playhouse- Philadelphia
It might be too chilly for the playground, but luckily the playhouse is just as much fun. The HUGE 16,000 square foot playhouse, designed for kids 5 and younger, has multiple floors which include bikes, a toy kitchen, dollhouses, books, and more. Smith also hosts story reading, arts and crafts, and family-focused playtimes.
IKEA- South Philadelphia & Conshohocken
Located in South Philadelphia and Conshohocken, the furniture warehouse also features Småland, a free supervised play area near the entrance. Children must be potty trained and be 37'' to 54'' tall. There's a one-hour time limit, so hopefully your kids will work up an appetite so you can all enjoy the Swedish meatballs in the restaurant.
Momo's Tree House- Philadelphia
With locations in Old City and Fitler Square, the toy store has a play area for kids to try out the goods. Each location offers special events so be sure to check our events calendar for updates.
King of Prussia Mall- King of Prussia
Need to run errands? Get tasks crossed off of your to-do list and take a break at one or both of the play areas at King of Prussia Mall. Located on the upper level of The Plaza, the play area features big, foam play shapes, tunnels, and slides. In addition, there's a second play area on the lower level of The Court.
Free Library of Philadelphia- Various
There won't be a slide, but some of the 55 branches around Philadelphia have great areas for kids to play games, work on a puzzle, and read books. There are also plenty of scheduled events, like toddler and preschool storytimes, playgroups, building block parties, and movie screenings. Be sure to check out Cecil B. Moore Library's new climbing wall during its Open Climb events.
Mr. B's Coffeehouse- Souderton
If you want to sip a cup of coffee while your kids flip and jump, plan a visit to Mr. B's Coffeehouse in Souderton. The PlayZone provides children up to 54" with a place to play, climb, and slide.
Barnes and Noble- Various
With many stores throughout the area, the bookstore chain holds weekly events aimed towards family fun. The Rittenhouse Square location and Neshaminy Mall location have storytime sessions on select days as well as special themed events related to new movies and holidays.