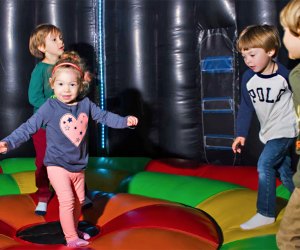 Long Island Attractions Free for Toddlers and Babies Under 2
Looking for places to stay and play with your little one without breaking the bank? There are destinations on Long Island that offer fun for all without a hefty price tag. Check out this list of local hot spots where babies ages 2 and younger are FREE.
Now, what to do with all the extra cash? Peep our list of top mommy-and-me baby classes on Long Island and also check out our indoor activities or baby age guides for some ideas.
Nassau County
Junior Jet Club — Garden City
Cradle of Aviation Museum, Charles Lindbergh Boulevard
This interactive play area for children is ideal for kids up to age 6. Young aviators can build, explore, and even settle down for a story in the book corner. The Junior Jet Club is included with regular museum admission, or you can enjoy it minus the museum for a nominal fee. Children 2 and younger receive FREE admission to both the Junior Jet Club and Cradle of Aviation Museum.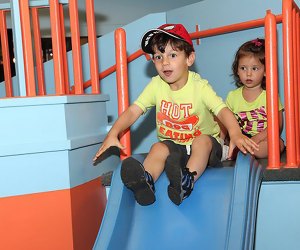 The Tot Spot play area at the Long Island Children's Museum celebrates the work people do in our communities. Photo courtesy of LICM
OUR LATEST VIDEOS
Long Island Children's Museum — Garden City
Perfect for crawlers, cruisers and toddlers, the Tot Spot boasts a lighthouse, farmer's market, post office, train station, and more. Bubble over with fun in its sudsy station. These, plus more, are ideal for little ones visiting LICM.
Ikea — Hicksville
Ikea can feel like an indoor playground for adults. But did you know the Ikea next to Broadway Mall has an actual indoor play area for kids? Smaland is a FREE, supervised play area that's designed like a Swedish forest. You can leave your child for up to one hour while you shop. One caveat: Kids must be potty trained.
RELATED: A dozen things to do with baby on LI before he or she turns 1

Delight to the giant dollhouse at Lolli Bop Cafe & Play. Photo courtesy of the cafe
Lolli Bop Cafe & Play — Lawrence
This enormous play space boasts interactive and imaginative play, oversized Connect 4, a sand table, American Girl Doll vanity area, dress-up clothes station, a musical instrument section, Lego wall, reading nook, separate baby crawl area, and more. It also offers a menu of salads, sandwiches, pizzas, and more, including gluten-free options. Admission is FREE for parents, caregivers, and children 1 and younger.
RELATED: LI cafes with kids' play spaces

After meeting the animals, pretend you are one at the Center for Science Teaching & Learning. Photo courtesy fo the CSTL
Center for Science Teaching & Learning — Rockville Centre
Open year-round, this live animal exhibit boasts birds, mammals, reptiles, amphibians, and more. Hoot with the owls outside, enjoy the whimsy of the goats, or check out a live honeybee hive. Meander around the woodsy trails, which are stroller-friendly.
Tackapausha Museum and Preserve — Seaford
This environmental education center has in-house live exhibits, interactive learning displays, and an expansive outdoor play area that uses nature as a jungle gym. Outdoor trails are mostly flat. Children 4 and younger are FREE.
Suffolk County
Children's Museum of the East End — Bridgehampton
The Children's Museum of the East End features a number of themed play spaces. Children can run a general store or soda fountain, enjoy a story inside an upside-down book, crawl through hollow logs and mouse holes, sail a ship, drive a fire truck or tractor, play mini-golf, and more. The museum's arts and crafts studio features ongoing drop-in projects. Though the museum is aimed at kids ages 2 to 7, there is a special discovery area for pre-walking kids, and the museum offers a variety of children's programming, special events, and classes. Children 1 year and younger are FREE.​
American Airpower Museum — Farmingdale
Wander around this airport hanger and explore planes from the inside and out. Press all the buttons, pull every lever, and flip each switch. A one-level facility makes this spot stroller-friendly. Children 4 and younger are FREE.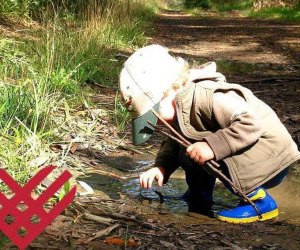 Cold Spring Harbor Fish Hatchery is dedicated to educating even the youngest of visitors about the freshwater ecosystems of New York. Photo courtesy of the hatchery
Cold Spring Harbor Fish Hatchery — Cold Spring Harbor
Your little one can learn about land and aquatic creatures from the hatchery's large collection of living reptiles, fish, and amphibians. An outdoor pond is stocked daily for trout fishing. Children 2 and younger are FREE.
The Whaling Museum & Education Center — Cold Spring Harbor
Explore the relationship between humans and whales through this collection of artifacts and interactive educational opportunities. Younger ones might not grasp the history of whaling on Long Island, but they can certainly take in the colorful artifacts. Children 3 and younger are FREE.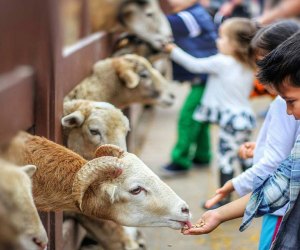 Feed the animals then enjoy a singing show at White Post Farms. Photo courtesy of the farm
White Post Farms — Melville
The Singing Chicken Show and Animal Band Jamboree are sure to engage your wee one—think animated puppets shows. Take a gander at Patches the giraffe, among several friendly barnyard animals. Kids 18 months and younger are FREE.
RELATED: 25 exciting things to do with preschoolers on LI
Long Island Explorium — Port Jefferson
Build, sculpt, mold, and explore at this science-based center of fun, formerly known as the Maritime Explorium. All aboard the bailing boat, which is full of rice for kids to play in. You can touch ALL the buttons and switches in the lighthouse exhibit: Poke away. Each weekend features an instructor-led experiment.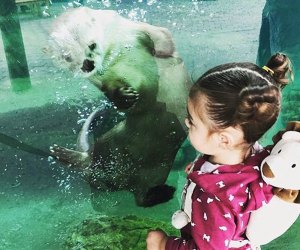 Have your toddler meet an otter at the Long Island Aquarium. Photo courtesy of the aquarium
Long Island Aquarium — Riverhead
Marvel at the colorful fish tanks, feed the stingrays and await a butterfly landing at the Long Island Aquarium. Watch the sea lion show and enjoy other outdoor exhibits. Or stay inside and explore. While it is multilevel, the aquarium provides a stroller-friendly layout. Children 2 and younger are FREE.
Safari Adventure — Riverhead & Xplore Family Fun Center — Port Jefferson Station
These affiliated play centers offer fun for all ages with special toddler zones where little ones can play safely, and plenty of climbing and bouncing structures for older guests. Enjoy arcades, sensory play areas, and calming rooms if your child and guests need a break. Safari Adventure just added air tubes, a magnetic ball wall, and a Lego raceway so kids can build their custom lego car and race it down the track against other custom cars. Xplore Family Fun Center recently added an elevated ropes course and zip line for children 48" or less. Infants and crawlers younger than 1 are FREE as long as there are older, paying guests tagging along.
RELATED: STEM activities easy enough for preschoolers
This article was originally published in 2017. It was updated in January 2020.