12 Free Places to Play on Long Island with Babies and Toddlers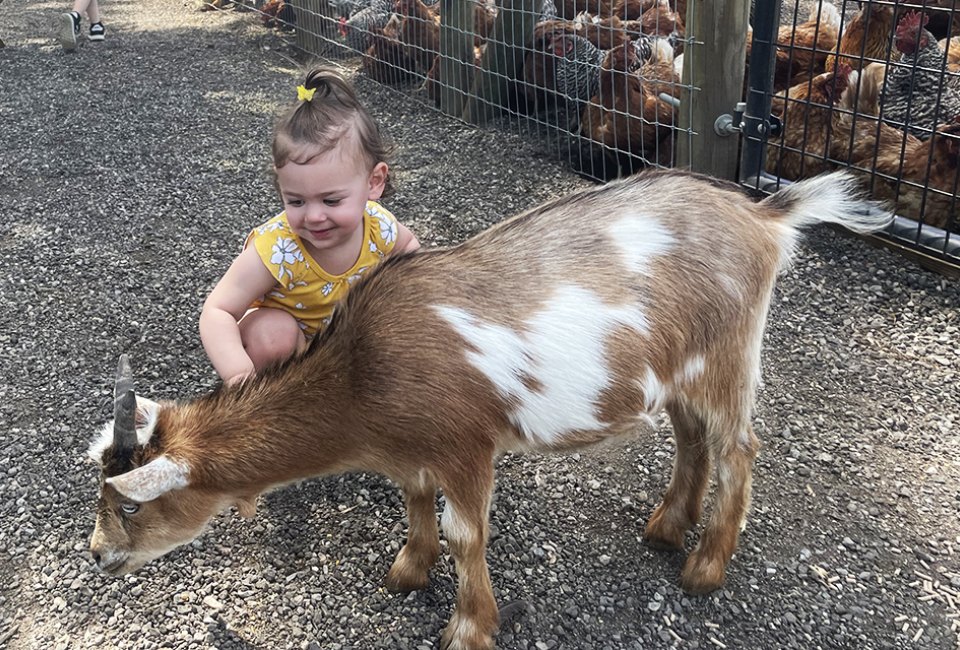 1/8/23
- By
Jaime Sumersille
Looking for FREE things to do with babies without breaking the bank? There are plenty of destinations on Long Island that offer fun for all without a hefty price tag. Check out this list of local hot spots where babies ages 2 and younger are welcome for FREE.
Now, what to do with all the extra cash? Peep our list of top mommy-and-me baby classes on Long Island and check out our Indoor Activities Guide and our Long Island Free Things To Do with Kids Guide for more ideas.
To get more ideas for fabulous fun delivered to your inbox, sign up for our newsletters.
Nassau County Play Areas FREE for Babies and Toddlers
Nestled on the second floor of the mall right outside the movie theater is a small play area perfect for toddlers. Features include a lighthouse slide, a small pier to climb on, and a boat. This area is completely FREE.
RELATED: A Dozen Things to Do with Baby on LI Before He or She Turns 1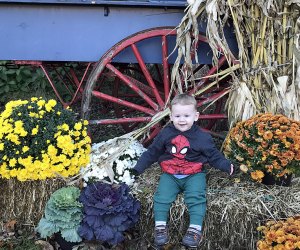 Enjoy year-round fun at Old Bethpage Village Restoration.
Step back in time and explore life in the 1700s and 1800s. There are 51 historic buildings, including a schoolhouse, church, farm, and seven reconstructed buildings. Many of the buildings are furnished with pieces original to the structure. Children 4 and younger are FREE.
The Junior Jet Club is an interactive play area for children, ideal for kids up to age 6. Young aviators can build, explore, and even settle down for a story in the book corner. The Junior Jet Club is included with regular museum admission, or you can enjoy it minus the museum for a nominal fee. Children younger than 2 receive FREE admission to both the Junior Jet Club and Cradle of Aviation Museum. On special Sundays and Wednesdays, the museum also offers Junior Jet Classes, which are geared to children 2-5 years old. The classes are FREE with admission.
RELATED: Free Indoor Play Spaces for Kids on Long Island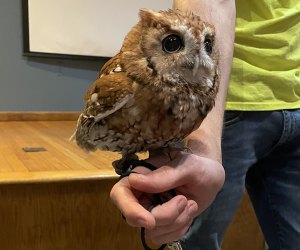 Get up close to wildlife at Tackapausha Museum and Preserve.
This environmental education center has in-house live exhibits, interactive learning displays, and an expansive outdoor play area that uses nature as a jungle gym. Outdoor trails are mostly flat. Children 4 and younger are FREE. Be sure to also check out their special nature programs to get up close to snakes, birds of prey, and more.
Suffolk County Play Areas FREE for Babies and Toddlers
Wander around this airport hangar and explore planes from the inside and out. Press all the buttons, pull every lever, and flip each switch. A one-level facility makes this spot stroller-friendly. Children 4 and younger are FREE.
Your little one can learn about land and aquatic creatures from the hatchery's large collection of living reptiles, fish, and amphibians. An outdoor pond is stocked daily for trout fishing. Children 2 and younger are FREE.
RELATED: The Best Animal Farms and Petting Zoos on Long Island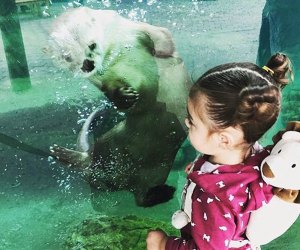 Introduce your toddler to the otters at the Long Island Aquarium. Photo courtesy of the aquarium
Marvel at the colorful fish tanks, feed the stingrays, and await a butterfly landing at the Long Island Aquarium. Watch the sea lion show and enjoy other outdoor exhibits. Or stay inside and explore. While it is multilevel, the aquarium provides a stroller-friendly layout. Children 2 and younger are FREE.
Little ones will love learning about nature here while exploring interactive exhibits that include live animals. There is also a large touch tank, where visitors can hold live sea stars, crabs, urchins, and more. In the warmer weather, check out the Native Butterfly Garden and outdoor exhibits. Children 2 and younger are FREE.
Kids can enjoy the large, open play area and barnyard at Fink's Country Farm from May through December. The play area includes a tractor-turned-slide, wood climbing structures, and a tricycle track. The barnyard has lots of animals, including free-range baby goats, chickens, and other fowl. Guests are welcome to feed donkeys, alpacas, goats, pigs, peacocks, and chickens. A unique feature open during the warmer months is its barn 'o' corn; a large ball pit-like structure full of corn kernels. Ages 2 and younger are FREE.
RELATED: Long Island Restaurants Where Kids Can Eat Free

Meet friendly farm animals and enjoy free fun at the Suffolk County Farm and Education Center.
A great feature of this farm: It is FREE for everyone and open in the winter months, only closing two weeks at the end of December into the first week of January. Kids can play on a natural playground, which features a new mud kitchen donated by Eagle Scouts, tire structures, digging equipment, and water paint. There are also balancing structures made from wood, a water play area, as well as a music play area. The farm itself is home to peacocks, pigs, goats, horses, cows, turkeys, and alpacas. Animal feed costs extra and must be purchased at the main office. FREE for all ages.
The play area at Westfield South Shore is decently sized, with aquatic-themed climbing structures and interactive features along the walls. Another plus is the area is almost completely closed in, with only one way in and out. The play area is FREE for all.
Explore the relationship between humans and whales through this collection of artifacts and interactive educational opportunities. Younger ones might not grasp the history of whaling on Long Island, but they can certainly take in the colorful artifacts. Children 3 and younger are FREE.
This article was originally published in 2017. It was updated in January 2023.
Unless noted, photos by the author
Sign up for the Mommy Poppins Newsletter today!