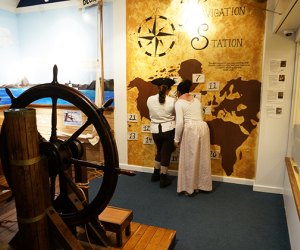 Maritime History Comes Alive at Cold Spring Harbor's Whaling Museum
The Whaling Museum & Education Center in Cold Spring Harbor is another family-friendly museum that lets Long Island kids have fun and learn at the same time. Kids are engaged in the museum's interactive exhibits—from taking a whiff of cooked whale blubber to climbing into a bunk bed and experiencing a whaling ship's tight living quarters—as they explore Long Island's rich maritime history.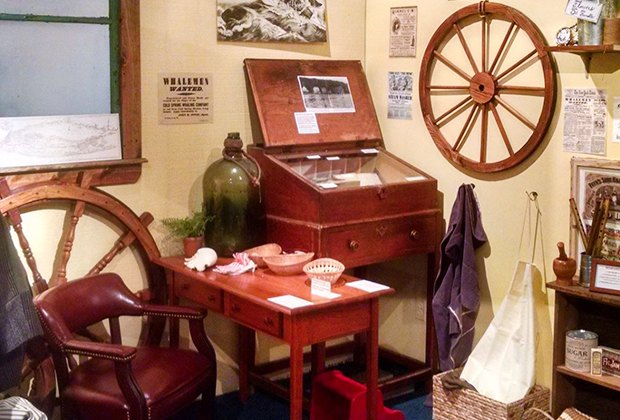 The museum's general store features items that would have been purchased by 19th-century whalers.
Located in one of Suffolk County's most picturesque towns, the Whaling Museum & Education Center's mission is to educate families about the impact the whaling industry had on the region in the 19th century. The museum, opened in 1942, is a treasure trove of artifacts, including a 30-foot long, fully equipped 19th-century whaleboat, and an extensive scrimshaw collection.
But what's sure to capture the imagination of a child is the museum's two interactive exhibits: If I Were a Whaler and Thar She Blows: Whaling History on Long Island. On a recent visit, assistant director Cindy Grimm offered a tour of the two exhibits, pointing out the many ways children can learn about an important part of Long Island history while having fun experiencing life as a whaler.
In the large room that houses Thar She Blows, which opened in September, is a variety of hands-on stations that let children use their hands, eyes, and noses. "Smell boxes" allow visitors to experience precisely what whale blubber smelled like while it was being cooked, as well as the lovely odors that emanated from the "foc'sle'"(the crew's living quarters). While the sniffs weren't pretty, they were educational.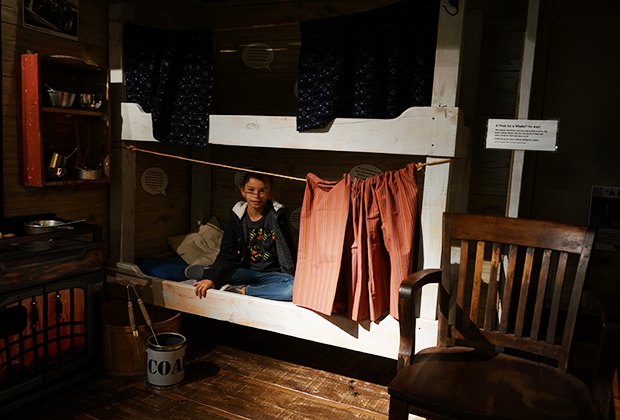 Sleep in bunk beds as you would have on a whaling ship.
Another room showcases the second interactive exhibit, If I Were a Whaler. Here, kids play a variety of roles typical of the whaling age. There are costumes for dressing up, a general store with stocked shelves and play money, bunk beds, and even a potty seat. Visitors can have pictures taken while steering a real captain's wheel, and try their hands at maritime tasks such as hoisting a sail, swabbing the deck, and tying a knot.
Grimm noted a captain's children and his wife often were allowed on whaling ships, and spent years at sea. In the museum's main room, she pointed out what appeared to be a large wooden swing. Called a "gamming chair,' it was used to transport women aboard ships.
In keeping with the museum's commitment to educating children about environmental issues, the exhibit features stations where children can learn about the impact of their carbon footprints and what they can do today to save whales.
The Whaling Museum & Education Center is located at 301 Main Street in downtown Cold Spring Harbor, not far from the Nassau County border. Regular hours are Tuesday through Friday, 12-4pm; and Saturday and Sunday, 11am-5pm. The museum is open daily from Memorial Day to Labor Day.
Admission is $6 for adults, $5 for seniors and kids. Children 3 and younger are FREE. Admission for a family (up to 6) is $20. On Sundays, from 11am-noon admission is by donation. Active military are FREE.
In addition to its regular exhibits, registration for the Whaling Museum and Educational Center's summer camp programs opened in April. Check the museum's website for more information and its calendar of events.
Photos courtesy of the museum.
Places featured in this article:
---
The Whaling Museum & Education Center