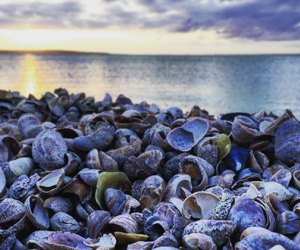 Enjoy a Winter Day in Cold Spring Harbor
The idyllic community of Cold Spring Harbor is the perfect spot for a family-friendly winter day trip. While you may have it on your summer-only list, there is plenty to do on a chilly day in this charming western Suffolk County hamlet, where kids can enjoy several educational facilities and some delightful restaurants and sweet spots.
Start with the weekly children's program at The Cold Spring Harbor Fish Hatchery and Aquarium, one of the leading environmental centers in New York state. Enjoy lunch at the classic Gourmet Whaler, and finish up by taking a stroll around The Whaling Museum and Education Center, a link to the community's past. In between, parents of older children might want to explore biological sciences at the DNA Learning Center or take a trip through Long Island's history at the Society for the Preservation of Long Island Antiquities.
The hatchery hosts its popular Pollywog Adventures program every Wednesday and Thursday at 10am, beginning with a live animal demonstration. Children get up close and personal with a turtle, salamander, and other reptiles. Fair warning: There was a snake on the day we visited. Next, kids are off to the craft table to create their own aquatic creature, followed by engaging storytime and a snack. Finally, everyone bundles up and heads outside to feed the hungry trout. From here walk over to the Walter L. Ross II building to check out the large aquariums housing native fish and hatchling turtles. Be sure to locate the large step stool so little ones can get a closer look at the ecosystems on display. The program is FREE for ages 2-5 with admission to the hatchery and aquarium.
RELATED: Best Indoor Play Spaces for Kids in Suffolk County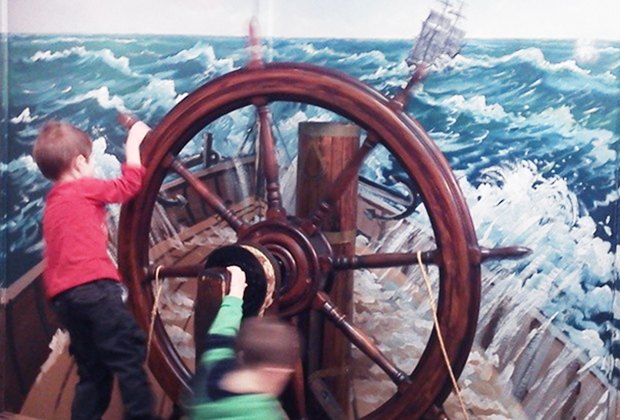 Kids can steer a replica whaler at the community's famous Whaling Museum. Photo by rayzwocker via Instagram.
After you've worked up an appetite, take a five-minute drive through the picturesque village to The Gourmet Whaler, an ideal spot to warm up and recharge.This relaxed, kid-friendly establishment offers seasonal favorites, including fish tacos with chipotle mayo. Other winter comfort foods include the gigantic "Killer Whale" burger and veggie bean chili. A kid's menu is available with hot dogs and chicken tenders. Be sure to sample its piping hot drinks and sweet treats. Imported Italian espresso and organic coffee are the most popular items on cold days. A unique selection of gourmet food and candy is located in the back along with a larger-than-life carousel pig and lion.
The Whaling Museum offers a toasty respite on frosty days. For starters, it houses the only fully equipped whale boat in New York State, featuring the boat's original tools and supplies. While the log books and diaries are of interest to adults, there are plenty of interactive displays for kids. Our favorite was the "If I Were a Whaler" exhibit. Kids are encouraged to experience a typical day at sea, doing everything from raising the hoist to exploring a whaler's bunk bed. (This was a hit, by the way). In addition, kids can try out the smelling boxes and and even design their own scrimshaw. The museum hosts programs for children throughout the year; make sure to check out its calendar for special programs, including Toothpalooza on February 26 and Dr. Seuss' One Fish, Two Fish Birthday Bash on March 2.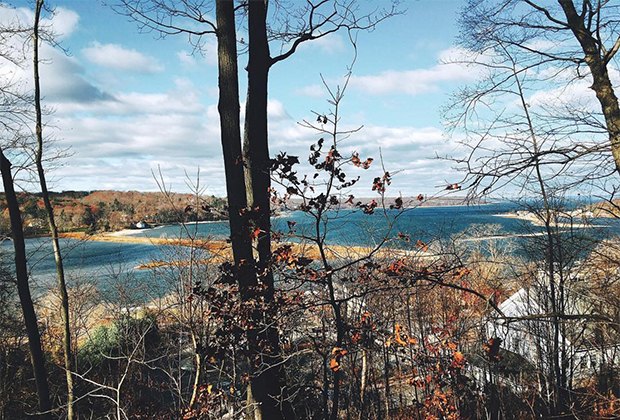 Even in winter, views from the hiking trails in Cold Spring Harbor State Park are beautiful. Photo by philissim0 via Instagram.
If you are visiting with older children, the hiking trails of Cold Spring Harbor State Park are waiting on Harbor Road. A detailed trail map is located at the entrance. Choose your difficulty level and enjoy the winter scenery. Head over to one of several lookout points for incredible views across the harbor. On the day of our visit we saw several fishing boats arrive with their catch of the day. Bring your camera for photos of the ice-covered harbor and snow-capped village.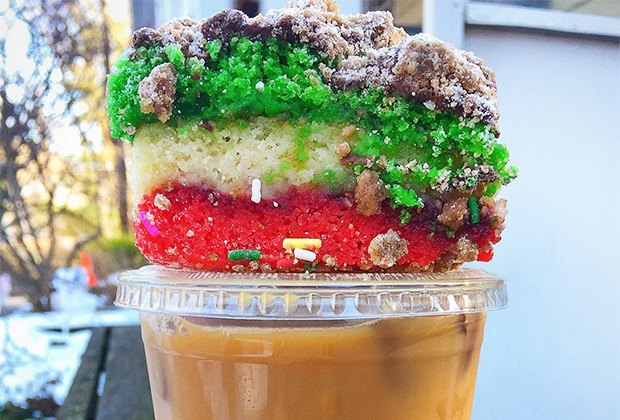 Top off the day with a rainbow crumb cake or any other delicious dessert at Sweetie Pie's on Main. Photo by eating_longisland via Instagram.
Finally, end the day with a salted caramel brownie or another sweet treat at the delightful Sweetie Pie's on Main. Serving coffee, drinks and fresh baked goods, this quaint cafe will leave you with a sweet memory of a perfect day.
Find more day trip ideas in our 100 Best Things to Do on Long Island list for local families, and 100 Best Things to Do in New York State list, too!
Top photo: Enjoy a winter stroll along the shore and collect shells at Cold Spring Harbor. Photo by Adam Taylor via Instagram.