Best Things To Do in Boston in January with Kids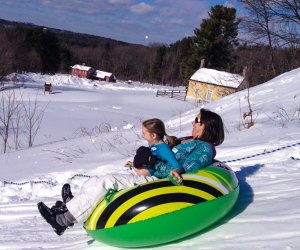 With New Year's Day, Martin Luther King Day weekend, and Lunar New Year, January is a great time for all kinds of family adventures. While often the snowiest month of the year, there are awesome kid-friendly activities happening in Boston all month.
Boston is a marvelous city in any season, and winter is no exception. Each day is getting a tiny bit longer, there are museum events and theater productions, and so many opportunities for outdoor activities. While the holidays are mostly over, the Zoolights at Stone Zoo will stay on until January 9, in case you're not quite ready to let go of the sparkle. If your preference is more time indoors, these dark and chilly days are the perfect time to set a date with your budding artists and scientists and enjoy Free Admission for Kids at Boston Museums and Attractions or mix up some natural ice cream at The Science of Snow. Get out the hats, scarves, and long underwear for the whole family and go snowshoeing, outdoor ice skating, or for a royal treat of a winter day trip, over the border to explore Ice Castles NH.
Find more top things to do in our Winter Activities Guide, or, if you're already dreading the icy temperatures, take a look at our recommendations for 30 Best Warm and Sunny Family Vacation Ideas and plan a winter getaway.
We're adding more events to our Family Activity Calendar every day, so don't forget to check it frequently.
Get our picks for best family activities in your inbox—sign up for our newsletters.
Note: Many locations in Boston are requiring masks be worn indoors and some venues are requiring proof of vaccination, or a negative COVID-19 test, for entry. Check locations for specific details.