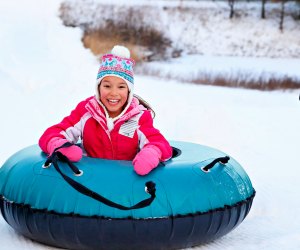 50 Fun Things To Do This Winter With Boston Kids
Winters in Boston can sometimes feel dark and dreary, but there are so many fun things to look forward to in the wintertime. Here's a list of our favorite things to do in and near the city with kids when it's cold, including outdoor adventures (skiing, snow tubing, even snowshoeing!) and indoor fun (from secret gardens to our favorite trampoline parks). Most are free or are inexpensive because we know how empty wallets can feel after the holidays.
If winter doldrums still persist, peruse our Boston Winter Fun Guide for more ideas for keeping kids busy when the weather is frightful. Keep warm—and have fun!
1. Embrace the wonders of the season at a winter fair, like the Harvard Square Taste of Chocolate Festival. FREE
2. Find out why Larz Anderson Park in Brookline is an outdoor wonderland for kids in the colder months. FREE
3. Need to escape your own playroom? Let your kids frolic for free at one of these local libraries with great play areas. FREE
4. Marvel at the intricately crafted tiny ships and participate in a scavenger hunt at the USS Constitution. Visit on the third Sunday of each month and you can really get into the sailor life by joining in a group singalong featuring classic sea chanteys.
5. Step up your sledding game and hit one of these snow tubing spots for some extra fast fun!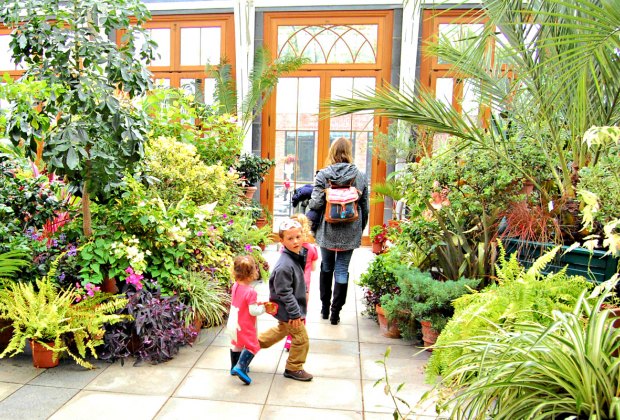 Warm-up in the greenhouse! Photo courtesy of Tower Hill Botanic Garden
6. Escape the winter chill and warm up in an indoor garden.
7. Trek the world in four days during Belmont World Film's annual Family Film Festival (mid-January).
8. Honor the memory of Dr. Martin Luther King, Jr. with the Boston Children's Chorus during its annual Tribute Concert at Jordan Hall. This year's theme: "Still I Rise."
9. Pack up the car and hit the road for an easy winter day trip.
10. Throw the sleds in the car and head to one of these sledding hills—they're worth the drive! FREE
11. Pretend to be Elsa and visit a REAL ice castle.
12. Indulge in a cup of steaming hot chocolate.
13. Let your kids bounce out their energy at an indoor trampoline park.
14. Nosh your way through Eataly or the Boston Public Market.
15. Celebrate firefighters and perhaps a birthday at the Boston Fire Museum (open Saturdays).
16. Ice skate on an outdoor ice rink or at one of the free ice skating rinks in Boston.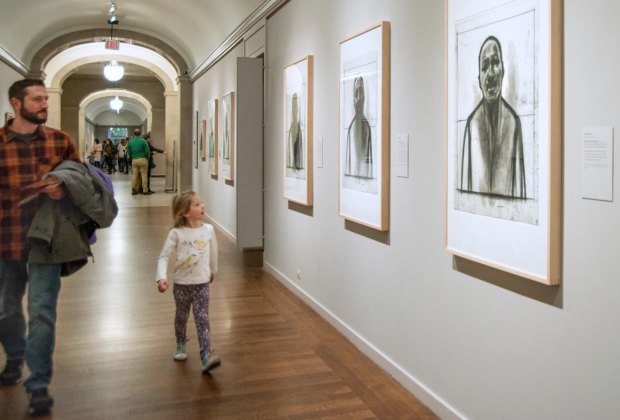 Explore the galleries with a fresh pair of eyes. Photo courtesy of Museum of Fine Arts, Boston
17. Spend the day at the MFA. Visit on select weekends and you can jump in on a free playdate!
18. Discover the wintertime secrets of The Cove. FREE
19. Explore the grounds at Gore Place in Waltham on snowshoes (January through March).
20. Don't leave baby in the corner! Get out and about with your infant and toddler at these tot- and stroller-friendly winter activities.
21. Get up close and personal with the gorillas at Franklin Park Zoo.
22. Learn about science and nature at the EcoTarium.
23. Sign up for an enrichment class to lock in a weekly activity to keep busy.
24. Listen to spoken word poetry, story-telling, or music at the long-standing, family-friendly Roslindale Open Mike Night, held on the second and fourth Mondays of each month.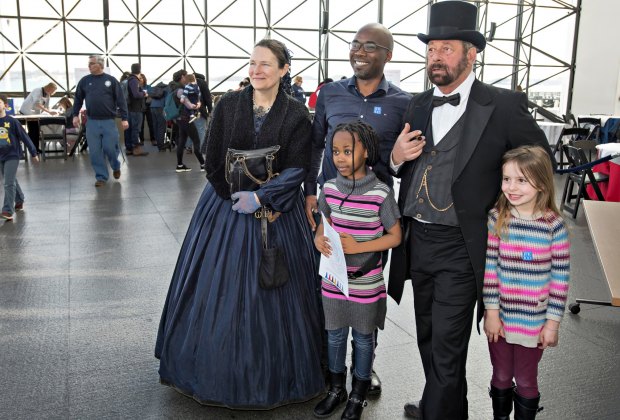 The JFK Library hosts many family-friendly programs, like this Presidents' Day Family Festival in 2018. Photo by Rick Friedman, JFK Library Foundation
25. Celebrate Presidents Day at the John F. Kennedy Library and Museum with special family programs.
26. Take a wonderful wintertime walk in and around the Boston area or in Rhode Island.
27. Point your way to Providence, where New England's first ice rink bumper cars are available for cruising at the Alex and Ani City Center.
28. Show some love with handmade Valentines.
29. Take the snow fort to the next level and built a multicolored igloo!
30. Join your neighbors and help birds by participating in the Great Backyard Bird Count (mid-February). FREE
31. Try cross-country skiing at the Blue Hills Reservation in Milton and warm up in the Blue Hills Trailside Museum.
32. If you're looking for a little more speed, sign your kids up to learn how to downhill ski (or snowboard) without even leaving the Boston area.
33. Get your theme park fix at the indoor Legoland Discovery Center.
34. Monkey around at an indoor play space just right for toddlers and preschoolers.
35. Try hands-on engineering projects during National Engineers Week (mid-late February).
36. Get kids' pent-up energy out at these exciting indoor adventure zones.
37. Visit the Harvard Museums to see flowers, totem poles, and world-class art.
38. Enter the magical world of marionettes at the Puppet Showplace Theatre.
39. Be STEM-ulated by the exhibits at the Museum of Science (and check out our tips for visiting with kids of different ages).
40. Welcome spring at the Boston Flower & Garden Show (March).
41. Visit New England's newest aquarium filled with tons of interactive experiences.
42. Play at these indoor locations (for free!). FREE
43. Build your very own indoor obstacle course without leaving the house.
44. Go to Improv Boston for a Saturday Family Show.
45. Escape the kitchen and take the kids out to a restaurant where they can play while you eat (and relax).
46. See who can make the biggest bubble at the Boston Children's Museum.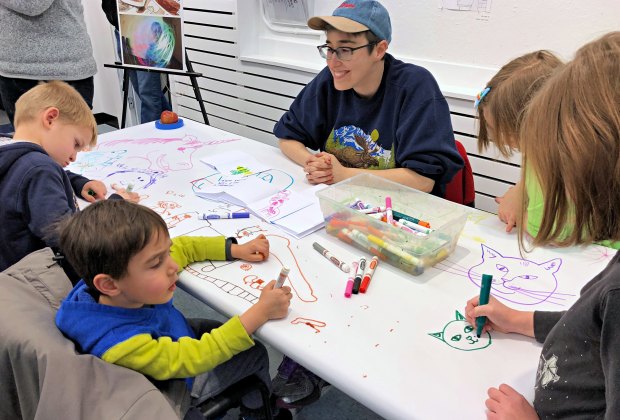 Children enjoy free winter-inspired art activities at the Brookline Arts Center's annual Snowflake Festival. Photo courtesy of Brookline Arts Center
47. Explore this winter-themed Snowflake Festival.
48. Escape the chill in the air at an indoor water park.
49. Have breakfast at Drumlin Farm and learn all about how to collect maple syrup.
50. Visit Springfield and one of Massachusetts' wackiest museums.
Originally published in December 2013