The 30 Best Winter Activities for Boston Kids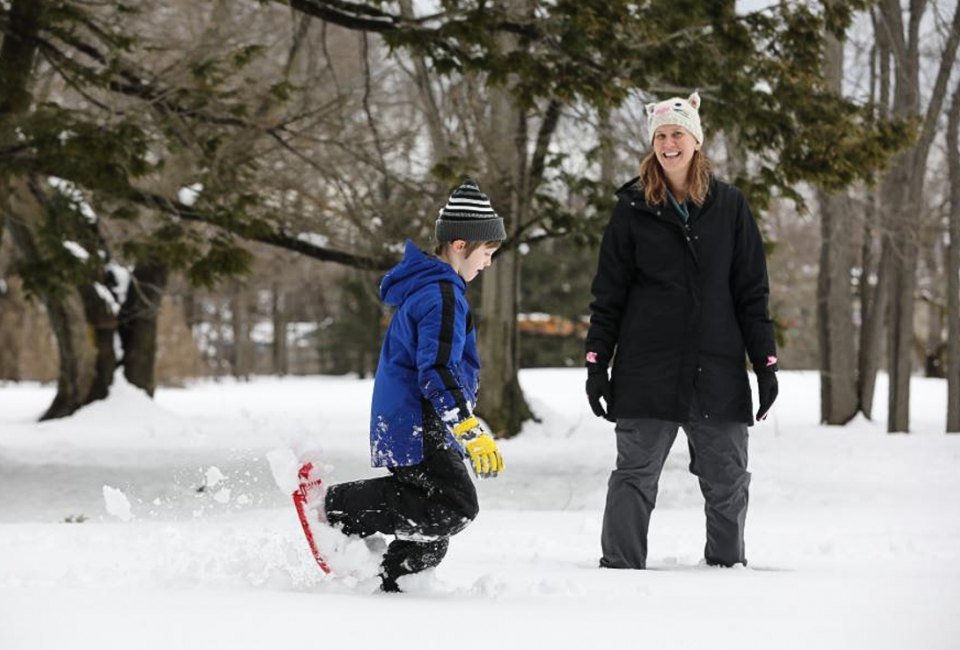 1/20/23
- By
Tara D
Outdoor Winter Activities Near Boston
1. Go on a Reindeer Quest
Reindeer may be sticking around these parts for a little while past Christmas—see if you can spot the wooden herd on a Reindeer Quest at Chestnut Hill Farm through January.
2. Put on Your Ice Skates
Get some fresh air, exercise, and loads of fun at some outdoor ice skating rinks in Boston and around the city.
3. Have a Hot Chocolate Hike at the Farm
Gather up your pod and head to Appleton Farms in Ipswich for a Hot Chocolate Hike—explore the thousand-acre farm and reward yourselves with a delicious cup of hot cocoa in the warm Farmhouse.

Spot Snowy Owls in their natural habitat. Photo courtesy of the Trustees of Reservations
4. Spot a Winter Visitor
Hike North Shore beaches in search of the wisest of birds on a guided Family Snowy Owl Prowl.
5. Get Ready for the Groundhog
You need not head to Pennsylvania; Massachusetts' own Groundhog Day takes place in Lincoln, thanks to the state groundhog, Mrs. G.
6. Get in S'More Fun
Head to Concord for a morning full of winter activities and fire-roasted marshmallow treats at S'Mores & More.
7. Find the Best Sledding Hills
Throw the sleds in the car and head to one of these sledding hills—we promise, they're worth the drive.
8. Surprise the Family with Snow Tubing
Step up your sledding game and hit one of these snow tubing spots for some extra fast fun!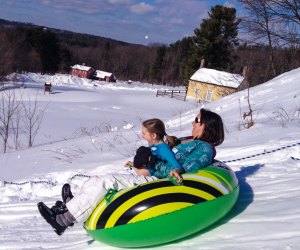 Spend the day in an enchanted winter woodland. Photo courtesy of Frozen Fruitlands, Facebook
9. Visit Winter Fest at the Frozen Fruitlands
Head to the Fruitlands Museum for a day of family activities and some high-energy fun at Winter Fest.
10. Skate the Charles
Discover the wintertime secrets of The Cove, which features the city's only skating area on Charles River.
11. Learn to Snowshoe
Explore the grounds at Gore Place in Waltham, where you can hike the woods or rent snowshoes. Winter activities include looking for animal tracks, spotting birds, and saying hello to the sheep!
12. Visit the Animals
Bundle up and see lions, tigers, zebras, and more at the outdoor exhibits at Franklin Park, the Stone Zoo, and more.

Visit Two Big Black Hearts by Jim Dine at the De Cordova Sculpture Park. Photo courtesy of the park
13. Enjoy a Winter City Walk
Pick one of these wonderful winter walks in one of Boston's beautiful outdoor parks.
14. Head up Hill
Take new skiers to the bunny hill at Blue Hills Reservation in Milton and stop by to visit the otter and owls at the outdoor exhibits at the Blue Hills Trailside Museum.
15. Make That Family Ski Adventure Happen
If you're looking for a little more speed, sign your kids up to learn how to downhill ski (or snowboard) without even leaving the Boston area.
16. Plan a Winter Day Trip
Pack up the car and hit the road for an easy winter day trip.
17. Twirl in an Ice Castle
Pretend to be Elsa and visit a real ice castle opening January 22, just over the border in New Hampshire.
18. Track Winter Birds
Join your neighbors and share your backyard birding sightings with the Great Backyard Bird Count (beginning mid-February).
Great Indoor Winter Activities Near Boston
Warm up in the greenhouse and take in all the lush greenery. Photo courtesy of Tower Hill Botanic Garden
19. Catch Warm Vibes Visiting a Conservatory
Check out Tower Hill Botanic Garden's spectacular 171-acres of outdoor gardens and lush indoor conservatories. They are accessible with advanced ticketing. Check the calendar for fun events like a Yeti Hunt, Snow Slime workshop, and more.
20. Spend a Stormy Day Doing Science
Try some fun science experiments perfect for kids or STEM activities that even little ones will love.
21. Enter a Writing Contest
The USS Constitution is sponsoring an essay contest to celebrate Old Ironsides' 225th birthday. Plan a visit if you need some inspiration!
22. Help Kids Learn to Cook
Choose an easy recipe for kids (or two or three!) and pick up ingredients to cook as a family.
23. Go for a Cocoa Cuppa
Indulge in a cup of steaming hot chocolate at one of our favorite spots for this cold-weather treat.
24. Check out a Kid-Friendly Film Festival
Catch some of the world's most charming and clever movies for kids ages 3 to 12 at a hybrid edition of the annual (and locally produced) annual Belmont World Film's Family Festival.
25. Bounce Away
Let your kids bounce out their energy at an indoor trampoline park
26. Make Time for Museums
Explore an exciting museum, like the Museum of Science, Boston Children's Museum, or the Museum of Fine Arts.
27. Build an Epic Winter Igloo
Take the snow fort to the next level and build a multicolored igloo!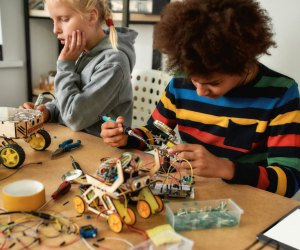 Bigger kids can build amazing things with STEAM activities. Photo courtesy of Bigstock
28. Turn the Dining Table Into a STEAM Workshop
Try guided, hands-on engineering projects at home during National Engineers Week February 19-25, 2023.
29. Head to the Aquarium
It's not a day at the beach, but that's for the best given the sharks! The New England Aquarium has enough exhibits to fill an entire day.
30. Share the Love
Show some love with Valentine's Day ideas for the family!
Originally published in December 2013
Updated January 2023