11 Places to Snowshoe with Kids Near Boston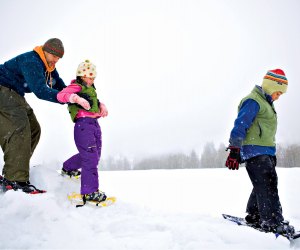 What's one item that turns an otherwise ho-hum winter walk into an adventure? Snowshoes! Snowshoes are practical in that they allow kids to walk on top of the snow, allowing families to explore deep woods and other unshoveled trails after a big snowfall, but it only takes an inch or two of the white stuff for there to be a reason to break out this fun footgear. With dedicated winter trails or expansive meadows to tromp through, these spots are tops for snowshoeing near Boston with kids.
For other ways to get children out of the house on cold days, check out our favorite wintertime walks, family-friendly ski areas, and ice skating rinks—all in our Boston Winter Fun Guide.
Snowshoeing Spots with Snowshoe Rentals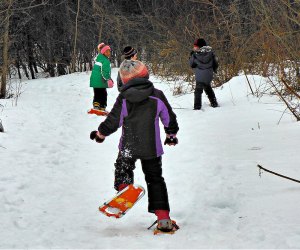 Kids snowshoeing in a winter wonderland. Image courtesy of Mass Audubon/Boston Nature Center.
2021 update: Most places that rent and offer snowshoeing are requring reservations this winter. Be sure to call ahead.
Gore Place- Waltham
Explore the beautiful 50-acre Gore Place estate on snowshoes this winter from now through March, as long as there's snow on the ground. The estate has set paths to snowshoe on as well as open space to romp. Rentals are available Monday through Saturday.
Weston Ski Track- Weston
In addition to cross-country skiing, the Weston Ski Track also offers snowshoeing. The facility has great snowmaking capabilities so even when there's no natural snow, families can still head to Weston for winter fun. Visitors can also do multi-day and off-site rentals or take a lesson.
Broad Meadow Brook - Worcester
The largest urban wildlife sanctuary is a perfect place to spot winter birds and woodland creatures while you snowshoeing through fields, woods, and marshes. Snowshoe rentals are available most days.
Blue Hills Reservation- Milton
2021 update: Blue Hills rentals are expected to return next year. Call ahead about possible availability.
Most Bostonians know that Blue Hills Reservation is one of the best places to go hiking near the city. And all those hiking trails make great snowshoeing paths in the winter. There are ample routes to choose from, whether you're looking for a short, easy path or a more challenging trek. Snowshoes for kids and adults can be rented at the Blue Hills Trailside Museum from Thursday through Sunday.
Boston Nature Center- Mattapan
2021: This year, snowshoeing and rentals are mainly offered as part of guided walks and programs.
You don't have to go far outside of the city center at all to find great snowshoeing when you head to the Boston Nature Center in Mattapan. This urban sanctuary has trails and boardwalks that wind through meadows and wetlands. The Boston Nature Center now has kid and adult snowshoe rentals every day of the week.
Bring-Your-Own Snowshoeing Spots
With wide, woodland trails, Oak Knoll in Attleboro is popular for snowshoeing. Photo courtesy of Mass Audubon
If you already own snowshoes, then you're all set to hit up these local nature areas. And if not, you can buy or rent them at local Eastern Mountain Sports or REI stores. Prices and availability vary by location.
Oak Knoll Wildlife Sanctuary - Attleboro
Bordering Lake Talaquega, Oak Knoll features winding paths through red maple forests, over boardwalks, and up some gentle woodland slopes that offer a bit of excitement to the snowshoeing journey.
Harold Parker State Forest- Andover
Just north of Boston lies 3,000-acre Harold Parker State Forest. This is a great place for families to snowshoe because of its 35 miles of marked trails. Harold Parker's trails are wide with gentle rolling hills, so they're perfect for beginners. Take in the beautiful scenery of the forest as you trek through the woods.
Noanet Woods- Dover
Take to the 17 miles of trails at Noanet ​Woods for a fun day of family snowshoeing. There are ample easy paths that work well when snowshoeing with kids. And if you're feeling more ambitious, you can trek to the top of Noanet Peak for spectacular views of Boston.
World's End- Hingham
There are 251 acres and 4.5 miles of trails to explore at World's End in Hingham. The Frederick Law Olmsted-designed carriage paths make great snowshoe paths. Plus you can't beat the views of Boston from this park, which is only 15 miles from the city.
Ravenswood Park- Gloucester
If you'd rather head north of Boston than South, then you'll love Ravenswood Park. This 600-acre nature area offers 10 miles of carriage trails that were made for snowshoeing. There are plenty of paths that are easy enough for kids, like Ledge Hill Trail, which is especially popular with little ones.
Weir Hill- North Andover
Weir Hill is consistently named one of the top places for families to snowshoe near Boston. There are four miles of trails to explore, with difficulty ranging from easy to strenuous. Take the paths along Lake Cochichewick for a family-friendly route. Or tackle the hill itself for more of a workout that'll be rewarded with gorgeous views.
---