6 Places Where Kids Can Learn to Ski or Snowboard Near Boston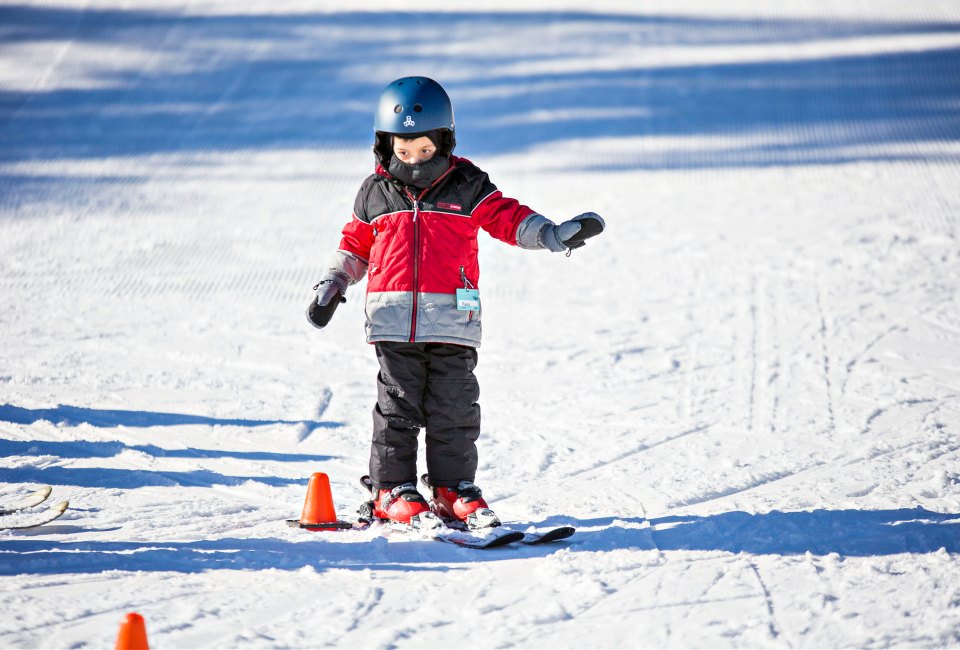 12/11/18
- By
Kelley Heyworth
Teaching a child to ski is no easy feat. Between the gear, ticketing costs, and power struggles, it can often be a better bet to sign a child up for ski lessons. Luckily, within an 80-minute drive of Boston, there are a half-dozen simple ski areas that offer children's ski lessons courtesy of experienced instructors. All have a family-friendly atmosphere where a slopes-confident parent can, alternatively, have plenty of space to teach a child on their own. With travel restrictions making it hard to pull off a ski weekend in New Hampshire or Vermont, these Massachusetts ski slopes might be your family's safest bet for a ski getaway.
Call or register online ahead as far in advance as possible, and take heart—just like a potty training and two-wheeling, they will get the hang of it eventually! After a few lessons, your family may even feel a bit more ambitious and ready for a classic New England ski weekend getaway!
Just south of Boston in Canton, Blue Hills Ski Area is a great place to go if you want to ski with your children on easy slopes. It has been around since the early 1960s. It is owned by the MA Department of Conservation & Recreation (DCR) and currently managed by Ski Blue Hills Management, LLC. Blue Hills has a vertical drop of 309' and 60 acres of skiable terrain. It has 12 trails and four lifts (one Double Chair Lift, two magic carpets, and one handle tow). Night lighting covers 50 percent of the mountain.
Ski lessons: Blue Hills offers group lessons and private lessons for adults and children 3 years and older. Lessons can be booked in advance over the phone at 781-828-5070 or online.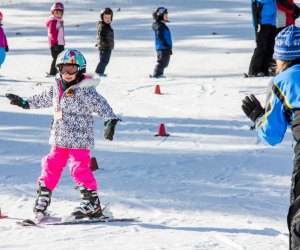 Nashoba Valley has skiing and the largest snowtubing park in New England. Photo courtesy of Nashoba Valley Ski Area
25 miles west of Boston, Nashoba Valley Ski Area is a full-service ski area offering lessons, rentals, skiing, and snowboarding. Snowmaking and night lighting cover 100% of the terrain. There are 17 trails, ranging in difficulty from beginner (20%) to intermediate (50%) to advanced (30%). The seven lifts include 3 triple chairs, 1 double chair, 2 conveyers, and 3 rope tows. If you're looking for an alternative to skiing, Nashoba Valley's Snowtubing Park is the largest in New England, with four lifts, over 600 snow tubes and up to 16 lanes.
Ski lessons: Nashoba offers group lessons, individual lessons, and multi-week lessons for pre-schoolers, school-aged children, and adults and is also host to local high school racing teams and its own Rovers racing team. An on-premises ski shop has skis, equipment, and clothing for the entire family. Lessons can be booked in advance over the phone at 917-692-3033 or online.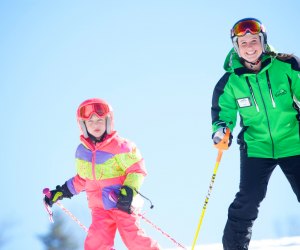 ​Wachusett Mountain has 22 trails and is easily accessible via MBTA commuter rail and a free shuttle. Photo courtesy of Wachusett Mountain
Massachusetts' biggest ski area, Wachusett Mountain has 110 skiable acres (novice 30%; intermediate 40%; advanced 30%), with a wide variety of terrain for skiers of all abilities. It has 22 trails and 8 lifts. No car? No problem. On Wednesday afternoons and Saturdays and Sundays, the MBTA offers commuter rail service from North Station to Fitchburg Station, with a free shuttle directly to the mountain. (You still have to pay the train fare.) The ski train is specially equipped with ski and snowboard racks. Trains leave North Station in the morning and return from Fitchburg Station in the early evening.
Ski lessons: Wachusett offers a variety of lesson programs for all abilities, ranging from Special Beginner Packages to Advanced Training Clinics. The Wachusett Mountain Ski School gives class lessons daily (both private and semi private lessons are also available.) The MtnSide Ski & Ride is a full-service ski shop, with specialists who can custom fit new boots, a wide selection of ski clothing and equipment, and some good specials and ski packages. Lessons can be booked in advance over the phone at 978-464-2300 or online.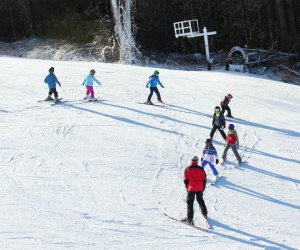 For a more manageable slope, try Ski Ward. Photo courtesy of Ski Ward
Minutes from Worcester, Ward is a small, super manageable facility with 9 trails and 4 lifts, including a T-bar and magic carpet. There's a terrain park and lots of snowboarders here, so it's a good place to learn boarding if that's what suits your child's fancy. On-site tubing offers an added element of fun.
Ski lessons: A 100-member Snow School instructor team has a gentle way with young learners, and offer daily group and private lessons for kids ages 3 and up. During school vacation week, you can sign children up for 1 to 5 days of lessons, depending on your schedule. Lessons can be booked in advance over the phone at 508-842-6346 ext. 0 or online.
45 minutes from Boston, this ski resort has 15 trails over 60 acres with 3 triple chair lifts and 6 surface lifts, including a novice carpet conveyor. Bradford has snowmaking and lighting on all 15 of its trails, allowing skiers to stay on the slopes until 9pm weeknights and 10pm on weekend nights. The mountain also has a terrain park for snowboarders, a large base lodge with food and drinks, and a rental shop for equipment needs.
Ski lessons: The mountain offers both private and group lessons for ages 4 and up at various levels, starting at beginner. You can book in advance or drop in at the registration desk for day-of availability (you'll have better luck on weekdays than weekends). Lessons are offered daily, afternoons and evenings. During school vacation weeks, you can also sign up for Learn to Ski clinics. Lessons can be booked in advance on the phone at 978-373-5091 or online.
Cross country skiing is hot right now, and for good reason: It's great exercise, easy on the joints, and a fun, social activity. Many kids who dislike the idea of bombing down a hill really get into cross country. Located in Weston just off the Pike, it's super accessible from most spots around Boston, and a great place for kids and parents to learn something new together.
Ski lessons: Starting at age 4 or 5, kids can learn how to cross-country ski in kinder lessons. These one-hour sessions includes lots of games and are limited to four students per instructor. Older children through age 10 can either join a beginner or experienced group, and kids 11 and up join adult groups. There are also private lessons available. Lessons can be booked in advance over the phone at 781-891-6575 or online.