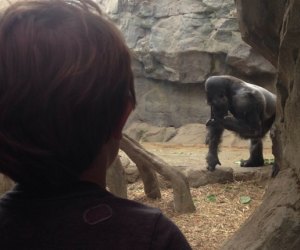 What to Do at Franklin Park Zoo in Just Two Hours
It was a gauntlet thrown down at my feet as much as my family's: Let's tour Franklin Park Zoo in under two hours.
Why set the timer at two hours? It seemed the like reasonable window to make our way through the zoo without getting tired while also keeping up a good pace. My pre-zoo strategies included feeding everyone lunch beforehand and packing enough food to avoid the snack shacks within the zoo that could eat away at our time.
Here's a brief journal of how we met our two-hour challenge at Franklin Park Zoo on one recent summer afternoon.
We got lucky enough to park in one of the small lots near the zoo's main entrance on Franklin Park Road. Those lots are often full, but once people start leaving the zoo in the early afternoon, you can sometimes snag a space. Otherwise, you need to park in a larger dirt lot a bit further west down Circuit Drive, which can turn into a slow walk to the zoo with kids.
1 p.m. – Apparently the early afternoon is a popular time to enter the zoo, as there was a long line at the admission booth, but it moved quickly. After getting in the gates, my kids stopped to see a porcupine and some warthogs.
1:07 – My kids ran to the Franklin Farm, a series of barns and paddocks with farm animals. My boys mistakenly thought an immense cow near the front of one barn was a big goat, so clearly they are city slickers, but if your children have grown up near a farm or are otherwise familiar with such settings, this stop might not be a must-see.
1:23 – My kids blew past the zebras, merry-go-round, and camel rides on a straight shot to the huge playground in the zoo. Skipping the rides is a good idea if you're time is limited. However, the playground is impossible to avoid and almost impossible to extract kids from once you're in it. FYI, the nearby bathroom is a good option.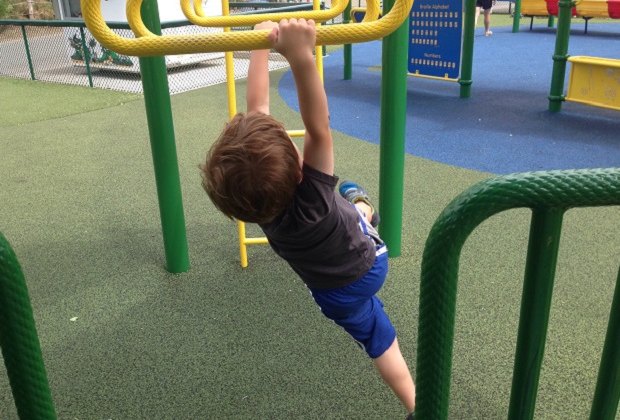 1:59 – Once we finally escaped the playground, we went across the way to see the giraffes. It was a short visit as the animals were far away, but it is really cool to see those tall giraffes even from afar.
2:06 – For many Franklin Park Zoo visitors, the main event is the amazement of watching the gorillas within the Tropical Forest building. The picture windows looking into the gorilla exhibit often draw huge crowds, so expect slow going (almost one-fourth of our visit was spent here). My kids also liked the snake displays in this building. We took advantage of the bathroom in the building, too, so we didn't have to make side trip later.
2:34 – Back outside, we finally made it the lion paddock, in which a pair of huge felines lounged in the long grass and yawned during this breezy, warm day.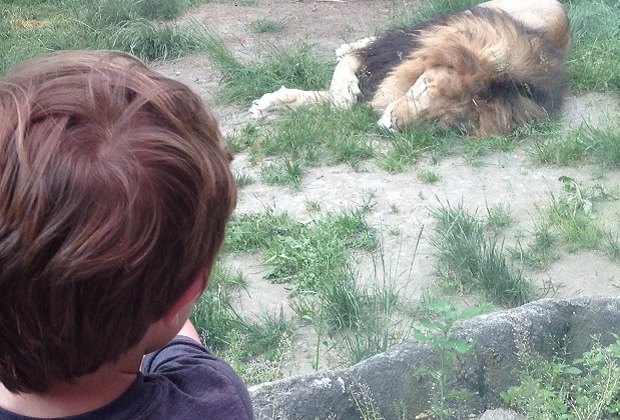 2:42 – A white tiger and orange tiger paced back-and-forth in this exhibit, which also draws a large crowd. More than any other animal in the zoo, the tigers are intimidating up close.
2:53 – We grabbed a couple of photo opps with my boys before heading back to our car, and hit our goal of keeping the zoo visit to under two hours. I must note, however, that there was no one waiting in line at the admission gate at 3pm, so that may be a better time to show up than when I did two hours earlier (the zoo closes at 6pm on weekends).
Epilogue: I give myself a B+ for moving everyone along through Franklin Park Zoo, although the playground dragged down our progress for a while. We kept out of the kangaroo exhibit and the bird house, which in my experience are not must-see attractions, especially if the clock is ticking. In hindsight, I wish I had arrived into the zoo from the less-busy Giraffe Entrance near the gorilla exhibit. This back gate is nestled near some fields on Pierpont Road, within the bigger Franklin Park.
---
All photos by the author.
Franklin Park Zoo
1 Franklin Park Road
Boston, MA 02121