Franklin Park Zoo: Top Tips for a Great Visit with Kids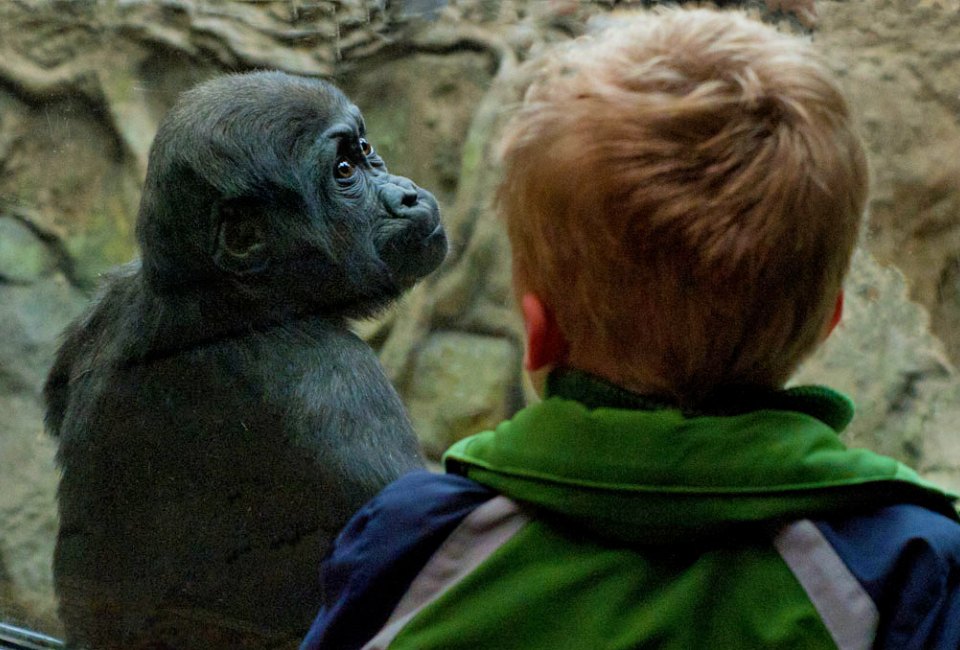 4/9/21
- By
Caitlin Dowling
When you're looking to go a little wild with the kids the Franklin Park Zoo is just the place! From live animals to hands-on exhibits, there are activities for all of your little monkeys—no matter how old they are. And the best part? You can visit these exotic animals without even leaving the city. With play structures and playgrounds sprinkled throughout the entire zoo, you have a fun-filled day on your hands and guaranteed tired kiddos when you're ready to head home.
Want to keep exploring with your little zoologists? Hop in the car to check out these local zoos within driving distance to Boston. And as always, check our events calendar for any upcoming fun events, animal-related, or otherwise!
2021 Note: The carousel, train ride, and giraffe feedings are currently not available. You must make a timed reservation in advance to visit. Make sure to plan ahead, as weekend reservations fill up quickly. Please make sure to check directly with the zoo before your visit for the most up-to-date information.
What To See at Franklin Park Zoo
Children's Zoo
One of the very first attractions you come across when you come in through the main entrance is the Children's Zoo—and trust us, you won't be passing it by once your kids spot the gigantic Eagle's nest perched there. It not only gives you a bird's eye view of the zoo but also doubles as a climbing structure and slide. Kids can also climb and swing on bamboo and zig-zag through a grass maze, like little mice. Along with all the structures, there are animals to visit, too! Pop your head up in a clear dome to hang on the range with prairie dogs and try to spot the red panda in his habitat.
Franklin Farm
Right next door to the Children's Zoo is a chance for little city slickers to play farmer for the day. Say hello and give a pet to the ponies, a Guinea hog, donkeys, sheep, and goats that call the main barn home, and cluck with the new chickies and older chickens at the coop. Along with visiting all the barnyard friends, kids can also climb a ladder to the top of a big silo that's actually a big slide!

The Tropical Forest. Photo courtesy of Franklin Park Zoo
Tropical Forest
This indoor exhibit is a must. Walk through the doors and you're transported into the jungle with waterfalls and tropical plants on all sides. The main attractions are the giant 350 lb gorillas and their babies, but there are also pygmy hippos, lemurs, and an anaconda to visit. Beware—for kids with an aversion to strong smells, this exhibit can get pretty stinky!
Butterfly Hollow
Walk into this greenhouse and you are immediately greeted with a burst of warm air and tons of free-flying butterflies! Play statue and see if you can get one to land on you. This exhibit is only open during the warmer months so make sure to check the zoo's official site to see if it's open.

All hail the kings! Photo courtesy of the Franklin Park Zoo
Kalahari Kingdom and Tiger Tales Exhibit
A short walk up a hill brings you to one of the zoo's main attractions—the lions. You may even hear a roar or two before you can actually spot them prowling around or lounging in the sun on the rocks. There are multiple glass windows around the entire exhibit so kids can get a great view no matter where the lions are. And there is even a "crashed" land rover up against the exhibit that kids can climb into and pretend they are on an African safari, spotting lions through the windshield. Right next door to the lions there is another gigantic cat exhibit. See if you can find the zoo's tiger camouflaged in its woodsy habitat.

Giraffe watching!
Giraffe Savannah
Look up at this exhibit to easily spot huge giraffes roaming and snacking on trees. Along with the giraffes, you can also find zebras here. If you really want to enhance your experience, make a special reservation to feed the giraffes! After marveling at these animals, head straight across the pathway to burn some energy at the zoo's playground.

Playground fun
Playground
Let your little animals run wild at the zoo's 10,000 square foot playground that looks like it's right out of the jungle. There are climbing structures that look like tigers to climb, bridges to balance across, and even a huge giraffe tube to slide down. There are also smaller areas where the littlest of zoo-goers can play safely. The playground does get crowded, and it's a bit of an obstacle course for parents to keep track of their kids, so make sure to set up meeting points and guidelines before setting them loose. Along with the main playground, the zoo sprinkles in play structures alongside the paths throughout the zoo for any antsy kids that need to take a quick break and play.
Carousel and Other Attractions
Right next to the Giddy-Up Grill, kids can take a spin on the carousel and a ride on a camel. You can also climb aboard a train and go for a ride around the zoo. These attractions all come at an additional charge.

Giddy-up to the Giddy-up Grill
Where To Eat at Franklin Park Zoo
Giddy-Up Grill
Near the main entrance of the zoo, right next to the Franklin Farm, is this restaurant which offers indoor and outdoor seating. You can go inside to order or hit the walk-up window. Whether your little ones are herbivores or carnivores, there's plenty of kid-friendly choices on the menu like SunButter and jelly sandwiches, burgers, mac and cheese, and pizza. You can also score some sweet treats like candy and prepackaged ice cream.
Kalahari Kitchen
This concession stand is seasonal and opens, weather permitting, on weekends in the springtime and daily during the summer. Here you can get your little cubs hamburgers and hotdogs fresh off the grill and chow down at one of the outdoor tables.
Picnic Area
The zoo also has multiple areas with picnic tables throughout the zoo, and guests are welcome to BYO meals and snacks.

Climb into the fantastic bird's nest at the Children's Zoo
Know Before You Go
The zoo is open year-round for visits, with more limited hours in colder months. While there is still plenty to see and do, you may encounter fewer animals if you choose to visit in the wintertime.
Franklin Park Zoo is part of the greater Zoos New England, which also includes the Stone Zoo. If you plan on visiting with the animals multiple times in a year, check out a zoo membership, which comes with additional perks like priority tickets for special events, express entry on busy days, and discounts on food and gift shop purchases.
Don't want a membership? Check out a Go Boston Pass for discounted tickets to the zoo and other area attractions.
Parking is free and offered at all three entrances to the zoo: Giraffe entrance parking lot on Pierpont Road, Zebra entrance parking lot between Franklin Park Road and Blue Hill Ave. (Peabody Circle) and Parking lot on Circuit Drive/N.Jewish War Vets Drive.
Make sure to check out the zoo calendar before planning your visit as they often offer special kids programming, opportunities to learn about animals, and host special annual events.
The Franklin Park Zoo is located at 1 Franklin Park Road in Boston. It is open seven days a week year-round, except for Thanksgiving and Christmas. Check the zoo's website for details on hours and admission.
All photos by author, unless otherwise noted
Places featured in this article:
Click Here to Sign Up!