25 Things To Do With Little Kids in Chicago Before They Turn 5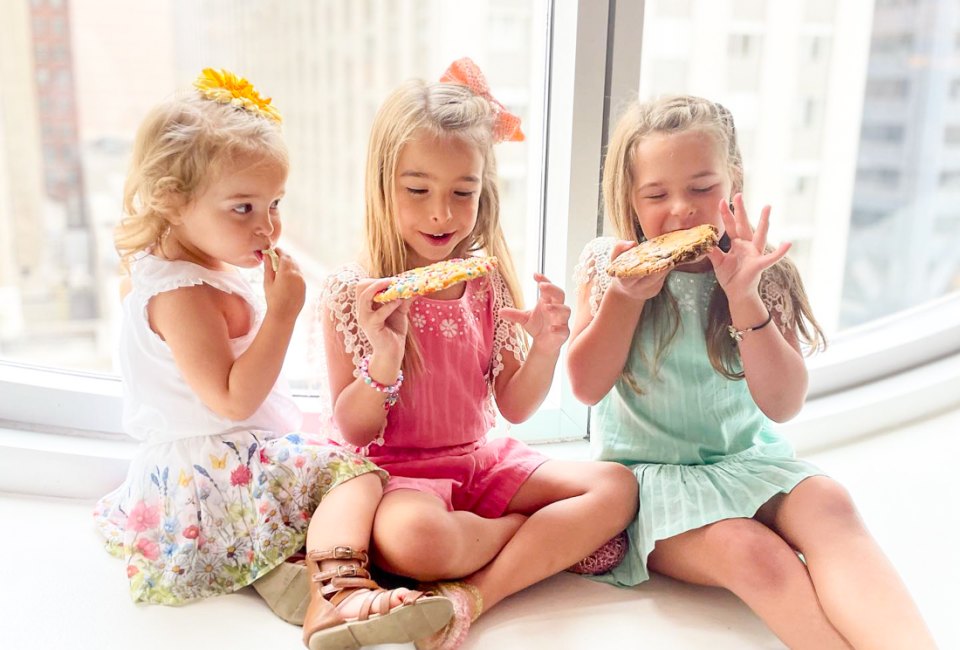 8/4/23
- By
Lauren LaRoche
If you're looking for things to do in Chicago with little kids, this is the list for you. While there are thousands of tourist attractions and cultural experiences in Chicago (and about 100 of them that you should do with kids before they grow up!) not all of them are great for kids under 5 years old. So, after creating a list of things you should do with Chicagoland babies before they turn one, we set about making the ultimate list of 25 things to do in Chicago before your little one turns 5. From zoos to gardens to museums, much of this list is especially great for preschoolers and kids about to enter kindergarten.
A few of our selections are well-known favorites with specific attractions for preschoolers, while other ideas are more off the beaten path, but all are things we've enjoyed doing with tots before they turn 5!

Teach tots to explore the Chicago River from a young age. Fireboat photo by Maureen Wilkey
Outdoor Activities with Preschoolers in Chicago
The Chicago River is one of the coolest parts of Chicago. Take little ones to walk the Riverwalk, get a bite to eat, and watch the boats go by. The bridges lift for taller ships and tour boats, which is a really fun spectacle for tots and small kids. After the walk, catch a tour boat or water taxi to another neighborhood. Kids love the adventure of boarding a boat and heading somewhere new to explore.
2. Bike the Lakefront Trail
The lakefront trail on Lake Michigan stretches from Edgewater Beach down to South Shore/Jackson Park—the trail is 18.5 miles in total. Choose a spot to hop on and bike along the lake through the loop, the Mag Mile, Lincoln Park, or the beautiful South Shore. Tots can bike a short while on their own trikes or training wheels, or hop on a parent's bicycle for a longer ride. This route is also one of our favorite Stroller-Friendly Hikes.



Beach in Chicago photo by P. Filias, via Flickr (CC BY-NC-ND 2.0)
Chicago is home to 24 beaches along the lakefront. The best part is that each beach is free and open to the public. Build sandcastles, picnic on the beach, and go swimming on a hot summer day. Check out our favorite family-friendly beaches.
Chicago has 50 (you read that right, 50) free outdoor pools open during the summer months. From the baby pools and splash pads to the diving wells, there are pools in Chicago for every age and swim level. Check out our favorite family-friendly pools.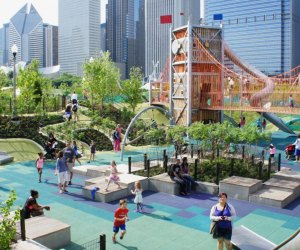 Maggie Daley Park is one of the greatest city parks in the country, and it's all ours. Photo courtesy of Maggie Daley Park
5. Play in Maggie Daley Park
Maggie Daley Park is a great outing for a day downtown. This 20-acre park overlooks Lake Michigan and is centrally located in the heart of the Loop. The sprawling park features a play garden, mini golf course, climbing walls, and acres of playground. There are different areas separated by age recommendation, making it easier to stay in a safe play zone.
6. Go To a Baseball Game
In Chicago, you have two hometown teams to choose from: the Chicago White Sox and the Chicago Cubs. Get some nachos in a helmet, bring a glove to catch a foul ball, and take them out to the ball game to root, root, root for the (right) home team. And if that home team is the Cubs, check out our Things to Do in Wrigleyville article while you're there.
A zoo is a magical place for anyone from 0 to 99. With aquatic shows, petting zoos, and even life-sized dinosaurs, the zoos in Chicagoland are some of the best. Check out our go-to zoo guide for everything you need to know about the best zoos in Chicago for littles.
8. Scooter Down the 606
The 606 is an elevated former train line that stretches 2.7 miles from Bucktown/Wicker Park to Humboldt Park. You can hop on and off the trail at various points on a scooter, bike, or by foot. There are some great green spaces and playgrounds just below the access points; try exploring a new one on each visit. Check out Our Favorite Things To Do with Kids in Bucktown and Wicker Park while you're there.
Museums and Cultural Experiences for Chicago Preschoolers

Shedd Aquarium photo by Lauren LaRoche for Mommy Poppins
The Shedd Aquarium is one of the largest indoor aquariums in the world. With whales, dolphins, penguins, and jellyfish, there are over 32,000 species of marine animals to see. Travel to the oceans, rivers, lakes, and reefs across the globe—right here in Chicago.
For any little space-lover, the Adler Planetarium is a great place to explore and learn. There are interactive exhibits that let little ones touch and feel space along with interactive sky shows. Check out a sneak peek of a sky show online, where kids can take a tour of the solar system, fly through the skyline, and more.
The Chicago Botanic Garden is where toddlers and preschoolers can explore 27 different gardens across 385 acres. There are even nature preschool classes and camps throughout the year specifically designed for tiny nature lovers.

Chicago has a whole list of great museums for little kids. Photo courtesy of the Chicago Children's Museum
Chicago has several great children's museums across the city and suburbs. Many of these hands-on museums are designed just for toddlers and young children to explore. We love the Chicago Children's Museum, the Bronzeville Children's Museum, the Kohl Children's Museum, and of course, the DuPage Children's Museum.
The Peggy Notebaert Nature Museum is located in the heart of Lincoln Park. Play at the water tables, see favorite animals, and explore the wildlife of the world. The museum is most famous for its butterfly haven, where kids can have live butterflies surrounding them. Don't forget your camera!
The Field Museum is a great place for toddlers and young children to explore. If there's a dino lover in your family, this is sure to be a hit. See Sue the T-Rex in addition to several other real dinosaur fossils.
The Museum of Science and Industry is located in Hyde Park. This science and technology-based museum is great for kids to learn and explore through hands-on experiences from a tornado to a submarine. And the special exhibits are amazing!
Sightseeing with Chicago Preschoolers
16. Take a Train To Union Station
For your little train lover, a trip to or from Union Station is an awesome experience. You can go into the city from your neighborhood or suburb before a day at the museum, a baseball game, or just take a ride for a quick bite and head back. Explore Union Station, located right on the Chicago River, and admire the nearby skyscrapers.
17. Visit the Signature Room
The Signature Room is an upscale restaurant located high above the skyline in Chicago's Hancock Building. This restaurant and skydeck on the 95th floor make a great experience for a young kid for lunch or a weekend brunch in the clouds. The entire restaurant features panoramic views of the skyline, lake, and city.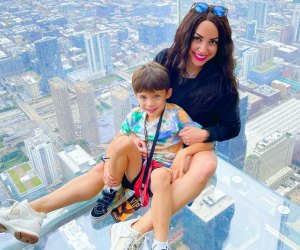 Photo courtesy of Skydeck Chicago
18. See the View from the Skydeck
The Skydeck is an awesome outing for little thrill-seekers. Located on the 103rd floor of the Willis Tower is a 30-60-minute interactive experience featuring the best of Chicago's rich history. Next, step out onto The Ledge of the third tallest building in the Western Hemisphere.
The Centennial Wheel at Navy Pier stands a staggering 200-feet above the ground. This is not an old-school carnival wheel—visitors are fully enclosed in a glass box, making it cozy and safe for a group of four to take a ride with children as young as infants. Soar in the air to look at the Chicago skyline and lakefront from high up in the clouds.
20. Shop on State Street
While the thought of taking a small toddler shopping doesn't always sound like a party, your soon-to-be five-year-old will love the adventure of taking a shopping trip downtown along the famous State Street. Set a small budget and grab a few things they need or even some fun stuff. Check out Macy's or beat the heat in Block 37 Mall. Don't forget to grab a selfie in front of the iconic Chicago Theatre sign.
21. Visit Water Tower Place
Water Tower Place is located at the start of Chicago's Magnificent Mile, also known as Michigan Avenue. Kid-favorite stores like American Girl and the LEGO Store, just to name a few, are so fun to play in that kids won't even mind if you don't buy anything. Whoosh tots out of the store onto an open-air bus ride down Michigan Avenue. Check out our list of Best Things to Do in Chicago's River North and Gold Coast Neighborhoods.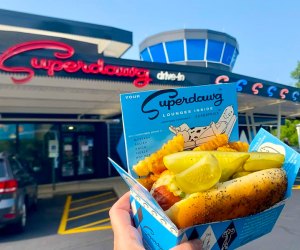 Every Chicagoan has a dog preference. Even (especially) the young ones. Photo courtesy of Superdawg Drive-In.
Iconic Eats for Preschoolers in Chicago
Don't see what you need below? Check out our Kid-Friendly Chicago Restaurants Guide.
22. Eat a Chicago Dog
While many Chicago natives have different opinions on who has the best Chicago dog, little locals should sample a few to form their own opinion. Grown-ups can get one with all the fixings and let preschoolers choose their own toppings. Gene & Jude's is a great place to start. This is one of the most iconic dog spots in the city; they've been in business since 1946.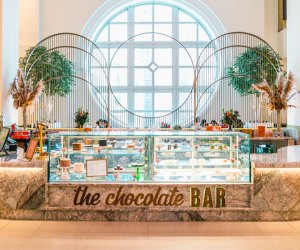 Aster Hall Food Court is a great place for a kid-friendly meal. Photo courtesy of Aster Hall, Chicago
23. Visit Aster Hall Food Court
Aster Hall is a culinary delight for kids and adults. Not only can kids dine out on the Mag Mile with award-winning burgers, pasta, and tacos, but parents can chow down on some of the best food in the city. For a sweet treat, finish with ice cream or cookies from the Chocolate Bar. The elevated food court is located in the 900 North Michigan Shops across from Water Tower Place.
24. Get a Slice of Chicago Pizza
Chicago is (justly) famous for pizza. What kid (or adult) doesn't love a hot slice? Chicago-style pizza is known for its unique deep-dish crust. Even if your little one has had pizza a million times before, treat them to a special trip downtown for a delicious slice of the good stuff: Famous Chicago pizza restaurants include Lou Malnati's, Gino's East, Pizzeria Uno, Rosati's, and Giordano's.
25. Get Ice Cream at Margie's Candies
Logan Square is home to one of Chicago's most iconic ice cream shops. With famous banana splits as big as a kid's head, there's enough to go around for the whole family. There's family-friendly indoor seating along with chairs outside to people watch as you wait.
Click Here to Sign Up!
i