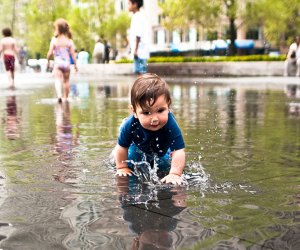 20 Things To Do with Chicago Babies Before They Turn One
While the first year with your baby can be a wild ride filled with sleepless nights and seemingly endless diaper changes, it's also a time filled with family fun and exploration. If you live in Chicagoland, there's no shortage of great things to do with babies. These outings help keep wee ones entertained—and parents sane.
Your little one may not have been able to explore the city as much as you would have hoped this past year. But now it's time to get out there! This list of activities are all outdoors or places where it's easy to social distance. Best of all, they are all perfect for babies under the age of one. From the zoos to the beaches, here's our round-up of 20 things every Chicago baby should try before their first birthday.
1. Visit Maggie Daley Park
Maggie Daley Park is home to endless play spaces, parks, and splash pads. One of the best things about this park is the designated spaces for each age group. You'll find specific play zones for smaller babies and toddlers.
Masks are required and to avoid crowds, try going earlier in the morning. When the park opens you'll find plenty of swings and small baby-friendly play areas without anyone on them. For older siblings, there are numerous slides, climbing structures, and big-kid play spaces.
2. Stroll Through Lincoln Park Zoo
Lincoln Park Zoo is free and open to the public year-round. Some of the indoor exhibits remain closed, but the outdoor spaces and paths are open for exploring. You can also make a reservation for select buildings. You and your little one can take a stroll through the zoo and watch their eyes light up at the animals.
3. Lincoln Park Nature Boardwalk and Sanctuary
The Lincoln Park Nature Boardwalk and Sanctuary are both free and open to the public. Everything is outdoors and provides spectacular photo backdrops. There's a boardwalk, pond, fish, bird watching, and a farmers market in the summer through fall.

Babies love the bright colors and smells at the Garfield Park Conservatory.
3. See Flowers at the Garfield Park Conservatory
Garfield Park Conservatory has recently re-opened. This beautiful conservatory is always blooming with colorful flowers and tropical plants. The conservatory is free with a suggested donation of $5. For babies, there's a padded play space for them to crawl and climb. You can also rent party rooms for a birthday party. Due to COVID-19, capacity is limited, and masks are required.
5. Play Tourist (With Photo Ops) Along Michigan Avenue
Chicago is home to Michigan Avenue, also known as The Magnificent Mile. Along the Mag Mile, you'll find luxury shopping, restaurants, cafes, and plenty of famous Chicago sights. Michigan Avenue landmarks include Water Tower Place, the original Chicago Water Tower, the Hancock Building, and the Chicago River. Grab your stroller and head downtown to snap pictures of your little sightseer for your baby book.

When the weather warms up, hit the Third Coast.
6. Head to the Beach
Chicago boasts an impressive 26-mile coastline on the shores of Lake Michigan. Along the lake, you'll find an 18-mile path and over 24 free public beaches. In the warm months, the beach is a great place to unwind, let baby play in the sand, soak up the sun and cool off. You'll also find beach-side restaurants, hot dog stands, and ice cream carts for summer treats.
7. Local Farmers Markets
Local farmers markets can be found in several neighborhoods throughout the city. Your little one will love cruising through the aisles people watching, trying new fruit, fresh veggies, pastries, and baked goods. Gather goodies for a picnic at a nearby park or bench.

Every Chicago baby loves baseball. It's in their blood.
8. Chicago Cubs or White Sox Game
With limited fans allowed at the stadiums to watch Chicago baseball, this year might be a good one to bring your little one. There won't be the massive crowds and loud stimulants typically found at baseball games. When it's your child's first game, you can ask for a commemorative certificate to mark the occasion at Wrigley Field or Guaranteed Rate Field. (And those pictures are priceless!)

Check out your reflections in the Bean.
9. The Bean Beckons
The Bean is a world-famous piece of art, also known as Cloud Gate. The Bean is located in Chicago's Millennium Park. Even if you've passed it a hundred times, there's no better way to see it than through the eyes of a baby. They can make faces and wave to you in the mirrored exterior. Nearby you'll find several restaurants and cafes to grab a bite to eat outdoors.

Taxi! While your baby might not appreciate the architecture yet, you'll all get some fresh air on this outing.
10. Take a Water Taxi or Boat Ride on the Chicago River
Seasonally, you'll find water taxis and architecture tours happening almost hourly on the Chicago River. Due to COVID-19 restrictions, capacity is limited, and masks are required. The great thing, however, is that most boats have large uncovered spaces allowing your baby to get some clean, fresh air on Lake Michigan. On the water taxi, you can start at Navy Pier or Ogilvie Train station and take it up to North Avenue or Chinatown. Architecture tours take you along the Chicago River and some even go into Lake Michigan.
11. See Favorite Animals at Brookfield Zoo
The Brookfield Zoo is open to the public year-round. Masks are required and capacity may be limited, but both inside and outside exhibits have reopened. Your little animal lover will love strolling through the acres of wildlife. If you're looking for a spot to cool down, take them to the dolphin show for a quick splash.
There are also several parks within the zoo that are great for some non-stroller time. You'll find baby swings and smaller structures babies can crawl and climb on. There are strollers to rent or you can bring your own baby carrier, stroller, or wagon.
12. Play in Kohl Children's Museum During a Private Session
The Kohl Children's Museum is still closed to the public, however, you are able to book private sessions. You and your family can enjoy the museum completely alone for 90 minutes. The VIP sessions range from $125-$250. You can have up to 10 people in your group, not including infants under 12-months old. This is by far one of the coolest museums in the city for kids. Everything is hands-on and designed to be played with. From water play to a pretend grocery store, there is plenty for crawlers and new walkers to play on and explore as well.

Commune with the underwater creatures at the aquarium.
13. Explore the Sea at the Shedd Aquarium
The Shedd Aquarium is truly a wonder to behold. With fish and sea animals from all over the world, your little one will be in a constant state of amazement. You'll find jellyfish, dolphins, otters, sea lions, and thousands of salt and freshwater fish.
There are several hands-on play areas for little ones, shows, and restaurants. Masks are required and capacity and social distancing practices are in place in the dining areas.

There's so much to explore at Navy Pier, babies will be entertained for hours.
14. Walk Navy Pier
Navy Pier has something for everyone, and it's reopening this spring. Your babe will love taking a walk down the pier on a summer day. With ships, cruise liners, and tour boats coming in and out, there's no shortage of action. Navy Pier is also home to one of the world's largest Ferris wheels.
Inside, you'll find the Chicago Children's Museum (still closed, but fingers crossed, it will reopen soon!), shopping, restaurants, and stunning views of the pier and coastline. If you're taking an architecture tour, Navy Pier is the most popular starting point.

Pop by to meet Sue at the Field Museum.
15. See Sue at the Field Museum
The Field Museum is most well-known for Sue and its other amazing dinosaurs. If you have a budding baby dino-lover, the Field Museum is a must-see. In addition to dinosaurs, there are exhibits ranging from gems, rocks, mummies, and more. The Crown Family Play Lab is a great place for kids to stretch their legs, crawl around and explore out of the stroller. Masks and social distancing are required.
16. The Museum of Science and Industry
The Museum of Science and Industry is great for small children. With plenty of room for strollers, your baby will have the best seat in the house. When they are ready for some free play there are several play structures and hands-on experiences for little ones. They can watch baby chicks hatch, see life on a farm, experience extreme weather, and stroll through a fantasy castle. Masks and social distancing are required.
17. Splash in Crown Fountain at Millennium Park
On a summer day, Millennium Park is a great place for a walk. Located in the loop, you'll see skyscrapers and Lake Michigan as your backdrop. Dress your little one in clothes you don't mind getting wet and they can explore Crown Fountain. Crown Fountain is an interactive public work of art. The fountain is made of two glass block towers standing 50-feet tall. On the towers, you'll see 1,000 different Chicagoan's faces with water spouting out down onto the ground below.
18. Visit with Thomas the Train at the Illinois Railway Museum
For train-loving babies, there's nothing better than the Illinois Railway Museum. Located in Union, Illinois, you'll find an impressive collection of vintage and antique trains. There are trains you can explore and ride with plenty to do for small children. Thomas the Train even stops by for a special exhibit each year. While much of the museum is outdoors, check their website for any COVID-19 closures on indoor exhibits.

Make art together at the museum.
19. Little Artists Explore The Museum of Contemporary Art
The Museum of Contemporary Art is great for you and your little one. You get to see beautiful masterpieces and works of art while your baby gets to soak in the sights from the stroller. The museum even hosts special stroller tours for families.
There are also family days where families with kids are admitted for free. You'll find workshops, art supplies, and hands-on crafts for kids as well. Currently, some family days are still virtual. Check their website for availability.

Bike or stroll along the 606. And by the end of the year, she'll be pushing her own stroller!
20. Bike the 606
The Bloomingdale Trail is also known as The 606. The former railway has been beautifully converted to a lush running, walking, and biking trail. This elevated trail runs through the Wicker Park, Bucktown, Logan Square, and Humboldt Park neighborhoods. Take your little one for a stroller ride above it all. Just below the trail, you'll also find neighborhood parks, coffee shops, ice cream, and other local treats to enjoy as you go.
Photos by the author