Baby Sleep Aids to (Hopefully) Get Baby to Sleep Through the Night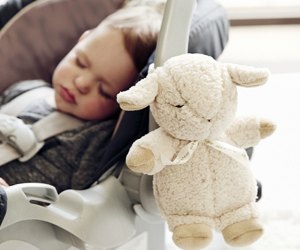 10/24/19
- By
Rose Gordon Sala
Baby sleep aids can help soothe and snuggle newborns back to sleep, making these items essential for new parents. The trick is to figure out which baby sleep aids work best for your little one.
As a mom of three, I've tried quite a few hacks and products to get my baby to sleep. I've also desperately googled things like, "when do babies sleep through the night," "sleep regression," and "how to get baby to sleep." Because if there's one thing that probably tops every new parent wish list, it's more sleep (and coffee, of course)!
Before you struggle through another night, consider these 11 baby sleep aids, including swaddles, white noise machines and baby sleep music, and on-the-go sleep items for travel, all preferred and tested by our parent writers and editors.
Be sure to follow the latest guidelines on safe sleep for babies. We know you're desperate for more shut-eye—promise we've been there—but SIDS still claims too many lives to take an unnecessary risk. Follow the CDC guidelines on safe baby sleep or talk to your pediatrician for more specifics, but in general, it means baby sleeping on her back on a flat surface without loose blankets or anything else in the crib or bassinet.

The Whish Multi-Sound Machine​ from Marpac lulls the whole family to sleep with white noise, sleep songs, and nature sounds.
Musical Baby Sleep Aids
1. Whish Multi-Sound Machine
The Whish sound machine from Marpac offers several white noise options, but also nature sounds, such as rain, and even meditation-style tracks and sleep songs. So whether you're trying to drown out the neighbors, the noise of a busy household, or just lull baby into relaxation, the Whish delivers. Set it to play for six or eight hours, or just continuously. Can charge by USB.
2. Dohm Classic Sound Machine
The Marpac Dohm Classic sound machine was the very first sound machine we purchased when our firstborn arrived, and there's still one running all night in our upstairs hallway. This sound machine is simple: flip the switch and the room fills with the sound of a fan, aka, white noise. You can adjust the volume and tone, but there are no batteries, apps, or any bells and whistles. That was actually a major selling point for this sleep-deprived mom.
RELATED: Best Winter Baby Clothes and Cold Weather Survival Gear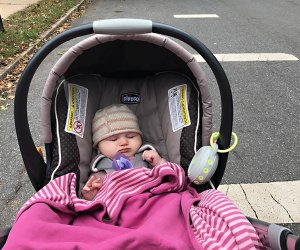 The portable Hushh Compact Sound Machine is a great baby sleep aid for on-the-go naps. Photo by Rose Gordon Sala
3. Hushh Compact Sound Machine for Baby
Clip this portable sound machine onto the baby's stroller or car seat to help baby sleep on the go. It's also small enough to pack in the diaper bag or suitcase when traveling or trying to catch a nap somewhere other than home. Charges by USB.
4. Cloud b Sleep sheep
This sweet sheep hooks right onto the crib, stroller, or can even sit on a shelf where it plays eight different soothing sounds, including a heartbeat-like track. My babies always seemed to love the water sounds best, including the ocean waves. Keep in mind that this takes batteries and the sound automatically shuts off after either 23 minutes or 45 minutes, which is intentional but if you want continual white noise, you might want a second sound machine.

We loved that the adorable Cry-activated Baby Sleep Soother can play mom's voice. Photo by Carrie Taylor
5. Skip Hop Cry-activated Baby Sleep Soother
Our reviewer called this baby sleep aid from Skip Hop "cute, functional, and easy to use." Just attach it to the crib and the adorable animal-themed plushie plays white noise or lullabies; there are six sound options. Parents can also record a quick 10-second clip of their voice that will play when the baby cries. "There, there baby. Mommy will be right there!" Our reviewer said that unique feature distracted her new little one long enough for her to tend to her two big brothers.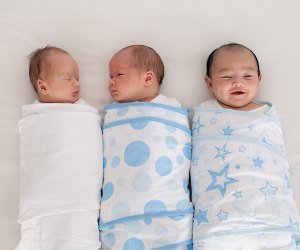 Some babies will only sleep once snuggled into their Miracle Blanket!

Baby Sleep Sacks and Swaddles
6. Miracle Blanket
Ask any parent of the last few years how to get a baby to sleep, and I bet half of them (at least!) reference the Miracle Blanket. This swaddle is known for keeping even little Houdini babies wrapped up tight for a solid slumber due to its step-by-step wrapping technique.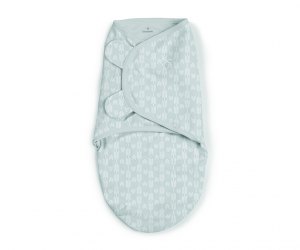 The ease of the SwaddleMe Original's velcro makes it a win for baby and parent.

7. SwaddleMe
The simplicity of the SwaddleMe won my sleep-deprived brain over in about a second, and I've been giving these out at baby showers ever since. Place baby on top of the opened swaddle, secure velcro, and you're done. No sweating over a complicated fold while your little one screams. It comes in loads of prints and multiple sizes, so if your big baby still needs a swaddle, just size up to the large SwaddleMe.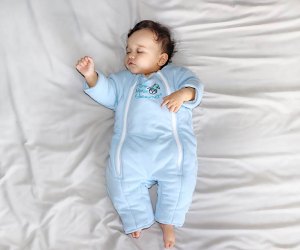 Baby Merlin's Magic Sleepsuit helps babies transition out of the swaddle while keeping the startle reflex in check.
8. Baby Merlin's Magic Sleepsuit
The Magic Sleepsuit is one of those baby sleep aids passed along from mom to mom. I couldn't believe my luck when I discovered it for my middle kid who was fighting his way out of every swaddle (and nap) by one month. It's a swaddle transition sleeper that gives the baby a secure and snug feeling while leaving their arms somewhat free. It still wards off the startle reflex simply because of its coziness and weight. Best used before baby is too active. We would not have survived without this Sleepsuit; zipping him into it became my son's cue that it was time to go to sleep. (The company is sharing a 15% discount code to use on their site for our readers—MOMMYPOPPINS15—if purchased on its site.)

Pacifiers, such as the Philips Avent Soothie pacifier, help some babies nod off in seconds.
A Few More Baby Sleep Aids
9. Philips Avent Soothie pacifier
Not every baby will take a pacifier, of course, but if they do, it might suddenly become one of your favorite baby sleep aids. My oldest would not sleep without one. As soon as we popped it in and her little mouth would start working, her eyes would start drooping, too. There is also some research that a pacifier can reduce the risk of SIDS, according to the American Academy of Pediatrics.
10. Room darkening-shades
Maybe you already purchased blackout curtains for the nursery, so baby's daytime naps go undisturbed, but it's great to have a pair for travel, too. These AmazonBasics Portable Blackout Blinds work well for travel to the grandparents' house where you might be staying in a room with unknown window treatments or at a hotel on family vacation. They suction right onto the glass. I've also used these paper blackout shades in a pinch and in hard to curtain areas, such as a set of french doors, and even underneath blackout curtains to really seal up the room for daytime napping. They keep the room pitch black and stick right on to wherever you hang them—no hardware required.
RELATED: How To Pick a Daycare You Actually Love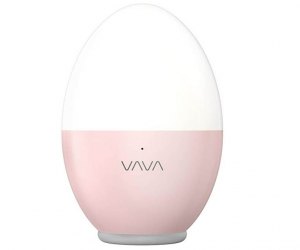 Got your hands full? Tap the Vava Night Light on with your toe! Soft light keeps everyone sleepy.
11. Vava Night Light
A night-light might not seem like an obvious baby sleep tool, but actually I found it crucial to a good slumber for all ages. When you're sneaking in for a middle of the night feeding or diaper change, you want to keep baby in sleepy state, not blast them in the eyes with an overhead fluorescent light. This little Vava Night Light has a warm light setting I found just right for nursing, yet you can brighten it up a touch more for more visibility during a diaper change or even bedtime stories. Best of all, just tap it with your foot or elbow to get it to turn on, a nice perk for the sleepy parent carrying baby in one arm, water bottle and diapers in the other. It also charges by USB and can then be untethered and placed anywhere in the room. We use it in the bedrooms and bathroom for our older kids, too.
Final Advice to Get Baby to Sleep
A dark room paired with a sound machine and a swaddle has always been my starting point for getting babies to sleep. Add in some rocking motion and maybe a pacifier and you'll both be drifting off soon, we hope! If you're struggling to get your baby on a sleep schedule, don't be afraid to check in with your pediatrician or a sleep consultant. An outside perspective can really help. Wishing you all more sleep soon.
This article contains some affiliate links, which means we might earn a small commission if you make a purchase. There is no extra cost to the reader. We only recommend products and services that we have personally used or have thoroughly researched.
All photos courtesy of the companies except where noted