Best Winter Baby Clothes and Gear for Cold Weather Survival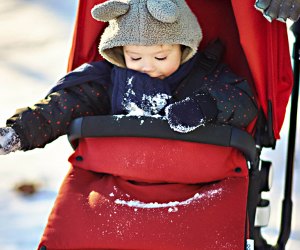 1/10/19
- By
Rose Gordon Sala
It's no secret that winter babies require more gear and baby clothing than their summer siblings, especially those born in northern climates, such as Boston, New York City, Philadelphia, and Chicago.
New parents should prepare to do battle with snowdrifts, chilling wind gusts that leave faces and fingers raw, and otherwise icy and wet conditions on the way to daycare, playdates, the local library, or wherever. Stock up on some of our favorite stroller blankets, footmuffs, toddler mittens, adorable baby snowsuits, booties, and winter hats before the real storms hit.
Cold weather protection doesn't stop at the baby phase, of course, especially for those navigating city streets outdoors. "NYC kids stay in their strollers a bit longer than suburban kids, because they have to deal with the elements a lot more," explains Carol Adams, owner of Torly Kid, a popular kids clothing boutique in Manhattan, by email. "I know I kept my kids wrapped in their 7 A.M. Enfant footmuff and covered the stroller with a wind protector until they were almost 5!"
Read on for our top picks of baby winter clothes and gear for keeping newborns and toddlers toasty—no matter the temperature.
1. Stroller Shield
After slogging through NYC winters over the last few years with two different winter babies (and then toddlers), one of the cheapest weapons to protect against cold that I've found is the stroller weather shield or rain shield that Adams of Torly Kid mentioned. It's essentially a thick piece of plastic that wraps over the stroller to keep out rain, snow, and wind. Often it comes with your stroller, or costs as little as $15. It seals around the stroller by velcro. Clip it on with a set of jumbo binder clips (a hack the Brooklyn nannies taught me) and your tot will stay toasty for the whole ride.
The Skip Hop Stroll-and-Go Three-Season Footmuff zips kids into a sleeping-bag-like blanket.
2. Stroller Blanket or Footmuff
City-dwellers who spend more time walking than driving will likely want to splurge on a footmuff for the stroller. These sleeping-bag-like blankets zip around a toddler's feet and sometimes over their heads with a hood to keep all the elements at bay!
Skip Hop makes the warm Stroll-and-Go Three-Season Footmuff in infant or toddler size with a water-resistant outer shell. I love the hood on this to keep little ones extra snug when the wind or snow blows, and there's even a zipper at the bottom, so if your toddler climbs in with dirty boots, you can just unzip that part.
The 7 A.M. Enfant Warmuffs and Blanket 212 Revolution footmuff combo is perfect for those who use the stroller for daily commutes.
The indulgent 7 A.M. Enfant footmuff models are known for high-end style, but also durability and warmth. Its Blanket 212 Revolution is rated to -4 degrees Fahrenheit, has an adjustable hood that can be tightened around the face, comes in 17 colors, possesses a water-repellent shell, and a cozy interior of microfleece. It also comes with a hefty price tag, but the adjustable sizing, both in length and width, means you can use it with an infant car seat to a toddler stroller, so it really grows with the kid. It looks so crazy comfortable that I want to climb in!
The scrumptious Bugaboo Footmuff (above) comes in eye-popping colors to brighten gray winter days, as well as all-over microfleece and a water-repellent, breathable shell. It zips from the top or bottom and is machine washable.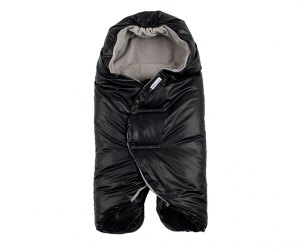 The Nido from 7 A.M. Enfant works on both strollers and car seats, wrapping around the baby.
3. Car Seat Cover
Parents of newborns might only need a winterized car seat cover, rather than a full stroller footmuff, given that babies might stay in their car seat from car to stroller to indoors.
The 7 A.M. Enfant Cocoon has a -4 Fahrenheit temperature rating, so there's no need to unsafely bundle baby in the car seat with layers of clothing that can be a hazard in an accident. It's water-resistant, fleece-lined, and offers plenty of zippers for easy access.
Or try 7 A.M.'s Nido, which works both on car seats and strollers. It was also designed with the Car Seat Lady to ensure safety standards, so there's no fabric between the baby and the car seat to prevent issues. Adjustable, machine-washable, and scrumptiously soft, it's a great choice for babies and toddlers. Just be careful that baby doesn't overheat in this. You might want to leave them unwrapped while in the car, for example, and don't bundle them up until you're really ready to go out the door.
My kids also got by fine with a hand-me-down JJ Cole BundleMe, which easily attaches to most car seats and unzips quickly upon arrival. But my tall babies outgrew the car seat version pretty quickly. The JJ Cole Car Seat Canopy actually seems to offer a little more coverage around the baby's neck and face, though, for those super windy winter days.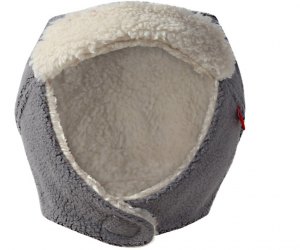 The Zutano Furry Trapper Hat keeps your little one's neck and ears warm too!
4. Winter Hat
Babies wiggle them off and toddlers will just plain throw them off. Find a winter hat that stays put by looking for a chin strap, such as the
Zutano Baby Cozie Fleece Furry Trapper Hat
. I love that it covers not only the head but also the ears and neck with a thick strap.
The Appaman Benji Hat is cozy and functional.
Adams always recommends the attractive Appaman Benji Hat, which also comes with the chin strap and cozy faux fur. "It's warm, well-made, and affordable," she says.
The So Soft Minky Fleece Hat also looks super snuggly, and the magnetic chin strap is a parent's dream.

These simple baby and toddler mittens from Zutano stay put, keeping little fingers warm.
5. Mittens

Zutano Baby Cozie Lined Mittens
are the perfect simple mitt for babies and toddlers. It goes over the whole hand (no thumb hole to bother with), and the string keeps the pair together, so no more lost mittens.

Kids Warmuffs from 7 A.M. attach directly to a scooter or bike to keep those fingers away from frostbite.
And toddlers won't mind the cold with a kid-sized set of
7 A.M. Warmuffs
attached to their scooter! Oh, who are we kidding? They never mind the cold! But at least now, we won't mind them playing outside in it with the -4 Fahrenheit rating on these gloves.
Answer a text or follow your GPS directions with this universal stroller Handmuff from Skip Hop.
6. ...and a Handmuff or Warmuffs for Mom
Don't forget about the exhausted, hard-working, parents! Keep hands cozy while pushing the stroller with 7 A.M.'s Warmuffs that attach directly to the stroller handlebar, so they're never lost. It's easy to pull out your hand for a quick check-in with your baby, too. They're adjustable, so you can share them with another stroller-pushing caregiver in your family, and the super plush feeling is hard to beat. The "I Am Raising a Feminist" set (above) makes a statement while you pick up your morning coffee.
Skip Hop offers a Stroll-and-Go Three-Season Handmuff with a clear pouch that holds a phone for those of us trying to text while pushing the pram. (Not naming names, but yes, guilty!) You can keep your hands warm inside the muff, but are free to interact with your baby when needed or check the phone for a text or even the GPS you're following. Includes headphone ports. Snaps onto any stroller.
Affordable Halo Sleepsacks in microfleece offer a safe-sleep blanket option for cold nights.
7. Fleece sleepsacks and swaddles
I love
fleece footie pajamas
for toddlers who kick off their blankets, but babies will also need a cozy outer layer, and we all know loose blankets are a no-no, right? Right?
Of course, the weight of the sleepsack you choose might all depend on the typical temperature inside your home, and whether or not you have a stingy landlord.
The beloved and affordable Halo Sleepsack comes in microfleece version, which keeps babies cozy in their crib at all ages. There's a swaddle version in fleece for newborns, and even wearable blanket for toddlers. These have long been a staple in my drafty NYC apartments.

The Baby DeeDee Sleep Nest offers its sleepsack in different levels of warmth or weights.
Baby DeeDee, a mom-founded New York company, offers a range of weights in sleepsacks, which is why it's one of my favorite options for winter babies. There's a mid-weight fleece for rooms set to 68 to 72 degrees Fahrenheit, a lightweight cotton version, and a quilted winter-weight Baby DeeDee Sleep Nest perfect for extra cold nights. The latter feels like a high-quality duvet cover that you'd want put on your own bed.

The soft Minky Fleece Magnetic Pram snowsuit has fold-over cuffs and easy magnetic closure.
8. Infant bunting and snowsuit
If baby will be strolling outdoors by baby carrier, or romping in the snow for that important first snow photo-op, you'll want a cozy baby bunting to keep all those adorable extremities covered. For the most part, young infants aren't going to need a snowsuit the way a toddler might.
Instead, look for something that's easy to get on and off, relatively lightweight to avoid overheating, and offers fold-over hand and foot cuffs, as well as a hood.
Torly's Adams loves the Minky Fleece snowsuits: the Magnetic Pram. "It has feet, a bear ears hood, built in mitts, and best of all, it is magnetic, so easy on and off," she says. Plus, it's lightweight enough to keep kids comfortable while under stroller blankets or while being carried.
Zutano also makes this adorable Elf Romper with the fold-over cuffs that's simple and warm but lightweight.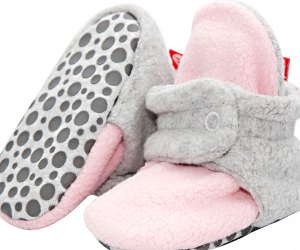 The iconic Zutano booties are popular among parents for their secure closure and fun prints.
9. Booties and Socks
My favorite baby socks for the winter are easily Hanna Andersson's Best Ever First Socks, which a mom-friend gifted me for my first NYC winter baby. I buy several sets for each kid, and it's one of my go-to shower gifts. They actually stay on, and they're soft and cozy.
But for an outdoor layer, I love the classic Zutano Cozie Bootie. It snaps around the foot, so it always stays on (really!), and they're just so cute with numerous color patterns and options. The fleece ones are great for winter and cotton for spring or even cool summer nights. Definitely stock up on a couple of pairs.
Bottom line: Opt for easy on, easy off, and lightweight layers when it comes to choosing baby winter clothes. This will keep little ones from becoming overheated and parents from endless frustration.
Some of the links in this article are affiliate links, which means that, at no cost to you, we may earn a small commission if you make a purchase. We only recommend products and services that we have personally used or have thoroughly researched.
All photos courtesy manufacturers