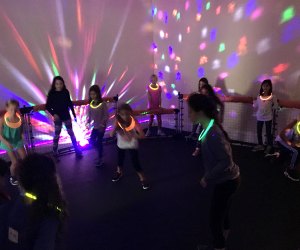 20 Unique Birthday Party Spots for New Jersey Kids
Painting party? Been there. Pool party? Done that. If you're fresh out of ideas for your child's next birthday, fear not. We've pulled together some of NJ's most unique birthday party venues for kids, whether they're into sports, arts, or science. From flying high at an indoor skydiving center to starring in a Broadway-style birthday performance, these birthday parties break the mold.
Be sure to check out our Birthday Party Guide for even more options.
Birthday Parties for Adventurous Kids
Battleship New Jersey – Camden
Celebrate aboard Battleship New Jersey for an overnight adventure. Eat dinner and breakfast at the chow line, take a guided tour of the Battleship, and sleep in the same bunks once used by the crew of the USS New Jersey.
Black River & Western Railroad – Ringoes
BR&W birthday packages feature a short ride on a restored caboose or 1920s style club car. After the ride, party away at Ringoes Station in a private area.
Circus Place – Hillsborough
Party under the big top at Circus Place with activities like juggling, wire walking (two feet high), plate spinning, aerial fabric, and lyra. Your party will also be treated to a 15-minute performance by the staff.
The Gagasphere – Waldwick
Obsession with this fast-paced game is spreading fast. If you child has caught the Gaga bug, have a party at Gagasphere for kids ages 6 and up. You can opt for 90 minutes of traditional Gaga play and food, or you can tack on extras like disco/glow lights and music, 9 Square in the Air, soccer, Bonzo Ball, or Pit Newcomb.
RELATED: 10 Indoor Party Spots with Mega Playgrounds for NJ Kids' Birthdays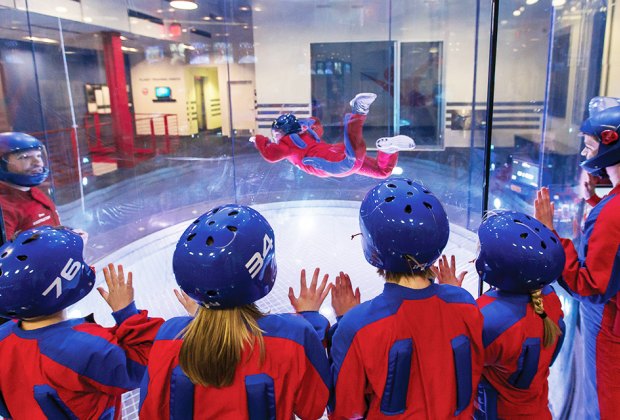 Defy gravity with your friends at a birthday party at iFly.
iFly – Paramus
Kids over 3 can defy gravity at iFly, an indoor skydiving center. Guests will strap on a helmet and flying suit, take a lesson, and then experience the thrill of flight. These parties are sure to blow everyone away.
Jersey Shore Pirates – Brick
Turn your party into a gang of swashbuckling pirates as they set sail on a "real" pirate ship call the Sea Gypsy II. Jersey Shore Pirates will take care of face painting and tattoos, bandanas, and eye patches for guests. Watch them battle Pirate Pete as their use water cannons, raise the battle flag, and hoist Sunken Treasure from the High Seas. Some packages include a private cruise and the use of the party room.
Pink Pineapple Surf – Manasquan
Party on the beach at sunset with Pink Pineapple Surf, which specializes in surfing lesson parties for girls. Pink Pineapple provides everything your party will need to catch some waves (soft top surfboards, rash guards, wetsuits, and leashes) plus a tent, Hawaiian party decorations, pink beach chairs, pool float, and more. Each girl will receive a goodie bag with a Pink Pineapple t-shirt and stickers. Just bring the food and your surfer girls.
Top Golf – Edison, Mount Laurel
It won't be hard to get in the swing of things at a two-hour golfing party. Enjoy the driving range while snacking on your choice of breakfast or lunch items served right in the golf bay. Add-ons include golf lessons, goodie bags, and dessert.
Birthday Parties for Animal and Nature Lovers
The Frelinghuysen Arboretum – Morris Township
Kids of all ages will love the many creative parties available at this beautiful arboretum. Kids ages 3–6 can use clues to go on a scavenger hunt, explore the gardens, and find hidden garden treasures. Other themes include Hungry Caterpillars at the butterfly-friendly gardens and Fairy Friend in the gardens. Offerings for older children include Edible Terrariums, Centerpiece Masterpiece, Tea Time and more. The interactive program lasts for one hour and parties also have exclusive use of an indoor classroom space and the outdoor Scherer Pavilion with four picnic tables, weather permitting. Rentals are for three hours. Other arboretums with party options include the Great Swamp and Reeves-Reed.
The Lizard Guys – Raritan
Ready to take a walk on the wild side? The Lizard Guys travel to much of Northern and Central Jersey with their menagerie of five to eight turtles, lizards, snakes, frogs, and bugs. Kids hear a funny 45-minute educational presentation about the animals, which are tailored to the age of the party guests. Not interested in inviting creepy crawlies to your home? Rizzo's Wildlife World in Flanders offers party packages for kids that include a 50-minute show, 20 minutes in the animal gallery, and 45 minutes in the party room.
Lord Stirling Stable – Basking Ridge
Create an unforgettable party for littles ones who love animals. The two-hour package (just $175 for Somerset County residents and $250 for out-of-county) includes the use of two ponies for the first 45 minutes; adults from the party will need to walk the ponies around the ring. You can rent horseshoes and other games to occupy the kids. Up to 12 kids can ride as much as they'd like; after that, a per-child fee applies. Once the rides are done, guests can hang out in a climate-controlled party room (bring your own food), which is big enough for 30 people. The birthday child receives a pony party sash and a stuffed pony as a gift.
SeaQuest – Woodbridge
Guests will explore the interactive animal exhibits at SeaQuest plus enjoy a private encounter for the group with the animal of the birthday child's choice. You'll get to use the party room for an hour and 45 minutes (bring your own food). Cool add-ons include visits from a pirate or mermaid, feeding tokens for the animals, a Dave & Buster's combo party, and more. A VIP gift for the birthday child and goodie bags with souvenirs are included for all party guests. You can also host your own sleep with the sharks event. Bookings start in January 2020. Need a venue further south? Camden's Adventure Aquarium parties include admission for party guests, a behind-the-scenes Ocean Realm Sneak Peek, pizza and drinks, access a party room, and a parking voucher.
Birthday Parties for Little Scientists
Buehler Challenger & Science Center – Paramus
Plenty of NJ museums have great birthday party options for kids. For instance, complete Mission Birthday at the Buehler Challenger & Science Center. Train like an astronaut, "lift-off" to space in the flight simulator, and enjoy astronaut ice cream during parties designed for kids in pre-K through adult. Fifth graders and older can rendezvous with Comet Halley on a one-hour mission, while using math and science skills to conduct experiments, monitor life support, and complete navigation orders.
Liberty Science Center – Jersey City
Get your gang of mad scientists ready and head to the Liberty Science Center for a party. Check out the museum, enjoy a guided party activity, and hang out in a party room decorated like a mad scientist's laboratory. Another option is to book your party during a scheduled sleepover event, where your party will camp out for the night at LSC.
RELATED: Top Birthday Party Spots for NJ Tweens and Teens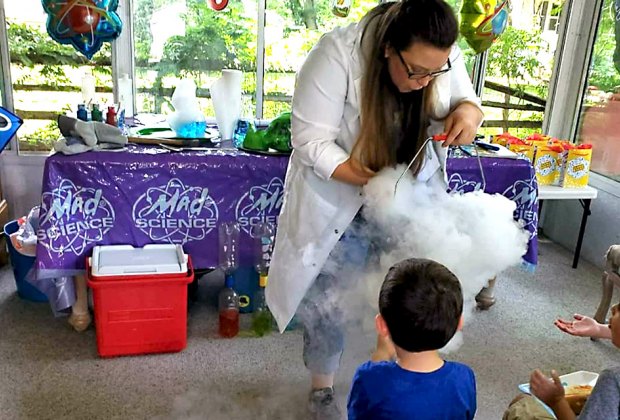 Mad Science brings the party to you with a variety of exciting demonstrations and experiments.
Mad Science – Statewide
With themes like space, superhero, and slime, these 45–60-minute parties are held at the venue of your choice and are perfect for kids ages 4–12. Expect an exciting show (think fire, air pressure, chemistry, and static electricity demos), and you can add additional science fun like a rocket launch, cotton candy making, and dry ice.
Rutgers Geology Museum – New Brunswick
This museum has parties down to a science. Geologic-themed birthday parties are catered to kids ages 5 and older, with packages that include your choice of a guided tour and scavenger hunt or two arts & crafts activities and scavenger hunt. Themes include dinosaurs, ancient Egypt, gems/minerals, and painting (includes a 1.5-hour guided instruction of a natural history themed painting). All parties occur when the museum is closed to the public.
RELATED: Kids' Birthday Party Entertainers in NJ that Come To You

Record a hit at a birthday party at Bach to Rock.
Birthday Parties for Artists and Performers
Bach to Rock – Denville, Wayne
Rock out at Bach to Rock at a birthday party recording session. All your guests will learn to play a song on the keyboard, guitar, bass, drums, or other rhythm instrument and everyone will leave with a CD of the Birthday Band, recorded and engineered at the studio. Karaoke parties and Rock City parties are also available.
Hunterdon Art Museum – Clinton
Get ready for some messy fun at the Hunterdon Art Museum. These parties include an hour for food and an hour-long lesson from a professional artist with projects like clay, jewelry making, print making, tie dying, cartooning, All American Girl tea party, and more.
Montclair Art Museum – Montclair
Kids can channel their inner Van Gogh while they party at the museum. Pick from a variety of party packages including studio art (ages three and up), ceramics and sculpting (ages six and up), and ceramics wheel sculpting (ages eight and up). The first hour will be a project led by a MAM Art Educator and the last 30 minutes is devoted to refreshments (bring your own). An annual membership at the family level or higher is required to book parties. Rather party at home? Hire the MAM mobile truck to entertain guests at the venue of your choice (within 20 miles of MAM).
Rhino Theatre 237 – Pompton Lakes
Have a birthday party starring your birthday child. Theater arts parties include theater games, favors, a rehearsal and a party performance. Themes include red carpet, Broadway, princess, and superhero.
Photos courtesy of the venues