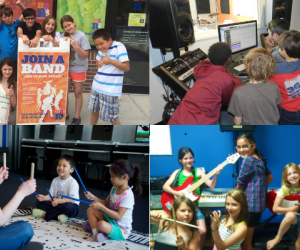 Bach to Rock in Wyckoff, NJ provides music lessons for students of all ages and skill levels living in, but not limited to, Wyckoff, Ridgewood, Ho-Ho-Kus, Waldwick, Franklin Lakes, Ramsey, and Allendale. Instruments taught include guitar, piano, drums, voice, DJ, violin, trumpet, and more. Bach to Rock is also the home of Beat Refinery DJ School which offers Mixing, Scratching, and Music Production classes. B2R birthday parties and seasonal camps are great opportunities to play and learn music with your friends and make new ones. Early childhood classes for toddlers and preschoolers are also available. Take your skills to the next level in a Glee Club or Rock Band. B2R offers opportunities for students to perform in venues around Bergen County.
B2R believes that:
Learning to play music should be fun. It's called 'play' for a reason.
Students feel motivated by playing with their peers.
A student's individual music instruction should be supplemented by jam sessions and playing in a band.
Like a sports team, a band builds teamwork, develops social skills, fosters self-esteem, promotes peer recognition, and leads to lasting friendships.
Students learn faster playing music they like, whether it's Rock or Bach. And the technical foundation is the same.
Students are motivated to learn when they see early results and have an exciting, achievable goal.
Introducing toddlers and very young children to music instruction, rhythm, and motion supports cognitive development, learning, and motor skills.
B2R offers a unique method of instruction. The school bases its method of music instruction on the knowledge that students learn best when they play the music they enjoy most. That's why B2R teachers use special arrangements of today's music to help students become proficient instrumentalists or vocalists as well as seasoned performers. At B2R Music, individual music instruction is combined with band instruction that leads to regularly scheduled public performances, "Battles of the Bands," and recording sessions in a professional sound studio.
B2R provides real fun. The real fun begins within just a few months of music instruction. By combining musical basics with rigorous performance standards, B2R enables students young and old to play together in bands, using a repertoire built upon the hit music of their generation.
Reviews