Top Birthday Party Places for Preschoolers in New Jersey
While big-kid birthday party places often offer options for little kids, sometimes even those choices can be a bit too grown-up. So we've compiled a list of 17 spots around New Jersey that specialize in hosting parties for preschoolers and toddlers.
Read on for a list of cool play spaces, play cafes, and kiddie gyms that cater to the 6-and-under set. And find even more ideas for fun in our NJ Kids' Birthday Party Guide.
Many of the play spaces listed below offer a discount for weekday parties; check websites for more info.
North Jersey Party Places for Preschoolers
The Big Playhouse – Westwood
The Big Playhouse caters exclusively to toddlers and preschoolers. Little ones will get lost in their own imaginations as they play in a custom-built construction site, cafe, doctor's office, market, and other themed spaces. The Big Playhouse has a warm and cozy environment, and hosting a party here is like having one in your own home—except you don't have to lift a finger. Call or text 201-314-6341 for pricing and more info.
OUR LATEST VIDEOS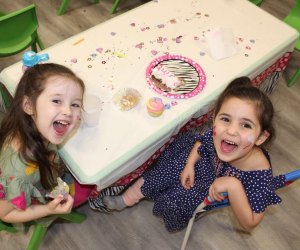 Kids with winter birthdays can celebrate their special day at the indoor playground at the Busy Bee.
The Busy Bee – Millburn
In addition to a bright, spotless play area for kids 0-6, The Busy Bee offers a spacious party room that can comfortably accommodate both partygoers and their parents. Partygoers enjoy exclusive use of the whole facility, with pizza and celebration in the party room, starting at $550 for up to 15 guests. Or you can opt for a DIY party, starting at $425 for up to 12 guests. Tons of add-ons are available, from food and party favors to a wide variety of entertainers. Visit the website for more.
Coco Beans Play Café – Tinton Falls
Catering to kids 0-5-year, the play space at Coco Beans Play Café is a great option for your little one's next celebration. A party here means private use of the entire facility, which includes dress-up fun, a play table, train table, and tons more. Parties start at $350. Want to host a party at home? Coco Beans will come to you!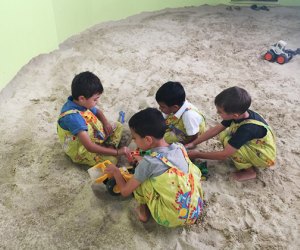 Partygoers can dig the day away at The Great Story in Hackensack.
The Great Story – Hackensack
The Great Story, a play space that's modeled after kids' cafes in Korea, features ball pits, sandboxes, trampolines, an indoor jungle gym, and more. Whether your birthday girl or boy has a favorite color or character, the staff here will work with you to customize your party based on your needs and budget. Weekend packages start at $299 for 12 guests.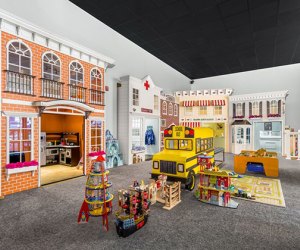 Hudson's House of Play in West New york is a charming space designed especially for kids 5 and under.
Hudson's House of Play – West New York
Designed for kids up to age 5, Hudson's offers a selection of stylish private party options designed to delight little ones and their friends. Themes include circus, city zoo, and vintage western. A bit on the pricier side, packages start at $695.
Imagine That!!! – Florham Park
Imagine That!!! encourages young children to play, explore, and use their imaginations—a perfect recipe for a unique and exciting birthday party. There are a variety of party packages, starting with a basic party for 10 children for $349.99. Upgrades and add-ons include a puppet show, themed activities, a magic show, and character visits. All parties include unlimited time to explore the museum.
Kidville – Closter, Denville, Hoboken, Montclair, Summit
Kidville offers three party packages, all of which include exclusive use of the facility during your party, activities led by party leaders, playtime in the Kidville gym, pizza and beverages for the children, and online invitations from Paperless Post. Pricing and packages vary depending on the location. Basic parties range from $399 (in Denville) to $575 (in Hoboken).
Kidz Village – Jersey City
Your party guests can enjoy athletic attractions, indoor playground slides, a movie theater, music room, and more, all in the theme of your birthday boy or girl's choice. Kidz Village hosts children 10 and under, with packages starting at $299. Also see locations in Central NJ below.
The Little Gym of Montclair – Montclair
Enjoy private use of the facility for one-and-a-half hours with activities led by trained instructors. A variety of themes are available, including pirate, princess, Peppa Pig, and superhero, and packages are $385 for members and $425 for non-members. Set-up, clean-up, paper goods, invitations, and drinks for all children are included; you provide cake, food, and beverages for the adults.
Tay + Te Imaginative Play – Northvale
As the name suggests, this new Bergen County play space, which opened in May 2019, offers lots of imaginative fun for the 6-and-under set. Kids can explore the pretend village featuring an organic market, vet's office, fire station, pizza parlor, and more. Private parties start at $575.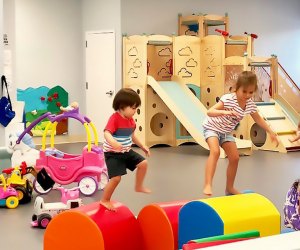 The Village Play Cafe hosts sweet parties for the 5-and-under crowd.
The Village Play Cafe – Chatham
Geared toward ages 1-5, the Village Play Cafe houses a grocery store, castle, veterinary clinic, and fire station, as well as a jungle gym, train table, and more. Party packages start at $350 for non-private open play and $575 for exclusive use of the facility.
Woodland Indoor Playground – Cedar Grove
This sweet spot for ages 1-5 offers sensory and pretend play in a Scandinavian-inspired setting. Private parties start at $500 for weekends and $325 for Fridays; add-ons include a cooking class, face painting, a decorate-your-own-doughnut bar (yes, please!), and a themed cake made with natural ingredients.
Central Jersey Party Places for Preschoolers
Junglerrriffic Party Gym – Millstone Township and Freehold
Let your little one and guests burn some energy with a party that includes face painting, trampolines, soft foam climbing structures, a zip line, and more. There are three packages to choose from, starting at $369.95.
Kidz Village – Kenilworth, Woodbridge
Your party guests can enjoy athletic attractions, indoor playground slides, a movie theater, music room, and more, all in the theme of your birthday boy or girl's choice. Kidz Village hosts children 10 and under, with packages starting at $299.
Lil Giggles Play Cafe – Englishtown
There's no shortage of pretend play options at this colorful and cheery space, including a play kitchen, dress-up area, and train table. ​Private party packages start at $249, and add-ons include character visits, ceramic painting, and special themes.
Magic Sky Play – Morganville
A basic party package starts at $599 and includes Melissa & Doug party favors, balloons, cupcakes, party coordinators, and more. Up the fun factor with a balloon drop, DJ, face painting, and other add-ons.

Moozie's Play Cafe in Turnersville offers private parties starting at $299.
South Jersey Party Places for Preschoolers
Moozie's Play Cafe – Turnersville
A Moozie's party is a private, 1.5-hour event that includes play, food, cake, and the popular Bubble Dance Party. The play space is geared toward ages 1-5, but older family members are welcome to join the fun. Choose from a DIY package, starting at $299, or a Moozie Party, starting at $399. Add-ons include a craft session, balloon artist, personalized favors, character visits, and more.
Photos courtesy of the venues
This post was originally published in 2017 and has been updated since.