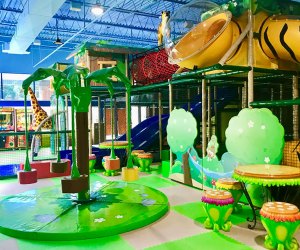 Jersey Shore's New Jungle-Themed Indoor Playground Is Worth a Trip!
A brand-new interactive play experience has come to Atlantic Highlands, and kids of all ages are going ape over it. Jungle Jim & Jane puts a new spin on indoor playgrounds with unique equipment and high-tech games that let kids go wild and have fun in a safe, clean space.
This day trip–worthy play space, geared toward ages 0-8, opened in October. I visited recently with my three kids, and we were all impressed.
Drop-in Adventures
Guests need only step into the meticulously decorated lobby to see that Jungle Jim & Jane is no ordinary play spot. First of all, there's no lack of comfy benches and shoe cubbies here! Caretakers will also appreciate the high priority placed on security. The entrance and exit gates require a staff member to open, and families can only pass through if the invisible ink code on their hands matches under a black light.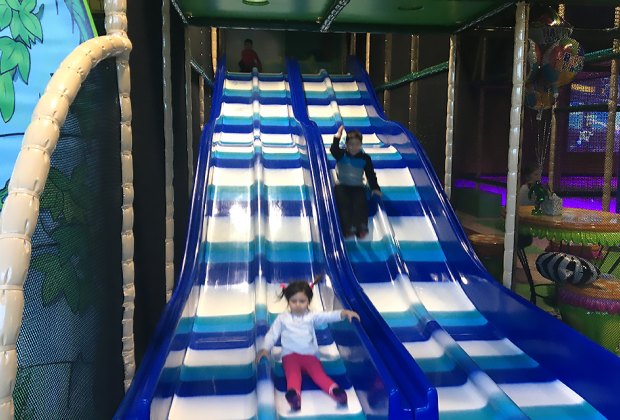 Catch some speed on the giant slide.
Inside the play space, expect an impressive array of jungle-themed equipment divided into about four main areas. My kids were huge fans of the play maze. Climb like a monkey up the banana steps and glide down a huge slide with gentle bumps beside a friend or grown-up. Or, snake through the jungle gym's upper level and twist down the tiger tunnel slide.
Integrated throughout the climbing structures are several sensory experiences like fun mirrors and a see-through floor panel lit from below in bright colors. Parents can watch their kids from the comfort of the many seating areas or escape to the massaging chairs at the bottom of the slide. "I wanted to make sure parents had comfortable spots to enjoy our space, too," says owner Michelle Loufti, noting that even the restrooms are designed as a spa-like retreat.
RELATED: 30+ Indoor Play Spaces in Central New Jersey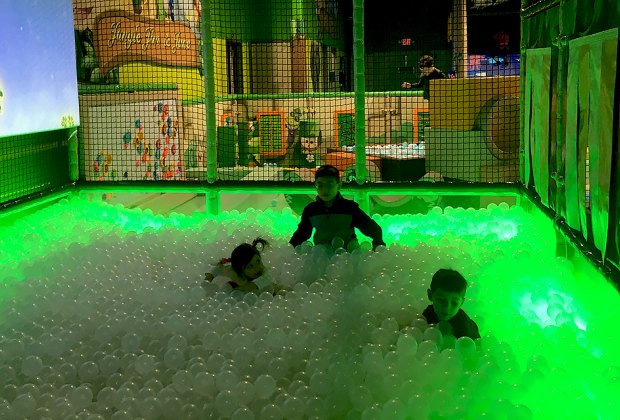 Check out the super cool ball pit.
Kids will love monkeying around in a huge (and clean!) ball pit, where interactive games are projected onto a wall nearby. My boys loved tossing balls at the images that flew by.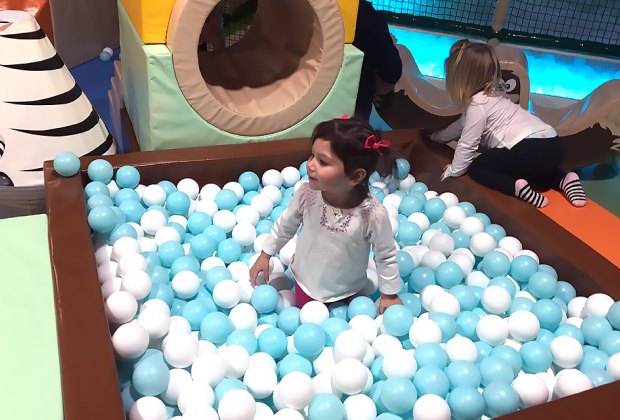 Jungle Jim & Jane features a thoughtfully designed dedicated play area for kids 3 and under.
Near the "big kid" ball pit is a dedicated space for little ones ages 3 and under. I loved that Jungle Jim & Jane doesn't just pay lip service to the baby/toddler zone. Little guys have a well-thought-out padded area with their very own mini ball pit, slides, rockers, gears, rotating pictures, and more. There are plenty of opportunities to practice hand-eye coordination here!
RELATED: 40 Things To Do with Kids on a Rainy Day at the Jersey Shore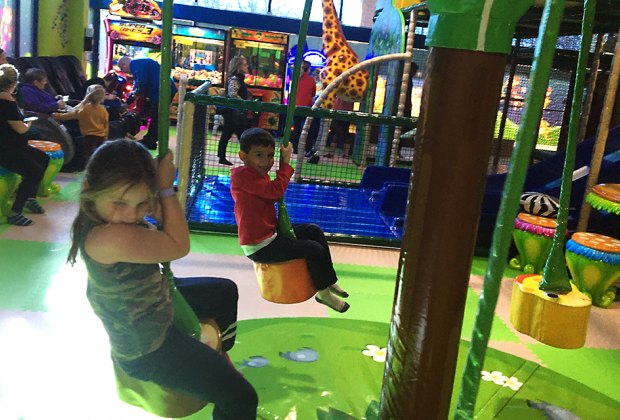 No kid can resist the re-imagined tree swings.
Just outside the toddler area is a huge rotating blow-up giraffe where kids can sit or lounge. And no kid can resist the re-imagined tree swings. Rope swings hang from a blowup tree that also rotates with a push for a combo swing/carousel feel.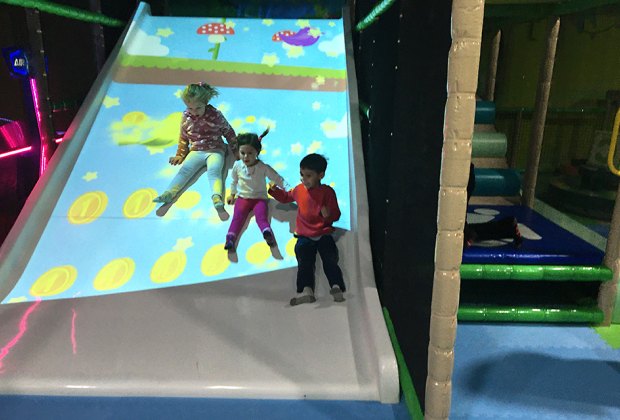 Try to hit the coins on the slide.
A great spot for little ones and big kids alike featured a fast slide with pictures projected onto it. Try to hit the coins as you slide down! This area also featured some STEM toys like huge building blocks, a cute house with build-your-own walls, a tangram puzzle, and a ginormous peg light board. This area also housed another crowd favorite: spinning circular benches that were reminiscent of the Magic Kingdom Spinning Teacups.
Along the perimeter of Jungle Jim & Jane are a few arcade games and play-til-you-win cranes. Throughout the space, interactive games are projected on the floors where kids can play hockey, jump on moving images, and more.
Creating this one-of-a-kind indoor play gym was no small endeavor for owners Michelle and Sammy Loutfi, along with Sammy's business partner Frank Amato. Sammy and Frank went all the way to China to find just the right equipment to fill the space. "Our architects and the equipment engineers all worked together to build this unique play adventure," says Michelle. The engineers shipped the equipment fully built from China to NJ and then flew to the Garden State to ensure everything was installed perfectly. Meanwhile, Michelle handled all the decor and artistic design of the space. The result is a super creative spot where children of various ages can all play together safely.
Overall, Jungle Jim & Jane does an amazing job of balancing features that caretakers appreciate (e.g., padded areas, abundant tissues and hand sanitizer, and even kid-sized toilets and urinal in the bathrooms), with exciting options for children of diverse age groups. ​This is definitely a spot worth traveling to or to flag as a backup when rain threatens to derail a beach vacation. Jungle Jim & Jane is located minutes from Sandy Hook and in striking distance of Long Branch.
Parties, Events, and Classes
Party options at Jungle Jim & Jane​ include 80 minutes of play time and 40 minutes in one of three party rooms. Guests will enjoy some cool extras like a dedicated slideshow of the birthday child and a bubble/laser light show.
Several adult/child classes are planned, including Music Together on Tuesdays and Thursdays; a preschool readiness program; story/craft/play time; and adult/child yoga. Contact the facility for more details. Also, keep an eye on the calendar for special events.
Know Before You Go
Guests (kids and adults) must remove their shoes and wear socks beyond the lobby.
Guests need to sign a waiver before entering the facility. To save time, sign the waiver online before you come.
Note that food or drinks are only allowed in the lobby. No outside food/drink is permitted, but there's a pizzeria in the same complex.
The facility is open 10am – 5pm on Sunday, Tuesday, Wednesday, and Thursday. Friday/Saturday hours are 10am – 6pm. Closed Monday.
Pricing varies by age of child. Admission is $10 for kids 0-2 years, and $10 for the parents. For kids over 3, admission is $20, and $6 for parents.
Unless noted, photos by the author
Jungle Jim & Jane
Eastpointe Plaza, 2399 State Route 36
Atlantic Highlands, NJ 07716