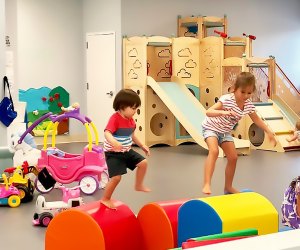 The Village Play Cafe: Fun for Littles and Fuel for Moms and Dads
It takes a village, right? It's something I believe so strongly ever since my son was born last year—so I feel like I stumbled upon my soulmates when I found out about The Village Play Cafe in Chatham. Just opened in July, this indoor play space is truly the hautest hive for mamas and their baby bees (ages 1–5) to come for the day to work, play, and leave feeling energized and excited to take on the rest of the week. At least that's how I felt when I walked out of their doors earlier this week.
The terrible twos have taken hold of our household several months early, so we've grown pretty accustomed to making plans on the fly and arresting any tantrums before they move from terrifying to total meltdown territory. Museums are still a little too much for us, so we loaded our little guy in the car and drove to The Village Play Cafe for what we hoped would be a break for us and a fabulous pre-nap workout for our buddy. It was, oh it was.
We had some trouble finding the spot at first. Google Maps had us enter the further parking lot via a right turn off of Watchung Avenue. And after walking into two buildings that clearly weren't the right place (a brewery being one of them!), my husband finally pulled the website up on his phone and saw that it was just around the corner, off River Road. Ah, if only we had read this before coming.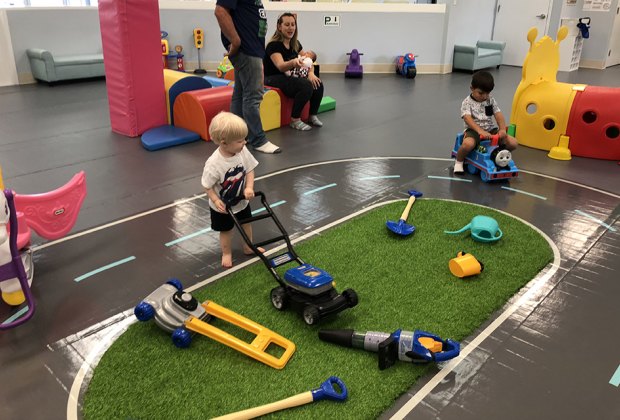 The big, open play space is stocked with kid favorites!
When we walked in, my son practically threw himself out of my arms when he saw the adventure that awaited him. We were greeted by one of the nicest women I have ever met, and I could tell that we were going to have a wonderful time while we were there. My super shy guy's face said it all. We paid for his open play admission ($15 + tax for unlimited play until closing at 5pm), completed his one-time waiver, and had to hold him back for just a few minutes longer just so Daddy and I could take a peek at the coffee bar offerings. We splurged on two Iced Americanos, and they were superb! Not to mention, when I asked if they could do anything in decaf, I was told they could do everything in decaf. For any mothers currently pregnant, nursing, or just dialing back their caffeine consumption, this is an amazing bonus!
We stripped K's socks off to let him grip the floor a little more, but kept ours on—as per the Rules for Playing at The Village. (All routine, now that our mini man has been going to play gym the last few months.) The first thing we noticed when we entered the kids area was how incredibly soft the floor was. Having the fearless walker that we do, we're always on pins and needles about bumps and bruises, but this thoroughly padded thoroughfare gave us nothing to worry about.
Our boy barreled straight to the middle of the space, where there was a tiny racetrack outlined with fake but child-friendly grass in the middle. As soon as he felt the texture beneath him go from smooth and soft to turf-like, his eyes lit up and he was ready to grab the rake and the lawn mower and go to town! Luckily, his landscaping wasn't necessary this time around. In fact, I don't think we have ever seen such an immaculate and well-maintained play space. This one was sparkling, from floor to ceiling, due in large part to its very recent grand opening, daily cleaning chores, and the fact that the owners take enormous pride in their property. While we were there, we saw Stephanie (one of the bosses behind TVPC) and her colleagues tidying up everywhere they could.
RELATED: 30+ Indoor Play Spaces for Kids in Northern New Jersey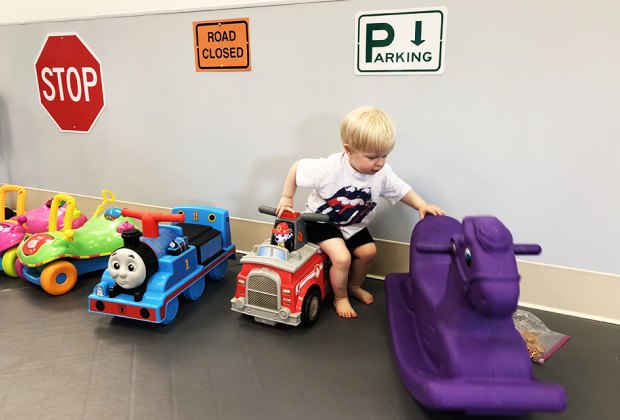 Who can choose just one vehicle to ride?
As my husband watched our little one hopping from one vehicle to another—from a Thomas train to a Spiderman motorcycle, and filling up at the gas station (my boy circled the place with the plastic gas nozzle at least a dozen times)—I took a peek at the infant area all the way to the right. Filled with nappers, play mats, jumpers, and a huge selection of age-appropriate toys, this area is great for the tiniest Villagers to explore. It's also dotted from the outside with little activity boards, puzzles, and playthings for toddlers to tinker with while their baby brothers and sisters socialize.
I absolutely loved the "Village" itself, composed of a vet clinic, playhouse, fire station, and grocery store, for the freedom it afforded my son and the rest of his peers to tap into their imaginations and become whomever they wanted to be for the moment. He couldn't decide whether he wanted to stay and pet the 'kitty' and 'joey' (what he calls any dog he sees, since my sister's golden retriever, Joey, is his standard four-legged comparison) more or take a trip to the supermarket to stock up on cheese and grapes—already a fan of fine things, that fellow of mine. And while they didn't immediately pop up on my son's radar, the little post office vestibule and work bench station really made me smile! In short, the place just oozes creativity and attention to detail.
RELATED: 40 Things To Do with New Jersey Preschoolers Before They Turn 5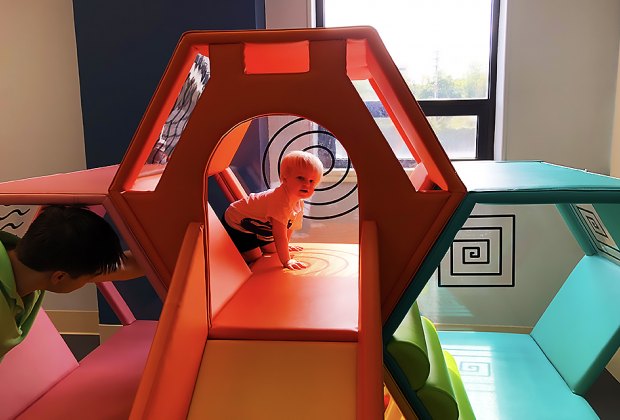 Parents can feel safe as their kids climb through colorful padded tunnels.
And when our babe just wanted to get physical, he had so many options for expelling his energy. He tunneled through a multi-colored caterpillar, climbed and traversed a hexagonal/honeycomb-shaped padded jungle gym, and palled around on a very cool wooden play set complete with slides, wheels, and ladders. I had to pull him over to me just a few times, because I was so taken with the felt/Velcro flower motif on the wall and needed him to experience it with me.
But the coolest room to me was definitely the back room, outfitted with soft, padded building blocks, a large-scale train set, epic princess castle, and a book nook brimming with Dr. Seuss, Sesame Street, and learning/counting stories in no short supply. I felt like I had traveled back to my preschool and kindergarten classrooms, with the educational posters on the walls and Raffi rhythm and rhymes booming in the background.
And let's not forget, our java, right? The bar lining the play space allowed us to keep our drinks on deck for mid-play sips throughout our entire stay, but even our energy jolts couldn't save our little stud from yawns once the clock struck noon. So, we made for the exit and waved good-bye to our new friends—but not before taking some pics of the bistro area (complete with high chairs), paying a visit to the bathroom, and returning the same baby box of Frosted Flakes back to the cafe a bunch of times. (Parents with waddlers, beware: If you have babes with sticky fingers—in more ways than one—you'll want to keep a close eye on them, as snacks are stacked at easy-grab levels.)
Before heading home, we snuck a peek at the class schedule. Parent-child style classes are offered six days a week in a wide range of interests like art, cooking, yoga, dance, and more. And there are regular mom meet-ups as well as occasional paint and wine workshops! Birthday parties can be booked, too, of course.
Know Before You Go
The Village Play Cafe is located at 17 Watchung Avenue in Chatham, New Jersey.
Normal, open/flex play hours are Monday through Friday, from 9am – 5pm, and Saturday and Sunday, from 9am – 1pm, with the exception of some private birthday parties over the weekend.
$15 + tax per child (1–5 years old), $10 + tax for children under 1, $10 per additional sibling, and free admittance for parents/caretakers and siblings (under 1 year).
You can save by buying play sessions in bulk. I certainly plan to do so, given my work-from-home situation. Once my guy gets a little older, I'd be happy to set up my desk at the bar while I watch him play.
Photos by the author.