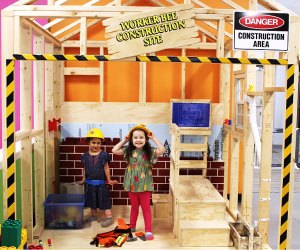 35+ Indoor Play Spaces for Kids in Northern NJ
Neither flurries nor rain, nor heat nor cold should keep New Jersey children from enjoying a day of play—especially when there are so many awesome indoor play spaces in Northern Jersey. From toddler play dates to teen outings, we've compiled a list of the best indoor playgrounds in Northern New Jersey where kids can drop in for play. No memberships needed!
If you're looking for sites that are a bit farther south, check out this listing of Central Jersey play spaces.
Note that many facilities have socks-only policies or height requirements for entrance, while others require waivers from parents prior to entry. Check with each facility about their rules and schedules for open play. Note that many play spaces have limited open play hours because of party bookings.
UNION COUNTY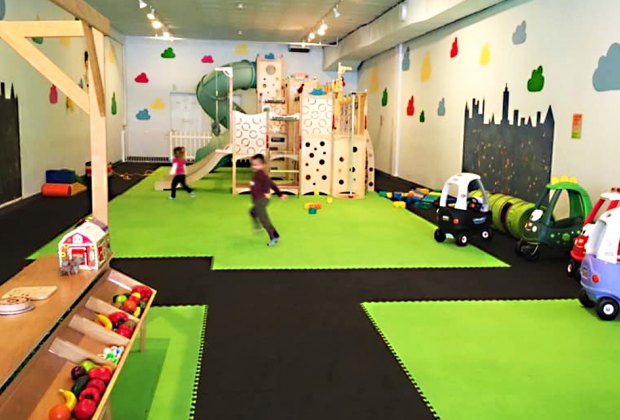 Explore climbing areas, toys, and creative play at Giggles.
Giggles – Cranford
Intended for kids under 6, this indoor activity center lets little ones play and explore without over-stimulating electronic toys. Included with admission fee are complimentary Monday Craft Madness sessions, Wednesday bilingual story times (Spanish/English) and crafts, and Friday toddler S.T.E.M (10:30-11:15am). Also note that Fridays are late nights, with open play until 7pm.
Kidoolo – Springfield
This space with an upscale vibe offers open laser tag sessions (reservations suggested) for kids ages 6 and up, along with arcade and video games. Note that it is not currently offering open play time for toddlers.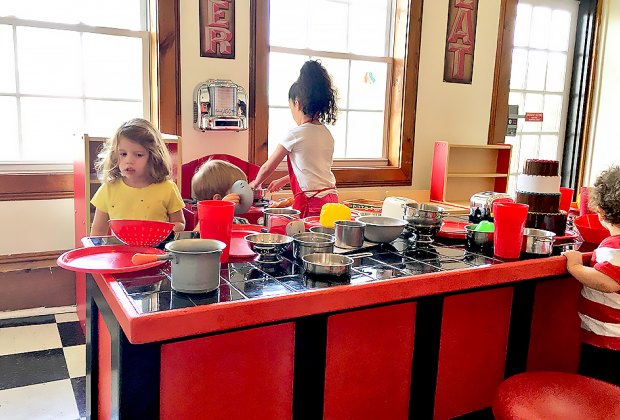 Kids can play chef in the huge kitchen play area at Kidz Village. Photo by Rose Gordon Sala
Kidz Village – Kenilworth, Woodbridge, Jersey City
This facility is a play town with lots of themed rooms to explore, including a grocery store, hair salon, cinema, and construction zone. There's also a large play maze to climb in and slide down. Note that this play center can get very crowded during birthday parties, so you may want to consider visiting during off-peak times.
RELATED: Free Indoor Play Spots for NJ Kids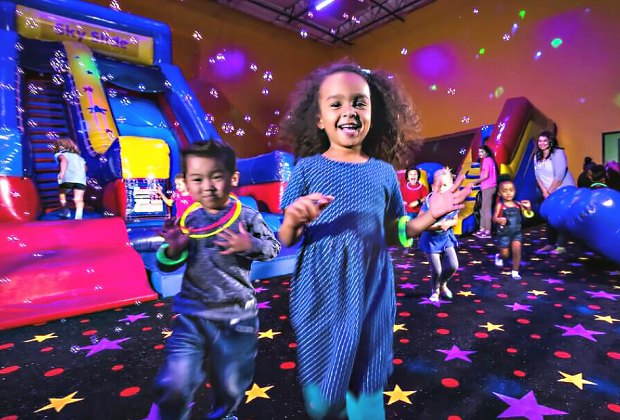 Dance parties, bouncy slides, and more exciting activities are waiting at PumpItUp.
PumpItUp – Roselle Park (also Secaucus, Randolph, Piscataway)
This bounce spot offers daily open-jump sessions. There's your basic open-play jump as well as many special themed sessions, including Little Tikes Jump for ages 18 months – 6 years; a morning Pajama Jump; and a Bubbles Jump. On select nights, make it a Parents' Night Out and drop off the kids for three hours of jumping, snacks, a movie, and crafts. In addition to two arenas full of inflatable fun, the Roselle Park location recently added a Ninja Warrior course with hanging bridges, jungle swings, cargo tube nets, and more.
Screamin' Parties – Springfield
When it's not hosting parties, this inflatable jump facility has open bounce and events for children. It has two rooms of inflatables, including slides, pits, ball launchers, and more.
Sky Zone – Springfield
This 35,000-square-foot tramp park lets kids jump on a huge grid of trampolines, play hoops on the SkySlam tramps, or challenge a friend gladiator style in a SkyJoust. Don't miss toddler times for ages 5 and younger.
ESSEX COUNTY
Funtime Junction – Fairfield
Recently updated Funtime Junction invites kids to "climb aboard" a multi-level softplay climbscape and enclosed jump pillow that will keep little ones ages four and up occupied for a while. Other attractions include an interactive beam play-floor and a toddler play area. When you purchase Deluxe or Extreme admission (or pay with credits), also enjoy a helicopter carousel, laser tag, and bounce house. There's also an arcade with prizes and a build-a-buddy activity for $12/animal. Closed on Mondays, but walk-ins are welcome every other day of the week.
Indoor Playground – Livingston Mall
While you're shopping at the mall, check out this gem right inside the shopping center. Located on the lower level near Sears, this playground allows kids to blow off some steam. The main slide structure is surrounded by several stationary climbers, including a bright blue car, tugboat, and rocket ship. Large puzzles and a mirror toward the back are great for toddlers and crawlers. Just outside the play area is a mini carousel. There's also comfortable seating for grown-ups, a Dunkin' Donuts a few feet away, and free Wi-Fi. There's also a play center for Morris County shoppers at Rockaway Townsquare in the lower level at Center Court.
The Busy Bee – Millburn
The Busy Bee is a great little space for the youngest set, those under 5. From large building blocks to a climbing structure to play food, kids will surely stay busy! Enjoy crafts every Wednesday at 11am (free with admission).
RELATED: Play Spaces with Drop-In Hours for Central NJ Kids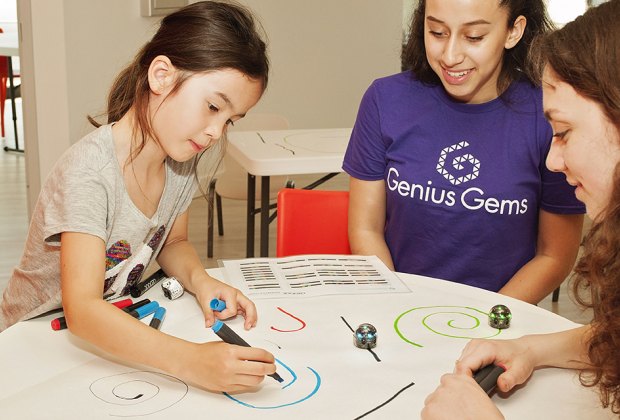 Build with magnetic tiles, program robots, try your hand at engineering challenges, and more at Genius Gems.
Genius Gems – Millburn
If your little loves to build and create, then, boy, is this the place for them! Genius Gems is said to be world's largest collection of magnetic tiles, offering a special STEM experience for kids ages 3-12. In addition to the building area with tiles, Ozobots, Cubelets, and more, there's an adjoining room with daily engineering challenges. STEM classes and mini-camps are also available.
Woodland Indoor Playground – Cedar Grove
This brand-new space opened in December 2018. The eco-friendly Scandinavian-inspired indoor playground boasts wooden slides, a play food truck, train tables, a play chicken coop, building areas, and more. The space is completely free of plastic, foam, toxins, or light-up toys.
MORRIS COUNTY
Clown Around – Flanders
For kids ages 7 and younger, this jungle-themed play zone has been a family favorite for years. Clown Around offers a soft-play baby and toddler zone as well as a three-story play structure with slides, ropes, nets, and obstacles. There is plenty of seating for parents and a snack room as well. Free Wi-Fi is available, and you can schedule play dates or attend open play (cash only for open play).
The Funplex – East Hanover
With more than 100,000 square feet of attractions, there's plenty to keep all ages busy at this family amusement center. The arcade features everything from Boardwalk classics like Skeeball and air hockey to the latest video games. Bumper cars, go-karts, and laser tag are perfect choices for older kids. Try out the new interactive warrior obstacle course, designed for ages 6 and up.

Climb to new heights at Gravity Vault. Photo by Jaime Sumersille
Gravity Vault – Chatham (also Hoboken and Upper Saddle River)
Kids 5 and up can rock out out at this indoor rock climbing facility. No reservations are required for walk-in climbing, which is possible anytime during regular business hours. Kids can climb with a parent (if certified) or work with one of Gravity Vault's instructors.
RELATED: Top 12 Indoor Play Spaces Across New Jersey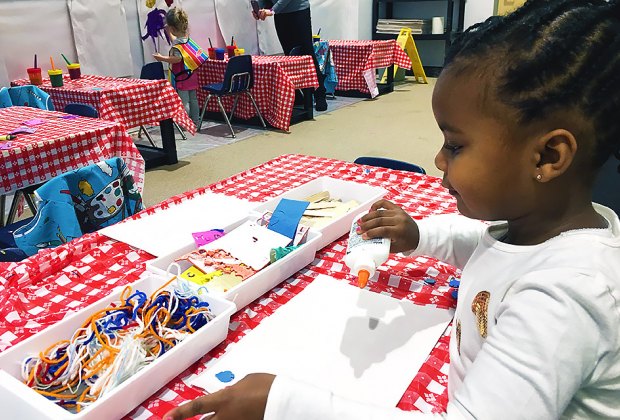 Imagine That!!! has many themed areas for kids to explore, including a massive arts and crafts area. Photo by Margaret Hargrove
Imagine That!!! – Florham Park
This hands-on children's museum celebrated its grand re-opening in January 2018. The revamped space features more than 50 exhibits and activities designed to spark the imagination of young children. They can shop at the grocery store, mail packages at the post office, and climb aboard the pirate ship. New attractions include an electronic sand table, an Everbrite board, and a large jungle gym with a 20-foot spiral slide.
KIDnetic – Montville
KIDnetic features a three-level play structure, a rock climbing wall, and mats of all different shapes and sizes. Kids can jump around in the ball room, visit the alligator pit, and climb over bridges and under tunnels. The rock wall is specially designed for children under 10 and offers a great introduction to climbing.
TagAlongs Play Space – Lake Hopatcong
Designed for crawlers and kids up to age 10, TagAlongs features a large, open play area, toddler zone, custom play houses, interactive play mats, and a separate, calming sensory room. Open-play sessions offered daily; check website for times. Socks are required, and outside snacks and drinks are welcome.
Ticklez Indoor Play Center – Budd Lake
Pop in as often as you like throughout the day at Ticklerz, which offers all-day, in-and-out play. The large, open space includes a 16-foot-tall play structure with spiral slides, obstacle courses, and tunnels; a pretend-play diner, house, and supermarket; a gated toddler play area; and more.
The Village Play Cafe – Chatham
This spot—combining a gourmet coffee bar and kids' play space—is well named. Parents can sit back and enjoy a cup of joe while the little ones toddle close by. Intended for ages 5 and under, there are small climbing structures, ride-ons, and padded play areas. There's also an infant area, a castle, a book nook, and more. Check out the class schedule, too, with offerings like parent-child yoga, messy play, and ukulele lessons.
WARREN COUNTY
Riverside Kids – Hackettstown
This facility focuses on the physical development of kids ages 10 months through 10 years, with both morning and evening gym sessions. During open gym time, kids can practice their balance and gross motor skills on the mats, bars, rings, and beam. Toddler Times are available for children under four. Note that children under three must be accompanied by an adult, but those over three can be left in the care of the facility.
SUSSEX COUNTY
Laser One – Wantage
Laser One offers two stories of laser tag fun with ramps and towers. Special-effects lighting adds to the adrenaline rush. The facility also has a nine-hole mini golf course, arcade games, a laser maze obstacle challenge, and Highway 66 bowling.
BERGEN COUNTY
The Big Play House – Westwood
Kids ages 6 and under will feel right at home at The Big Play House, which offers imaginative play props, dolls, and trucks for building social skills. There's a play library, construction site, doctor's office, market, and more. Open play reservations are required.
Bounce Safari – Waldwick
In addition to regularly scheduled open bounce times, Bounce Safari hosts innovative programs like Lunch Bunch (90 minutes of bouncy fun, followed by a healthy lunch and storytime), Art Adventure, and Musical Safari. Registration is required for open bounce sessions and for all special programs.
BounceU – Paramus
​Known for birthday parties, BounceU also offers open-play sessions as well as special themed events including Cosmic Glow Wars Bounce and Discover Science Fun Labs. After-school bounce sessions take place Monday–Friday, and parents are free!
CatchAir – Paramus
This underwater-themed space caters to families with children up to 12 years old. There's a soft play area for toddlers and a Tiny Town for kids under 4 feet, and a three-story play structure, ball cannon, and interactive dance floor for bigger kids. Find out what we thought about CatchAir in our review.
The Great Story – South Hackensack
The Great Story lets children use their imaginations with a costume closet, sandbox, props, a climbing structure with a small trampoline, shopping area, ball pit, and more. The cafe offers some Korean specialties like bubble tea, rice burgers, and noodles.
RELATED: NJ Kids Get Aerial at Indoor Trampoline Parks and Bounce Houses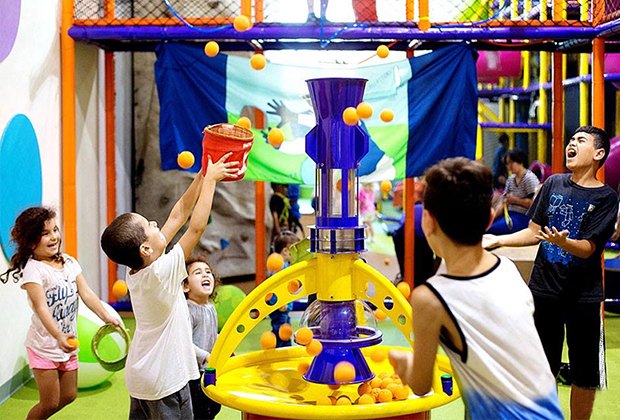 Kids will have a blast with foam ball shooters and the ball volcano at Jumpin' Jax.
Jumpin' Jax – Paramus
This early learning center and indoor playground combination facility has open play for toddlers on up to older children. Kids will have a blast with foam ball shooters, hand-pedaled cars, a rock-climbing wall, a LEGO area, and imaginary-play areas.
Jump On In – Hasbrouck Heights
Bounce the day away at this indoor facility featuring inflatable bounce houses, obstacle courses, slides, tunnels, and more! Preschool Open Jump and All Age Open Jump are offered regularly.
Lily & Liam Kids' Indoor Playground and Cafe – Englewood
Kids 12 and under can climb, build, pretend, and explore at this sweet indoor playground. Attractions include a climbing maze, bubble ball pit, soft play for toddlers, a "sand" pit, pretend-play area, and more. Also check out craft day (Wednesdays, 10:30am-12pm / 3:30-5pm), play dough day (Thursdays, 10:30am-12pm / 3:30-5pm) and music class (Fridays, 11:00-11:45 am). Parents who worry about germs in play spaces will be happy to hear that Lily & Liam is closed the first and third Mondays of the month for sanitizing.
HUDSON COUNTY

Even the littlest ones can climb safely at Fun Lot.
Fun Lot – Bayonne
Pretend play is a focus of this indoor spot, with areas for children to dress up as firefighters, farmers, grocers, doctors, and more. Kids can also drive a school bus and push a shopping cart through the market. Climbing structures and a ball pit add to the fun.
Hudson Play – Jersey City
The whole family will love hanging around at Hudson Play, which is packed with fun, featuring a five-lane obstacle course with unique climbing, hanging, and swinging structures. Kids will definitely get a workout here! Younger children will have fun with the soft play area and pretend play area. The Health Bar Cafe offers smoothies, juices, and healthy foods.
Hudson's House of Play – West New York
A sweet little space for kids ages 6 months to 5 years old, Hudson's offers a lovely, custom-built open play space created to replicate a traditional downtown city square. Each "building" has appropriate costumes, furniture, and toys. There is also a separate area for ages 2 and under, and a small cafe for caregivers with tea, coffee, and baked goods.
Liberty Science Center – Jersey City
Yes, it's a museum, but Liberty Science Center can definitely qualify as an indoor play space—and it's always a good bet on a chilly or rainy day. A favorite of kids of all ages, the Touch Tunnel is a pitch-black, crawl-through maze. iExplore is geared toward kids ages 2 through 5 and offers a stimulating and interactive environment designed for discovery, complete with a climbing apparatus and a "sandbox" that is actually filled with rice. Kids taller than 42 inches will love the Infinity Chamber, a climbing jungle of sorts suspended two stories in the air. There are always new exhibits and events and, of course, the IMAX theater and new, state-of-the-art planetarium.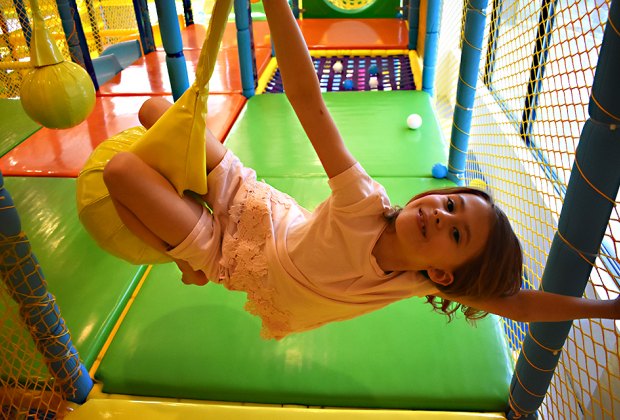 Swing, climb, jump, and bounce at Play City. Photo courtesy of the owner
Play City – Weehawken
Climbers, sliders and crawlers will enjoy the 2,000 square feet of indoor playground at Play City. With soft play areas, slides, jumping spots, climbing structures, and a ball pit, this indoor space is geared towards children under 1 through age 12. Socks are required, and outside food and drinks are not permitted. A small cafe offers coffee, tea, hot chocolate, soft drinks, and healthy, on-the-go snacks for purchase. In addition to daily open play, Play City offers enrichment classes and birthday parties.
Urban Jungle – Hoboken
This jungle-themed indoor play facility is packed with fun things for kids to explore, including a jungle gym, Imagination Playground blocks, a water and sensory station, arts and crafts, and a soft play area for toddlers.
PASSAIC COUNTY
Planet 301 – Paterson
Catering to children ages 2 through 13, Planet 301 will cure cabin fever with its arcade, soft play area, basketball hoops, train ride, bouncy house, batting cages, laser tag, and more. It's located on the top floor of Center City Mall, so check with the facility about validation for underground parking.
Rack 'N Roll – Passaic
This family entertainment center will occupy kids of all ages (and their parents) with more than 100 video games, foosball, kiddie rides, air hockey, basketball, billiards, and more.
Rockin' Jump – Wayne
With wall-to-wall trampolines, a vertical climbing wall, dodgeball courts, basketball hoops, and foam cube pit, kids will burn off some serious energy here!
Unless noted, photos courtesy of the venues.
This post has been updated for 2019.