Science Fun for All Ages: New Jersey's Liberty Science Center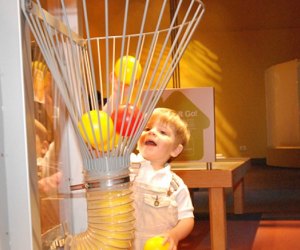 There's no denying the fact that NYC has some pretty spectacular children's museums – and we New Jersey-ites can trek into the city by car, train or boat to explore all that Manhattan has to offer. But what about this side of the Hudson? What's a NJ kid to do when mom & dad are looking to stay local? Enter the Liberty Science Center. This 4 story gem is packed with educational exhibits, special events and even an IMAX theater. Best of all, there's something for each age group: On a recent rainy Friday morning visit, my 10 month old played peek-a-boo in a mirrored toy at the Curious George exhibit, my 3 year old experimented with measurement at a gigantic rice-filled table and I even learned a thing or two about the complex ecology system happening right in the Hudson River (despite my often fuzzy 'mom brain')! So indulge your inner science geek and check out these must-see exhibits at New Jersey's Liberty Science Center.
I Explore
If you're worried about your toddler getting lost in the shuffle in the busy bustle of the science center, head straight to the I Explore room on the 2nd floor. This mainstay attraction ensures that pint-sized visitors get a chance to learn and play in their own special area without feeling overwhelmed by older kids (staff stand at the entrance to be sure only those 5 and under enter). After a full winter of almost weekly LSC trips, my daughter is somewhat of an I Explore veteran and she makes the rounds to each activity. After practicing measuring (is this cup half full?) at the giant rice table, we move on to draw letters (and sometimes silly faces) with paint brushes at the water wall. We then put together cars and race them down the Test Track before turning a wheel to power the two-story Ball Machine. My little guy loves to look at the animal tanks (set down low so wee ones can see) including a slithery snake and some busy mice. Also be sure and stick around for science story time, held daily at 9:30am, 10:45am, 1:15pm, 2:25pm (and also 4:10pm) on weekends. Past story time themes have included magnets and wind energy.
Eat and Be Eaten
Got a group with all different ages? The Eat and Be Eaten wing on the 3rd floor is surefire crowd pleaser. Low-down tanks are accessible to even the tiniest tots in strollers and everyone will love the red-legged tortoises, puffer fish and Gaboon Viper snake. Eat and Be Eaten is filled with real animals that have adapted to survive in the food chain. Leaf-tailed geckos use camouflage to hide out (see who can spot them hiding in their natural habitats first!) and a giant snapping alligator turtle lures in fish with a worm like growth on her tongue. Learn how a black widow spider or a Gila monster fend off predators using poison. For a little break, head to the mini library to the rear of the Eat and Be Eaten exhibit, and flip through a book on frogs or polar bars as you take in awesome views of the Manhattan skyline through big picture windows.
Touch Tunnel
If you want to check out the center's most popular exhibit, be ready to wait in line, as the Touch Tunnel is available on a first-come, first-serve basis. Guests ages 7 and older can experience this pitch black crawl-through 80 foot maze (although if you've got kids that are scared of the dark or apprehensive, use your own judgment for age restrictions). The goal is to make it through the entire tunnel using only your sense of touch! First-timers often feel a sense of pride as they come out the other side (I did it!) but what's eye-opening to most people (pun intended!) is how well you can get around without seeing a single thing. Definitely a must do for those looking for a challenge!

Skyscrapers
Fun fact: Just 100 years ago, a 10 story building was considered impressive. Fast forward to 2013 and modern skyscrapers can reach up to a half mile high!! The skyscraper exhibit (nestled right on the first floor and the perfect way to end your LSC visit) celebrates these feats of engineering and their effect on human culture and even local weather patterns (wind tunnels in the city, perhaps?) Older kids and adults can teeter on a narrow steel beam with simulated hurricane force winds to test building design or take a thoughtful moment to read 9/11 stories about the World Trade Center. Younger ones can strap on a hard hat and learn about how an elevator works or use blocks to fashion their own skyscraper design.

Here are some additional tips for visiting the Liberty Science Center with kids in tow:

- If at all possible, avoid weekends and holidays when the center is most crowded, but if you must, go first thing in the morning to beat the majority of the crowds.
- Weekdays are great when you've got toddlers ready to explore, but even the I Explore area and Curious George exhibit can become quite crowded by 10:30am. The LSC pretty much empties out come 12pm or so as small children head home and field trip groups board their buses, so if you're up for skipping naptime, you'll be rewarded as you play in peace!
- With spacious family bathrooms on each floor (and a nursing room too!), the LSC makes it easy on parents. As an added bonus, the I Explore exhibit has its own large bathroom where you can pop in if a potty (or diaper) emergency occurs.
- The LSC also has a great IMAX theater that shows both feature films and science flicks too. No need to purchase general admission tickets, if you're in the mood for a movie, just head straight to the theater.
- Cafe Skylines offers healthy options such as wraps, organic yogurt and wood fired pizzas, but you can also pack a lunch and stop for a break on one of the many benches scattered throughout the center.

To plan your visit (including info on tickets, membership, hours and other exhibits) please visit the Liberty Science Center's website or call 201-200-1000.