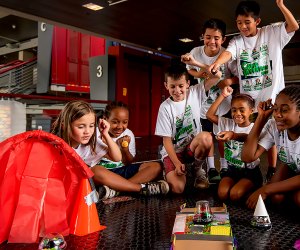 20+ STEM Summer Camps for New Jersey Kids
When you think "summer camp," you might picture canoeing on a lake, playing capture the flag, and eating s'mores by a campfire. But camp can also be about coding, constructing robots, and building with Legos. We've rounded up more than 20 New Jersey STEM camps that promise a summer of fun for budding scientists, engineers, and computer programmers. Find more New Jersey summer camps in our Camp Guide and Full Directory of Listings.
Bricks 4 Kidz – Various locations
Lego lovers ages 5 and up can explore engineering, architecture, and movie-making through building with colorful plastic bricks at Bricks 4 Kidz. Themes include robotics, amusement parks, and space adventures.
Buehler Challenger & Science Center – Paramus
Kids from preschool through high school can attend a variety of week-long programs that delve into topics such as rocketry, robotics, and the search for life beyond our solar system.
RELATED: Top Summer Camps for NJ Kids

Camp Invention encourages creative problem-solving and teamwork.
Camp Invention – Various locations
This week-long program is geared toward kids entering grades K–6. It includes projects such as "Deep Sea Mission," where kids rebuild ships and design underwater equipment, and "DIY Orbot," where campers learn about circuit boards, motors, and gears as they make a bot that tackles fun obstacles. For more information, read our review of Camp Invention.
Challenge Island – Various locations
Challenge Island offers a variety of themes, including Wizardry, Minecraft, and American Girls and Dolls. The 2019 lineup will be available soon; check the website for info.
Club Scientific Northern Jersey – Mahwah and Waldwick
Every child is a scientist at Club Scientific, where kids ages 5–12 can choose from programs such as Young Weather Scientist, Emergency Medicine, Edible Science, Deep Sea Plunge, Ickyology, and Deep Space.
Computer Science Summer Programs with Zatna – Basking Ride and Short Hills
Formerly Pingry Hi-Tech Camps, this program prides itself on being at the cutting edge of computer science education. Kids entering grades K–12 can take courses in programming, robotics, app development, electrical engineering, game development, and entrepreneurship. Full- and half-day options are available.
Dwight-Englewood – Englewood
Keys: Opening Doorways to New Worlds is the theme of this summer's Discoveries (ages 3–6) and Adventures (grades 1–4) programs at Dwight-Englewood School. Kids will experience and explore different worlds like fantasy, natural, outer space, and more. Middle schoolers (grades 5-9_can choose from fun "a la carte" opportunities to build a schedule that fits their personal interests. Topics include athletics, cooking, debate, and engineering. For older middle and high school students, Academic Enrichment and Scholars programs include academic advancement and college test prep.
Game Camp Nation – Saddle River
Kids ages 7–17 can learn to design video games at Game Camp Nation, which offers both day and overnight options in a hotel. Programs range from game design with Game Design & Minecraft Modding (ages 7–10) to 3D modeling and animation (ages 14–17).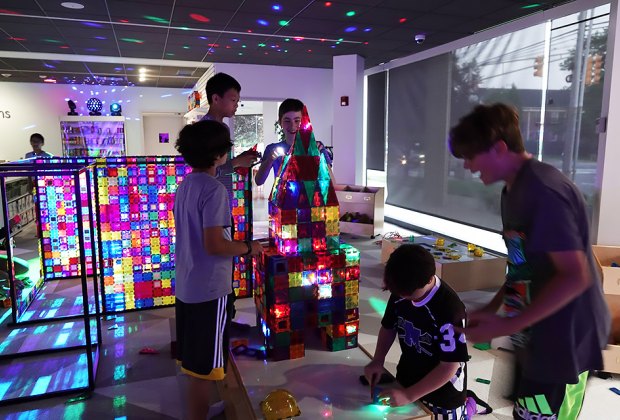 Build a magnetic tile city at a Genius Gems camp.
Genius Gems – Millburn
Kids ages 4-12 can participate in morning or afternoon STEM-based projects (or both) with magnetic tile building projects, robotics, coding and science activities are centered around weekly themes. For 9–12-year-old campers will have design time in the new 3D Design Lab. Explore weekly themes like SPA Science, Unicorns and Magic Potions, Pokemon STEM, and more.
The Gifted Child Society – Allendale
Summer Super Stars Camp STEAM is geared toward gifted children in preschool, elementary school, and middle school. Held on the Northern Highlands Regional High School campus, this camp focuses on academics in the morning and recreation in the afternoon. Half-day options are available for preschoolers. Children must test into programs before registration.
RELATED: Best STEM Classes for New Jersey Kids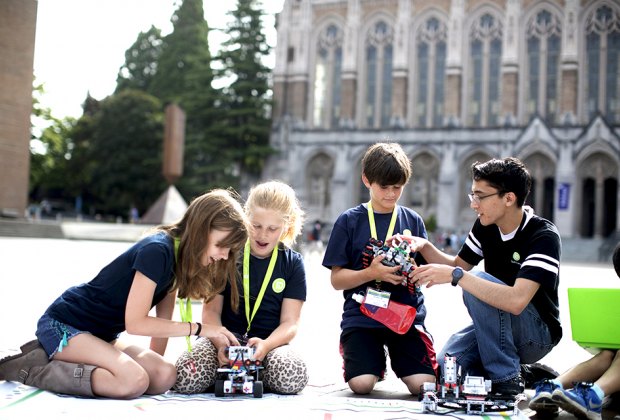 ID Tech camps are held on college campuses throughout New Jersey.
iD Tech – Various locations
Kids ages 7–17 can learn to code, design video games, engineer robots, print 3D models, and more at iD Tech. The camps are held on college campuses throughout the state, including Seton Hall University, Princeton University, and Montclair State University.
RELATED: Free Summer Coding Camp for Teen Girls

International Ivy offers hands-on experience in robotics, engineering, video game design, and more.
International Ivy – Various locations
Kids ages 5–15 can choose from more than 60 classes in robotics, science, engineering, digital design, video game creation, math, programming, Minecraft, and more. Classes include Crazy Chemworks, Computing Programming, Civil Engineering, and more. Camps take place in 13 locations throughout New Jersey, including Paramus, Jersey City, and Princeton.
Lavner Camps – Cherry Hill, Princeton, Montclair
Lavner's specialty camps include computer programming with Python and Java; hands-on robotics with Lego Mindstorms; video game design with GameMaker; and 3D printing and modeling. Kids ages 6–14 can attend camp at one of three locations: Katz JCC in Cherry Hill, Stuart Country Day School in Princeton, and Montclair State University in Montclair.
Little Ivy Academy – Ridgewood, Montvale, Wayne
Campers can build and code robots, video games, apps, and websites; invent electronic gadgets; create special-effects videos; and more. The camp is divided into two sections: Summer Explorers (for kids entering grades 1–2) and RealScience/Express Yourself (for kids entering grades 3–5 and 6–8).
Mad Science – Various locations
Kids can get an inside look at security systems, forensics, spy gadgets, and more at multiple locations throughout New Jersey. Other topics include rocketry, robotics, electricity, chemistry, space, nature, and inventing. The 2019 lineup will be available soon; check the Mad Science website for info.
Mercer County Community College Camp College – West Windsor Township
Kids can sign up for four-week sessions that include a range of subjects or sample a one-week specialty camp. In the four-week Campus Kids program (ages 7–13), campers can choose six different age-appropriate courses, with options including Jedi Academy; Kitchen Chemistry; and Build It, Move It. One-week specialty camps include Science Camp (ages 6–14) and Digital Arts Camp (ages 6–14).
Montclair Learning Center – Montclair
MLC's STEM+ camp is geared toward children entering grades 1–5 and includes four different programs: Code Academy, Maker Lab, STEAM/Engineering and Chess. There's also a teen STEM camp (for kids entering grades 6 and up) and a girls-only STEM camp (for girls in grades K–5 and grades 6+). Kids ages 3–5 can attend Little Engineers Summer Camp, whose weekly sessions have AM/PM themes such as Jurassic Land, Mission to Mars, Bob the Builder, Doctor's Academy, and CSI.
My Tech Learning – Livingston
Geared toward kids in grades K-9 with an interest in science and technology, My Tech Learning camp offers activities and lab time in science, technology, recreation, engineering, art, math, and medicine. Campers will be grouped by age (grades K-2, 3-5, 6-8, and grade 9 counselors in training) and can pick from a wide range of activities each day.
NextGen Bootcamp – Hackensack
This computer science education company offers hands-on immersive summer camps for children in middle and high school. Offerings include web development, Python, app development, game design, UX & UI design, and more.
Play-Well TEKnologies – Various locations
This camp brings out the natural engineer in kids. Lego-inspired programs for students in grades K–8 include Intro to STEM, Minecraft Engineering, and Jedi Engineering. The classes touch on the basics of engineering, architecture, and physics in a fun, hands-on way and develop problem-solving and critical-thinking skills. Locations are available in Morristown and Neptune City.
Sylvan Edge Camps – Various locations
This hot STEM spot offers year-round learning in robotics, coding, Legos, engineering, and math. Special summer camps include coding, engineering, robotics, and algebra topics for kids in grades 1–9. There are 11 Sylvan Learning Centers in New Jersey. Camp offerings vary by location, so check out what's on tap at the one closest to you.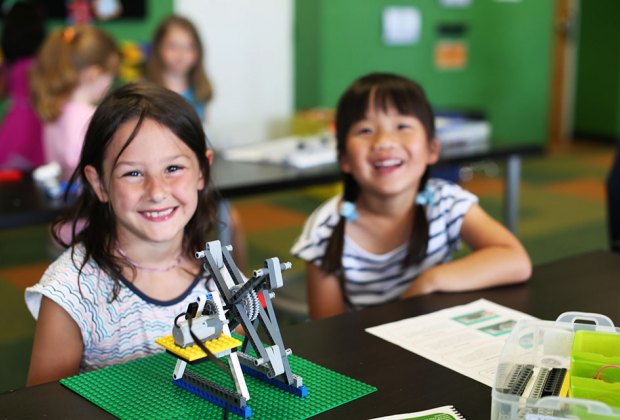 Looking for half-day options? Snapology has them!
Snapology Discovery Center – Tinton Falls
LEGO, Robotics, and STEAM/STEM camps are offered in these half-day sessions for kids ages 5–10. Weekly themes include Ocean Exploration, Engineering Awesomeness, and Amazing Race.
Westfield Area Y – Westfield
The Y offers a variety of STEAM-themed specialty camps for kids from age 4 to those entering grade 7. Programs include Coding with Kids, Legomania. Harry Potter STEM, and Digital arts. Full- and half-day options are available.
Photos courtesy of the camps
Originally published in 2017 and updated since.