What's Open on Christmas in Los Angeles: 30 Fun Things To Do With Kids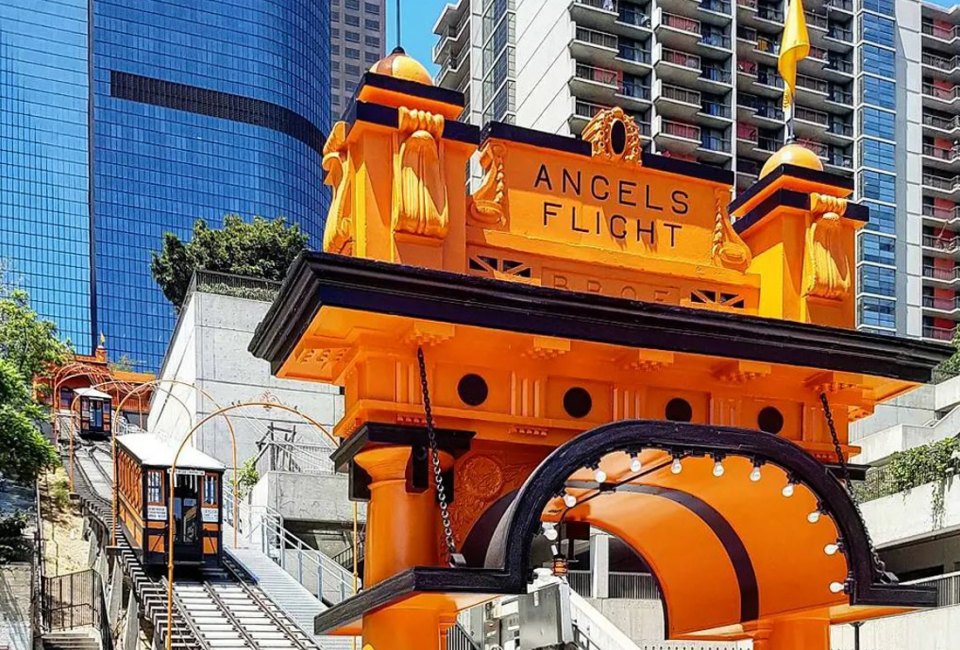 12/20/22
- By
Roberta B
Start a new holiday tradition by visiting an iconic attraction that's open on Christmas in Los Angeles.
The Christmas presents were torn open early in the morning. Dinner is hours away. The kids are already starting to bicker and everyone is crashing from too many candy canes. It's time to get out of the house. But what is open on Christmas Day in Los Angeles?
There are actually loads of places open on Christmas Day. From theaters and theme parks open on Christmas to sledding on the sand or snow, here are 30 fun things to do and places to go on Christmas! Who knows? Maybe you can even create a unique new holiday ritual with a visit to a favorite spot in LA.
You can find even more seasonal activities in our Guide to Holiday and Christmas Events in Los Angeles or on our Calendar of Events.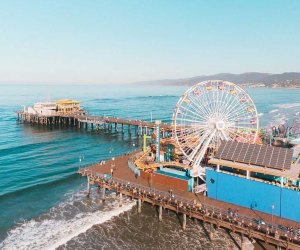 Spend the day on the Santa Monica pier. Photo courtesy of pacpark.com
Ride a coaster and grab a treat at this classic LA destination on Christmas Day. If you have family in town for the holidays, this tourist attraction is the perfect place to show off the city.
It's on everyone's "to-do" list, and it's scheduled to be open on Christmas Day from 6:45am to 10pm! Why not take advantage of a day when it's easy to find parking downtown and ride this landmark railcar?
Seeing a movie on Christmas is an annual tradition for many families, so why not see one of the newest James Cameron masterpiece at the best theater in town? The El Capitan also offers cookies and cocoa with a special appearance by Mickey and Minnie on Saturdays and Sundays, and Christmas happens to fall on a Sunday. Add a little Disney magic to your day.
In SoCal, you're not likely to find a pond outside your home to try out your new skates. But what could be more festive than a glide on the ice before Christmas dinner? There are plenty of rinks ready to receive visitors for the holiday. All seven of our favorite outdoor ice rinks in LA plan to be open on Christmas Day.
5. Disney on Ice: Road Trip Adventures
Disney on Ice is back on Christmas Day in Ontario with both matinee and evening shows. This spectacular show is done up the Disney way with figure skating versions of Moana and Maui, the Toy Story gang, and those famous princesses who were never bothered by the cold anyway. (Plus all your other Disney favorites!)
RELATED: Best Holiday Lights Drive-Thrus, Walk-Thrus, and Christmas Light Shows in Los Angeles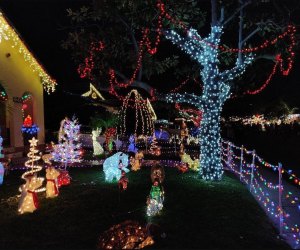 Don't miss the sparkling holiday lights on Candy Cane Lane. Photo courtesy of Trip Advisor
Those twinkling lights start coming down after Christmas, so take the opportunity to get into the holiday spirit with a tour of the incredible neighborhood light displays all over LA. This is a fun, free activity that the whole family can enjoy before Christmas comes to a close. If you've already seen the most epic ones in LA, then check out the lights of Orange County.
Both DTLA and Riverside have impressive, walkable, and free public light displays to brag about: Millions of lights twinkle at the Bloc downtown, and the Mission Inn dazzles in its annual display.
The NASCAR racetrack in Arcadia is decked out as Santa's Village at Santa's Speedway in Irwindale. Christmas night is the perfect night to take in the dazzling lights, grab some cocoa, and do some sledding at this walk-through light display.
Who needs to make a Honey Baked Ham for Christmas dinner, when you can let a crew of pirates take care of the meal for you? Pirates Dinner Adventure in Buena Park is open for business on the holiday with a special Christmas dinner show. Will the pirate crew steal Christmas? There's only one way to find out!
RELATED: 21 Restaurants Open on Christmas Day in Los Angeles with Family-Friendly Fare

See dazzling holiday decor—plus snowfall—at The Grove. Photo courtesy of BFA
The Grove is open on Christmas, and there is snow in the forecast: two snowfalls are scheduled for 7pm and 8pm. The movie theater is open and you can even skip making Christmas dinner and dine out at La Piazza, which has an amazing view of The Grove's holiday decor.
Rumor has it that in other places people get cold and wet sledding, but this is Southern California; we sled at the beach. The Venice Beach sand berms are up again for the season, and they're under attack by plastic saucers. For those not in the know, each year the city amasses giant hills of sand to protect the beach community from winter storms, and the beach community storms the hills. Grab a leftover Amazon box from the Christmas shopping, a plastic saucer, or a boogie board, and hit the hills!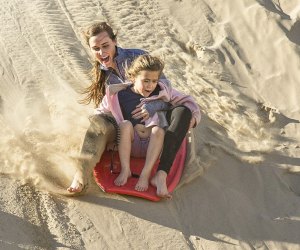 Go sand sledding at the beach.
OK, when we're done gloating about the whole sand thing, we are prepared to admit that the snow version of sledding has its allure. And though driving out of the city to slide down a hill can involve a whole lot of hurry-up-and-wait on other days of winter break, Christmas Day is a pretty good day to hit the highways and the slopes. Most of the nearby tubing parks are open, as long as it doesn't rain.
There are fewer people to bump into on the ski slopes at Mountain High, Mt. Baldy, and other nearby ski resorts on Christmas Day. You could even call this outing a Christmas present!
Many of the shops and most of the restaurants in Chinatown are open on Christmas Day—in fact, a Chinese meal is a holiday tradition for many families. The best Chinese food in the city is right here, and it's always fun to wander the plaza and admire the architecture.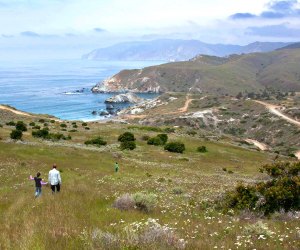 Christmas Day is a great day to be on an island. Photo by Jack Baldelli courtesy of Catalina Island Conservancy
The Catalina Express runs on Christmas Day, and although many businesses on the island will be closed, the bison don't take the day off—and just taking the boat and going for a hike is a fine day's excursion.
The kid-pleasing little zoo to the north is open on the holiday, an annual tradition, and a great family outing (until 3pm) on both Christmas Eve and Christmas Day.

See an old-school movie at an old-school theater. Photo courtesy of the New Beverly Cinema via Facebook
What a great day to introduce your kids to some good old-fashioned silly fun, like a double feature from the Marx Brothers at the New Beverly Cinema. This year, the show begins with a 4:05pm showing of Animal Crackers, followed by a showing of Horse Feathers.
Don't expect them to be empty, but compared to the rest of winter break, Christmas is a pretty good day to hit Hollywood's theme park. Plus, Christmas in Hogsmeade is pretty magical. Be sure to check out Grinchmas and the holiday lights over Hogwarts at Universal.
Don your robes and enjoy the holiday at Hogwarts. Photo courtesy of Universal Studios
You can't get much merrier than a day at the Happiest Place on Earth on Christmas Day. Between the holiday treats, the Christmas Fantasy parade, the holiday-themed rides like Haunted Mansion Holiday, and special Christmas dinner options, a day at Disneyland may be the perfect way to make timeless memories on December 25. This trip could even double as a Christmas present/surprise.
You've fought off the bah humbugs of the season, battled Black Friday panic, and defeated your holiday card list. Go ahead and root for your knight in shining armor while you tear into a chunk of grilled chicken with your bare hands (vegetarian options are available, too).
We have to admit that after mocking this museum as a tourist trap for ages, we actually brought visiting family once and it was loads of fun. There's a little something for everyone here, from seeing the life-sized Avengers for the kids to meeting Marilyn Monroe for visiting grandparents. And it's open on Christmas.

Looking for some oddities? Find them at Ripley's Hollywood. Photo courtesy of Ripley's Hollywood
More of a fan of oddities than celebrities? Ripley's Hollywood has over 300 bizarre and unusual exhibits including a genuine shrunken head to an original Vampire Killing Kit from the 19th century and loads more. It's open until 10pm on Christmas!
23. Whale Watching out of San Pedro
Whale watching season officially begins in December, as the giant mammals start their long journey south in search of Mexican romance. Why not book a whale watching cruise and beat the (post) Christmas rush? Not all whale watching companies are running charters on Christmas, but this spot in San Pedro is.

Take a horseback ride under the Hollywood sign. Photo courtesy of Sunset Ranch
Sunset Ranch is open and booking horseback rides under the Hollywood Sign on Christmas Day for both the afternoon and evening. Talk about riding your holiday off into the sunset.
Just north of San Diego, the Safari Park is a different experience than other zoos. Animals wander freely in a faux Africa, and guests can observe them on foot, from a train, in a safari truck, or even on a zipline. It's a bit of a drive, but on Christmas Day it'll go quickly.
What better way to spend Christmas than immersed in a winter wonderland at SoCal's largest winter festival featuring a North Pole Journey, light displays, photo ops, and more? Winter Fest is open on Christmas Day to bring festive cheer and make family memories.
I don't think anything could quite make my kids' Christmas like a surprise visit to one of their favorite places: Legoland. With festive shows, shimmering lights, and a stunning Lego Christmas tree, this is one of the best spots to spend your holiday, The park is open on Christmas from 10am to 6pm.
According to their website, there are currently plenty of reservations for the famous swan paddle boats on Echo Park lake for Christmas Day. This would be another great option if you have family visiting from out of town and want to do something "very LA" with them.
While not every business on Balboa will be open on Christmas Day, the ferry to and from the island runs 365 days a year. Take a little boat ride around the bay, and check out some of the stunning Christmas lights in the evening.
Christmas Day is always a big football day, and this year one of the biggest games on TV is right in our city. Tickets won't be cheap (consider this one a Christmas present), but football fans can head to the stadium for a jolly day of cheering on our home team.
Originally published December 21, 2011
Sign up for the Mommy Poppins Newsletter today!