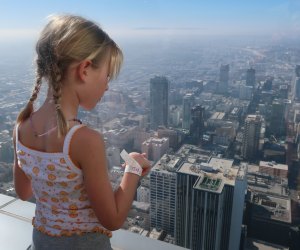 What's Open on Christmas Day in LA: 25 Fun Things To Do
Not everyone spends Christmas Day opening presents and singing Christmas carols; you may actually be looking for places to go on Christmas Day. Mommy Poppins has you covered with everything from whales to festivals, and someplace to eat at the end of the day. Ready for 25 suggestions of things to do and places to go on Christmas Day that have very little to do with chestnuts or open fire?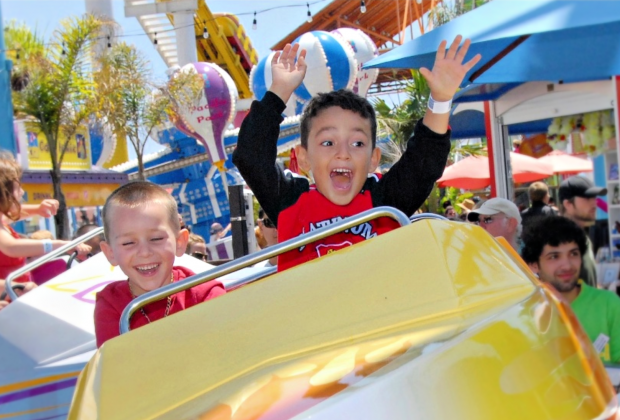 Take a spin on Inkie's Wave Jumper. Photo courtesy of Santa Monica Pier
Everyone knows that Disneyland is open and stuffed to the gills on Christmas Day, but don't the rollercoaster and bumper cars on Santa Monica Pier sound more appealing?
It's on everyone's "to do" list, and it's scheduled to be open on Christmas Day! Why not take advantage of a day when it's easy to find parking downtown and ride the iconic funicular railcar?
The temperature in Long Beach always seems colder at this time of year, when the Queen Mary gets its winter clothes on. Christmas Day is the perfect day to enjoy the vintage holiday decorations, ice skating, caroling, gingerbread housing, and boatloads of Christmas cheer.
Go ahead — if you've survived all of the challenges of the holidays, celebrate by doing something truly scary: sliding down a 45-foot, fully-enclosed glass slide on the exterior of the US Bank building downtown.
You'll be nearly 1,000 feet above LA, but man, what a view!
Beverly Hills is a fine place to window shop on Christmas Day, with plenty of lights and eye candy; the highlight of the outing can be a stop for a sweet withdrawal at the Sprinkles Cupcake ATM.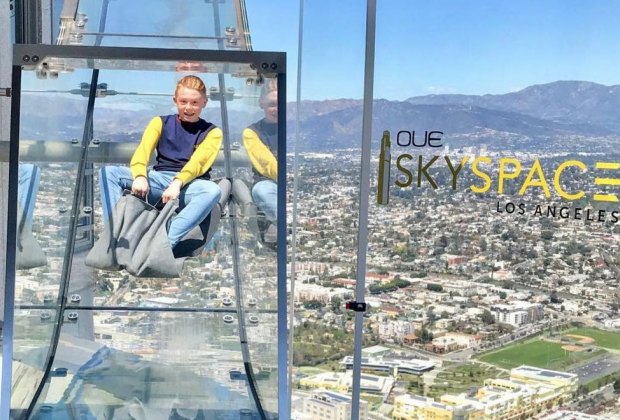 Photo courtesy of SkySpace
The holiday season brings a white-out to Orange County; Costa Mesa's OC Fair and Event Center drops the mercury with ice tubing, ice skating, snowfall, reindeer encounters, and live entertainment daily throughout the holiday season, including Christmas Day.
See the ultimate Star Wars movie at the ultimate Hollywood movie theater, with a laser light show, live stormtroopers, and all the hype that only El Cap knows how to do.
One of the best opportunities for a good SoCal gloat is putting on T-shirts and taking family photos gliding across the ice at one of our many seasonal outdoor ice rinks—just to show your friends back East that we have winter, too.
Whether or not you celebrate Christmas, taking a spin past some of the private light displays the holiday inspires makes for a great after-dark activity. If you've already seen the most epic ones in LA, then check out the lights of Orange County.
Both DTLA and Riverside have impressive, walkable, and free public light displays to brag about: Grand Park's three-block walk through Downtown lights up for the last time on Christmas night, while the Mission Inn continues into the new year.
Pirates Dinner Adventure in Buena Park is open for business on the holiday with a special Christmas dinner show. Will the pirate crew steal Christmas? There's only one way to find out!
Stay close or take a drive - we're spoiled for choice when choosing hiking trails in SoCal. Even beautiful stroller-friendly hikes abound.
Rumor has it that in other places people get cold and wet sledding, but this is Southern California; we sled at the beach. The Venice Beach sand berms are up again for the season, and they're under attack by plastic saucers. For those not in the know, each year the city amasses giant hills of sand to protect the beach community from winter storms, and the beach community storms the hills.
Related: Best Christmas Lights and Awesomely Decorated Homes around LA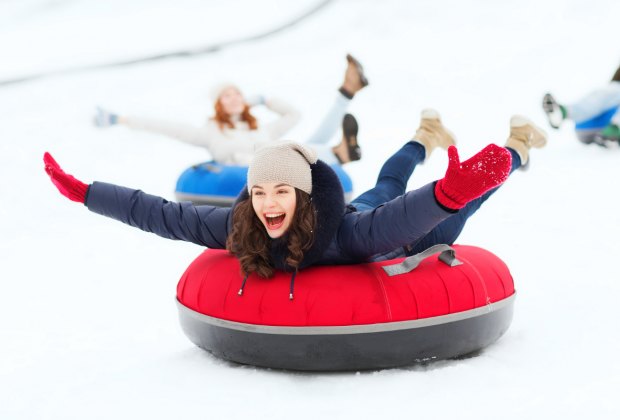 Photo via Bigstock
OK, when we're done gloating about the whole sand thing, we are prepared to admit that the snow version of sledding has its allure. And though driving out of the city to slide down a hill can involve a whole lot of hurry-up-and-wait on other days of winter break, Christmas Day is a pretty good day to hit the highways and the slopes. Most of the nearby tubing parks are open, as long as it doesn't rain.
There are fewer people to bump into on the ski slopes at Mountain High, Mt. Baldy, and other nearby ski resorts on Christmas Day. You could even call this outing a Christmas present!
Just north of San Diego, the Safari Park is a different experience than other zoos. Animals wander freely in a faux Africa, and guests can observe them on foot, from a train, in a safari truck, or even on a zipline. It's a bit of a drive, but on Christmas Day it'll go quickly.
When's the last time you had a wander and a bite in Chinatown? Many of the shops and most of the restaurants in Chinatown are open on Christmas Day—in fact a Chinese meal is a holiday tradition for many families.
The Catalina Express runs on Christmas Day, and although many businesses on the island will be closed, the bison don't take the day off—and just taking the boat and going for a hike is a fine day's excursion.
The kid-pleasing little zoo to the north is open on the holiday, an annual tradition and a great family outing (until 3pm) on both Christmas Eve and Christmas Day.
What a great day to introduce your kids to something good old-fashioned silly, like a double feature matching the Marx Brothers with Laurel & Hardy—at the newly reopened Beverly Cinema.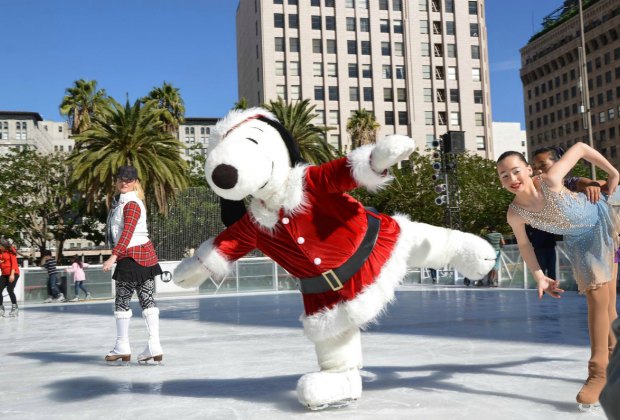 Go skating in Pershing Square. Photo courtesy of Downtown on Ice
It may be a little chilly this year, but toss on a sweater and enjoy getting a patch of primo sand all to yourself (or close to it).
22. Universal or Disneyland
Don't expect them to be empty or anything, but compared to the rest of winter break, Christmas is a pretty good day to hit one of the big parks. They're open, and they have special Christmas features: Grinchmas and the holiday lights over Hogwarts at Universal, and the Christmas parade, light show, and Small World revamp at Disneyland.
You've fought off the bah humbugs of the season, battled Black Friday panic, and defeated your holiday card list. Go ahead and root for your knight in shining armor while you tear into a chunk of grilled chicken with your bare hands (vegetarian options are available, too).
Be a tourist in your own town and take a drive to snap silly photos at one of these 10 iconic LA spots made famous by TV and movies (yes, the Brady House is on the list!).
Whale watching season officially begins in December, as the giant mammals start their long journey south in search of Mexican romance. Why not book a whale watching cruise and beat the (post) Christmas rush?
Check out what else is going on this Christmas season in our holiday fun guide and on our Daily Events Calendar.
Originally published December 21, 2011