Angels Flight: An Only-in-LA Moment To Share with Kids (Sometimes)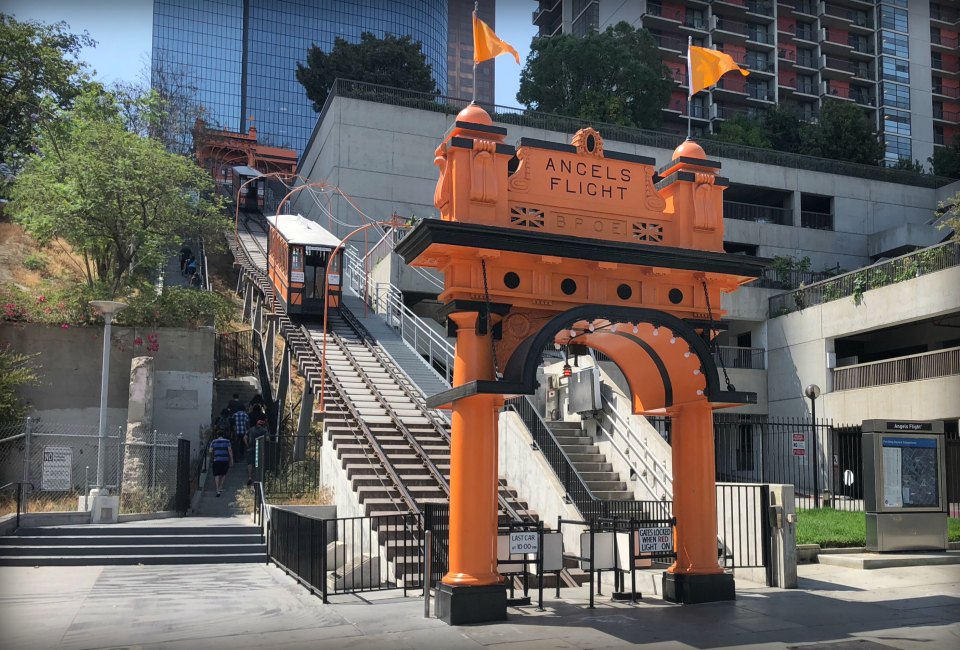 7/22/18
- By
Mike Anderson
Angels Flight is one of the more whimsical novelties of downtown Los Angeles. It's objectively adorable, ubiquitously beloved, and for the life of me I can't quite express why. It's also a fun addition to a Downtown trip with kids. For a two-dollar round-trip, it is a goofy little local history lesson—and a chance to see and even ride on the world's shortest railway.
Technically speaking, Angels Flight is a landmark "narrow gauge funicular railway," but you can call it the public transit version of one of those stair lifts. It's a tiny train that takes people from Hill Street down to Olive Street and back. The total track is just under 300 feet, but, to be fair, that's a pretty steep hill to climb. Angels Flight's dates back to 1901, when our city first started to boom, but there was a period from 1969 to 1996 during which it was shut down and dismantled. Since reopening it has been repeatedly opened and closed, on-again and off-again, most recently re-opening in 2017... for the most part.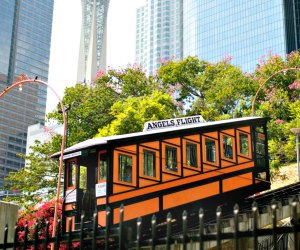 In the last two weeks I've been down to Angels Flight multiple times and it was working on none of those occasions. Don't base your entire trip downtown around it or talk it up to your kid a bunch beforehand, just to be on the safe side. However, you can absolutely base a whole trip around the wonders of nearby Grand Central Market. Even though each of my attempted trips turned out to be duds in terms of riding this twee hipster escalator, my daughter and I did get to eat something delicious each time.
Go for lunch, and if Angels Flight happens to be running, give it a whirl. It's just some silly, fun LA history to share with your little one before hitting up one of the many other cool destinations downtown, like The Last Bookstore, The Broad Museum, a walk around Little Tokyo, or Olvera Street.
While Angels Flight is not exactly stroller friendly, those in wheelchairs can get a lift on a modified platform—just call in advance to let them know you're coming. While the railway is officially open from 6:45am to 10pm 365 days a year, obviously technical issues have a tendency to get in the way. For information on fares and pricing, check out the website—and good news for Metro riders, who save 50 cents on a one-way fare. Take the Red or Purple line to Civic Center/Grand Park Station, and not only will you save on parking (DTLA is always pricey), you'll also get an even cheaper ride on this iconic, must-see, only-in-Los-Angeles railway.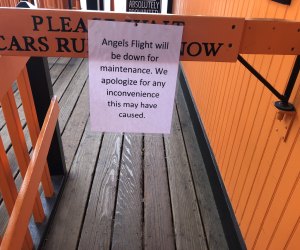 Fingers crossed that you won't see this sign!
Places featured in this article:

Sign up for our free
newsletters.
Mommy Poppins is a family activity website that helps people find things to do with kids.
©
2023
MommyPoppins. All Rights Reserved.
mp-prod4-v4.32.99
Sign up for the Mommy Poppins Newsletter today!
i