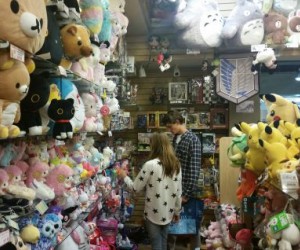 25 Things To Do in Little Tokyo with Kids
I'm on my third kid to be obsessed with all things pertaining to the Land of the Rising Sun. For some reason (it may well begin with Pokemon and Hello Kitty) the Japanese experience is a source of endless fascination for the youth of the 21st century. Teenagers, my son among them, can't get enough of Nipponese culture. And there is a lot of culture: from anime to Gundam, from the exquisite animation of Studio Ghibli to the nutritionally questionable Popin Cookin candy craft kits. For my kids and their friends, Japan is an enchanting island filled with giant robots and animated dust bunnies.

And then, of course there is the food: ramen, tempura, sushi, and –our favorite snack from the Japanese market – a uniquely salty, crunchy cracker called "Soft Salad." For those who indulge in Fro-Yo, mochi (a sweet Japanese rice dough) has become a staple topping.

LA's Little Tokyo neighborhood is more than one hundred years old, dating back to the late 1880s. One of only three "Japantowns" in the United States, it continues to flourish today as a major cultural center for Japanese Americans. Geographically, it is bordered approximately by the Los Angeles River on the east, Downtown LA to the west, City Hall on the north, and the Arts District to the south. Though the heart of this unique neighborhood encompasses just a few blocks, it is packed with things to do and see, including an annual Nisei Week in August, museums, shops, bowling, and some pretty amazing restaurants. It is a place to enjoy with the whole family, including those pesky, difficult-to-please teenagers (who can now get themselves there on the metro). We've collected 25 kid-friendly ways to explore and enjoy Little Tokyo.
1. Discover your dharma at a Buddhist temple.
2. Scrub your sneakers at Jason Markk.
3. Bowl 'em over at X-Lanes .
4. Seek serenity in the Kyoto Gardens.
5. Sip tea at the Chado Tea Room.
6. Shop at the Galleria.
7. Pack a super cool lunch box with snacks from Nijiya Market.
8. View a visual history in the "Home is Little Tokyo" mural.
9. Indulge with sweet treats in the Japanese Village Plaza at Yamazaki Bakery.
10. Do your own thing at the Downtown Independent Movie Theater.
11. Create your own bowl of noodles at Shin-Sen-Gumi Ramen.
12. Read a book at Kinokuniya.
​13. Stock up on chop sticks at Rafu Bussan kitchenware shop.
14. Check it out at the Little Tokyo Branch Library.
15. Wear your pop art heart on its sleeve at popKiller T-Shirt store.
16. Get cultured at the Japanese American Cultural & Community Center.
17. Chew on something sweet at Fugetsu-Do Mochi.
18. Sing your heart out at Max Karaoke's kid friendly happy hour until 8pm.
19. Embrace the modern at the Geffen Contemporary.
20. See the utility box art installations.
21. Stay grounded while the sushi spins at Kula Revolving Sushi bar.
22. Dress traditionally at the S.K. Uyeda Department Store.
23. Sport alternative attire at QPop.
24. Seek the secret of the Samurai at the Japanese American National Museum (especially if it's the monthly free day).
​25. Retreat in the James Irvine Japanese Garden.
Little Tokyo
244 S San Pedro Street
Los Angeles, CA 90012