25 Things To Do in Little Tokyo with Kids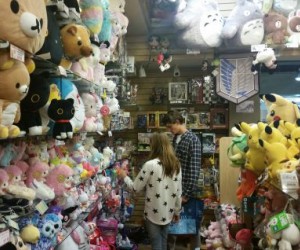 I'm on my third kid to be obsessed with all things pertaining to the Land of the Rising Sun. For some reason (it may well begin with Pokemon and Hello Kitty) the Japanese experience is a source of endless fascination for the youth of the 21st century. Teenagers, my son among them, can't get enough of Nipponese culture. And there is a lot of culture: from anime to Gundam, from the exquisite animation of Studio Ghibli to the nutritionally questionable Popin Cookin candy craft kits. For my kids and their friends, Japan is an enchanting island filled with giant robots and animated dust bunnies.

And then, of course there is the food: ramen, tempura, sushi, and –our favorite snack from the Japanese market – a uniquely salty, crunchy cracker called "Soft Salad." For those who indulge in Fro-Yo, mochi (a sweet Japanese rice dough) has become a staple topping.

LA's Little Tokyo neighborhood is more than one hundred years old, dating back to the late 1880s. One of only three "Japantowns" in the United States, it continues to flourish today as a major cultural center for Japanese Americans. Geographically, it is bordered approximately by the Los Angeles River on the east, Downtown LA to the west, City Hall on the north, and the Arts District to the south. Though the heart of this unique neighborhood encompasses just a few blocks, it is packed with things to do and see, including an annual Nisei Week in August, museums, shops, bowling, and some pretty amazing restaurants. It is a place to enjoy with the whole family, including those pesky, difficult-to-please teenagers (who can now get themselves there on the metro). We've collected 25 kid-friendly ways to explore and enjoy Little Tokyo.