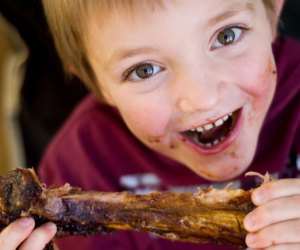 13 Kid-Friendly Barbecue Restaurants in Houston
Houston is not short of good, finger-licking barbecue. And because most barbecue restaurants are loud and casual, they make for great family outings! Loud music and loud patrons mean no one will hear my toddler yell in protest when his barbecue sauce drifts too close to his many pieces of white bread. Here are some of our favorite kid-friendly barbecue joints across the Bayou City.
Valley Ranch Barbecue ($$) - Northwest Houston
22548 Hwy. 249
281-376-1588
The buffet-style setup makes ordering a piece of cake (or brisket). There is also an indoor play area for the kids to color and entertain themselves while you finish your rack of ribs.
Thomas Bar B-Q ($$) - North and Northwest Houston
Various locations
Thomas' menu of slow-cooked deliciousness includes daily specials as well as a kids' menu and family platters. The spacious interior leaves plenty of space for large families.
Killen's Barbecue ($$) - Pearland
3613 E. Broadway
281-485-2272
If you haven't heard of this critically-acclaimed Pearland treasure, it's time make an introduction. Basically, the entire menu is delicious, and the atmosphere is friendly and casual. The only downside is the lines can get extremely long, so it may not be ideal for small children depending on the time of day.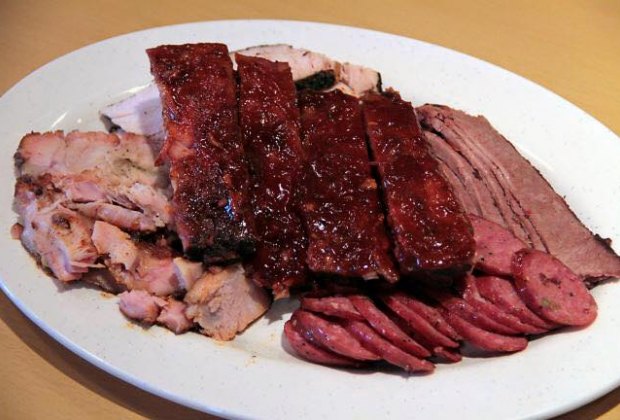 Photo courtesy of Stockyard
Stockyard Bar BQ ($$) - West Houston
6504 Westheimer Road
713-782-3500
There is indoor and outdoor seating at this cafeteria-style eatery, and don't forget to order the "heart attack potatoes" (we won't spoil the surprise).
Hickory Hollow Restaurants and Catering ($$) - Heights and Willowbrook
101 Heights Blvd. - 713-869-6300
8038 Fallbrook Drive - 281-469-5823
Hickory Hollow made an appearance on Food Network for its famous chicken fried steak. Need I say more? Or you can order a family platter for a taste of five different meats.
Goode Company Barbecue ($-$$) - Katy, Southeast Houston, and Cypress
Various
The picnic-style seating in Goode Company contributes to the overall relaxed environment, and the menu has lots of options, from family plates to a la carte plates.
Jackson Street Barbecue ($) - Downtown
209 Jackson St.
713-224-2400
Two words: Fried mac (and cheese). It's just one of the delicious items on the menu, and there is plenty of space inside for larger parties and families.
Big Horn BBQ ($$) - Pearland
2300 Smith Ranch Road
281-741-3289
The great thing about this place is in the name - it's huge! And the kids will get a kick out of the hunting decor, and there is also an in-house convenience store with snacks and more.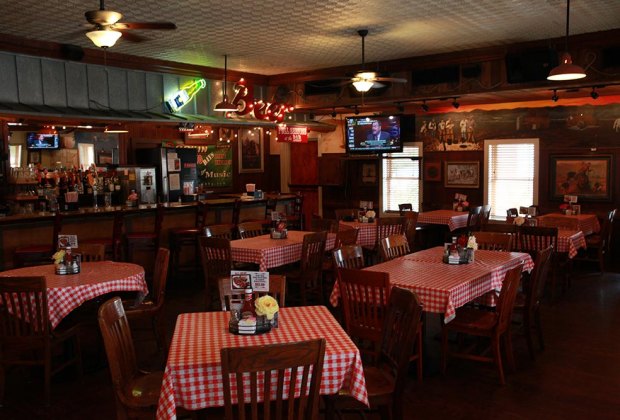 Photo courtesy of Gabby's
Gabby's BBQ ($$) - Heights
3101 N. Shepherd Drive
713-864-5049
Gabby's offers daily specials (including kids-eat-free Sundays), and the food is fantastic - it's smoked in hand-built pits made in Mesquite, Texas.
Holy Smokes BBQ ($) - Northeast Houston
9850 Mesa Road
832-203-7249
There may not be a ton of seating space, but the food at Holy Smokes is simple and fantastic. It's also affordable and features several family platters.
Beef & Bun Bar-B-Que ($) - West and South Houston
8155 Long Point Road - 713-465-8482
4418 W. Fuqua - 713-433
This no-frills establishment has great food and a laid-back atmosphere. Expect the basics: burgers, barbecue plates, and baked potatoes, along with sides and desserts.
Red River Barbecue ($) - Katy and League City
1711 S. Mason Road - 281-578-3800
1911 E. Main St. - 281-332-8086
Red River offers eight different kinds of meat smoked in wood-fired pits. And while you work on getting the meat sweats, the kids can work off some energy in the play area outside!
Dickey's Barbecue Pit ($$) - Various
Good food, laid-back atmosphere, and kids eat free on Sunday with the purchase of an adult entree!
Top photo courtesy of Brisketcases.com