13 Kid-Friendly Barbecue Restaurants in Houston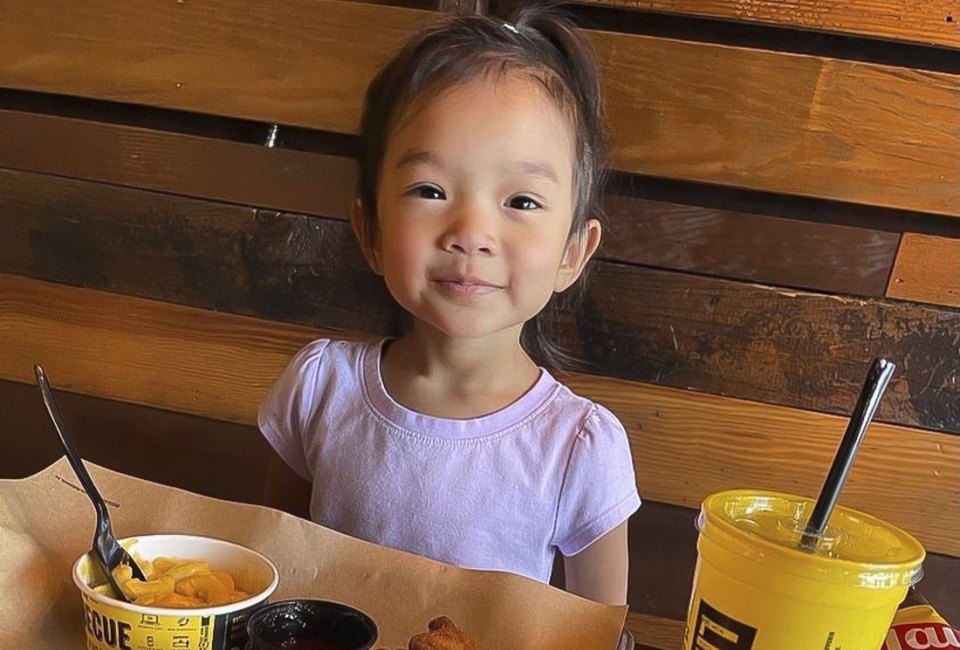 4/17/22
- By
Carrie Taylor
There's no shortage of good, finger-licking barbecue restaurants in Houston. And because most barbecue restaurants are loud and casual, they make for great family outings. Loud music and loud patrons mean no one will hear my toddler yell in protest when his barbecue sauce drifts too close to his many pieces of white bread. Here are some of our favorite kid-friendly barbecue restaurants in Houston.
For more Houston restaurant recommendations, check out our Houston Kid-Friendly Restaurant Guide.
Kid-Friendly Barbecue Restaurants in Houston
2201 Leeland
A recent addition to the Houston BBQ scene, this restaurant has a great patio area. You and your family will enjoy the wide range of meats and sides. The fresh giant cinnamon roll will keep any kid with a sweet tooth happy.
Sample awesome brisket and other BBQ meats at The Brisket House, with restaurants in Northwest Houston, West Houston, and Deer Park. Their Prime Brisket is smoked for 12 - 14 hours every night using oak wood. The variety of meats includes brisket, sausage, turkey breast, St. Louis pork ribs, chicken, and pulled pork. In a fun twist, PBJ stands for Pulled Pork, Brisket and Jalapeño sausage! Now that's a tasty-sounding sandwich.

Photo courtesy of Reveille Barbecue
32360 TX-249 #140
What began as a weekend-only food truck is now a thriving restaurant, which prides itself on authentic barbecue meats and flavors.
22548 Hwy. 249
The super-fun, comfortable interior of this bbq restaurant in Houston is perfect for a family outing. Whether you sit next to the South Texas Waterfall and working windmill, spread out in an oversized booth, or sit next to the giant chalkboard, you will always have a view of the 250-foot-long model train that chugs around the dining room.
5. Killen's Barbecue ($$) - Pearland and The Woodlands
3613 E. Broadway
1700 Research Forest Dr.
If you haven't heard of this critically-acclaimed Houston treasure, it's time to make an introduction. Basically, the entire menu is delicious, and the atmosphere is friendly and casual. Desserts include banana pudding and cheesecake. The only downside is the lines can get extremely long, so it may not be ideal for small children depending on the time of day.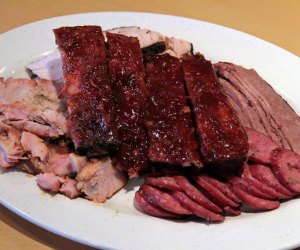 Photo courtesy of Stockyard
6504 Westheimer Road
There is indoor and outdoor seating at this cafeteria-style eatery. Taste the greatest quality smoked barbecue ribs, brisket, sausage, and chicken, and enjoy traditional sides of green beans, potato salad, and beans. They also feature Stockyard specialties such as BBQ nachos, yard poppers, and spuds.
8038 Fallbrook Drive
Hickory Hollow has been featured on Food Network and the Travel Channel for its famous chicken fried steak. There is a lot of great choice on the menu, and the BBQ round-up is just one of the family platters to enjoy, with 1 Lb. Sliced Brisket, 1 Lb. Smoked Sausage, 3 Pints of Side Orders, Bread and BBQ Sauce.
8. Goode Company Barbecue ($-$$) - Katy, Southeast Houston, and Cypress
Goode Company has been thriving in Houston for decades, and the picnic-style seating contributes to the overall relaxed environment. The menu has lots of options, from family to a la carte plates. With a fabulous range of BBQ meats and delicious pies, you'll be sure to find something tasty to eat.
9. Big Horn BBQ ($$) - Pearland and Manvel
2300 Smith Ranch Road
20211 Highway 6
The great thing about this place is in the name - it's huge! The location has a family-owned and operated BBQ restaurant, filling station, convenience store, and gift shop - all rolled into a one-stop shop.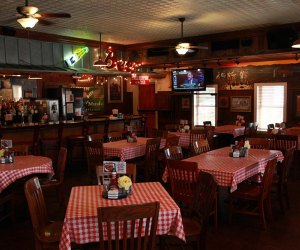 Photo courtesy of Gabby's
3101 N. Shepherd Drive
Family-owned and operated for over 40 years, Gabby's has a wide range of food from ribs to salads. There's also a kids' menu with chicken tenders, fries, mac n cheese, and BBQ plates.
1711 S. Mason Road
1911 E. Main St.
Red River offers eight different kinds of meat smoked in wood-fired pits. And while you work on getting the meat sweats, the kids can work off some energy in the play area outside! Soon to open a third restaurant in Richmond!
12. Rudy's ($) - Various
A casual chain with 5 locations around Houston, Rudy's has a range of reasonably priced meats, sandwiches, and sides. You can even buy their famous BBQ rub and "sause" to take home.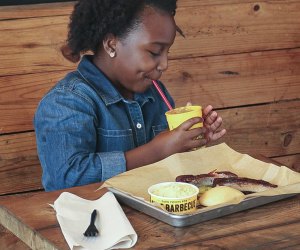 Photo courtesy of Dickey's Barbecue Pit, Facebook
Good food, laid-back atmosphere, and kids eat free on Sunday with a $10 purchase per adult!
Click Here to Sign Up!
i