11 Kid-Friendly Philly Cheesesteak Spots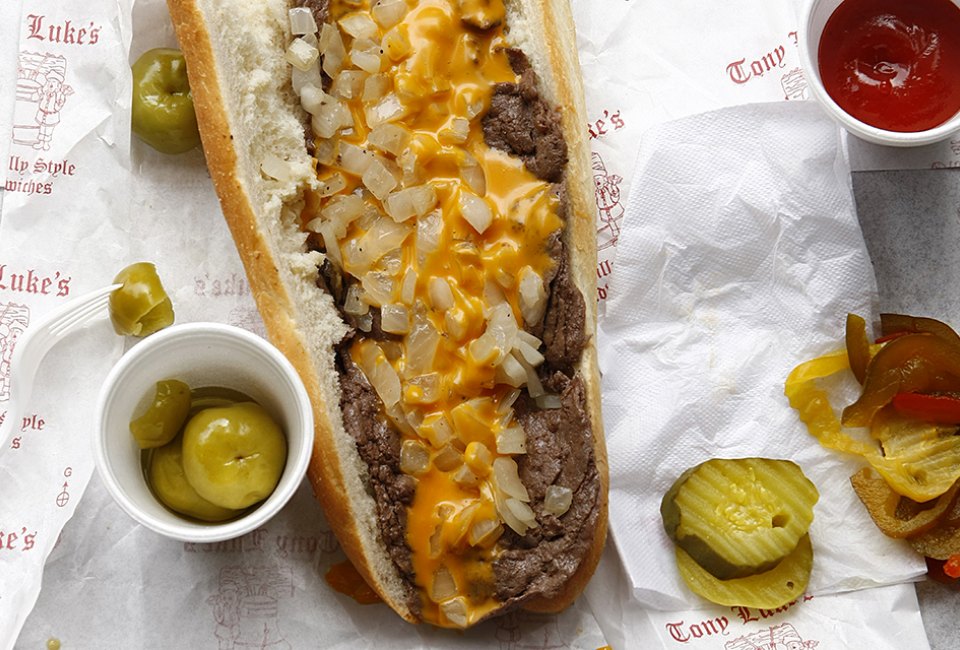 2/20/22
- By
Danielle Smith
Philadelphia has cemented its status as a world-class foodie destination, but we'll always be known for the Philly cheesesteak, and that's just fine by us. It's impossible to raise kids here without introducing them to the iconic sandwich at some point, and for visitors to the city, a cheesesteak run is usually at the top of the bucket list. So we've made our own list—of the best places to get a Philly cheesesteak with kids.
If there's one thing you don't want to get Philadelphians started on (besides the Eagles), it's where to get the best cheesesteak in Philly, and how to order when it's time to chow down. There's the Cheez Whiz crowd, the chicken cheesesteak crowd, and myriad debates over the importance of fried onions and various condiments. However you choose to order (Whiz wit? witout?), here's a rundown of cheesesteak places in Philly where families can enjoy the City of Brotherly Love's quintessential meal.
For more stories like this sent straight to your inbox, subscribe to our newsletters.

Pat's in South Philly, where it all started. Photo courtesy of M. Edlow for Visit Philadelphia
The Best Philly Cheesesteak Places for Kids and Families
According to Philly cheesesteak lore, Pat's in South Philly is the "inventor and originator" of the cheesesteak, thanks to founder Pat Oliveri's creation in 1930. With 24/7 service, families can visit Pat's whenever is convenient for them. The line at the window can get pretty long, so make sure you know your order ahead of time whether it's wit (with onions), wit-out (no onions), or whiz wit (Cheez-Whiz and onions). Enjoy your steaks at one of the tables on the covered patio looking out at the bustling East Passyunk Avenue.
RELATED: 10 Great Kid-Friendly Outdoor Restaurants in Philadelphia

Cut down on the wait by knowing your order ahead of time. Photo courtesy of J. Fusco for Visit Philadelphia
Some cities have cross-town sports rivalries. Philly has cross-street cheesesteak rivalries. Just a stone's throw from Pat's is Geno's, another South Philly cheesesteak dynasty serving customers 24 hours a day. Geno's setup is also a walk-up window with outdoor seating to enjoy the neighborhood sights and sounds.
D'alessandro's gets my vote for the best cheesesteak in Philly and is the victor of the cheesesteak wars for plenty of other locals too. The meat on these steaks is finely chopped, which might make it easier for some kids to eat. There's also a chicken cheesesteak option here, my personal favorite. Be prepared to wait at D'alessandro's—on a busy day, wait times can push 45 minutes to an hour. There are a couple of outdoor tables here, but on a nice day, find a spot on the grass at Arrow Athletic field just across the street to enjoy your meal.
South Philly isn't the only neighborhood with a cross-street cheesesteak competition. The same block of Henry Avenue in Roxborough is home to both D'alessandros and Chubby's, another beloved Philly cheesesteak spot that actually has indoor seating. Chubby's is an actual restaurant, so in addition to seats, patrons will find more than just sandwiches on the menu, including a variety of salads, wings, appetizers, and desserts.
RELATED: Philly Area Beer Gardens That Are Kid-Friendly

Jim's on South Street is a Philly favorite. Photo courtesy of Visit Philadelphia
Jim's Steaks has a few locations, but the South Street flagship is a Philadelphia landmark. The cute retro diner vibes of this location provide a nice atmosphere for people-watching on South Street, and the restaurant has two floors of seating so families don't have to grab and go or eat outside. Venturing out from Jim's, families have less than a 15-minute walk to the hip Headhouse District, where a stop at Philadelphia's Magic Gardens is among the most kid-friendly attractions in the city.
Another treasured South Street cheesesteak locale is Ishkabibble's, and we promise kids will like coming here just to say the name. Ishkabibble's actually boasts 2 restaurants within 2 blocks of each other on South Street—the second was added to accommodate the large crowds. Kids can wash down their cheesesteaks with the famous selection of milkshakes, and the menu has chicken cheesesteaks, burgers, salads, seafood, and hoagies too. Ishkabibble's is truly unique for its 'Gremlin' juice, a half-lemonade, half-grape juice concoction that could only be thought up in Philly.
7. Tony Luke's — Multiple Locations
Tony Luke's cheesesteak franchise has expanded the most of any in Philly—you can find the restaurant in malls, stadiums, and the airport, as well as Washington DC, New York City, and New Jersey. While there are lots of convenient locations for families to choose from, The Original Tony Luke's is in South Philly, where the reliable steak sandwiches people have come to know and love were first made. In addition to the cheesesteaks, The Uncle Mike— a veggie sandwich with marinara sauce, is a big crowd-pleaser.
All the classic Philly cheesesteak options are available here, but Joe's is known to mix things up on the menu with offerings like Flyers-themed sandwiches incorporating Cheetos, and cheesesteaks laid atop donuts and pound cakes from local bakeries. There's a kids' menu at Joe's with usual suspects like hotdogs and chicken fingers, along with veggie sandwiches and vegan cheesesteaks for anyone looking for lighter fare. Popular sweet treats at Joe's range from specialty sodas to old-fashioned egg creams, milkshakes, sundaes, and more.
RELATED: 20+ Restaurants Where Kids Eat Free in the Philadelphia Area

Explore Reading Terminal and enjoy a cheesesteak from Spataro's. Photo courtesy of Spataro's
The oldest and most famous food hall in Philadelphia is Reading Terminal Market, and if you're going to grab some grub while you're there, you might as well make it a cheesesteak. There are a few different cheesesteak places in the market, but we recommend seeking out the neon Liberty Bell above Spataro's for your family's order. After eating, explore the market's many kid-friendly vendors and look out for special events.
RELATED: Best Philly Area Brunches for Kids and Grown-ups

Make the most of Philly's Historic District with a meal at Sonny's. Photo courtesy of P. Meyer for Visit Philadelphia
Visiting Historic Philadelphia? After the kids have worked up an appetite at the Liberty Bell, Independence Hall, the National Constitution Center, and the Museum of the American Revolution, visit Sonny's in Old City for a cheesesteak. This award-winning cheesesteak spot is used to field trips from Philly schools stopping by, so they're well-acquainted with serving kids. Parents will find plenty to love about Sonny's too.
Penn's Landing is a hub of family-friendly activities, including Spruce Street Harbor Park, Blue Cross RiverRink Winterfest and Summerfest, Cherry Street Pier, and so much more. All that fun makes kids pretty hungry, and they can grab a cheesesteak from Shank's Original at Pier 40, a favorite spot to grab a bite along the water on a nice day.
Sign up for the Mommy Poppins Newsletter today!
i