Reading Terminal Market with Kids: 4 Ways to Enjoy this Busy Indoor Market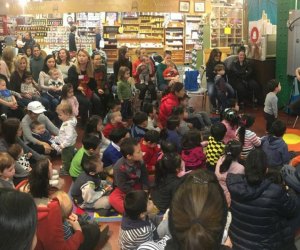 Located in the heart of Philadelphia, next to the Convention Center, Chinatown, and Independence Mall, Reading Terminal Market is a bustling indoor market, full of great vendors and delicious food, and a must-see for city goers. From fantastic pastries to famous sandwiches, beautiful bouquets of flowers and pantry stock-up items, the market should be on Philly families' bucket list (it's on ours!). Add to that its close proximity to Suburban Station with its access via Regional Rail, and Reading Terminal Market becomes even more enticing.
Read on to make the most of your visit to Reading Terminal Market with four ideas to have fun in this busy city spot.
1. Eat your way around Reading Terminal Market. A quick look at a map of the market will show over 80 merchants. So come hungry and browse the aisles until you find a meal, snack, or treat that's calling your name. Some family favorites include Flying Monkey Bakery, Fox & Son Fancy Corndogs, DiNic's, and Beiler's.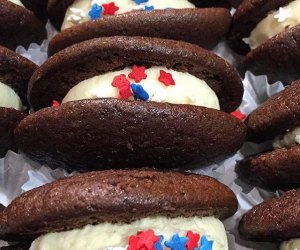 Flying Monkey Bakery's award-winning whoopie pies: There's always room for dessert.
2. Take a Taste of Philly Tour. Running every Wednesday and Saturday, these 75-minute walking tours start at the market's welcome center and then head out into Philly to teach participants about the cheesesteak, hoagie, the 125-year history of Reading Terminal Market and more. The cost of these food writer-led tours varies from $16.95 per adult and $9.95 for children aged 7 to 11.
3. Dance, sing, and enjoy story time. Every Tuesday morning from 10 - 10:30 am, Reading Terminal Market hosts a free singing and dancing event for little ones and their parents with the help of local performers from Music Monkey Jungle. Interested in story time for your 3 to 5 year old? Every 1st Wednesday of the month a librarian come to the Book Nook (located in the seating area between Miller's Twist & Metropolitan Bakery) and read stories. Every 3rd Wednesday, a merchant or volunteer reads the stories.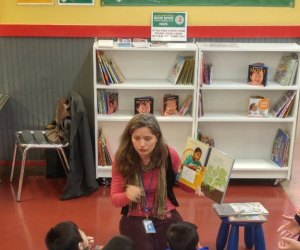 The Book Nook is a great stop for story time.
4. Perfect your-and your kids' culinary skills. With free cooking demonstrations, food sampling, and dedicated cooking classes at City Kitchen, not only can you eat your way through the market, the entire family can find opportunities to learn to cook.
Things to Know Before You Go to Reading Terminal Market:
The market is open daily. Monday-Sunday, 8am-6pm. But note that all Pennsylvania Dutch merchants are closed on Sundays. The market is also closed on major holidays.
With narrow aisles, bustle, and noise, it can get cramped in there. So if you'd rather not deal with navigating the family through the crowds or if you'd like to keep the sensory experience to a minimum, head to Reading Terminal Market during non-peak times, like typical meal times.
With its close proximity to the Philadelphia Convention Center, public transportation abounds, including SEPTA/Regional Rail, subway, PATCO, Philly Phlash, and buses. There are two parking garages close by as well that offer discounted parking with merchant validation.
Bathrooms (and changing tables) are available at the back of the market.
There are tables in the back/middle of the market but on crowded days, they fill up fast.
Be sure and check the Reading Terminal Market's events calendar as 2018 marks its 125th Anniversary and special events are happening periodically.
All photos courtesy of Reading Terminal Market on Facebook